With the Dallas Cowboys hobbled by injuries and sitting in last place in the NFC East, losing cornerback Morris Claiborne would be yet another critical blow as they look to get back on the winning track against the Carolina Panthers on Sunday.
The rookie cornerback hurt his knee in the first half of Dallas' Week 6 loss to the Baltimore Ravens and missed the entire third quarter getting treatment before returning in the fourth.
Though sore after the game, Claiborne is expected to be in the lineup, according to owner Jerry Jones.
Via the Dallas Morning News' Brandon George:
Running back DeMarco Murray won't play Sunday at Carolina, but the Cowboys expect rookie cornerback Morris Claiborne to play against the Panthers, team owner Jerry Jones said Tuesday morning on his weekly radio show on KRLD-FM 105.3.
While it's easy to say that you will be ready to go on Monday and Tuesday, it's far more likely that we'll have a better idea of Claiborne's status later in the week.
Nonetheless, Claiborne's importance cannot go unstated.
The Cowboys come into Week 7 ranked first in the NFL against the pass, giving up just 181.6 yards per game thus far.
Much of that has to do with the team's emphasis on fixing the secondary in the offseason, which included trading up in April's draft to land Claiborne. Widely considered the best cornerback prospect in the draft class, the former LSU star has not been an instant Pro Bowler but has certainly gotten the job done.
Perhaps Claiborne's best attribute has been his ability to stop the big play.
Though teams seem to do well in terms of completing passes when throwing to his side, Claiborne has been great at limiting the yardage gained. Coming into Week 6, teams had completed 11 of 14 attempts against Claiborne, but he had only surrendered 126 yards on those completions, according to Pro Football Focus. In fact, Claiborne had only allowed one 20-plus-yard play all season.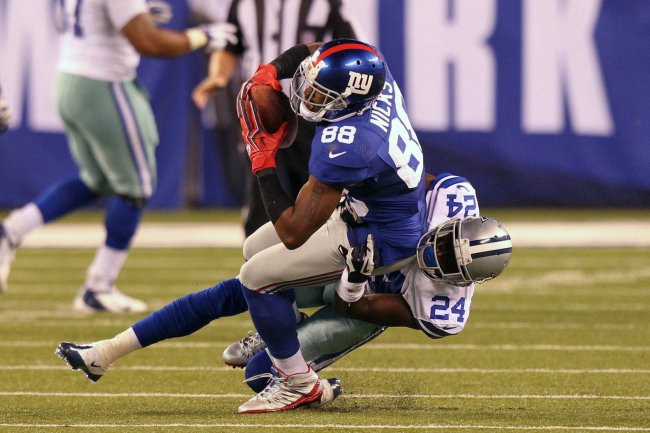 Anthony Gruppuso-US PRESSWIRE
With a matchup against a burner like Steve Smith and Cam Newton's howitzer arm on tap, the Cowboys corner's ability to limit the big play will be essential.
The Panthers offense has not been anywhere near as explosive as the team hoped coming into the season, but with a bye week to prepare, it's likely that Newton at least got some kinks worked out.
If that's the case, the Cowboys could be in trouble against a 1-4 Carolina squad. Newton and Smith made it a habit last season of going over the top against weak secondaries and could do the same against Dallas.
Without Claiborne, the Cowboys would have to rely on Orlando Scandrick and Mike Jenkins to step up alongside Brandon Carr. For those with short memories, Scandrick and Jenkins were at the forefront of the team's secondary woes last season.
That's why Claiborne is so critical. With him, Dallas should come into Sunday's contest as an easy favorite to even its record.
However, if Claiborne is a late-week scratch, the Cowboys could be looking at a 2-4 record and be on the way to a second consecutive lost season.