Despite last weekend's loss to LSU in Death Valley, Steve Spurrier has built the South Carolina program into a Top 10 program that is right in the thick of the SEC East and national championship race.
It's been a slow climb, but the foundation of that climb has been a stifling defense.
This season's defense currently ranks as the SEC's third-best, having given up 296.3 yards per game. The cornerstone of that defense is a dynamic one-two punch in the front seven—defensive end Jadeveon Clowney and linebacker Shaq Wilson.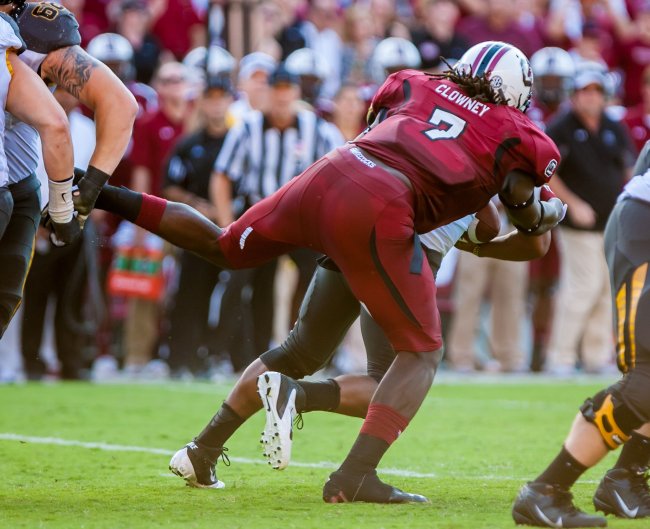 Jeff Blake-US PRESSWIRE
Clowney
has been a monster since the moment he stepped foot on campus prior to last season. The 6'6", 256-pounder came to South Carolina as the No. 1 overall recruit in the 2011 recruiting class, according to
247Sports.com
, and he has lived up to that hype.
He's quick off the edge, has improved on his ability to stop the run and is using his hands much more this season than he did during his true freshman campaign. If any player ever had a case to challenge the NFL's rule that prevents players who are within three years of high school graduation from playing in the NFL, Clowney is it.
He has 31 tackles this season and is second in the SEC in sacks (6.5) and tackles for loss (12). But the stats don't tell the entire story. Even when he doesn't make the tackle, Clowney has found a way to make an impact by disrupting plays and allowing his teammates to clean up.
Jadeveon Clowney sacks Georgia QB Aaron Murray
In the video above, you can see
Clowney
's burst of speed off of the edge to beat Georgia left tackle
Kenarious
Gates.
One of his teammates who has benefited from Clowney's work in the trenches is linebacker Shaq Wilson.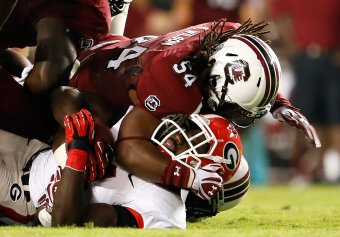 Kevin C. Cox/Getty Images
Wilson leads the Gamecocks with 44 tackles and is tied for the team lead in interceptions with two.
Now in his fifth season in Columbia, Wilson returned in 2011 after a hamstring injury prevented him from playing in all but one game in 2010. In eight starts last season, Wilson totalled 52 tackles, eight more than he has already tallied as a senior.
The 5'11", 224-pounder has established himself as one of the premier middle linebackers in the country, and Clowney's strong play has been a huge asset to Wilson's success this season.
Shaq Wilson tackles Rantavious Wooten short of the goal line
On the goal-line stand above, watch
Clowney
(No. 7) come off the right side and pressure Georgia quarterback Aaron Murray, and Wilson (No. 54) stop Georgia wide receiver
Rantavious
Wooten short of the goal line.
Are Jadeveon Clowney and Shaq Wilson the nation's best 1-2 punch at DL/LB?
Are they the best one-two punch at defensive line and linebacker in the country? A case certainly could be made.
Clowney has certainly made a case that he is one of the top defensive linemen in the country, and Wilson's emergence as a force at linebacker, even though it has flown under the radar, is a big reason why South Carolina remains in the national championship race.
If they keep it up, a return trip to the Georgia Dome to play for the SEC Championship may be in store for the Gamecocks.