NHL Trade Rumors: 15 Big NHL Names That Could Be Trade Bait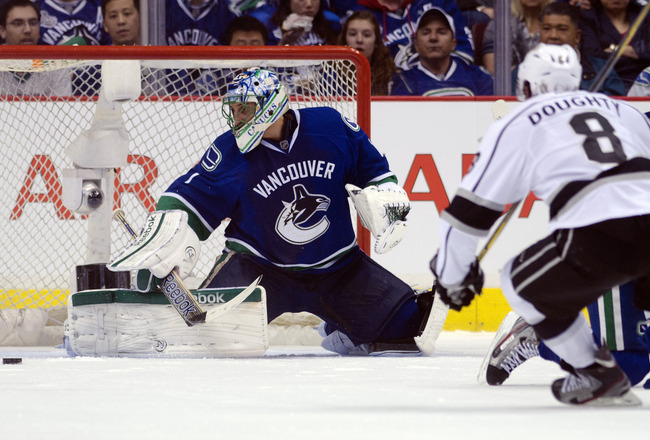 Rich Lam/Getty Images
There isn't always fire when it comes to the smoke of trade rumors. In fact, most trade rumors turn out only to be speculation anyway. It could be a comment that came from a coach, general manager, player agent or even a player, but rare is the occasion when the juiciest of rumors come to fruition.
People are always looking for their team to improve, and the quickest way to change the look of a franchise is with the super-, ultra-, mega-blockbuster deal. We, the desktop general managers at home, convince ourselves that such a deal works across the board for both parties. The reality is that we can make those deals on paper and in our head because our job isn't contingent on the success of our negotiation.
The following 15 players have either been mentioned previously as trade bait or could conceivably be out there, depending on how their team performs this season. Factors to consider would be the player's age, the player contract and the years left on the deal. Also to be strongly considered would be the presence of a prospect on the team that would benefit from more playing time if a veteran was shuttled off.
I'll hardly slap my money-back guarantee on these 15 speculative picks, but I think you'll agree with the logic behind my choices. So all of you closet GM's, pull up a chair to the negotiating table; I've got an offer (or 15) that you can't refuse. Enjoy now!
Jay Bouwmeester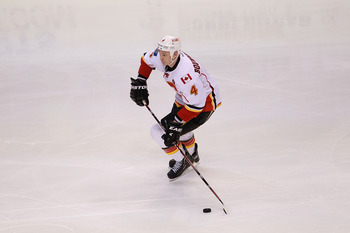 Ronald Martinez/Getty Images
Jay Bouwmeester's name came up repeatedly in association with every team that missed out on the Ryan Suter sweepstakes. Potential targets could be Detroit, Philadelphia or Pittsburgh. Bouwmeester controls his own fate with his non-movement clause. He'll have one more year on his contract at a hit of $6.68 million (source: CapGeek.com) per year, and Calgary could be sellers if their season goes south.
The smooth-skating defenseman hardly cemented his reputation in Calgary as a top-flight blueliner, but the optimists looking to fill a hole on their roster feel that Bouwmeester could salvage his career by breaking out on their team. Any contender besides the three teams mentioned above could make a run at the Calgary defenseman, especially if there are any notable injuries.
Jarome Iginla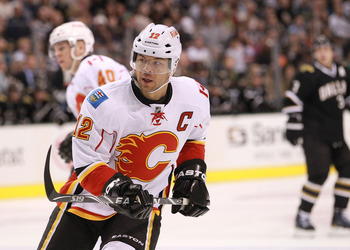 Ronald Martinez/Getty Images
Bouwmeester's teammate Jarome Iginla has been the topic of trade talk in the past few years. While he would certainly prefer to stay in Calgary, Iginla could make the jump to a contender if the Calgary Flames' season flames out (see what I did there?).
The newest member of the 500-goal club would be a welcome addition to one of the top two lines on any contender out there. Calgary could be a willing seller as their 35-year-old captain is in the final year of his contract. Iginla might certainly consider waiving his NTC if he had a chance to win a Stanley Cup.
Jaromir Jagr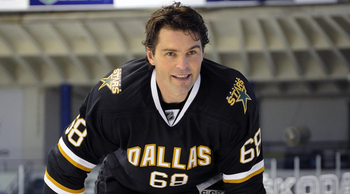 photo: thescore.tumblr.com
The Dallas Stars spent a good bit of money on a couple of aging stars this offseason. The hope was that the veterans could add some wisdom and leadership to a talented younger group of players. Dallas is also counting on two 40-year-old gray beards to turn back the clocks for one more season and help get the Stars back to the playoffs.
If the gamble doesn't pay off, Dallas could cut and run on one or both Jaromir Jagr and Ray Whitney. Jagr curiously doesn't have a no-trade clause in his one-year deal, while Whitney has a modified 10-team list on his two-year contract that he will supply upon request if he is to be bartered.
Bobby Ryan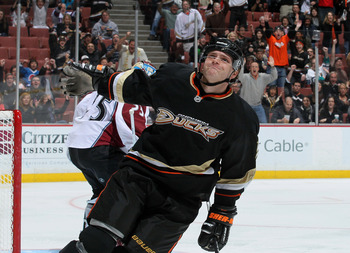 Victor Decolongon/Getty Images
Another of the more popular rumors that was kicked around all summer was initiated by Ryan himself when he declared that he wanted Anaheim to trade him during the NHL draft. Tired of hearing his name mentioned in speculation, the grumpy winger eventually returned to the badelynge of Ducks to mend the fences.
Ryan could be on the move if Bruce Boudreau's team falls flat again and looks to freshen up the roster. Ryan has a relatively cap-friendly contract with three years left, and he would give an immediate boost to a playoff contender
Roberto Luongo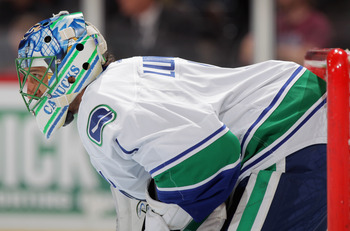 Doug Pensinger/Getty Images
Vancouver general manager Mike Gillis had an asking price on embattled goaltender Roberto Luongo that exceeded anything reasonable this summer. Once the season starts Luongo's value should soar, especially for teams that will have the most obvious holes in between the pipes.
Gillis has convinced almost everyone that he thinks that two world-class goalies can reasonably split time in goal. Chances are Luongo's ego will more than likely rise up right around the time other teams come calling about acquiring his services.
Sergei Gonchar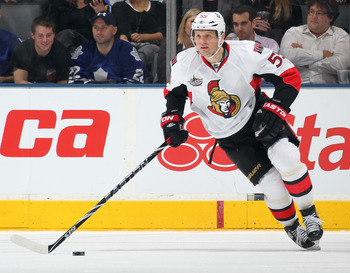 Claus Andersen/Getty Images
Sergei Gonchar has a full no-movement clause on his contract, that is until January of 2013 when he can supply a 10-team list of trading partners. The 38-year-old puck-moving defenseman still has plenty of spring in his step and could be a welcome addition to any team looking for help on the power play.
Gonchar showed last season that he can still produce at an extremely high level and could draw interest from clubs looking for depth and special teams production. If Ottawa is looking to sell come January, expect Gonchar to be one of the first to go.
Martin St. Louis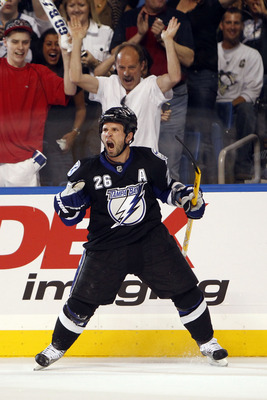 Eliot J. Schechter/Getty Images
I will grant you that this might be a bit of a reach because St. Louis hasn't had his name mentioned in the past. His contract and age are both factors that could make him available if Tampa doesn't see their fortunes improved by the trade deadline. The 37-year-old is still producing at a high level and could definitely help any other contender down the stretch if the Lightning are out of the hunt for the playoffs.
It would be more ideal to ship out Vincent Lecavalier and his hideous contract, but it looks like Tampa will be stuck paying that one out to completion. Mighty mite St. Louis still has some trade value, and his contract is easier to stomach for most other teams.
Lubomir Visnovsky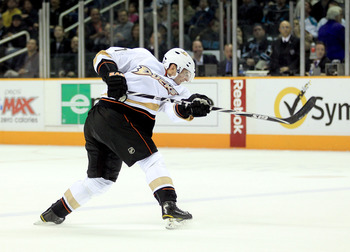 Ezra Shaw/Getty Images
Lubomir Visnovsky's attempt to void his trade to the Islanders is a pretty clear indication that the veteran defenseman doesn't want to be there. While I'm optimistic that the Islanders and their unhappy new addition can make a legitimate playoff push this season, if they play like the same old Isles, they could be selling come January.
Visnovsky would likely be at the top of their selling list, and could be a nice addition to a playoff contender. The offensive-minded defenseman has shown that he can crank up the production when he's on the right team and when he's happy.
Valtteri Filppula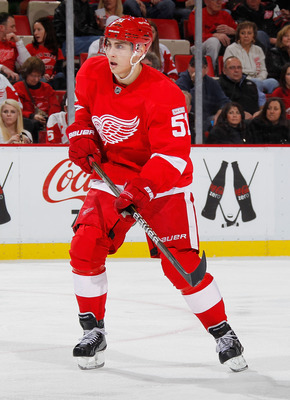 Gregory Shamus/Getty Images
While it pains me to throw one of my favorite Finns and Red Wings on the list, the reality is that Detroit may not be able to keep Filppula if he continues his improved play. Playing on the last year of his contract in Hockeytown, the Wings center had a huge year last season and could draw huge dollars on the open market. If Detroit can't extend him during the season, they could try to get something in return for him at least.
Filppula would have every reason to want to stay in Detroit, but who knows what kind of salary cap we'll see when the new CBA comes out. The open market promises a much bigger payday for the 28-year-old, and Detroit may have to make a tough business decision to try and get some value in return.
Patrik Eliáš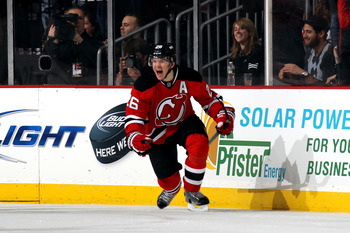 Bruce Bennett/Getty Images
The New Jersey Devils will have an interesting season trying to replace their captain who took off for his homeland in the state of hockey. The Devils' financial woes have been kept off the ice as the team has performed well in spite of the negative news stories. If the Devils struggle to replace Zach Parise and have something of a Stanley Cup Final hangover, they could be sellers at the trade deadline.
The centerpiece of their (potential) activity would be Patrik Eliáš. The career Devil had a resurgent 78-point season last year, but enters the final year of a contract that will count $6 million against the Devil's salary cap (source: CapGeek.com). If they aren't in the playoff hunt, you would have to expect super savvy Lou Lamoriello to get some value for Eliáš in cash-strapped Jersey.
Jose Theodore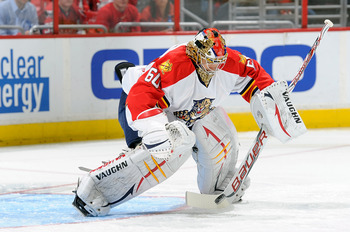 Greg Fiume/Getty Images
With a return to the type of form that won him a Hart Trophy, Jose Theodore was the backbone of the Florida Panthers return to the NHL Playoffs after an 11 year absence. Theodore is in the final year of a cap-friendly $1.5 million contract and has an elite prospect Jacob Markstrom chomping at the bit for regular playing time in south Florida.
Theodore is a cheaper alternative to some of the other goalie options and can bring a wealth of experience to a franchise needing experience between the pipes. Florida could peddle him with Markstrom and Scott Clemmensen to fill his spot.
Johan Franzen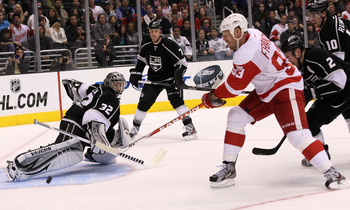 Stephen Dunn/Getty Images
I'm sure to catch grief from my fellow Red Wing fans for suggesting that Detroit move "the Mule" out of Hockeytown. However, after seeing him top out at the 30-goal neighborhood for the past couple of seasons, Franzen seems to play hard only when it suits him.
I know it sounds nuts to trade a team's leading goal scorer, but Detroit could fetch a handsome return on defense with a player that might be more enthusiastic to play in Detroit. Franzen has a long but mildly cap friendly deal, and I feel like his best years are behind him.
Mike Green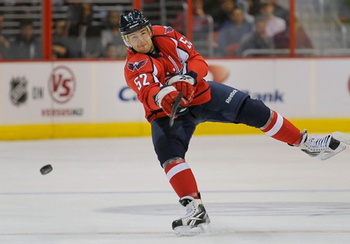 photo: washingtonpost.com
Mike Green will have a lot to prove this coming season. After posting back-to-back 70-point seasons between 2008 and 2010, Green has struggled mightily with a variety of injuries. He seemed to be returning to form in last year's playoffs, but all eyes will be on the Capitals defenseman.
He just turned 27 and signed a three-year extension for $6.1 million per season. With a clean bill of health Green will need to perform up to his contract or he could find himself on the auction block.
Keith Yandle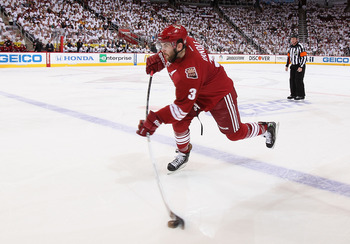 Christian Petersen/Getty Images
The Phoenix Coyotes currently have a salary cap of just over $50 million, which in turn sees them at $20 million under the (current) cap. They are hardly in a position to be sellers if the season goes south, but the guy everyone seems to want is Keith Yandle. The Coyote defenseman is great on the puck, quarterbacks the powerplay and only just turned 26.
Yandle has a $5 million salary that won't keep other teams from calling for him. The problem is, Phoenix may need him just to reach the salary floor. Just putting this out there, but Phoenix could pay me a couple million to be a healthy scratch in order to help the team out. I know, I'm a saint.
Niklas Backstrom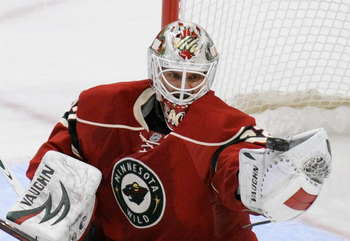 Hannah Foslien/Getty Images
Niklas Backstrom has been the anchor of the Minnesota Wild franchise for the last six seasons. The undrafted Finn has put up stellar numbers for a franchise that has just invested a three-year extension in his backup Josh Harding.
If the younger backup Harding can impress the Wild, it could make the 34-year-old Backstrom available to a team needing some goaltending help. With a $6 million salary cap hit this season, the Wild would love to shed some cash after their shopping spree this summer.
Keep Reading