Jermichael Finley and 5 Packers Who Must Step Up for Second Half of the Season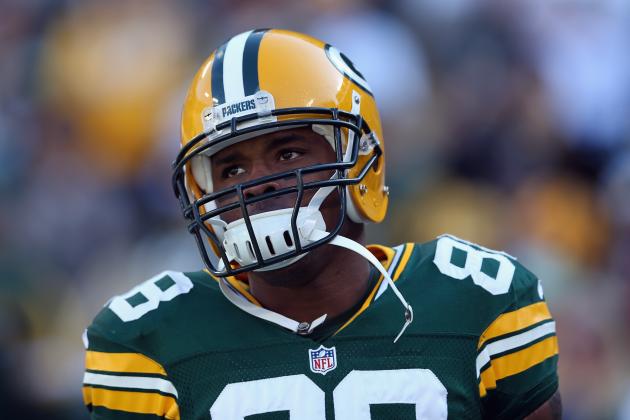 Jeff Gross/Getty Images

Green Bay Packers fans around the country are breathing a sigh of relief after a strong showing against the Houston Texans on Sunday Night Football, but there is still plenty of room for improvement for the 3-3 team as it looks to the second half of the season.
While some players like Jordy Nelson, who has been surprisingly quiet over the first several weeks of the season, stepped up in a big way in Week 6, there were many others who continued a season-long struggle to perform.
Still trailing by a game and a half in their division, the Packers will need all hands on deck moving forward if they want to make a serious playoff run. There's still plenty of time to pull even—or even ahead—in the divisional race, but things need to keep clicking both offensively and defensively for it to happen.
Which players need to step up their games in the second half of the season? Keep reading to find out.
Begin Slideshow

»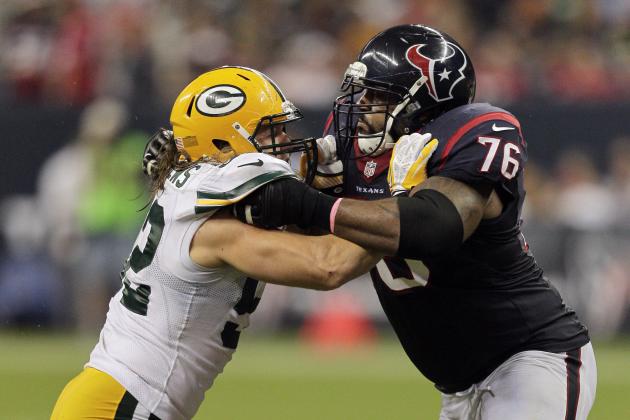 Bob Levey/Getty Images

Clay Matthews came out of the gate with a bang this season, throwing up six sacks in just two games. He was a monster, seemingly unstoppable.
It's not that he fell off after that, except that…he did.
In this case, Matthews has not had a bad season to date, but that doesn't mean there isn't room for improvement.
Matthews always has the ability to be a difference-maker on the field, stirring up problems for the opposing offense regardless of whether he shows up on the stat sheet. He has been doing that, in many cases opening up opportunities that his fellow defenders have been able to take advantage of.
On the other hand, it's always nice for the team when he's able to do some stat padding of his own. There's only so much inspiration (or in the case of the opposition, fear) that Matthews can generate without actually getting the prize somewhat regularly.
As a team leader, Matthews must do his best to lead by example. Those examples need to be exemplary performances each week for the rest of the season.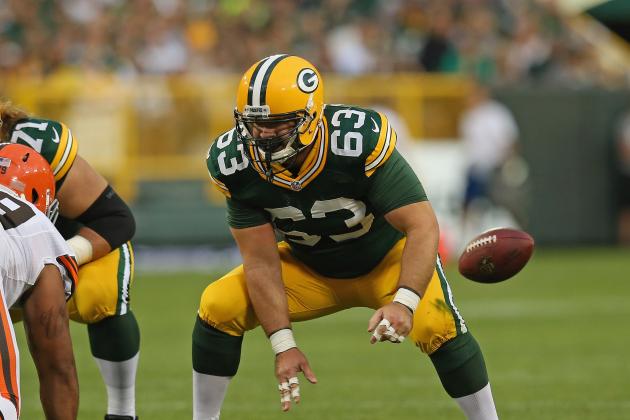 Jonathan Daniel/Getty Images

A good center is hard to find in the NFL, but when the center struggles, the impact can have a ripple effect on the whole audience.
Last offseason, the Packers parted ways with longtime center Scott Wells and brought in veteran Jeff Saturday from Indianapolis. The transition hasn't been as smooth as everyone involved would have hoped.
To put it simply, the Green Bay offense is very different than the offense Saturday grew used to in Indianapolis. He moved from one of the most complicated offenses in the league to another complicated one, and there's a learning curve involved.
Saturday is a quick study, and he should be able to pull it together given enough time. The Packers need that to happen sooner rather than later.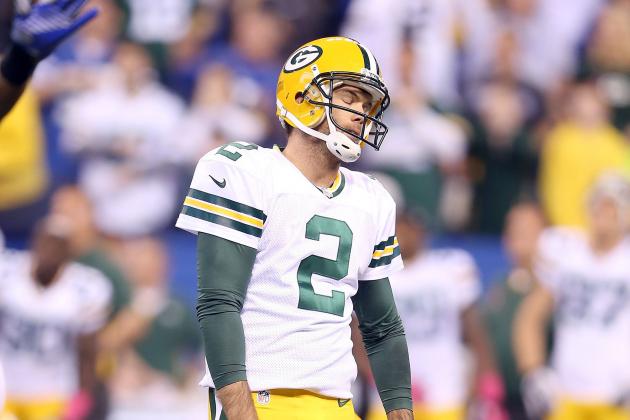 Andy Lyons/Getty Images

Of all the times for Mason Crosby, the pinnacle of accuracy, to fall apart twice in the same close game was devastating to the Packers. The offense struggled, but he had two chances to tie or even win the game in perfect kicking conditions, and he missed. Twice.
There were questions about Crosby's accuracy when he was signed to a long and lucrative contract extension in 2011, but he delivered last year by not screwing up too badly.
This season, he has already cost them a game.
Moving forward, this kicker must be on his A-game for the rest of the year even though conditions in most games will never be as ideal as the ones in that dome in Indianapolis.
Al Bello/Getty Images

Ranked as one of the best tackles in the league in 2011, Bryan Bulaga has lost touch with his A-game in 2012.
Bulaga's fall from grace became painfully apparent against the Seattle Seahawks when he was personally responsible for at least three of the eight sacks that Aaron Rodgers suffered that night.
While he has shown some improvement in the past couple of weeks, he has still been a weak point in the offensive line, giving up pressure and failing to do his share when it comes to run blocking.
With the ground game on the ropes for the foreseeable future, thanks to injury and the Packers relying more than ever on their passing game, Bulaga needs to find a way to get back to last year's form as soon as possible.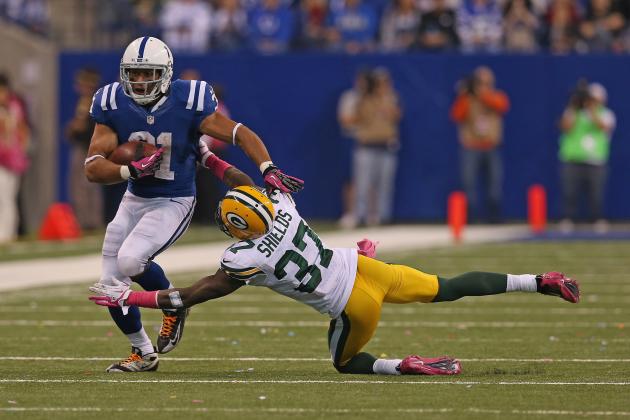 Jonathan Daniel/Getty Images

Cornerback Sam Shields has had a rough start to the season, and it hasn't gotten any better. He may be out for the time being with an injured shin, but regardless of if he plays on Sunday, he'll be on the field in the second half of the season.
Shields is a bit of a strange case. There is a pretty valid argument that he has been victimized in several instances this year, either receiving inaccurate calls against him or non-calls that could have helped the team.
Regardless of the odds that have been stacked against him, Shields has not been the commanding presence on the field that we know he can be. As soon as he returns from his injury—be it in the upcoming week or after a short break—the Packers need him to step it up.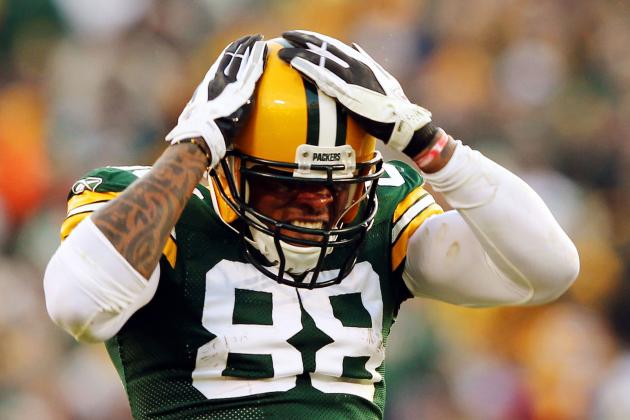 Jamie Squire/Getty Images

Over the past several seasons, Jermichael Finley has proved that he can talk big. But when it comes time to deliver, he falls flat.
According to Pro Football Focus, Finley had one of the highest drop percentages in the league in 2011. This year, he is well on his way to surpassing that.
As Bleacher Report's Andrew Garda breaks down beautifully, the problem reared its head again in the beginning of the season against the San Francisco 49ers and has continued since. In that particular game, it is not necessarily the number of drops, but rather the timing and the propensity for them to happen in physical coverage.
The fact that it has continued and that Finley has had the temerity to blame a lack of chemistry with Aaron Rodgers, is a bigger problem (via Mike Florio of NBC Sports).
Finley has always seemed to struggle to fit in with the team atmosphere in Green Bay, so this latest round of passing the blame isn't surprising.
The way that Rodgers is reacting isn't surprising, either. The aerial spectacular that Rodgers put together against Houston on Sunday, where he threw for six touchdowns and over 300 yards, barely included a glance at Finley. He was only targeted a handful of times, reeling in two catches for just 12 yards.
Finley needs to either get his act together immediately (if not sooner) or he might find himself benched and possibly even cut by the end of the season. All the potential talent in the world is useless if it doesn't translate to production on the field.