ALCS 2012: Writing the Blueprint to the Yankees Pulling off a Comeback
It almost goes without saying, but getting Alex Rodriguez going is definitely a major priority for the Yankees these days.
Elsa/Getty Images
In the first two games of the American League Championship Series, the New York Yankees looked dull, flat and totally lifeless for all but one inning against the Detroit Tigers. They very much deserved to fall behind 2-0 in the series.
And fall behind 2-0 in the series is exactly what they did. With their offense struggling mightily and the series set to reboot in Detroit on Tuesday, the Bronx Bombers find themselves in desperate times.
Is there hope?
Of course there's hope. There's always hope.
...There doesn't seem to be much of it in this case, mind you, but there's still hope all the same.
The Yankees need to win four more games to return to the World Series for the first time since 2009, and that's by no means an impossible task. Even without ageless shortstop and team captain Derek Jeter, the Yankees still have a shot at beating the Tigers as long as a few things go their way.
For example, these 10 things come to mind.
Note: Stats courtesy of Baseball-Reference.com unless otherwise noted.
Just Worry About Winning a 3-Game Series for the Time Being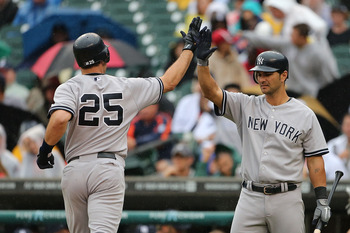 Leon Halip/Getty Images
With two games already wasted, the Yankees find themselves needing to win four of their next five games to advance to the World Series. Given the way the Tigers are playing, winning four games in this series certainly won't be easy.
But right now, the Yankees can't let themselves look at the big picture. They're better off looking at the small picture, wherein lies a much more reasonable task.
Instead of worrying about winning four out of their next five games, the Yankees should just worry about winning two out of their next three in Detroit. They need to treat their next three games just like any other three-game series on the road.
This is preferable in large part because the Yankees are in a position where they need to take baby steps, but also because they know they can win in Detroit. The Bombers went 4-3 at Comerica Park this year, splitting a four-game series there in August and winning a three-game series there in June.
If the Yankees win all three games, they'll head back to The Bronx needing just one win to advance to the World Series. If they win two out of three, they'll at least know that they'll be trying to overcome a 3-2 series deficit in the comfort of their own ballpark. That's something that many teams have done over the years, including the St. Louis Cardinals in last year's World Series.
In order to win at least two out of the next three games, however, there are some things the Yankees need to do.
Stop Letting Delmon Young Beat You
Alex Trautwig/Getty Images
When you look at the Tigers' offense, there are three guys who stand out as being particularly scary: leadoff man Austin Jackson and Miguel Cabrera and Prince Fielder in the middle of the lineup.
It's hard to notice Delmon Young because, well, he's just not that scary, is he?
For whatever reason, Young is certainly scary for the Yankees. He killed them in the ALDS last year, and he's once again doing damage against the Yankees in the ALCS this season. All told, Young has nine hits in his last 29 postseason at-bats against the Yankees, with four home runs and seven RBI mixed in.
Young is already up to four RBI through two games in this year's ALCS. No other player in the series has more than two RBI.
Sense? I see none. But what Young is doing to the Yankees is very real, and they need to find a way to put a stop to it.
Exactly how the Yankees are going to put a stop to Young is a task for Yankees pitching coach Larry Rothschild, but all of the Yankees can help themselves by taking Young a little more seriously as a threat.
In fact, it wouldn't be such a bad idea to pitch around Young the next time he comes up with a runner on second and first base open. He's given the Yankees every excuse not to tempt fate in such situations.
If the Yankees take care of Young, Detroit's offense won't be much better than their own, considering the way the club's other hitters are going. All the Yankees will have to do then is take care of Detroit's pitching.
Now, about that pitching...
Actually Do Some Damage Against Detroit's Starters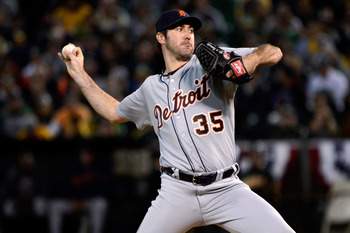 Thearon W. Henderson/Getty Images
Through two games of the ALCS, the Yankees only have 15 hits and four runs in 21 innings against Detroit's pitching.
Three of those hits and all four of those runs were earned against fallen closer Jose Valverde, who worked only two-thirds of an inning in Game 1. He was bad enough to blow what was a nice 4-0 lead by giving up two-run homers to Ichiro and Raul Ibanez.
Against Detroit's starters, the Yankees haven't been as productive. In Games 1 and 2, Doug Fister and Anibal Sanchez combined to throw 13.1 scoreless innings.
Hitting starting pitchers has been a problem for Yankees hitters all postseason so far. In fact, Danny Knobler of CBSSports.com pointed out that the Yankees have really only hit well against closers:
Yankees have faced 18 pitchers in this postseason. Hitting .375 with 10 R off 2 closers (Johnson, Valverde), .188 with 10 R off other 16.

— DKnobler (@DKnobler) October 15, 2012
If this continues, the Yankees are going to be out of the postseason for good in roughly two days' time. You can take it to the bank.
The Yankees absolutely need to start doing some damage against Detroit's starting pitchers, namely Justin Verlander and Max Scherzer, who will start Games 3 and 4 for the Tigers.
I realize that this is stating the obvious. I also realize that asking the Yankees to get going against Verlander and Scherzer at this juncture is like asking them to wrestle an elephant to the ground.
However, it should be noted that the task before the Yankees isn't that tall. They handled Verlander and Scherzer pretty well in the regular season, and they'll have a chance to do some damage if some key hitters in their lineup get going.
Such as...
Get Robinson Cano Going at the Plate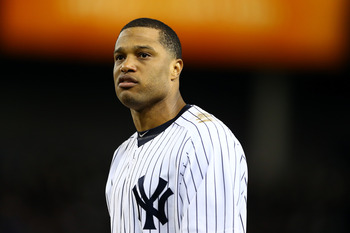 Al Bello/Getty Images
It's hard to find a Yankees hitter who isn't struggling right now, but by far, the most surprising development of the postseason to this point is the terrible slump Robinson Cano has fallen into.
Cano has just two hits in 32 at-bats during the postseason, including zero in his last 26 at-bats. His hitless streak is the longest in postseason history.
This is quite the shock, seeing as how Cano hit .313 during the regular season and a whopping .615 over the final nine games of the regular season. He's gone from being the Yankees' best hitter to being their worst hitter (yes, worse than A-Rod) in a span of less than two weeks.
The bright side is that there are signs that Cano's slump is largely the result of bad luck. Jeff Sullivan of FanGraphs was kind enough to point out on Monday that Cano has made some decent contact lately, but to no avail. It's not like he's striking out left and right a la Curtis Granderson.
If Cano is just a little off at the plate, it's not hard to imagine him fixing things in a hurry. And if he does, the Yankees can count on his killer bat being a killer once again.
And that, in turn, would pick up the rest of the offense as a whole. When Cano is hitting, the Yankees' offense has a tendency to be considerably more dangerous.
Now, if A-Rod gets going, too...
Get Alex Rodriguez Going...against Justin Verlander?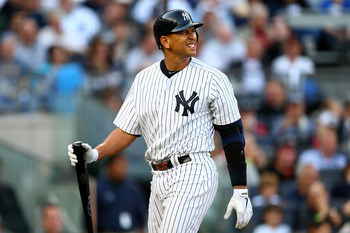 Elsa/Getty Images
Alex Rodriguez wasn't the only Yankee hitter hearing the boos in Games 1 and 2 of the ALCS in New York, but he's certainly done enough to earn whatever boos he's getting at this point.
A-Rod has had an awful postseason, collecting three hits in 23 at-bats with 12 strikeouts. None of his three hits have come against right-handed pitchers, a distressing sign, seeing as how Detroit's starting rotation consists of all right-handers.
And on Tuesday, A-Rod and the Yankees will be going up against the best right-hander in the business in Justin Verlander. If New York's offense is anywhere near as hopeless in Game 3 as it was in Games 1 and 2, Verlander is going to carve it up like a piece of cheese.
On the bright side, one guy who did pretty well against Verlander this season was none other than A-Rod.
Rodriguez is a career .333 hitter against Verlander with three home runs. Two of those home runs came in the early goings this season, as A-Rod took Verlander deep in late April at Yankee Stadium and in early June at Comerica Park.
We may as well be talking about ancient history where A-Rod is concerned, as he just hasn't been the same hitter since he returned from a DL stint with a broken hand in early September. Hard fastballs from right-handers are giving him loads of trouble these days, and Verlander's fastball is very hard.
But it could be that A-Rod just happens to see Verlander very well. If he does, a matchup against Verlander could actually be just what the doctor ordered for A-Rod's bat.
Regardless of who's doing the damage, priority No. 1 for the Yankees in Game 3 will be making sure Verlander runs out of gas at some point.
Make Verlander Hand It over to the Bullpen in Game 3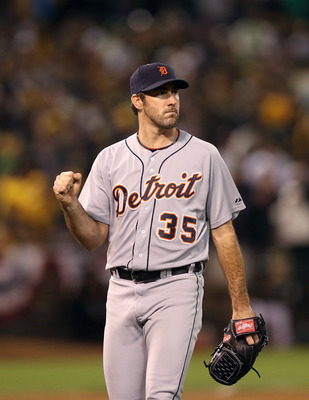 Ezra Shaw/Getty Images
The last time we saw Justin Verlander on the bump, he threw 122 pitches in a complete-game effort against the Oakland A's in Game 5 of the American League Division Series. Considering the circumstances, it was the best performance of his career.
And now he gets to face a Yankees lineup that has been all sorts of out of sorts in this postseason. If ever there was a recipe for a playoff no-hitter or perfect game, we're looking right at it. No joke.
Regardless of how many baserunners or how many runs he allows on Tuesday, the Yankees are finished in this series if Verlander goes the distance. A complete game for Verlander will likely mean another win for the Tigers, and another win for the Tigers will stretch their lead to 3-0.
Only one team in MLB history has ever come back from a 3-0 deficit, and the Yankees don't have the same kind of firepower or collective mojo of the Red Sox team that came back to beat them in 2004. They can't let their deficit go to 3-0.
They have to do whatever it takes to get Verlander out of the game. Ideally, they'll knock him around for at least a few runs. At the very least, they need to drive his pitch count up to a point where Jim Leyland will feel compelled to save his ace for the next game.
The Yankees may not be able to beat Verlander, but they know they can beat Detroit's bullpen. If they can get Tigers relievers to cough up Game 3, they'll suddenly find themselves in pretty good shape in this series.
This, of course, has everything to do with who's lined up to start Game 4 for the Yankees.
CC Sabathia Day Must Be Win Day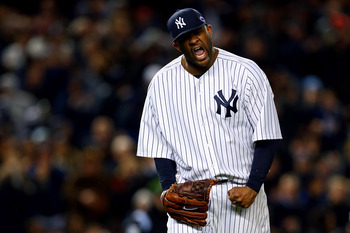 Elsa/Getty Images
One way or another, CC Sabathia will pitch at least once in the ALCS against the Tigers. He's slated to toe the rubber on Wednesday in Game 4 against Max Scherzer.
Regardless of what kind of deficit they may be dealing with, the Yankees must win Game 4 behind Sabathia. No ifs, ands or buts about it.
Fortunately for them, winning Game 4 behind Sabathia isn't such a tall task. Including the two starts he's made in the playoffs, the Yankees have won each of the last five games their burly lefty has started.
And for good reason. Dating back to Sept. 21, Sabathia is working on a string of five straight games in which he's pitched at least eight innings. He pitched a complete game his last time out in Game 5 of the ALDS, and he came one out short of pitching a complete game in Game 1 of the series.
The way he's pitching right now, it doesn't really matter whom Sabathia is facing. As it is, though, it bodes well for him that he pitched pretty well against the Tigers during the regular season. In three starts against Detroit, Sabathia compiled a 3.32 ERA over 21.2 innings.
If the Yankees can win yet another game behind Sabathia, they'll have things set up for one of the great postseason pitchers in MLB history to send the series back to New York.
Andy Pettitte Day Must Be Win Day as Well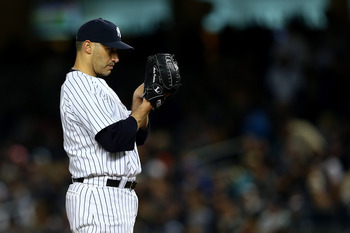 Elsa/Getty Images
Andy Pettitte has been better than anybody figured he would be in his return to action in 2012. He had a 2.87 ERA in the regular season, and he's allowed only five earned runs in 13.2 innings so far in the postseason.
However, the Yankees have lost both games Pettitte has started in the postseason. For that matter, they're just 8-6 in the 14 starts Pettitte has made this year between the regular season and the playoffs.
As usual in these situations, a lack of run support is to blame, and there has certainly been a lack of support for Pettitte so far in the postseason. He got only two runs of support in Game 2 of the ALDS against the Orioles, and the Yankees didn't score any runs while Pettitte was in the game in Game 1 of the ALCS.
Pettitte was thus forced to walk a tightrope in Game 1, and he couldn't make it out of the game before finally slipping in the sixth inning. After cruising through the first five innings, Pettitte allowed three hits, two walks (one intentional) and two runs in the sixth.
If the Yankees force Pettitte to walk a tightrope once again in Game 5, they could find their season coming to an end. He's very good, but there's only so much he can do.
If they get him some runs, on the other hand, Pettitte could be at the center of a happy flight home back to New York.
Hopefully, they'll receive a warm welcome.
Return Home to a Packed House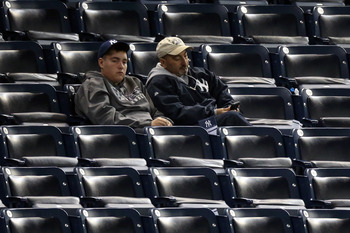 Bruce Bennett/Getty Images
Where have all the Yankees fans gone?
It's a question that a lot of people have been asking in recent days, and for good reason. The new Yankee Stadium can hold a little over 50,000 people, yet crowds of around 47,000 have shown up for each of the Yankees' last three home games in this postseason.
Yes, you heard that right. There have literally been thousands of empty seats at Yankee Stadium. In the playoffs. With the Yankees on the field.
What's worse is that the fans in attendance haven't done much to intimidate the opposition. Tigers outfielder Quintin Berry went so far as to say that the fans in Oakland were a lot rowdier than the fans in New York.
"This is a very easy place to play now," said Berry of Yankee Stadium, courtesy of Jeff Passan of Yahoo! Sports.
Yankee Stadium an easy place to play? What universe is this?
Granted, there are good explanations for the lackluster fan support in these playoffs. Tickets at the new Yankee Stadium aren't cheap, and it's a little too debatable whether this Yankees team is worth the high price of admission.
The attendance totals say they're not. A lot of Yankees fans will confirm the point if you go around asking.
If the Yankees make it back to New York in the ALCS, however, the fans need to be there. There will be no excuses for not showing up if the Yankees come back needing just one or two wins to go back to the World Series.
More fans—and, indeed, louder fans—could only make getting there easier for this Yankees team. They need a 10th man now more than ever before.
At the Very Least, Just Get It to Game 7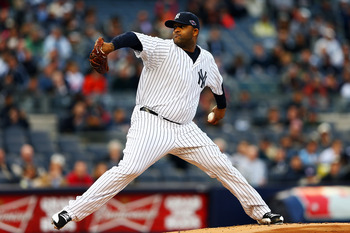 Elsa/Getty Images
Conceivably, the Yankees could win the ALCS in six games. All they'd have to do is sweep in Detroit and then win Game 6 back at home.
But this isn't likely. If the Yankees win the ALCS, they're probably going to need seven games to do it.
And you know what? Getting the series to a Game 7 would be just fine. The Yankees would have a pitching matchup that they can live with.
If needed, Game 7 would be on Sunday at Yankee Stadium, and it would feature a matchup between Sabathia and Verlander.
Two of the best aces in baseball in a winner-take-all game. You can't beat that.
In a matchup between Sabathia and Verlander, both clubs would feel pretty good about their chances. The Tigers have ridden Verlander to victory many times over the years, and they could do so again if he starts Game 7. Likewise, the Yankees could ride Sabathia to victory just as they have so many times since he joined the club in 2009.
Sabathia, however, would have the advantage of pitching at home with (hopefully) a roaring crowd at his back.
That would give him a very slight edge, and that could be good enough.
If you want to talk baseball, hit me up on Twitter.
Keep Reading