McGill Martlets Building a Legacy with the Finest Team Culture in CIS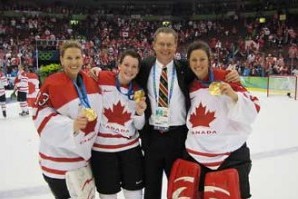 Martlets at the Vancouver Winter Games (From left: Kim St. Pierre, Catherine Ward, Peter Smith, Charline Labonte)

As one of the top women's ice hockey university programs in Canada, the McGill Martlets have built a legacy that few schools can compare to. In 1999, Peter Smith assumed the reins of head coach and he has amassed a record of 328 wins, compared to only 117 losses and 31 ties.
The 2012 BLG Award winner (awarded to the best male and female athlete in Canadian Interuniversity Sport) Ann-Sophie Bettez graduated from the Martlets in 2012 as the all-time leading scorer. She broke the record set by former linemate Vinny Davidson.
When asked what makes McGill such a great program, Bettez replied, "Give the credit to Peter. They [coaching staff] worked hard to build up the program."
Bettez added, "In past history, Concordia was the national powerhouse. Kim St. Pierre and Charline Labonte really changed things. Catherine Ward and Vinny Davidson came along, and they made the team better."
"Leadership and hard work are the core values of the McGill Martlet hockey program," said former team captain, Cathy Chartrand. "Developing leadership is very important in a team's success, but each and every player must lead by example in their way. Whether it's in the classroom, at the rink or in your career, you only get out of something what you put into it. As a teammate, you have the responsibility of making the person beside you work harder and help bring your team to the next level."
The McGill experience was so great to current Montreal Stars (CWHL) rookies Bettez, Charline Labonte and Cathy Chartrand, that the three have returned for the 2012-13 season to assist the coaching staff.
"The three of us are skills coaches. Peter does the overall stuff, such as the defensive zone. I will help out with the forwards, Cathy will work on defense, and Charline will work with the goalies," mentioned Bettez. "It has been good to go throughout this route."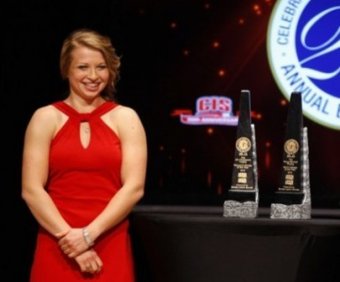 As the all-time leader in shutouts in CIS history, the Martlets goalies could not ask for a better skills coach than Labonte. One of the few women in CIS history to have played in five CIS National Tournaments, she is happy to contribute to the coaching staff.
"I am coaching the goalies one day a week. I would like to do more but it is fun to work with the three goalies. Last season, I played with Andrea Weckman and Taylor Salisbury," stated Labonte.
Having won a CIS National title and a Clarkson Cup with the Montreal Stars, Alyssa Cecere is accustomed to playing for great teams. While she would be the first to acknowledge that the Stars are like a family, she holds similar feelings about McGill, "Definitely. My years in university hockey were the best hockey years you could play. We [the players] did not have to work, it was a student culture. We did the same thing every day, and saw each other every day."
The bonds that McGill players have shared carried with them after their university years. Carly Dupont-Hill and Vinny Davidson were friends before their tenure at McGill. "We both lived in the West Island [of Montreal], and played hockey together. After McGill, we both became teachers," stated Dupont-Hill.
Davidson and Dupont-Hill also had the chance to play together (along with Cecere and Chartrand) for the Canadian National Team at the 2009 Winter Universiade. "It is something I will never forget. Cecere, Carly and I were linemates. It was fun to play with girls I knew," stated Davidson.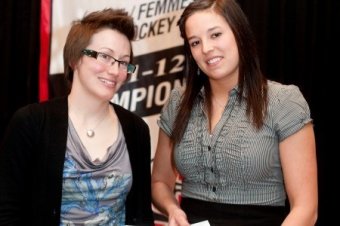 Prodigious Melodie Daoust (the 2012 CIS Rookie of the Year Award Winner) turned down full scholarships from many NCAA schools for the opportunity to play at McGill. "There is a great combination of coaches, and a great group of girls. McGill is the best university in Canada and everyone here works hard."
When former Montreal Stars player Leslie Oles chose McGill, its sterling reputation was of great importance to her. "I knew the coaches and the team that McGill University had. It is a huge thing when you consider choosing your school. University hockey should be the best 4 to 5 years of your life."
Currently the signature program in CIS women's ice hockey, the McGill Martlets have become as relevant to university hockey as Kentucky is to college basketball and Notre Dame is to college football. With Peter Smith at the helm, he was the architect in forging the legacy that McGill enjoys. Assistant coaches Amey Doyle (a former Martlets backstop) and Stewart McCarthey also work tirelessly to maintain the great standard of McGill hockey. "If you do not work hard in practice, they let you know. Peter Smith got me where I am," stated Oles.
Smith's leadership skills are a key reason that so many McGill players succeed in life. Former Martlets Rookie of the Year Meg Hewings currently serves as the general manager of the Montreal Stars in the CWHL. In her first season as GM, the Stars won the Clarkson Cup.
"All quotes obtained first hand unless otherwise indicated"
This article is
What is the duplicate article?
Why is this article offensive?
Where is this article plagiarized from?
Why is this article poorly edited?