25 Greatest Outfielders in Philadelphia Phillies History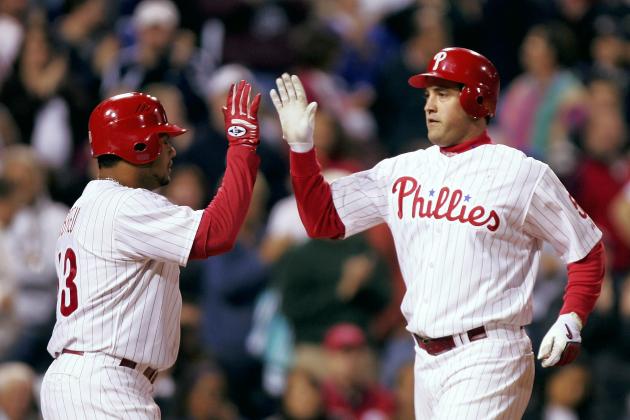 Ezra Shaw/Getty Images

Here are a couple of things that you will hear a lot about during the offseason: the Philadelphia Phillies and outfielders.
Why? Well, there is just a mutual need. Gone are the days when the Phillies could pencil in a regular at all three outfield slots, and in are the days where the Phillies are in desperate need of a center fielder, are handing the reigns over to a guy who has been more potential than success at another spot and who knows what in the other.
Kind of makes you want to look back at some of this organization's better outfielders, doesn't it?
The Phillies are an interesting franchise insofar as that the majority of their greatest all-time position players are outfielders—including some recent names that make sense, some really old ones that may ring a bell and everything in between.
So, who's the greatest? Only one way to find out.
Begin Slideshow

»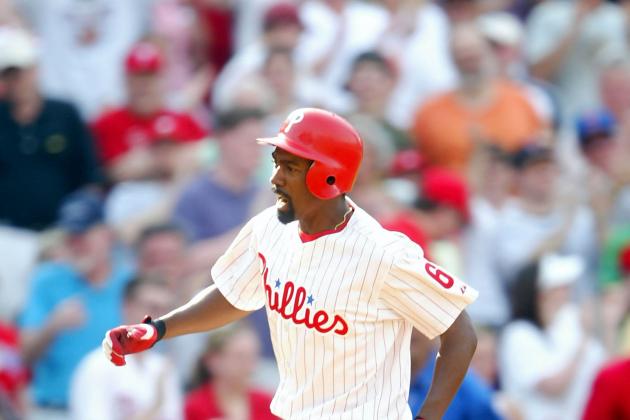 Jamie Squire/Getty Images

The Line: .276/.315/.382, 49 HR, 143 SB
Doug Glanville didn't play on many good teams, so his numbers with the Phillies often get overlooked, but he was a quality center fielder with this club.
A very good defender, Glanville also had his moments offensively. He had surprising power that could sneak up on teams and good speed with the ability to swipe a base.
He never won any major awards, but the right-handed hitter was a solid, top-of-the-order bat for the Phillies for six seasons.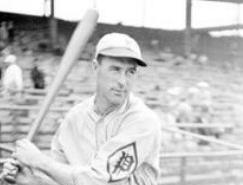 http://philliesnation.com/archives/2009/02/100-greatest-phillies-49-lefty-odoul/
The Line: .391/.460/.614, 54 HR
You'll have to take Lefty O'Doul's numbers with a grain of salt because he played in the notorious Baker Bowl—a hitter-friendly park and bandbox if there ever was one.
But even after you take that into consideration, O'Doul put up some impressive numbers.
He led the league in batting average and on-base percentage in his first season with the Phillies, and he finished second in the MVP voting to some scrub (plenty of sarcasm intended) named Rogers Hornsby.
When he wasn't hitting, O'Doul did a little pitching in his career as well.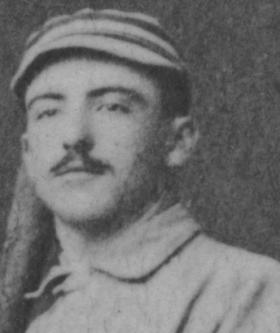 http://www.ootpdevelopments.com/board/ootp-mods-rosters-photos-quick-starts/184046-gambo-t_wil1-photopack-66.html
The Line: .247/.331/.341, 16 HR, 289 SB
If you're ready to party like it's 1889, Jim Fogarty has you covered.
The former outfielder played with the Phillies—then the Philadelphia Quakers—from 1884-89 and was a mainstay in the lineup, as well as a quality hitter by the standards of that era.
A patient hitter with some speed, Fogarty led the league in walks, stolen bases and plate appearances at least once as a member of the Quakers.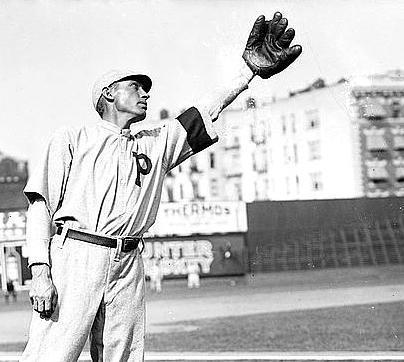 http://en.wikipedia.org/wiki/File:Dode_Paskert_2163490216_a8da045463_o.jpg
The Line: .272/.357/.374, 28 HR, 149 SB
Dode Paskert is probably best remembered for being traded to the Chicago Cubs in return for a guy that is a bit higher on this list, Cy Williams, but he was a good hitter in his own right.
The right-handed center fielder wasn't particularly flashy in any one area of his game, but a consistent approach helped keep him in the lineup in Philly for seven seasons.
In 1912, his second season with the Phillies, Paskert finished 14th in the league's MVP voting.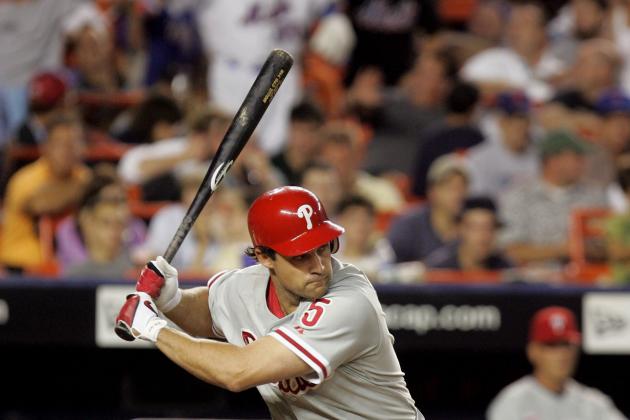 Jim McIsaac/Getty Images

The Line: .257/.367/.485, 251 HR
Pat Burrell may be a little low on this list by some standards, but we're not talking about the 25 greatest offensive outfielders. We're talking about the 25 greatest outfielders in general, and Burrell's defense left something to be desired.
If you can stomach the "deer in the headlights" approach to left field, Burrell was an excellent left fielder. He came up through the Phillies system as a third baseman and made the switch while Scott Rolen was still playing the hot corner.
All things considered, Burrell wound up having a very solid career. He never lived up to the Phillies' lofty expectations, but he was a very good complementary player nonetheless.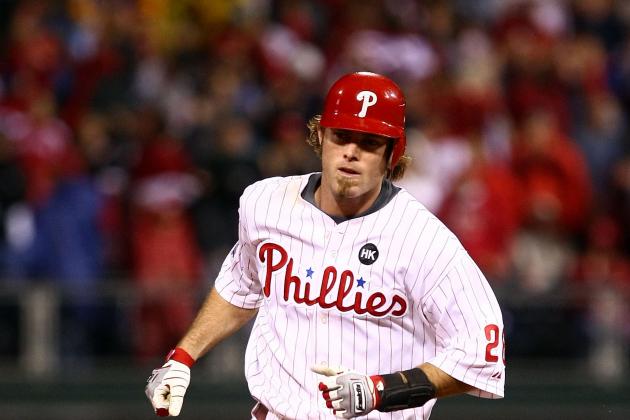 Chris McGrath/Getty Images

The Line: .282/.380 /.506, 95 HR, 60 SB
It's funny in a peculiar kind of way, but Jayson Werth and Pat Burrell were kind of (maybe if you squint your eyes a little) similar players.
The difference, in my opinion (and the reason that I'm ranking Werth ahead of Burrell here), is that Werth was a much better defender and was incredibly underrated for quite a while.
He was a better contact hitter than Burrell and had just as much power. Werth had a little speed on the basepaths and wasn't going to embarrass you in the outfield.
When all was said and done and both had closed their Phillies storybooks, Burrell is probably the better Phillie, but Werth was the better outfielder.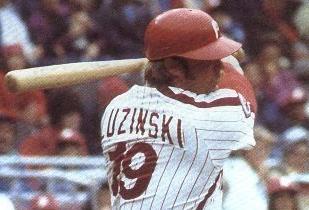 http://philliesnation.com/archives/2009/03/100-greatest-phillies-17-greg-luzinski/
The Line: .281/.363 /.489, 223 HR
After I was finished debating the credentials of Pat Burrell and Jayson Werth, Greg Luzinski came up. Now we have an interesting conversation.
Like Burrell, Luzinski was a terrible defender. How much do you discredit him for that?
The answer is quite a bit. And if you really value defense, Luzinski may even be a bit high, but he was a much better hitter for a lot longer than both Burrell and Werth, and that's saying something.
Luzinski is a four-time All-Star who, from 1975-78, finished in the top 10 in MVP voting in four consecutive seasons, including two second-place finishes.
Plus, he gets brownie points for one of the coolest nicknames ever: "The Bull."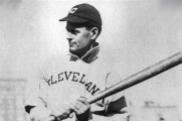 http://www.fanbase.com/Elmer-Flick
The Line: .338/.419/.487, 29 HR
Trying to do a Google search of Elmer Flick without having Elmer Fudd pop up in the results was impossible, but I promised myself that I would avoid a rabbit-hunting reference here and be better for it at the end of the day.
Flick, who built the majority of his Hall of Fame career as a member of the Cleveland Naps, also spent four seasons with the Phillies.
His greatest accomplishment with the Phillies was leading the league in RBI during the 1900 season.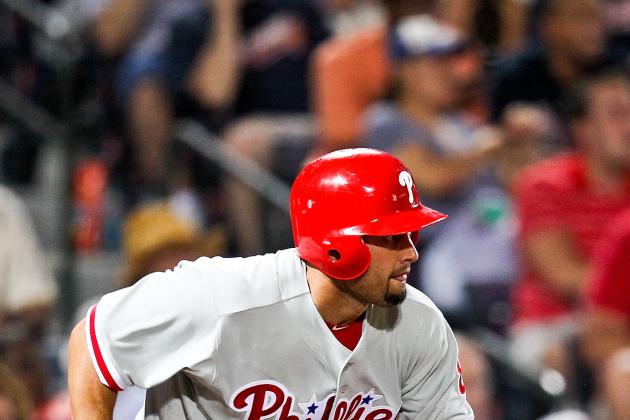 Daniel Shirey/Getty Images

The Line: .279/.354/.439, 88 HR, 179 SB
Just traded this season, Shane Victorino's Phillies tenure is still fresh in our minds.
Watching his career progress was a blast. Here is a guy who was taken in the Rule 5 Draft not once but twice, and he still managed to become an All-Star-caliber center fielder. Now that's determination.
Victorino is an above-average defender in center field, a plus-runner and he can handle the bat. If all of the cards fall in place, he could conceivably add to his career totals with the Phillies before all is said and done.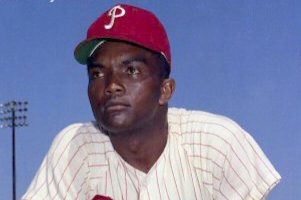 http://www.ootpdevelopments.com/board/ootp-mods-rosters-photos-quick-starts/184046-gambo-t_wil1-photopack-434.html
The Line: .259/.395/.433, 77 HR
Whenever the Phillies' "all-time" greats are brought up, Tony Gonzalez is a name that seems to sneak up on some people.
People who were around to see him play aren't surprised in the least bit. He seems to be the favorite player of an entire generation of Phillies fans. But a lot of fans of today's club really aren't aware of him, and that's a shame.
Gonzalez was a patient hitter who didn't strike out much and knew how to draw a walk, and that was the basis of his success. He wasn't flashy at the plate, but he got the job done, and that's all that matters.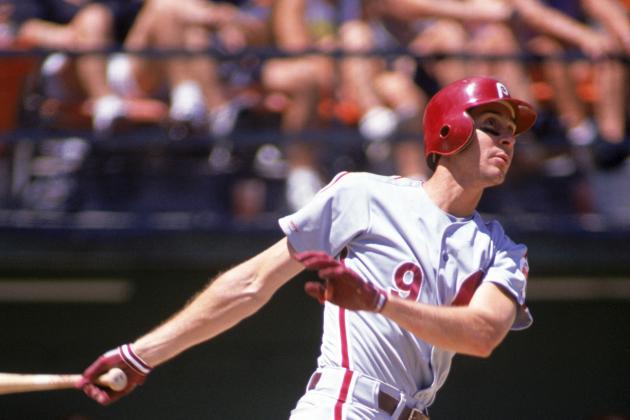 Stephen Dunn/Getty Images

The Line: .272/.363/.427, 124 HR, 202 SB
So Von Hayes never wound up being the player that the Phillies thought they were getting in the infamous "five-for-one" deal. He still wound up becoming a very good outfielder (and hitter at other positions as well).
Hayes was drafted by the Cleveland Indians and then acquired by the Phillies prior to the 1983 season. He helped lead his new club back to the World Series in '83, but would never come close after that.
He was named to the All-Star team in 1989 and finished eighth in the National League's MVP voting when he led the NL in doubles and runs scored.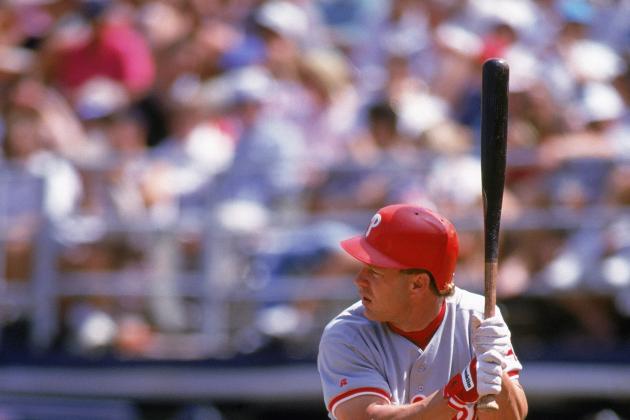 Stephen Dunn/Getty Images

The Line: .289/.388/.422, 51 HR, 169 SB
Lenny Dykstra has gone off the deep end in recent years, but it has nothing to do with being a failure as a baseball player. In fact, Dykstra may be one of the more underrated players in this club's history.
The former outfielder's reputation is often met with a gritty, hard-nosed style of baseball. He was brash, cocky and feared nothing, but let's not forget—this guy could hit.
Dykstra was an excellent contact hitter with strong on-base skills and he helped pace the Phillies offense in one of their greatest seasons: 1993.
A three-time All-Star, Dykstra's 1993 campaign almost resulted in an MVP award. He finished second to some guy named Barry Bonds, if you've ever heard of him.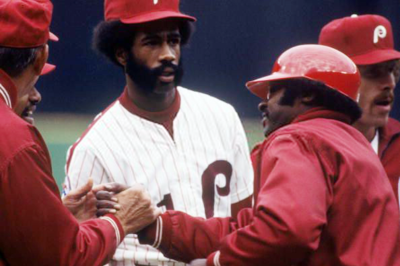 http://dickallenhof.blogspot.com/2011/09/secretary-of-defense.html
The Line: .284/.320/.409, 85 HR, 189 SB
Garry Maddox made his money on the defensive side of the ball. You don't get to have a nickname like "The Secretary of Defense" without playing an elite center field for a long time, and Maddox's eight Gold Gloves show that he was respected out there.
But this guy could hit too. He was a big part of the Phillies' offense.
During the 1976 season, Maddox had an excellent offensive campaign that helped him finish fifth in the league's MVP voting. He was an integral part of the Phillies' 1980 championship run as well.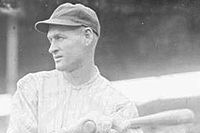 http://en.wikipedia.org/wiki/Cy_Williams
The Line: .306/.380/.500, 217 HR
The Phillies already had a very good center fielder in Dode Paskert, but even still, they upgraded in a big way when they sent him to the Chicago Cubs in exchange for Cy Williams.
Williams had gotten off to a disappointing start in his career, and the Cubs must have seen him as expendable because the Phillies got him for relatively little.
Williams' career took off with the Phillies. The first two seasons of his 13-year career with the club would be the only ones where he posted an OPS south of .800.
He had the best season of his career at the ripe-old age of 38, when he hit .345 and led the league in slugging percentage.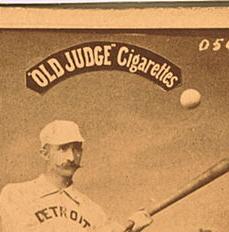 http://en.wikipedia.org/wiki/File:Sam_Thompson_Baseball_Card.jpg
The Line: .334/.388/.509, 95 HR, 192 SB
The man, the myth, the mustache: Sam Thompson.
But Thompson could do much more than grow an outstanding mustache. He was also an incredible baseball player.
A right fielder and left-handed hitter by trade, Thompson was a solid two-way hitter who really made his money at the plate. He led the league in hits, doubles, home runs, RBI and slugging percentage more than once.
He could hit, run and throw with ease. What more could you ask for out of a right fielder? This one eventually wound up in the Hall of Fame.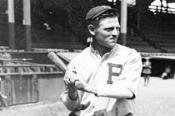 http://www.fanbase.com/Gavvy-Cravath
The Line: .291/.381/.489, 117 HR
Gavvy Cravath was a great baseball mind, and that helped make him a good manager. What really helped him during his playing days was the simple fact that the man could hit.
Cravath, who was an average defender at best, tore the cover off of the ball with the Phillies.
From 1913-15, Cravath was one of the most dominating hitters in all of baseball, leading the league in runs, hits, home runs, RBI, walks, on-base percentage, slugging percentage, OPS, OPS+ and total bases at least once.
In 1913, he finished second in the league's MVP voting to Brooklyn's Jake Daubert.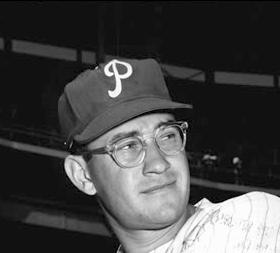 http://www.ootpdevelopments.com/board/ootp-mods-rosters-photos-quick-starts/215060-1949-starting-lineups-2.html
The Line: .286/.344/.479, 259 HR
One of the most underrated hitters in the history of this franchise and arguably one of the most underrated hitters of all-time, Del Ennis was a force for the Phillies.
He was the anchor for the Phillies' lineup for several seasons, including during the 1950 campaign—when he led the league in RBI—that resulted in a run at the World Series.
A three-time All-Star, Ennis finished within the top 15 of the MVP voting in seven different seasons, including that 1950 campaign when he would finish fourth.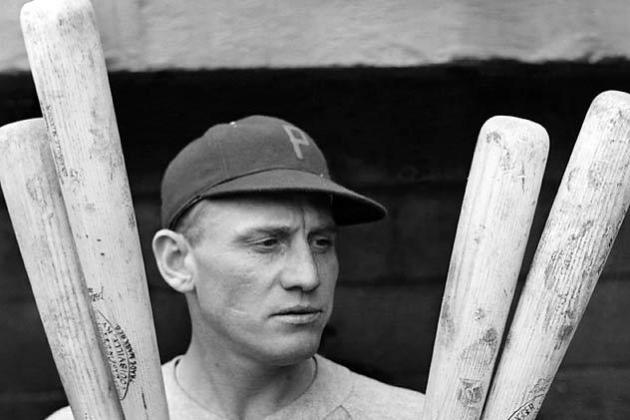 http://dickallenhof.blogspot.com/2012/07/on-this-day-chuck-klein-x4.html
The Line: .326/.382/.553, 243 HR
Chuck Klein was another hitter who had a little help from the Baker Bowl early in his career, but that doesn't mean that he was not a legendary hitter, because he was.
If a baseball had feelings, Klein could make them hurt.
Looking over his statistics, it just seems as though every time that the former right-handed slugger put the bat on the ball, he notched a hit. That helped him become one of the most dominant hitters in the game early in his career.
From 1931-33 he had three straight MVP-caliber seasons where he led the league in games played, runs, hits, doubles, home runs, RBI, stolen bases, batting average, on-base percentage, slugging percentage OPS, OPS+ and total bases at least once.
He won the MVP award in 1932 and followed it up with a Triple Crown the following year.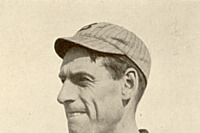 http://en.wikipedia.org/wiki/Roy_Thomas_(outfielder)
The Line: .295/.421/.334, 228 SB
Roy Thomas spent all but two seasons of his 14-year career patrolling center field for the Phillies, and boy, was he good.
Though he had no power to speak of, Thomas was an above-average defensive center fielder who always seemed to find a way to get on base.
One of his greatest skills was drawing a walk. He led the league in free passes seven different times. He also led the league in on-base percentage twice.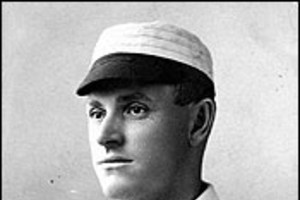 http://fromdeeprightfield.com/sliding-billy-hamilton-first-great-run-producer/
The Line: .360/.468/.459, 510 SB
If you want your son to be fast, name him Billy Hamilton.
The Cincinnati Reds prospect by that name made his mark on professional baseball this season by setting the all-time, single season stolen base record. But even then, he has some work to do to fill "Sliding Billy's" shoes.
The latter Hamilton played for the Phillies for six seasons from 1890-95. He led the league in stolen bases four different times with the Phillies and set the pace of their lineup by consistently reaching the basepaths at the top of their order.
To boot, he was a very good defensive outfielder as well.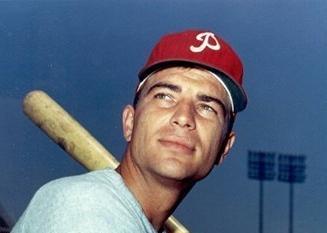 http://www.fanbase.com/photo/1161332
The Line: .271/.338/.457, 185 HR
Any player who can say that he was the face of the franchise for more than a decade has a well-deserved spot high on this list, and few are more recognizable than Johnny Callison.
The former right fielder was around for the good, the bad and the ugly of the 1960s, and even in years where the Phillies were garbage on the field, fans came to watch Callison play.
Of course, he was too modest to say so. That was what made him a great man. What made him a great player was that he was so well-rounded.
Callison could hit for contact and power. He'd swipe a base if you needed him to or leg out a triple. He was just consistent, and I think that's what fans loved about him.
It didn't hurt that he could play a mean right field either.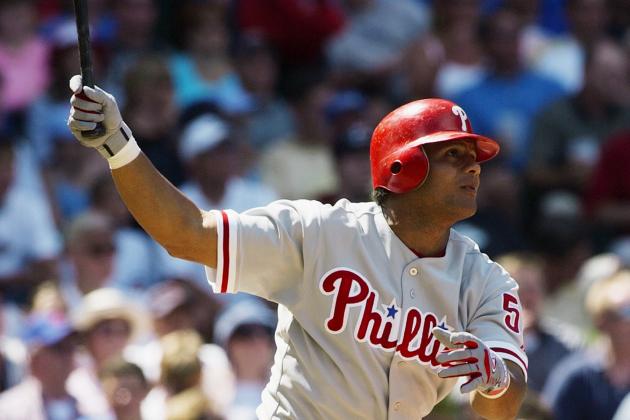 Jonathan Daniel/Getty Images

The Line: .303/.416/.513, 195 HR, 254 SB
What was it that made Bobby Abreu so underrated? It certainly wasn't the numbers. Perhaps it was the fact that, to this day, some fans blame him for the Phillies' futility during the early 2000s.
Believe me. That's grossly inaccurate.
If Abreu were even a tad more approachable in the clubhouse, we would constantly be talking about him as one of the greatest players in the history of this franchise. In fact, I'm going to do it anyway.
A two-time All-Star, Abreu was a very well-rounded player. And not that they are the be-all, end-all by any means, but Abreu's trophy case houses both a Silver Slugger and a Gold Glove, which should tell you something.
He led the league in doubles and triples once during his Phillies tenure and, despite what other people will tell you, was a good defensive right fielder in Philly.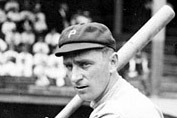 http://www.baseball-reference.com/bullpen/Sherry%20Magee
The Line: .299/.371/.447, 75 HR, 387 SB
A lot of players on this list could be called "underrated" in some way or another—especially guys that played in a different era of baseball.
But if I had to pick one player on this list and call him the most underrated Phillie of all-time, it would be Sherry Magee. The things that this man was able to do and go unrecognized for are shocking.
He never won a major award, but I'm sure his teammates considered him extremely valuable. Magee had one of the most dominant seasons in the history of this organization in 1910 when he was one statistic (home runs) shy of the Triple Crown.
A solid defender as well, there was very little that Magee couldn't do.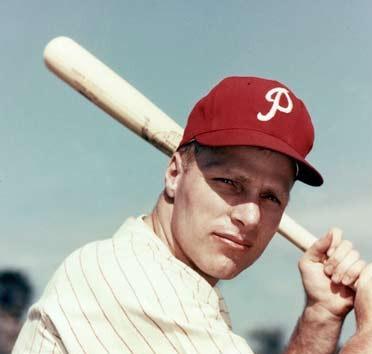 http://teamtobeat.wordpress.com/2011/03/11/vote-for-richie-ashburn/
The Line: .311/.394/.388, 946 BB, 199 SB
When you think about the greatest outfielders this franchise has ever seen—and I'm talking about in every aspect of the game—Richie Ashburn has to be one of the first players to come to mind. I almost put him first.
What made Ashburn such a pest to other teams is that he would do whatever it took to get on base, and I think that shows through in his statistics—particularly in his walks and on-base percentage.
Once he reached base, he seemed to have the uncanny power to will himself to the next base and the next base until he scored. He scored 1,114 runs for the Phillies.
A four-time All-Star and Hall of Famer, this list wouldn't be complete without Ashburn at the top. It's just appropriate.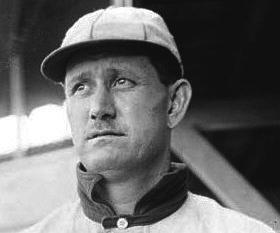 http://baseballrevisited.wordpress.com/2012/03/20/ed-delahanty-and-bob-horner-two-of-a-kind/
The Line: .348/.414/.508, 87 HR, 411 SB
The greatest outfielder in the history of the Phillies' organization is none other than "Big" Ed Delahanty—the man who single-handedly kept me from making Richie Ashburn No. 1.
Delahanty's accomplishments are just too impressive.
If there was something that Delahanty couldn't do with a baseball bat in his hands and another grown man throwing a baseball at him, I'm struggling to figure out what it was.
The former right-handed hitter led the league in a bevvy of statistics at least once, including hits, doubles, home runs, RBI, batting average, on-base percentage, slugging percentage, OPS, OPS+ and total bases.
The man hit north of .400 in three different seasons, and in 1895, he posted an OBP of .500!
The bottom line is that he'd have to be a horrendous defensive left fielder to be knocked out of first place by anyone on this list—and he wasn't even that.
Delahanty was easily one of the greatest players of all-time.