Chances of Each Player on the Roster Bubble of Making the New York Knicks
Kevin C. Cox/Getty Images
Training camp rarely fails to give us some interesting positional battles, and this year's New York Knicks camp is no different.
Though the majority of roles are pretty clear at this point, there are some major battles towards the back end of the roster that will be going on ahead of opening day.
Plenty of undrafted rookies with interesting upside will go head-to-head for the last few spots on the roster, with a few more experienced players fighting with them, too.
There will undoubtedly be some twists and turns along the way, but for now let's take a look at the chances each fringe player has of being a New York Knick come November 1st.
The Roster as It Stands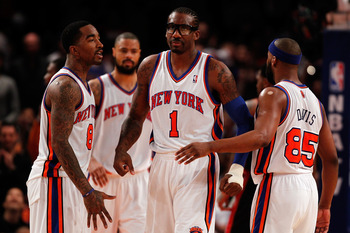 Jeff Zelevansky/Getty Images
Before we can take a look at the chances each fringe player has of making the team, we need to take a look at exactly what the Knicks roster looks like right now, and what roles need to be filled.
Though nothing is set in stone just yet, it's safe to assume that the following players will be on the opening day roster barring unforeseen circumstances:
Point Guards: Raymond Felton, Jason Kidd, Pablo Prigioni
Shooting Guards: Ronnie Brewer, J.R. Smith, Iman Shumpert (Inactive)
Small Forwards: Carmelo Anthony, Steve Novak, James White
Power Forwards: Amar'e Stoudemire, Kurt Thomas
Centers: Tyson Chandler, Marcus Camby
That leaves the Knicks with two places left to fill to reach the league maximum of 15. Looking at the roster, the Knicks probably need an extra big man and another wing player, at least until Iman Shumpert comes back.
Per league rules, players on the NBA roster with two years or less experience will be allowed to spend time in the D-League whilst remaining on the full roster, just like Jeremy Lin did for much of last season.
Players signed to the D-League outright, however, can only be added to the team during the season if there is space on the roster or if another player is released first.
Oscar Bellfield: 10 Percent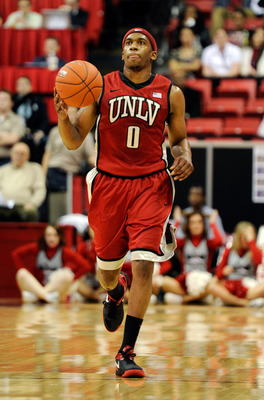 Ethan Miller/Getty Images
UNLV product Oscar Bellfield hasn't been terrible so far in camp, but unfortunately he's fighting against the odds to have any chance of making the roster.
At this point, the Knicks are stacked at point guard with Raymond Felton, Jason Kidd and Pablo Prigioni, leaving no room for the undrafted rookie on the roster.
Theoretically, Bellfield could move over to the two as extra depth until Iman Shumpert returns, but for that role there are much better options fighting with him on the fringes of the roster.
There is a small chance that Bellfield could be signed to the Knicks' D-League roster if he's cut from the full team, as he hasn't been impressive enough for another NBA team to add him to their own 15-man roster.
Chris Copeland: 85 Percent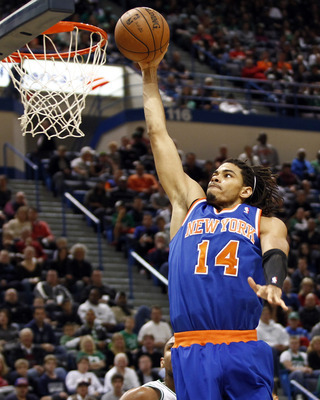 Mark L. Baer-US PRESSWIRE
No fringe player has impressed more in the preseason than Chris Copeland has in the first two games.
Copeland played only 15 quiet minutes against the Wizards in the first game, but in the second against the Celtics,he broke out with a huge 21-point performance to lead the Knicks to victory.
The Knicks are looking for someone on the bench to sit behind Amar'e Stoudemire and the NBA's oldest player Kurt Thomas, and Copeland looks to be the leading candidate right about now.
On an old Knicks bench, the youth and energy that Copeland can provide will be invaluable, but the experience he has playing ball in Europe gives him a slight advantage over the other rookies on the training camp roster.
In those inevitable games where STAT does miss time, Copeland can help to pick up the scoring, as he can both spot-up shoot and create his own shot if need be.
His ability to play both forward positions effectively will make him a useful utility player in the rotation, as he can also spend time covering for Carmelo Anthony if the Knicks decide they need someone with a more well-rounded game than Steve Novak at times as the back-up three.
John Shurna: 35 Percent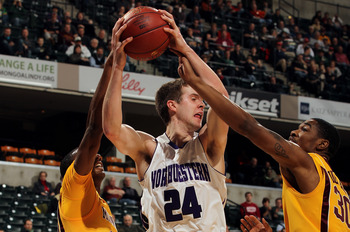 Jonathan Daniel/Getty Images
Three-point marksman John Shurna is a very interesting prospect for the Knicks, and his outstanding shooting ability could give him a genuine chance of making the roster.
Much like Steve Novak, Shurna is lights out from three, but based on his college highlight reel, there's a chance he could be more than just a shooter if he gets a go in the NBA.
For the time being, with Novak being so reliable as a shooter, it's hard to envision there being many minutes available for Shurna if he makes the roster, but the Knicks may want to keep him just to make sure that another team doesn't capitalize on his talent.
Shurna is the perfect player to play in the D-League whilst he sits on the inactive list, but the Knicks will find it tough to give up a roster spot for him to do so with the amount of competition there is.
Henry Sims: 10 Percent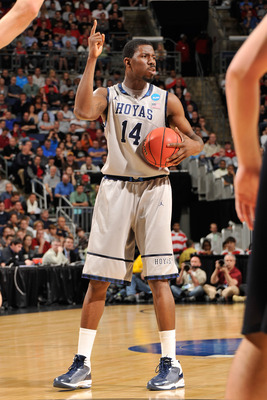 Jamie Sabau/Getty Images
The Knicks may have had huge success with a Georgetown center back in the 90s, but unfortunately Henry Sims is no Patrick Ewing.
At 6'10" and 240 lbs, Sims can provide a huge physical presence in the NBA, but he doesn't really have the skills to crack the rotation ahead of the likes of Marcus Camby and Kurt Thomas based on what we've seen so far.
For Sims to make the roster, it will probably take both Rasheed Wallace proving himself unworthy of a spot and an injury to another player taking place, but for now, he has very little chance.
As preseason develops and we see more of Sims, things could change, but at the moment he's the worst player on a relatively deep set of bigs in training camp.
Chris Smith : 0 Percent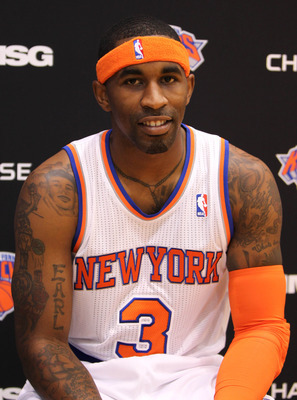 Debby Wong-US PRESSWIRE
J.R. Smith's brother Chris was a surprising addition to the Knicks' training camp roster, as he really didn't appear to have NBA quality during his time in the summer league.
Most expected Smith to have very little chance of making the full 15-man roster anyway, but with news of his knee injury it appears he's had his shot taken away from him.
Smith will be out of action for at least three to six months, but once he returns a stint in the D-League for the Erie BayHawks could be on the cards, if for nothing else than a favour to his brother after he took a pay-cut to return to the Knicks over the summer.
What we saw in summer league was an unrefined scorer with poor shot selection, but a year in the D-League could do a world of good for Smith's game.
If he returns from his injury well and takes his coaching in Erie seriously, Smith could bounce back and earn another chance in camp next year.
Mychel Thompson: 50 Percent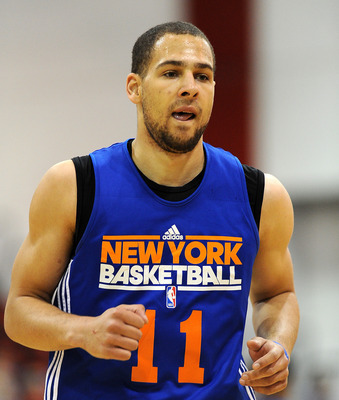 Jayne Kamin-Oncea-US PRESSWIRE
With Ronnie Brewer injured, Mike Woodson has been experimenting with starting shooting guards to keep J.R. Smith in his sixth man role for the time being.
Along with James White, Mychel Thompson has had a start at the two for the Knicks this preseason and had a nice outing to follow up on his impressive summer league performance.
As a respectable outside shooter and a solid all-around player, Thomspon has a good chance of making the roster to provide depth on the wing until Iman Shumpert returns.
Thompson is one of the few players on the fringe who could genuinely make another top team's roster if he's cut, so if the Knicks want to see him in blue and orange again they'll probably have to sign him to the 15-man roster rather than hoping he'll accept another year in the D-League.
The Pepperdine man actually spent time with the Erie BayHawks in 2011, which will only add to his desire to take the next step and make the cut for a full NBA team.
Rasheed Wallace: 75 Percent
Elsa/Getty Images
Though Rasheed Wallace has yet to even participate fully in practice just yet, the chances are that he's going to make the roster anyway.
Mike Woodson was very keen to bring 'Sheed in to camp, and the team is being patient in waiting for him to get back into game shape following two years out of basketball.
Considering the influence Coach Woodson had on Wallace's decision to return to the NBA, 'Sheed obviously brings a quality that Woodson wants on this team.
Over the course of his career, Wallace has been known as fiery and intense, and though he's maybe not the best role model, he can be a leader in the locker room.
Wallace is a former NBA champion and was in the Finals the last time we saw him in action with the Celtics, so he knows what it takes to go far in the playoffs.
So far in camp, Wallace has been putting in the extra effort to catch up with the team physically, and this is the sort of thing that the coaching staff will need to see in order to grant him his place on the 15-man roster.
If he gets back in shape soon, Wallace should have the inside track on one of these roster spots, especially once you consider the Knicks need for an extra power forward.
Keep Reading

New York Knicks: Like this team?