Virtual Simulation Stimulation: Week 8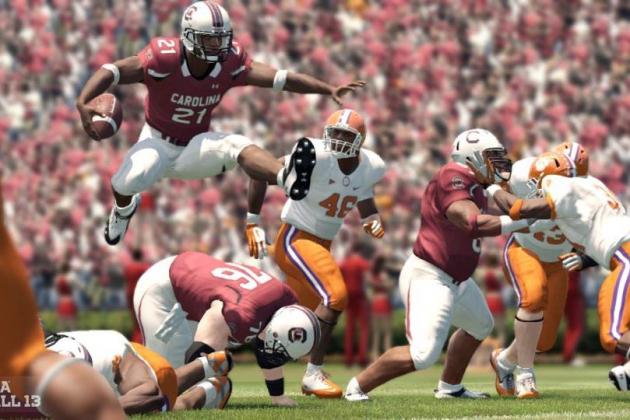 Image Via EA Sports
Twenty-two wins. Three losses.
That's what the last five weeks have looked like on the simulation front. Yes, we take tips, and feel free to leave them in the jar on your way out. Our just buy us booze; we'll gladly accept that, too.
I've run out of words to describe the current run that NCAA '13 is on, and another 5-0 performance on featured simulations last week keeps the hot streak alive and well. It predicted that Oklahoma would blow out Texas and it even had Texas Tech winning convincingly against unbeaten West Virginia. It also had Les Miles' bunch as well.
This game has powers. Sweet, nerd-centric, video game-picking powers.
For those new to this exercise, here's the rundown. We simulate the week's games using NCAA '13 and report the findings. These simulations aren't manipulated whatsoever, and then everything plays out exactly as you see here. It's become a bit of a routine.
As for this week's picks, here they are. Oh, the streak will be indeed tested, it would seem.
Season Spotlight Prediction Record Heading into Week 8: 28-7
Begin Slideshow

»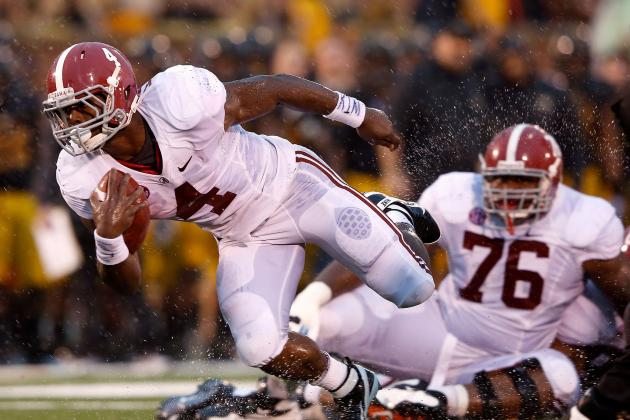 Jamie Squire/Getty Images

Although Tennessee enters the half with a 14-10 lead, Alabama shuts out the Vols from that point on and cruises to victory.
AJ McCarron completes 21-of-29 passes for 278 yards and 2 touchdowns, and the stable of running backs finish this one with 97 yards combined on 22 carries. The defense gets after Tyler Bray, sacking him 8 times overall.
Outside of being sacked, Bray finishes 11-of-30 for 90 yards, but he does find the end zone twice. He connects with wideout Justin Hunter on both of those scores in the first quarter, and that is it for Tennessee.
Derek Dooley's hot-seat temperature has been ungraded from community-center hot tub to sauna that has accidentally caught on fire, and that gym bro that never brings a towel in is smoking a cigarette while the thing is on fire. IT'S HOT IN HERE.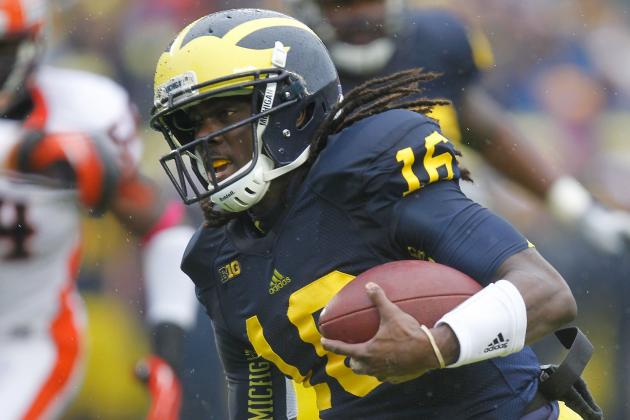 Gregory Shamus/Getty Images

Michigan State busts out of the gate with a 21-0 halftime lead, but the Wolverines come storming back in the second half to win this one. Sparty, no!
Denard Robinson throws for 270 yards and three touchdowns and adds another 77 yards on the ground. Fitz Toussaint also finally gets it going, and he finishes with 122 yards on 20 carries.
As for the other Michigan team in this equation, Andrew Maxwell struggles once again. He does finish with 262 yards and a score, but he adds three costly interceptions as well. Le'Veon Bell racks up 88 yards on 24 carries.
And it would seem that a national championship contender from the Big Ten has finally worked its way into the dis----you know what, I can't even finish that joke. Let's just move along.
Sam Greenwood/Getty Images

The LSU offense... wakes up in a big way against Texas A&M, and the Tigers rack up more than 520 yards in this one. Well, apparently NCAA '13 is feelin' frisky.
Zach Mettenberger has his best game by far, and he completes 18-of-27 passes for 288 yards and three touchdowns. The running backs are also very good in this one, and they combine to average more than seven yards per carry and score twice.
On the other side, the Texas A&M offense is held in check. Johnny Manziel throws for 175 yards, one touchdown and two interceptions. His legs are also held in check and he runs for just 35 yards. Running back Ben Malena also struggles and finishes with just 30 yards on 13 carries.
Although Mike Riley's In-N-Out Burger celebration has already been done, Les Miles treats his players in a much more original fashion and he purchases each of them a live tiger for their apartments. This is soon determined to be both a health and NCAA violation and LSU's season is suspended only 13 hours later after 17 reported injuries.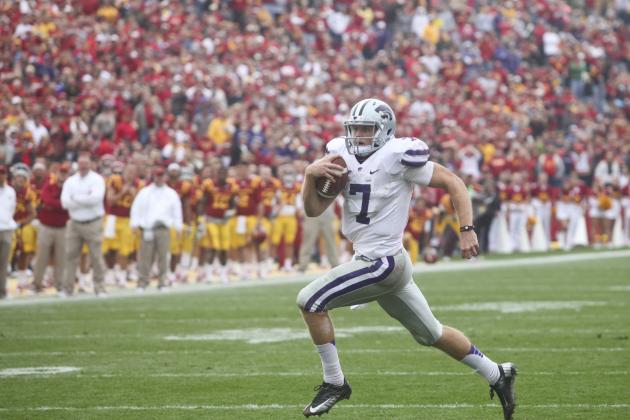 Matthew Holst/Getty Images

This one is high scoring as expected, and Kansas State continues to destroy everything in their path.
Collin Klein throws for 313 yards, runs for 114 more, and adds four total touchdowns to lift K-State in this one. Running back John Hubert also adds 121 yards of his own against a West Virginia defense that has, well, issues. We'll leave it at that.
Despite scoring a fair amount of points, Geno Smith has his worst game yet. He finishes with only 245 yards passing and two touchdowns, but he adds three interceptions as well. Wideout J.D. Woods hauls in both of Smith's touchdowns and finishes with 123 yards receiving.
Bill Snyder reveals to the world he is no longer a grey wizard but has recently been upgraded to a white wizard by the College Football Gods. Yes, that is a Lord of the Rings reference. Don't judge me.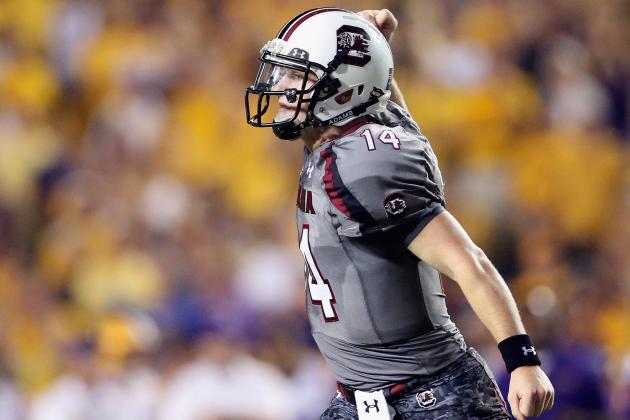 Ronald Martinez/Getty Images

Despite netting only 219 total yards, the Gamecocks cruise in this one. Two Gator turnovers—including a pick-six—are partly to blame for the strange but effective South Carolina box score.
Marcus Lattimore finishes with 16 rushes for 77 yards, and he also hauls in three passes for 33 yards. Quarterback Connor Shaw only throws for 110 yards and completes 11 balls, but he doesn't turn the ball over and finds the end zone twice.
On the other side, Florida QB Jeff Driskel completes just 10-of-25 passes, throws a touchdown and, well, that touchdown in the other direction. Gator backs do combine to run for 191 yards on 47 carries.
After nearly throwing his visor 245 times during his team's loss against LSU, Spurrier's sideline etiquette is much more appropriate in this one. He spends the better part of the fourth quarter showing Gator fans the proper way to do the Gator Chomp. Generous, that Spurrier.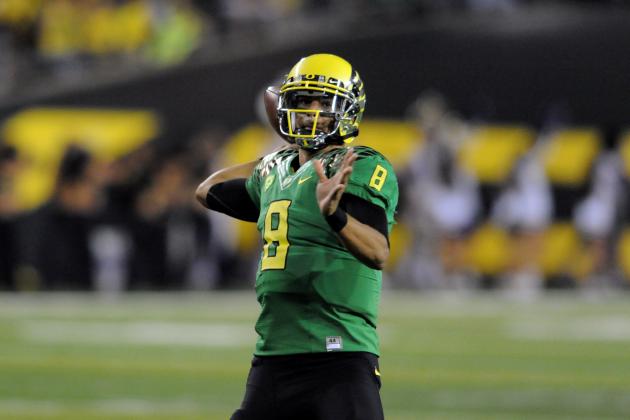 Steve Dykes/Getty Images

Kentucky 27, Georgia 24 - NCAA, I love you and I'm gonna let you finish, but please stop drinking on the job. The Internet depends on you.
Virginia Tech 27, Clemson 20
TCU 41, Texas Tech 31
Ohio State 29, Purdue 17
USF 47, Louisville 27 - For whatever reason, my game really does not like Louisville. It's intimidated by Charlie Strong, just like all of us.
USC 51, Colorado 10
Auburn 31, Vanderbilt 0 - REJOICE, TIGER FANS. NOW, LET'S TALK ABOUT THAT CONTRACT EXTENSION.
Utah 21, Oregon State 14
Nebraska 45, Northwestern 21
Washington 42, Arizona 13
Stanford 31, Cal 28
Miami 31, Florida State 21 - Oh. Well, this was unexpected.
UNC 38, Duke 28
Iowa 35, Penn State 16
Notre Dame 38, BYU 31 - This is about 55 points too high, I'd say.
Texas 34, Baylor 20
Oklahoma State 24, Iowa State 6
Arizona State 17, Oregon 10 - Oh. [repeat comment from Florida State game]