Why Do Tom Brady and the New England Patriots Repeatedly Fail in Fourth Quarters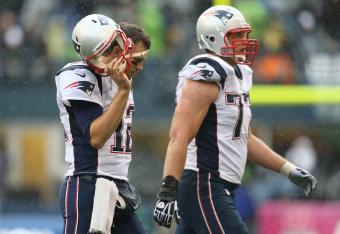 Tom Brady walks off the field in Seattle as New England lost another game it led in the fourth quarter.
Otto Greule Jr/Getty Images
If the definition of insanity is doing the same thing over and over again expecting different results, it is long past due to fit the Patriots, and their fans, with a straight jacket.
Yesterday, for the ninth time since the start of the 2009 season, the Patriots lost a game where they led in the fourth quarter. That is right, nine times, just as in the number of times Ferris Bueller was absent from school.
Stop me if you have heard this before.
New England Patriots rack up a ton of yards. New England Patriots score a lot of points. New England Patriots lead in the fourth quarter.
New England Patriots lose the game.
Just this season, New England has lost three games by a total of four points, blowing fourth-quarter leads in two of the three. In each of those games, the high-powered Patriots' offense had a chance to put the game away but was unable to do so. That was then followed by a defense completely unable to stop the other team from getting the go-ahead score.
Against the Ravens on September 23, Tom Brady threw for 335 yards and the team scored 30 points. They even led 30-21 in the fourth quarter. After Baltimore cut the lead to two, the Patriots had the ball nearing the two-minute warning, needing just one more first down to clinch the game. Instead after a Stephen Ridley rush for one yard, Brady followed by getting sacked and throwing an incompletion.
Joe Flacco then took the Baltimore offense 70 yards in seven plays, resulting in the game-winning field goal as time expired.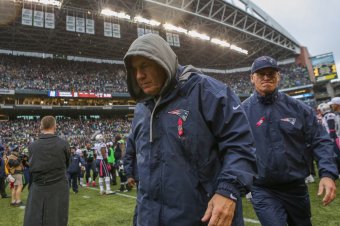 Otto Greule Jr/Getty Images
Fast forward to yesterday in Seattle. New England totaled 475 total yards and Brady threw for a season-high 395. It was enough for a 23-10 fourth-quarter lead. After the Seahawks scored to make it 23-17, the Patriots had the ball with 3:02 left on the clock. But three plays and only fourteen-seconds later, New England punted back to Seattle and then watched Russell Wilson lead Seattle on a four-play fifty-seven yard touchdown drive to win the game.
Brady did have one last chance to win the game, but could not even pick up a single first down.
Frustrating, but it should not be surprising.
Since the start of 2009, New England is 42-17, including playoffs. They have won those games by an average of 16.7 points. But the seventeen losses have been by an average of only 7.2 points.
For comparison purposes, during the three Super Bowl winning seasons, Brady and the Patriots were 19-3 in games decided by seven points or less, and from 2001-2007 (in games started by Brady), New England was 38-9 in such games. But since 2009, the Patriots are merely 12-12 in games decided by a touchdown or less. Of those 12 losses, five have been by no more than two points.
And as was mentioned before, nine times New England lost when leading in the fourth quarter. In at least seven of those games, Tom Brady and the offense had the ball late in the fourth quarter but were unable to either run out the clock or get that clinching score. The days of clock-killing Corey Dillon have been replaced by three and out, punt, and hold on for dear life.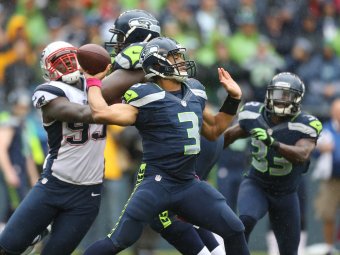 Otto Greule Jr/Getty Images
Looking back, there was the infamous fourth and two call at Indianapolis in 2009, where needing just a first down to hold on to a win, the Patriots could not do it. In that '09 season, the Patriots lost games when leading in the fourth quarter to Denver, Miami, Houston, and, as mentioned, Indianapolis.
Even last season's AFC Championship victory nearly played out the same way, with the Patriots going three and out late in the fourth quarter and having to punt to the opposing team. Only a Lee Evans drop and a Bill Cundiff shank saved the day.
The Pats were not so lucky two weeks later in the Super Bowl, where Brady, Belichick and company paid the ultimate price for being unable to protect a fourth-quarter lead, losing another Super Bowl to the Giants.
So, why then does this keep happening? Why can Tom Brady throw for three-hundred yards seemingly at will, but be unable to get first downs in tough situations in the fourth quarter? And why, again and again, can't the New England defense get off the field when they know the other team has no choice but to be passing on each down?
Offensively, Brady loves to sit in the shotgun, spread out his receivers, and knows eventually someone will get open. But with the game on the line, teams are sending more rushers at him, and time after time, he either rushes a throw for an incompletion, takes a sack, or makes a poor decision.
As for running the ball—no chance.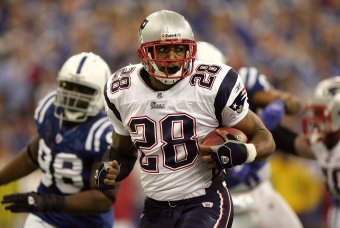 Jed Jacobsohn/Getty Images
The Patriots may have put up impressive rushing statistics at times this season. However, it is one thing to run the ball when the other team is worried about the pass, and it is another to be able to run the ball effectively even when the other team is prepared for it.
This all stands in contrast to how it used to be for New England. All Patriots fans remember the 2004 playoff game against the Colts. Leading 13-3 in the fourth quarter, New England put the game in Corey Dillon's hands more than Tom Brady's.
Dillon rushed eight times in the final quarter for 48 yards—instead of losing a fourth-quarter lead, the Pats sealed the win.
The Patriots offense of the last few years may score more points, gain more yards, and make for better highlights. But when they are in these tight situations against better teams in tough settings, the offense does not compare to the less exciting offenses of Pats past, when those teams held on to leads, put teams away, and won Super Bowls.
For the defense, I simply do not know what to say. This year's defense was supposed to be improved. Teams were not supposed to be able to just pass at will anymore. And admittedly, there have been signs of improvement, most notably with the pass rush thanks to the addition of Chandler Jones.
But as we saw in Baltimore and then in Seattle, and even in the win against Denver, when opponents have to pass, they are able to pick up the yards they need, and do so quickly. Is it coaching? Is it the players themselves? All of the above?
The Pats' inability to rush the ball, to pick up key first downs, and stop the pass when they absolutely need to has cost them wins, cost them a Super Bowl a year ago, and if it is not improved, will cost them another season of the Brady-Belichick era without a ring.
Corey Dillon, Ty Law, Rodney Harrison, etc., are not walking through that door. It is up to the current players and coaches to stop blowing fourth quarter leads. Otherwise games will continue to end like they did in Baltimore and in Seattle. And that will no doubt, push all Patriots' fans to insanity.
This article is
What is the duplicate article?
Why is this article offensive?
Where is this article plagiarized from?
Why is this article poorly edited?

New England Patriots: Like this team?