7 Things We've Learned in Training Camp About Chicago Bulls with Rose Injured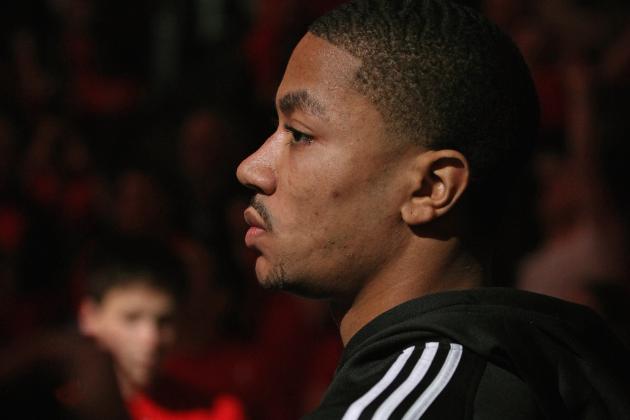 Jonathan Daniel/Getty Images

With Derrick Rose injured and with the Bench Mob revamped, there is a lot of interest this year in the Chicago Bulls preseason, which the Bulls are muddling through one way or another.
There have been some positives to take home from what we've seen so far, and there have been some red flags as well.
The preseason is tricky business. It's about as meaningful as tea leaves at times. Still, there are some things we can derive from it.
Here's a snapshot of what we've learned so far this preseason.
Begin Slideshow

»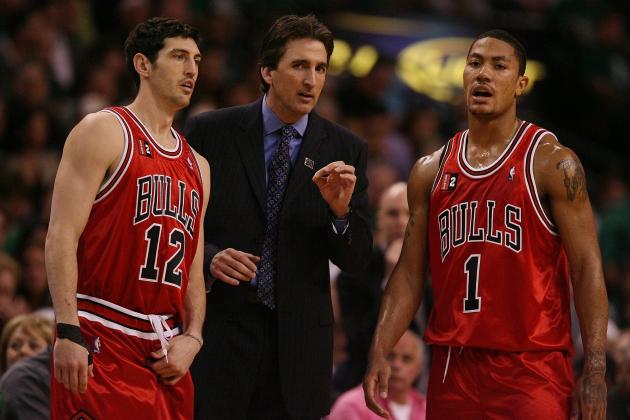 Elsa/Getty Images

In retrospect, it should have been obvious. The marriage between Kirk Hinrich and Tom Thibodeau is perfect. Hinrich's haranguing defense and the tenacity of Thibodeau's system are a perfect fit
Additionally, he's back with his original family. He knows Luol Deng and Joakim Noah. He's fitting in well with Rip Hamilton and Carlos Boozer. He spent his best years playing in the United Center.
In fact, Hinrich, during the preseason games is an awesome thing to watch. His defense is outright ubiquitous. That fits so perfectly with Thibodeau's heavy use of rotations that the ball can't seem to get away form Hinrich. Through the four preseason games, he has four blocks and four steals.
That doesn't begin to tell the story though. He's just perpetually draped all over whomever has the ball. It's a joy to watch.
Beyond that are his offensive numbers, which translated into per 36 minute stats are about 21 points and seven assists. Those are positively Rose-like.
Will he maintain that through the regular season? No, but no one expects him to. What is apparent is that the injuries are behind him, he's in comfortable surroundings, he's in the perfect system for the way he plays.
Hinrich will have a career resurgence this year, and his number will come much closer to reflecting his Bulls days than his post-Bulls days.
Brace Hemmelgarn-US PRESSWIRE

There was widespread concern over the ankle sprain that Joakim Noah had during the postseason. Apparently there's little need to be concerned for it now. Noah has been his typical, No cause for alarms.
Actually Noah has looked fine, if not well. His energy is the same as it's always been, and if his ankle were bothering him, he wouldn't be moving the way he has. The fact he's averaged nine boards in just 23 minutes a game is strong evidence of that.
There were also reports that he might have trouble with it for the rest of his life. This is a classic example of a quote being taken out of context, misrepresented, then misconstrued and misunderstood.
Let's take the very first thing he said according to Jesse Rogers of ESPN Chicago
My ankle is really good. I spent a lot of time just rehabbing this offseason... Just to be 100 percent and be ready for this moment for when the season started. I knew a lot would be expected from me and I feel pretty ready."
So as succinct as that first part of the statement might be, it tells everything you need to know, i.e. his ankle is really good. His ankle is 100 percent. No matter what some have done to spin his statement into something else, it started off with him saying his ankle is really good.
Call me naive, but I take that to mean his ankle is really good.
So why the controversy? Because he also said, according to KC Johnson, the Chicago Tribune's Bulls reporter.
Noah said his ankle didn't feel 100 percent until a month ago: "Ankle rehab is something I think I will have to do the rest of my career."

— K.C Johnson (@KCJHoop) October 3, 2012
Does this contradict the other statement? Not unless 100 percent meant something different to Noah when he was talking to Johnson than when he was talking to Rogers.
More likely he is actually "100 percent" and the "rehab" is something that people are misconstruing. It's far more logical that the rehab that he's discussing is preventive in nature. He means that he realizes he has to take steps to keep it form being injured.
Both his play and his words tell us that Noah's ankle is fine.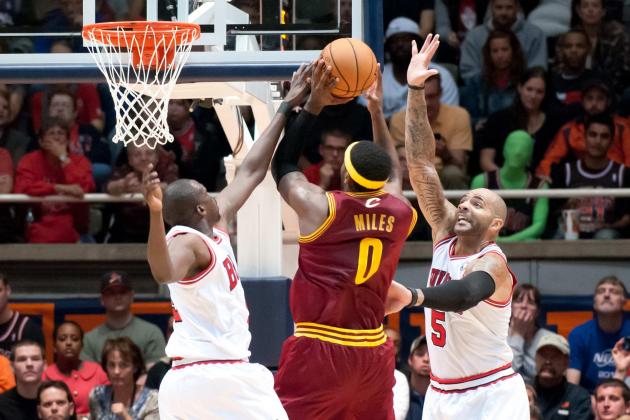 Bradley Leeb-US PRESSWIRE

The other major injury concern the Bulls have had is Luol Deng and his wrist. He too looks fine. His true shooting percentage of .583 through his two games is certainly enough to at least cause fans to momentarily stop beating on the panic button with heartfelt abandon.
There are a couple of things that are eyebrow raising—but in a good way—for the Chicago Bulls' other All-Star though. The first being that he was sat for the third preseason game. The other being that his backup, Jimmy Butler, played all 48 minutes in that game.
Now that's a lot of minutes, and there's no chance that Butler is going to play 48 minutes in a regular-season game. It's also highly unlikely that with a minor injury like that Thibodeau is going to bench Deng for a regular season game.
However it does show that there's more confidence in the second-year version of Butler than there was in the rookie version, which in turn would mean that this season Deng could have his minutes curtailed a smidgen, which in turn would mean a lesser chance of re-aggravating his wrist.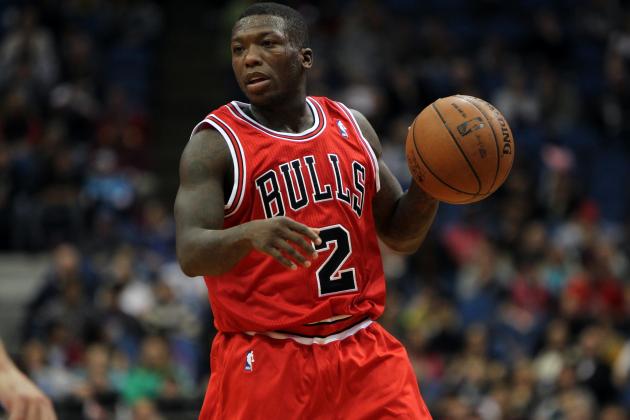 Brace Hemmelgarn-US PRESSWIRE

The key to last year's Bench Mob was not the individual components; it was the whole that became greater than the sum of its parts. It was the synergy of the team.
The beauty of the unit was every player knowing his role and every aspect of the game being filled by players knowing their roles.
This unit has not quite reached that point yet. In fact, after the first game it looked like the new unit hadn't even started daydreaming about one day setting that point as a goal.
It was awful. it was discombobulated, disorganized, haphazard and outright lawless. It was appropriate to name them the Bench Mob, but with a more Chicagoan emphasis on the word "Mob" if you know what I mean (which isn't entirely inappropriate given the United Center's proximity to Little Italy).
I say that because they shot first and asked questions later.
So the question is how do you turn the mobbed up bench into the Bench Mob 2.0. A big part of the answer to that lies in the way the first unit got there.
The Bench Mob did not come from nowhere. They were the second ranked bench in 2010-11 according to HoopsStats.com. Yet according to the same measure through the month of November, the same squad was 21st in the NBA.
That unit which was renowned for its stingy defense was giving up 31.2 bench points per game during its first month together. After the All-Star break, it was yielding a league-low 24.4 points.
Offensively, this group was never special. Last year, it was 23rd in the NBA in points scored per game with 29.2..
The moral of the story here is that while this group might seem deplorable and awful at times, it's been three preseason games!!! Yes, you can say that it's just making excuses for it, but that doesn't mean the excuses aren't valid.
Don't put any more measure into the blundering bench woes than you would into the superb third-quarter spurts or the Memphis win. As the group has time to play together, the players will learn to play together.
Why can we have such confidence in that? Two words: Tom Thibodeau. The same coach that made the first group work will make the second group work. Just be patient.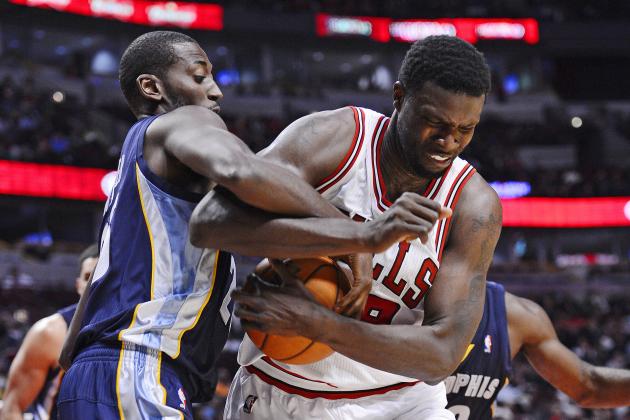 Mike DiNovo-US PRESSWIRE

Perhaps the biggest surprise of the new squad is Nazr Mohammed who has been positively positive and leaves us not in the least seeking for Asik.
"Nasty Nazr" is even the first to be nicknamed by Stacey King, which is all the evidence you need that he is the star of the new bench arrivals.
Through his three preseason performances, he has 27 points and 29 boards in 65 minutes played. That translates into 16 points and 14 rebounds per 36 minutes. Compare that with the eight points and 13 boards that Asik had per 36 minutes last year.
These numbers are not out of character for Mohammed either, who has averaged 14 points and 11 boards per 36 minutes for his career.
Defensively, he also seems to offer a similar teammate in the post to what Asik offered Gibson, which is to say he gets in position and sticks his hand up in the air, which when you're seven-foot plus, is a tough thing to shoot over.
It's possible that Asik's defense was being exaggerated. Gibson was the far more dynamic defender. Mohammed may be enough of a complement to him after all.
Mohammed has proven to be a splendid find. Look for him to be a big role player off the bench for the Bulls throughout the season.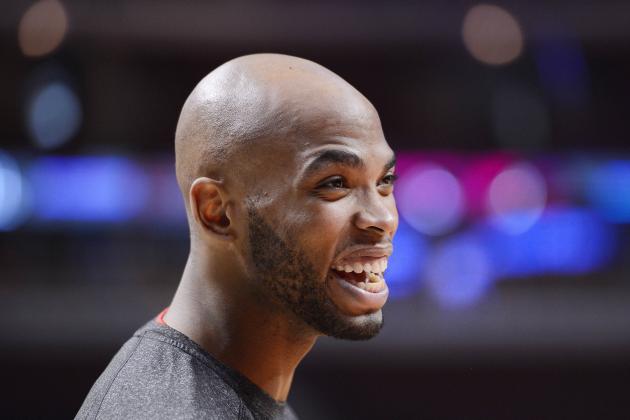 Mike DiNovo-US PRESSWIRE

The key to the Bulls defensive system is knowing and understanding it. If you have to think about your rotations, you haven't gotten it down yet.
Setting aside hyperbolic jokes about the greatness that is the White Mamba, it's why Brian Scalabrine was on the bench for two years. Simply knowing the system is a huge part of executing it. Having players who know it helps other players learn it.
Bench Mob 2.0 has one huge advantage heading into the season over the first version. The first version only had one player that knew the system heading into the season, and he didn't get a lot of playing time.
Beyond that no one had ever learned it.
This version has Taj Gibson, who may end up being on the All-Defense team this year, captaining it. Gibson, maybe more than any Bull has the system down.
Jimmy Butler is also returning, and is also a fantastic defensive presence. Butler also now has a year experience with the system.
That the Bulls best two defenders off the bench are also returning and know the system best bodes well for a Bulls team to rise quickly to prominence defensively. The new players will learn the system and they'll take less time than the month that the first group took.
We've already seen the new mob have moments that are reminiscent of the old one, such as when they forced four successive turnovers in 45 seconds from the Cleveland Cavaliers, not even allowing the ball to get beyond half court This nearly brought the Bulls back to win the game.
It did show the potential is there, but the consistency isn't. With Gibson and Butler on the court, the consistency is really just a matter of time.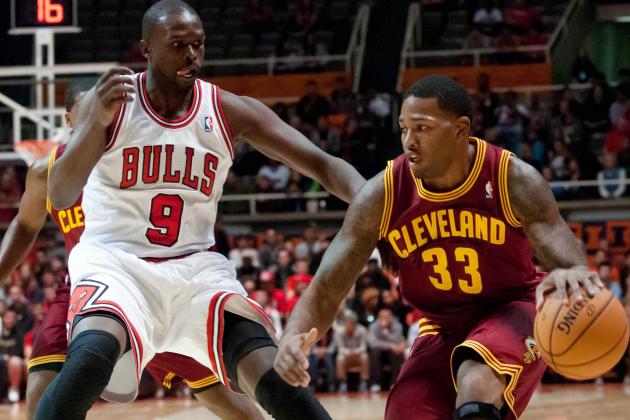 Bradley Leeb-US PRESSWIRE

No matter how you paint things, though, the half-court offense off the bench has been somewhere between absolutely god-awful and horrific.
The entire bench has accounted for a mere 10 assists through three games, and in the last game, it had one assist as an entire bench.
Calling that a lack of ball movement is to give it too much credit. It's outright horrendous, and it's not going to help the team score. There'd be more ball movement if the game were played in tar.
That has ramifications on shooting.
Take Gibson and Mohammed out of the picture and the bench has gone 18 of 86 from the field. That's a field-goal percentage of .209. But wait, it did make one three-point shot! So its effective field-goal percentage was a whopping .215.
When the bench field-goal percentage is the Mendoza Line (which is .215, not .200, I'm a purist!), that's a bad thing.
Offensively, particularly in the half court, they've been abysmal and this is where there is cause of concern. Ostensibly there should be more offense here as the new group is more offensively talented than the old bench, but if they don't start passing the ball that won't matter.
There is also concern with the starting five which has been stagnant at times as well. The Bulls have only averaged 83 points per game during the preseason. Even with a great defense, that is only going to win you so many games.
The Bulls are going to miss Derrick Rose and his ability to break down defenses and create offense the most when they are growing stagnant.
There will be games they lose because they are missing that ability. Nate Robinson and Kirk Hinrich will have it in flashes, but the Bulls will struggle at times on offense, and that's not just a preseason thing—it's a personnel thing.
There was hope that some of the new signings would help with that, but so far, it's not looking like that's the case.