Andre Ward vs. Kelly Pavlik and 3 Fights That Could Raise His Profile as a Star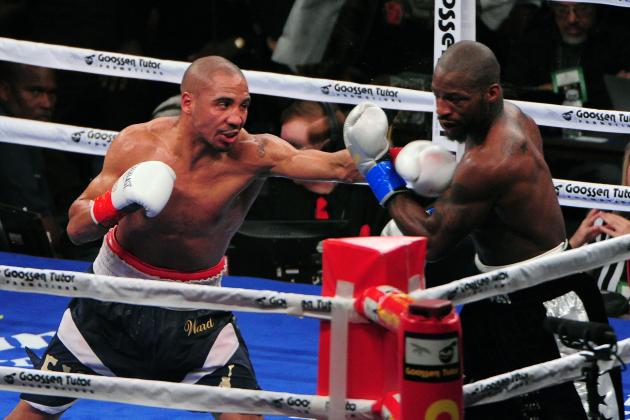 Kyle Terada-US PRESSWIRE
Andre Ward during his 10th-round TKO of Chad Dawson.
Andre Ward is in talks with Kelly Pavlik to secure a Feb. 23 showdown on HBO, according to ESPN's Dan Rafael.
In the aftermath of his destruction of light-heavyweight king and former pound-for-pound royalty Chad Dawson, Ward has stirred the pot as to whether he can dethrone Floyd Mayweather and Manny Pacquiao as the pound-for-pound king.
While a win over former pound-for-pound superstar Pavlik might not help Ward's argument as the next king of boxing, it will definitely help his cause toward becoming the next boxing cash cow.
Dawson was a staple of HBO before Ward stopped him. Pavlik is an even more popular and beloved fighter. If Ward can keep fighting a battle of thrills over tactics against Pavlik, a possible stoppage victory on cuts or unanswered punches could bring Ward more fame and money than facing a tougher foe could've done.
Here are three follow-up options Ward should pursue to fetch a high-dollar prize and an increase in popularity.
Begin Slideshow

»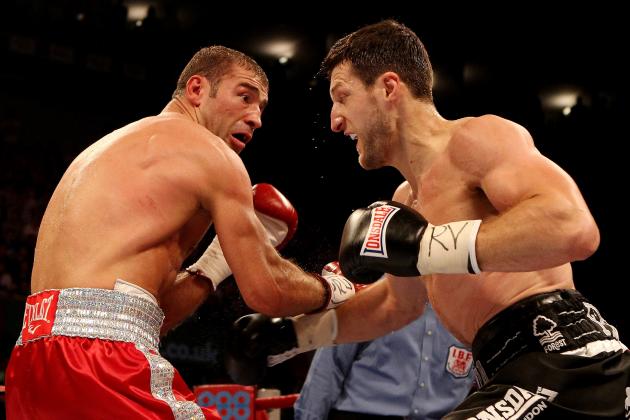 Scott Heavey/Getty Images
Lucian Bute (left) looks on in horror as Carl Froch goes in for the kill.
Carl Froch demolished Lucian Bute in five rounds last April for the IBF super-middleweight world title.
Bute (30-1, 24 KO) will face the undefeated aggressive-puncher Denis Grachev (12-0-1, 8 KO) on Nov. 3, according to Boxing Scene.
Froch (29-2, 21 KO) faces a decent contender in Yusaf Mack (31-4-2, 17 KO) on Nov. 17, according to ESPN UK.
Then the two shall face off in spring 2013 for a contractual rematch, according to Yahoo! Europe.
The difference is that the rematch will be held in Bute's home country of Canada, where Bute still sells out stadiums and where he's still undefeated. The first fight was held in Froch's home country of England.
Though Froch was thoroughly thrashed by Andre Ward during the Super Six finals of 2011, another victory over Bute will make a rematch with Ward hard to deny.
And if Bute can overcome Froch, then the once-talked-about superfight between Ward and Bute will be resurrected and maybe even more hyped than ever.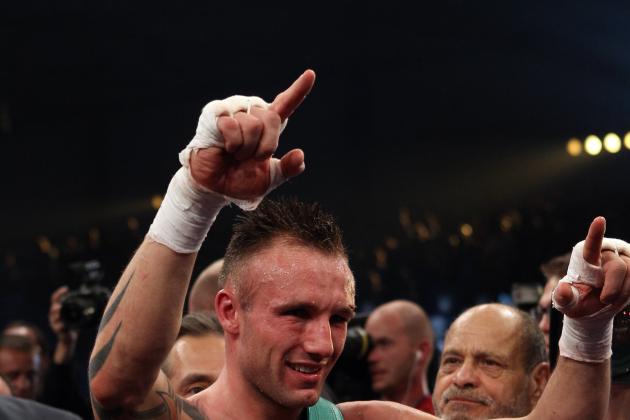 John Gichigi/Getty Images
A Kessler that's looking to be No. 1 again.
Mikkel Kessler (45-2, 34 KO) has a shot at the WBA regular title on Dec. 8 against rugged veteran Brian Magee (34-4-1, 24 KO), according to ESPN.
Arthur Abraham (35-3-1, 27 KO) recently defeated Robert Stieglitz for the WBO world title and will defend it on Dec. 15 against Mehdi Bouadla (26-4, 11 KO), an opponent Kessler knocked out last year, according to ESPN.
Abraham and Kessler are both former Super Six contestants and belong to the same promoter, Sauerland Events. Their clash has been rumored since the Super Six ended, according to Boxing Scene.
With Kessler's recent knockout of Allan Green and with Abraham's inspired performance against Stieglitz, they can be expected to blast through their current opponents and meet in an exciting 2013 showdown.
The only problem will be in deciding whose country should the fight be held in. Kessler and Abraham sell out large arenas in their respective home countries of Denmark and Germany.
Once they iron that issue out, the two can unify their championship belts, and the winner can earn a chance at a rematch with Andre Ward.
So long as Kessler-Abraham produces a highlight reel of exhilarating violence, a Ward rematch should be an easy sell.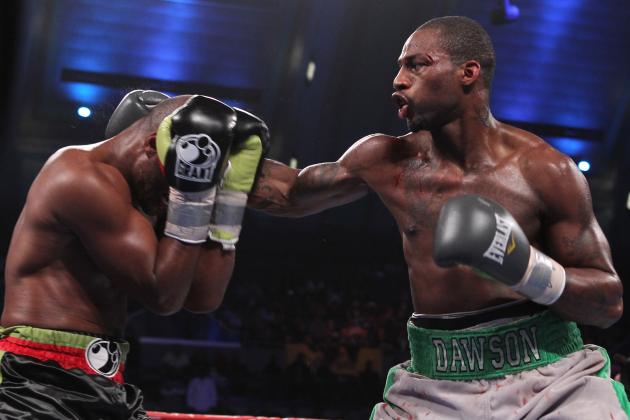 Ed Mulholland-US PRESSWIRE
Jean Pascal (right) dominates the legendary Bernard Hopkins.
Chad Dawson (31-2, 17 KO) was defeated by Andre Ward via TKO this past September. Jean Pascal (26-2-1, 16 KO) hasn't fought since last May when he suffered a decision loss to Bernard Hopkins.
In their first fight in 2010, Pascal got the decision after surviving a late surge from Dawson. A sequel is supposedly in the works, according to rumors from Boxing Scene.
If it comes to pass, the winner would make for a huge fight for Ward's inevitable 175-pound debut. Ward has basically cleaned out the super-middleweight division. Light heavyweight is the logical next step.
Ward's victory over Dawson occurred at a weight he hadn't fought at in years. A rematch at 175 would clarify just how great Ward is.
However, if Pascal stomps Dawson in the rematch, a war with Pascal would definitely prove lucrative due to his Canadian fanbase and legacy-enhancing.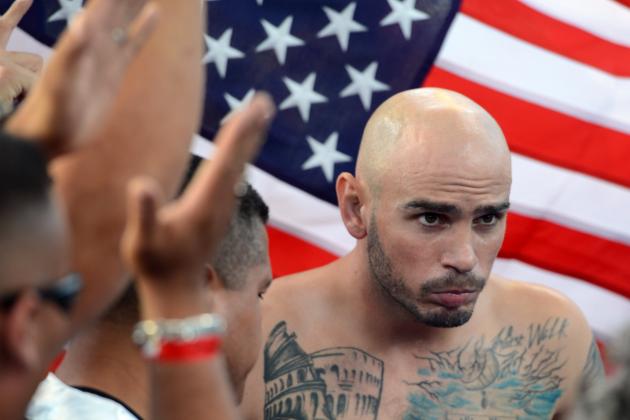 Harry How/Getty Images
Kelly Pavlik receives support from the American crowd.
If Kelly Pavlik pull off the unthinkable and defeats Ward, especially by stoppage, then the super-middleweight division will get that much more interesting.
A Pavlik win over Ward will debunk the notion that every match is predetermined by the favorite, and it will awaken audiences to the possibilities of live underdogs.
While I still wouldn't bet the house on a Pavlik win, expect Pavlik to rise to the occasion and give Andre "Son of God (S.O.G.)" Ward hell on earth.