Cardinals vs. Giants: 7 Reasons San Francisco Can Still Get It Done in NLCS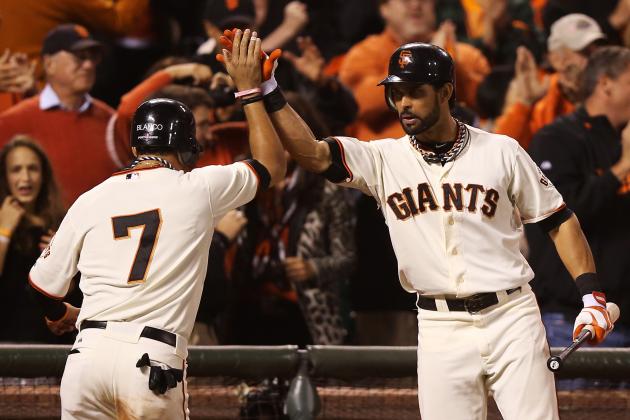 Ezra Shaw/Getty Images

Game 1 of St. Louis Cardinals vs. San Francisco Giants in the NLCS may have seen the Cards walk away victorious, but the G-Men have nothing to fear just yet. There's plenty of time to rebound, and with their tools, doing so shouldn't be a problem.
The first game in the best-of-seven series ended 6-4.
St. Louis scored two early and then put up four in the fourth, knocking out starter Madison Bumgarner. The Giants responded with four runs of their own in the bottom of the inning, but ultimately fell short.
Both bullpens were dominant.
So they're down 0-1 in the series. No big deal.
Here's seven reasons Bay Area fans should uphold confidence in their orange-clad heroes.
Begin Slideshow

»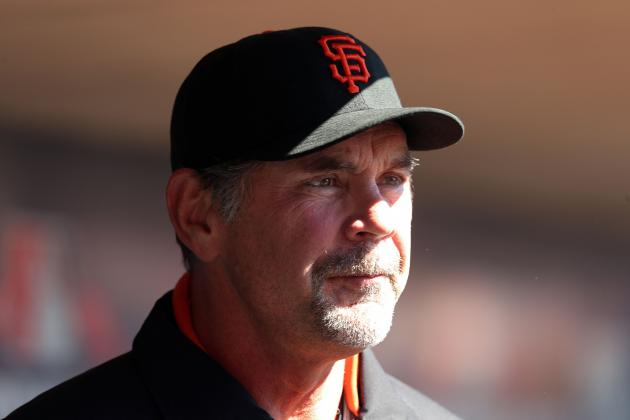 Andy Lyons/Getty Images
Giants manager Bruce Bochy
Bruce Bochy is a baseball mastermind.
His tenacity for superior game management is displayed every year, especially in big-game situations. A wizard of sorts, his moves rarely fail whether it's a double switch, pinch hit or simply a call to the pen.
In his sixth year with the Giants, Bochy has led the team to a winning record four times and one World Series championship.
He was named Manager of the Year in 1996 with the San Diego Padres and has been in the Top 10 of voting eight times, including three times with the Giants.
Just look at how he's handled Tim Lincecum.
The move could have destroyed Lincecum's confidence and sparked outrage from the former starter. Instead, Lincecum has (temporarily at least) accepted his role and shined.
Not many other managers would have the gumption to pull such a move.
Bochy is calm, cool and collected.
His starting rotation has been a mess this year, but he's effectively made the right decisions and his team is in the NLCS.
Bochy handles games as well as the best of them, and in the NLCS, he just has to manage his side better than first-year manager Mike Matheny. You can bet when tricky situations arise, Matheny will have to learn on his toes while Bochy's experience will factor into his decision-making.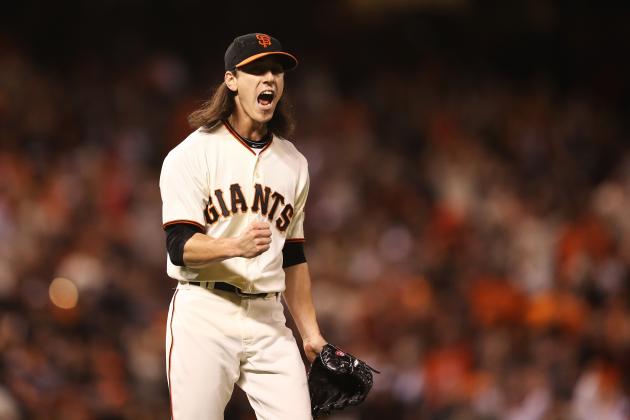 Ezra Shaw/Getty Images
Tim Lincecum is fired up!
In Game 1, the Giants' bullpen effectively contained the Cardinals' offense. The five pitchers used in relief allowed zero hits, walked one and struck out five in 5.1 innings.
During the regular season, Giants relievers held on to a 3.56 ERA and saved the third most games at 53. And that didn't even include Tim Lincecum.
In this postseason, the pen's ERA is down to 3.09. They're responsible for two wins, zero losses and one save. Together, they've struck out 21 batters and walked four.
Factor in Lincecum, and there's a certain fear factor too.
Normally, guys don't want to face him. He struggled early in the season and thus became less intimidating; but now he's thriving out of the bullpen. The sight of him is not good for the opposition.
In the NLDS, he pitched 6.1 innings, allowing one run and three hits. He struck out eight men and walked none.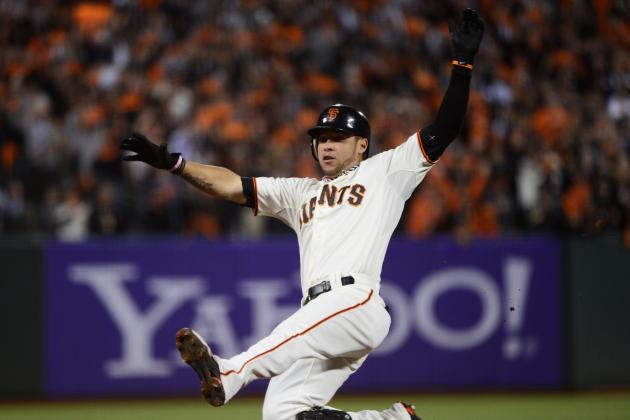 Thearon W. Henderson/Getty Images

The Giants may have been in a six-run hole early, but they didn't quit.
It takes heart to come back from such a large lead so early in the game. But the team strung together some hits and put four runs on the board in one inning.
Sure, they fell short. But showing tenacity like this sends a message—no lead is safe.
It's also worth noting, the Giants nearly matched the Cardinals in hit totals (seven to eight).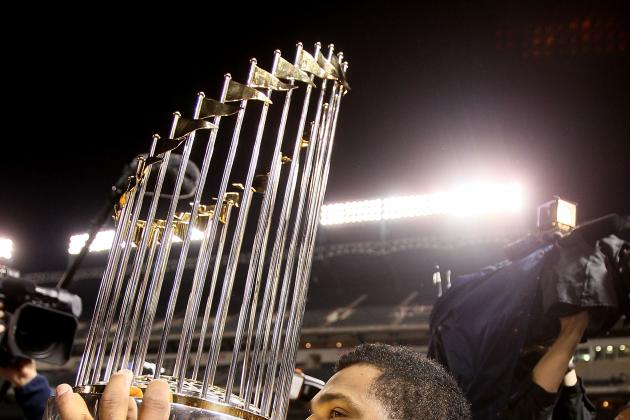 Elsa/Getty Images
Pablo celebrates the World Series win in 2010.
The last two World Series winners were the San Francisco Giants and the St. Louis Cardinals.
Yet, there are major differences.
The 2010 Giants rode the pitching of Tim Lincecum, Matt Cain, Madison Bumgarner and Jonathan Sanchez. In 2012, they still do. Except replace Sanchez with Ryan Vogelsong.
The offense is better too.
Instead of aged veterans—Edgar Renteria, Juan Uribe, Pat Burrell, Aaron Rowand and Aubrey Huff—the team has younger studs like Hunter Pence, Angel Pagan, Brandon Belt and Gregor Blanco.
Then there's guys like Buster Posey and Pablo Sandoval, who are talented and have postseason experience. Throw Marco Scutaro's clutch play into the mix and the 2012 roster is simply better.
The Cardinals on the other hand, are a different story.
Their pitching staff looks much different now than it did a year ago. There's no more Jake Westbrook, Edwin Jackson, Ryan Franklin, Octavio Dotel or Arthur Rhodes.
Last year's offense consisted of Albert Pujols and Lance Berkman. Both are gone.
In their place are Allen Craig and Carlos Beltran. Beltran makes up for some of the loss, but St. Louis relies on guys like Daniel Descalso and Pete Kozma to play hero.
The veterans on the 2010 Giants have been replaced by younger players equally as good. The veterans of the 2011 Cardinals have been replaced by younger players not quite as talented and with much less experience.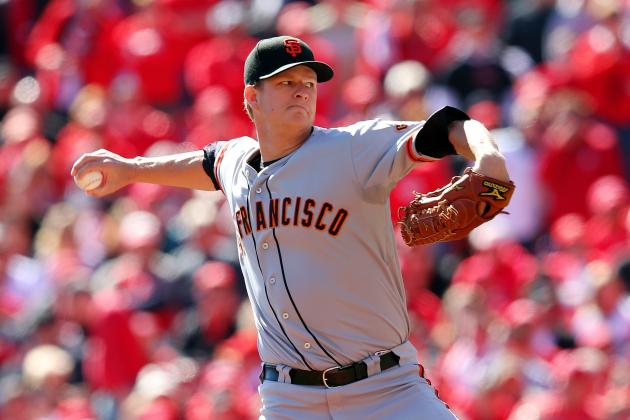 Andy Lyons/Getty Images
Matty Ice is as cool as the other side of the pillow.
Matt Cain is one of the best pitchers in all of baseball and certainly at the top in the National League.
In 2012, he was 16-5 with a 2.79 ERA, struck out a whopping 193 batters and only walked 51. In this postseason, he's 1-1. He hasn't pitched to expectations yet, but there's little reason to ever doubt a Cain rebound.
He's nicknamed Matty Ice for a reason.
In both starts, his ERA was over 5.00 and he didn't last past the sixth inning in either game. This is incredibly uncharacteristic of Cain.
Look for the horse to make his presence felt in this series after a below-average start to the postseason.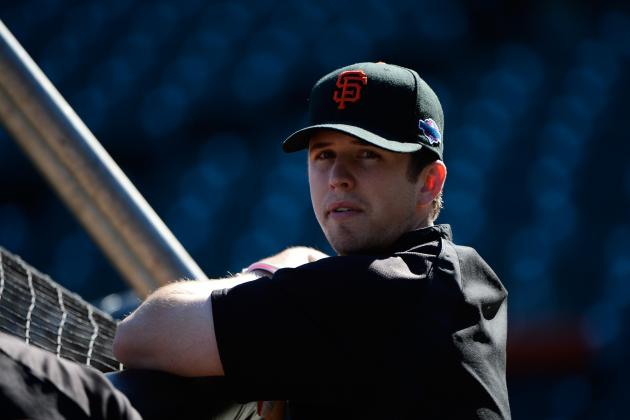 Thearon W. Henderson/Getty Images
Buster Posey is as cool as his manager and Matt Cain, a trend in the Bay.
In his first year with the team, Buster Posey won Rookie of the Year honors and the Giants won the World Series.
In his third year with the team, Posey won the National League batting title and the Giants are in the NLCS.
In the year between, he was injured and the Giants didn't make playoffs.
There's a correlation here.
As Posey goes, so too do the Giants. In Game 5 against the Cincinnati Reds, it was Posey's grand slam that sparked a surge and helped San Francisco advance.
In Game 1, he went 0-3 with a walk.
Posey is to hitting as Cain is to pitching. Slumping isn't something that is characteristic.
Look for Posey to continue doing what he's done all season long, carry the Giants, spark the offense and produce tons of hits and runs.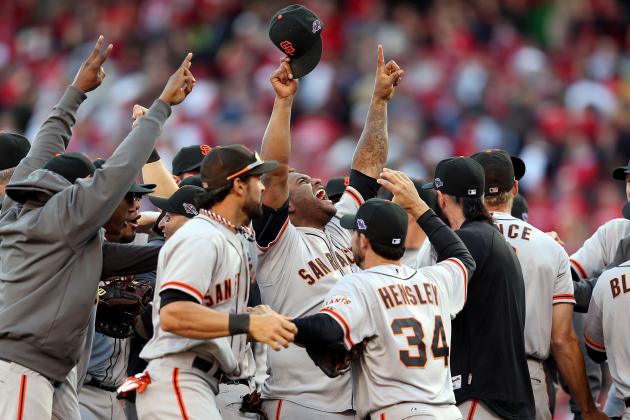 Andy Lyons/Getty Images
The Giants shocked the Reds, sweeping the final three games.
The biggest reason there is no need to fear after just one game is the fact that the Giants have already been here.
They started the NLDS in an 0-2 hole heading to Cincinnati.
Did that slow them? Absolutely not.
Instead, they won three games in a row away from home to advance to the NLCS. That's no easy feat. But it's something that can be done by a team who remains as cool as the geographical location they hail from.
As of now, they're only down one game and there's still six (maximum) left to play.