USC Football: Breaking Down USC's Spot in the BCS Rankings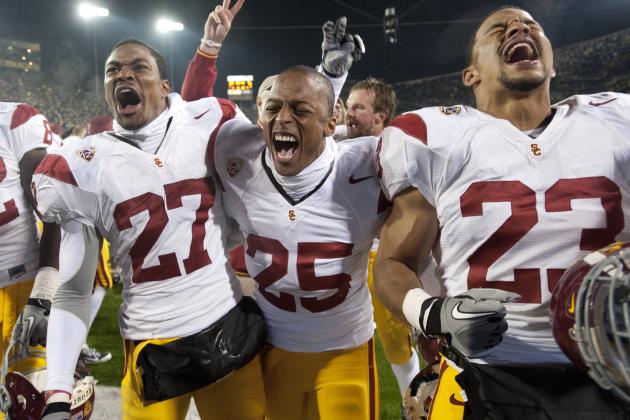 Steve Dykes/Getty Images

The first BCS rankings of the 2012 season were released on Sunday night. There were a few surprises, such as Florida at No. 2 and Oregon at No. 3. Kansas State is at No. 4 and Notre Dame is No. 5. USC comes in at No. 10 in these first BCS standings.
Oregon State is No. 8, giving the Pac-12 three teams in the Top 10 and with Stanford at No. 20, four in the Top 20. Of course the SEC has to show off (sarcasm, people) with four teams in the Top 10 and eight in the Top 20. The Big Ten was shut out of the inaugural Top 25 completely.
As for USC's BCS ranking of No. 10, to be honest, No. 10 is generous. Being ranked at No. 10 in the first BCS Standings of the 2012 season speaks to USC's talent, potential and history, not what has been accomplished on the field thus far this year.
And, of course, it speaks to the Trojans' spot in the coaches' and other human polls as well as the computer rankings. In the computers, USC ranks as high as 10 and as low as 20. USC's computer poll average is roughly 15, while Florida's is No. 1.
The BCS is flawed, and this is just the first ranking of what is still a long season ahead of us. USC's position at No. 10 is solid, as there will be things happening between the Trojans and the teams ahead of them over the next six weeks.
It will shake out, and while past history has shown us that it isn't always fair (USC 2003, Auburn 2004, Utah multiple undefeated years), it always ends up settled. Even if you have to apply the transitive property to football and extrapolate out a result you can live with.
Let's take a look at the Top 10 and how their upcoming schedules advance USC's case to move up through the BCS rankings:
Begin Slideshow

»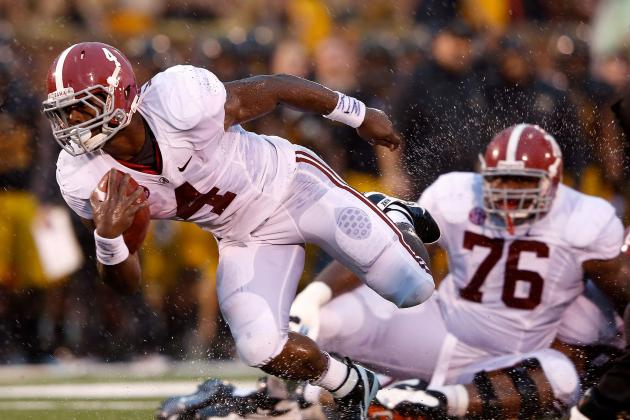 Jamie Squire/Getty Images

Alabama can punch their ticket for Miami as they play just two ranked teams the rest of the year: the No. 6-ranked LSU Tigers and the No. 18-ranked Texas A&M Aggies—neither of whom should pose a problem for the No. 1-ranked Crimson Tide.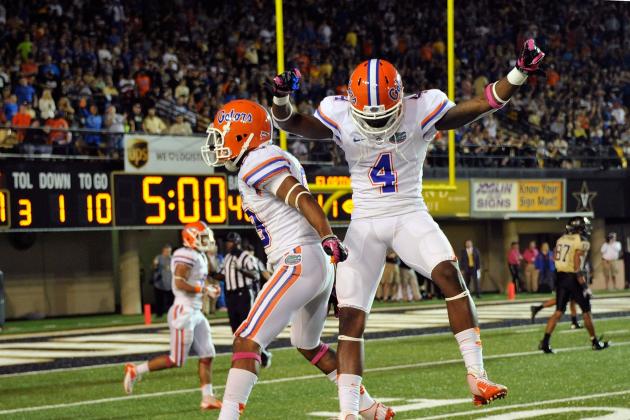 Frederick Breedon/Getty Images

The Florida Gators have to get past No. 7 South Carolina this coming weekend, as well as No. 11 Georgia and No. 14 Florida State.
There's at least one loss in there, and with their eventual loss to Alabama in the SEC title game, that will knock the Gators out of contention.
My money is on South Carolina and Florida State, for the record.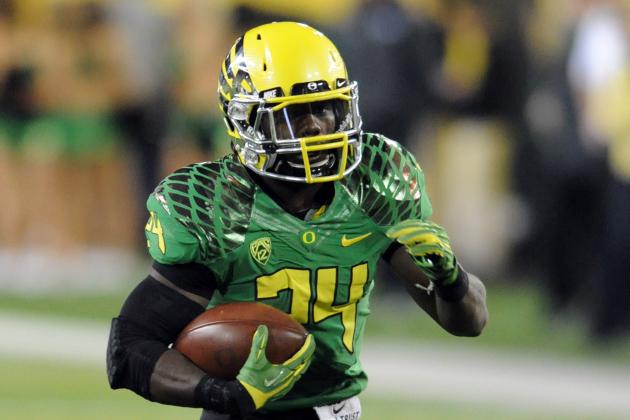 Steve Dykes/Getty Images

Oregon got screwed. The Ducks should be No. 2, without a doubt. The BCS is dying, in large part, because it insists on believing that SEC can only be matched up with SEC. Au contraire—in fact, take a look at USC's record against the SEC.
That said, I don't think Oregon matches up well to a defense as stout and impenetrable as Alabama runs.
Oregon has No. 10 USC, No. 20 Stanford and No. 8 Oregon State as well as ASU ahead on their schedule. I don't quite believe Oregon State is for real yet, but any of those three ranked teams could be a minefield for Oregon.
If not, punch their ticket for Miami.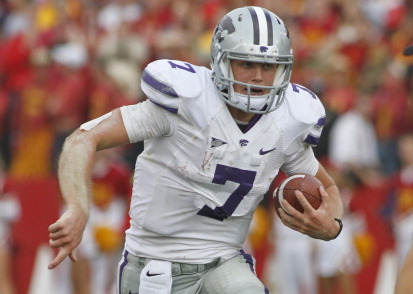 Matthew Holst/Getty Images

Kansas State; what a thrill for them to crack the Top 10 of the BCS for the first time in over a decade. However, in order to maintain their position, the Wildcats will have to get past four ranked teams: No. 13 West Virginia, No. 17 Texas Tech, No. 23 TCU and No. 25 Texas.
Look for at least two losses by season's end.
Jonathan Daniel/Getty Images

Oh how it pains my Trojan heart to write the words "Notre Dame is undefeated and No. 5 in the initial BCS rankings."
Pardon me, I have to go Purell my entire body now.
That said, ND doesn't have an easy road to go down the rest of the season, notably with No. 9 Oklahoma and No. 10 USC on the Irish's schedule.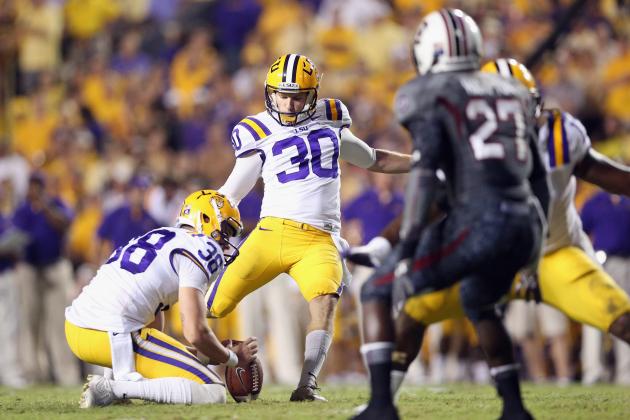 Ronald Martinez/Getty Images

LSU is just not that good this year. Sure, they have injuries and that affects things. But this Tiger team has at least two more losses ahead of them and should end up dropping out of the Top 10 in the coming weeks, helping USC's case.
LSU has No. 18 Texas A&M, No. 1 Alabama and No. 12 Mississippi State ahead.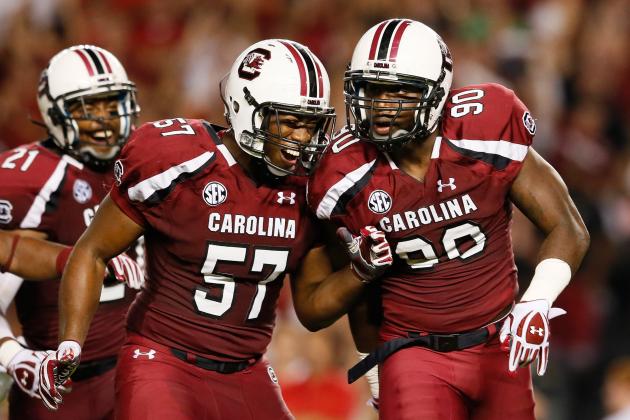 Kevin C. Cox/Getty Images

South Carolina was looking like a legitimate contender—and I think people would have welcomed an SEC insider to the title game discussion. I mean, it's like they say, anyone can have a bad century.
Then the Gamecocks imploded against a mediocre LSU team, and they have yet to face the overrated No. 2-ranked Florida Gators and in-state rival No. 19 Clemson.
George Frey/Getty Images

Well, what do you know; the Beavers went out and won without starting QB Sean Mannion, handily defeating BYU in Provo by 20 points.
However, this ride the team from Corvallis is enjoying will soon come to an end. Whenever the Beavers have faced a team of any (perceived) substance, they've eked out the win by the hair of their chinny chin chin.
As the weeks go by and they face Pac-12 foes such as No. 20 Stanford and No. 3 Oregon, the cracks will begin to show.
The Beavers will be a two-loss team by season's end.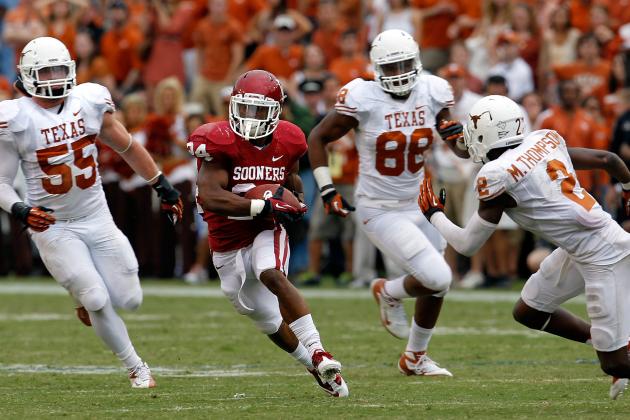 Tom Pennington/Getty Images

Oklahoma looked good against Texas. Of course, it could be that Texas is worse than expected.
Nonetheless, the Sooners' road to a higher ranking is fraught with difficulties. They face No. 5 Notre Dame, No. 24 Iowa State, No. 23 TCU and in-state rival Oklahoma State yet this season.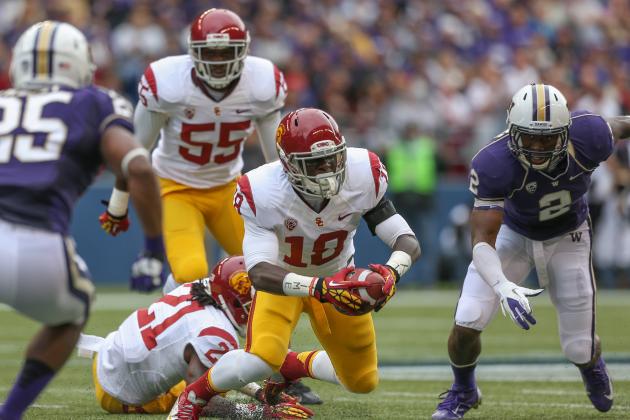 Otto Greule Jr/Getty Images

Oh USC, I have so much to say about the Trojans and will in this week's pieces. It will all be addressed from Lane Kiffin's play-calling to the somewhat inept offense, I will dissect it all.
Now, back to the BCS rankings. No. 10 is generous. However, it is also a good launching point for a second half of the season campaign. But 24-14 wins where USC is shutout in the entire second half are not going to do it. Not by a long freaking shot.
USC's season just gets harder from here. After Colorado, for which the early line has the Trojans -40, it's Arizona, No. 3 Oregon, ASU, UCLA and No. 5 Notre Dame.
If USC can not just win out, but convincingly and decidedly win out, they could make a case for themselves. If the teams ahead of them start dropping like flies, and given the upcoming matchups across the Top Nine, it is likely, USC could see themselves in a position to challenge Oregon for the top Pac-12 spot in the BCS rankings.
However, play-calling, penalties and offensive ineptness are all still issues. It is quite likely, if the Trojans continue to play as they have been, that they could rack up two or more additional losses on the season.
This is what is both great and infuriating about college football. Anything can happen, and every single week matters.