Glover Teixeira and the Scariest Striker in Every UFC Division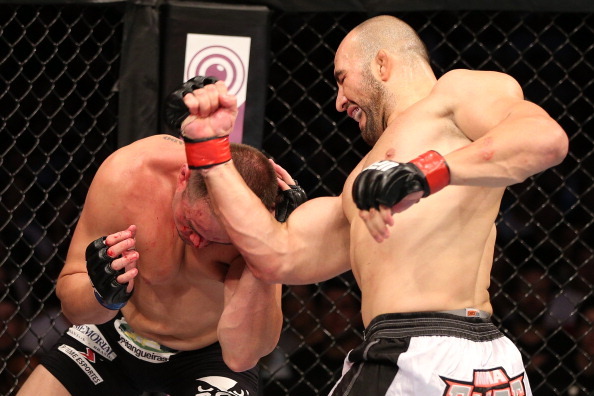 Photo by Josh Hedges/Zuffa LLC/Zuffa LLC via Getty Images
UFC 153 may not have been headlined by some monumental battle for the ages, but it sure had its share of moments. One of those moments was the coming-out party of one Glover Teixeira, who found himself on a UFC pay-per-view for the first time Saturday.
If he had any nerves about it, he had a funny way of showing it. Because that would mean he vented his anxiety on the cranium of opponent Fabio Maldonado. I'm no doctor, but I've definitely never heard of that presentation before.
Maldonado was leaking blood from about 12 different places and literally staggering around the cage after Teixeira unloaded all that pent-up octagonal aggression. Maldonado was living on pure cojones and spinal cord when the referee finally put a stop to it.
So I'm now officially on the Glover Teixeira hype train. There's no Kool-Aid left for anyone else, because I drank it all. Then I ran through a brick wall and shouted "Glover Teixeira!"
You can wait to climb on the bandwagon until after he retires Quinton Jackson if you want. Hey, I'll save you a seat; I'm not territorial. Either way, I think Teixeira not only established himself as a serious force, but the scariest striker in his division (and yes, I know who else is in his division...I'll get there).
But why should the light heavies have all the limelight? Here is the single scariest striker in each UFC weight class. How do you define "scary"? That's part of the fun now, isn't it?
Begin Slideshow

»
Bruce Kluckhohn-US PRESSWIRE

Got to give it to the next (and first, I suppose) title challenger in the UFC flyweight division.
Joseph Benavidez and John Moraga also have one T/KO to their names at flyweight, thus putting these fighters in a three-way tie for first in that category. But John Dodson did it on the biggest stage and against the best opponent in Jussier Formiga. He also has five T/KO wins at bantamweight, including one over a tough T.J. Dillashaw.
Benavidez probably has more power, but Dodson has a blend of speed, quickness, precision and strength (especially here at flyweight) to punish anyone who gets too close.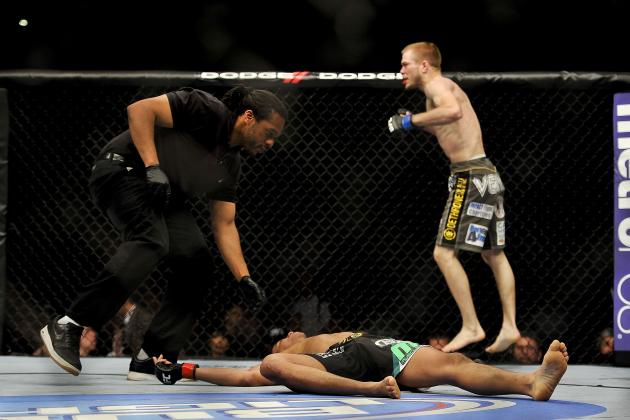 Paul Abell-US PRESSWIRE

Renan Barao is a very dynamic striker and, right now anyway, the better fighter between these two. Yet there's no question Michael McDonald and his show-stopping hands bring the scarier shots. Nine of his 15 victories—and seven of his last 10—came by KO or TKO.
As you can see in this picture of McDonald circling the nerveless carcass of Miguel Angel Torres, he just splatters guys over the mat in a way that Barao does not.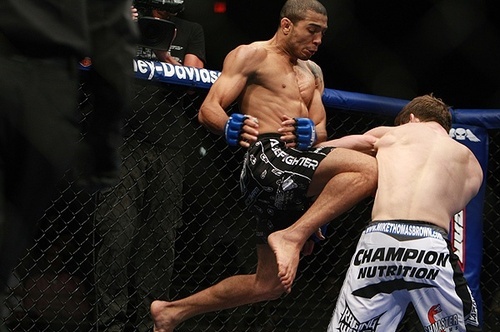 Photo credit: Fight! Magazine
There are several foreboding strikers at featherweight, but you're fooling yourself if you don't take Jose Aldo here.
After all, look at what Aldo did to Cub Swanson. And Mark Hominick. And Chad Mendes. And, like, anybody else he ever fights.
During this autumn season, featherweights should give thanks for motorcycles. Without these magical two-wheeled crime-scene makers, their division might be a lot less interesting and a lot more gory.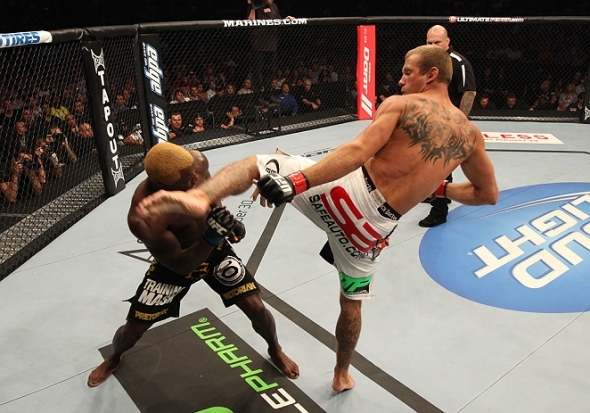 Photo credit: UFC.com
It was Melvin Guillard. That is, until Donald Cerrone took Guillard's best shot and then knocked him the fudge out.
If Cerrone wasn't so doggone well-rounded and intelligent with his game plans, he'd have a lot more TKOs on his record. Curse you, Greg Jackson!
Also, when are they announcing his fight with Anthony Pettis? My sharp analytical eye spies some possible striking exchanges in that one—and a new scariest striker if Pettis pulls it out.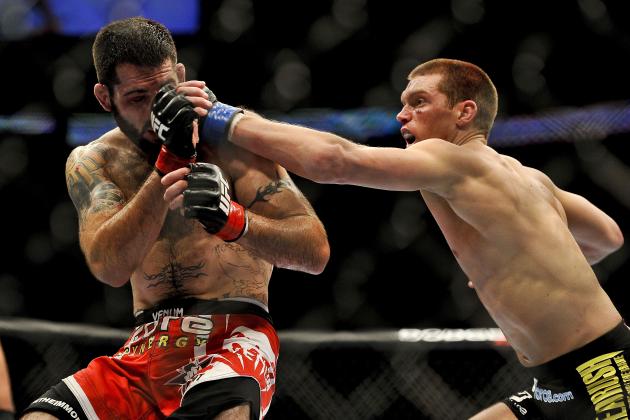 Paul Abell-US PRESSWIRE

Thiago Alves is in a rut. Martin Kampmann is dynamic. But scary? Does his striking actually instill a fear of pain or injury? The striking of Jake Ellenberger and Johny Hendricks probably does, but they are both straight-ahead power punchers.
Instead, look to the Wonderboy. The man who went 63-0 as a kickboxer with 30 knockouts. The man who took home a Knockout of the Night bonus after icing Dan Stittgen in his Octagon debut.
Yes, the Wonderboy is 1-1. But that's only because Matt Brown decided, rightly, to dirty it up on him. Because Thompson isn't very good yet at the other phases of MMA. But when it comes to striking, he's one of the best in the world.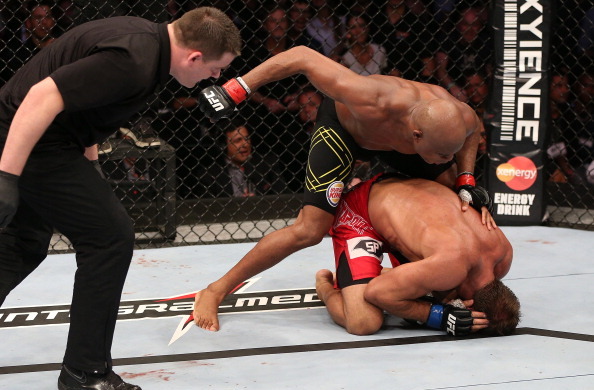 Photo by Josh Hedges/Zuffa LLC/Zuffa LLC via Getty Images
Here's something else that's not a news flash: He's also tops overall. Moving on.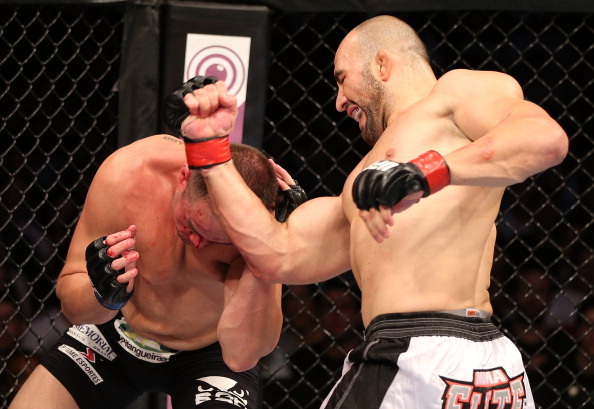 Photo by Josh Hedges/Zuffa LLC/Zuffa LLC via Getty Images
Save your queries. I've seen Jon Jones fight. More than once, actually.
Is Jones the best overall striker in this division? Yes. Is he the best overall fighter? Yes. But is Teixeira scarier? After the Maldonado fight, yes. Yes, he is. Did you see those shots in the standup? Those elbows from top control? Maldonado's head was like mush. I know Teixeira has plenty still to prove, but a head is a head. Not many people can pulpify a head that way.
Did you see Shogun Rua or Quinton Jackson diving under tables when Jon Jones' name came up as a potential opponent? No? They sure did when it was Teixeira. Yes, I get that Jones is a bigger name, but still.
Here's the bottom line for me: Jones' striking attack is a surgeon's scalpel. Teixeira's is a rusty chainsaw attached to the end of a sledgehammer. Which one would you fear more?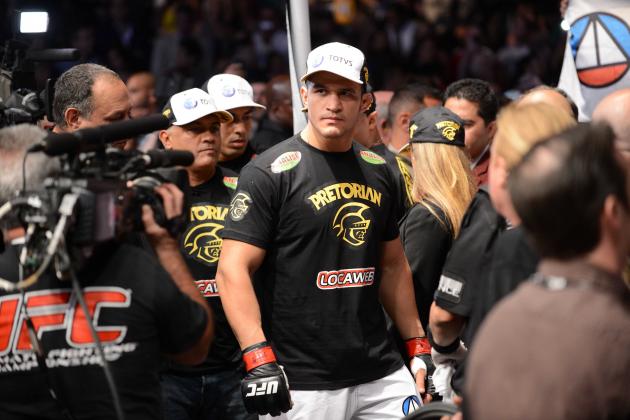 Ron Chenoy-US PRESSWIRE

Here's one I think we can all agree on, though it makes for an anticlimactic end. Junior dos Santos is one of the best boxers and hardest hitters in the sport.
Follow Scott Harris on Twitter.