New York Rangers: The Blueshirts Have the Best Young Defensive Corps in the NHL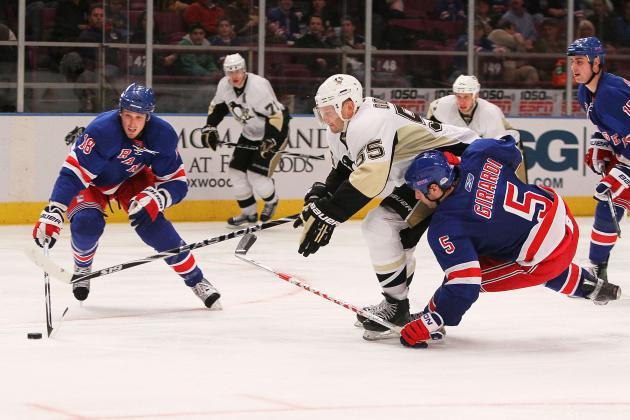 Mike Stobe/Getty Images

When looking around the league, there are some impressive young defensemen. Drew Doughty, Kris Letang and Jack Johnson are some that come to mind.
But no team has more talented young defensemen than the New York Rangers.
All of their defensemen are young; none are over 28. They have some elite talent. They are physical and tough.
Why do the Blueshirts have the best young defensive corps in the league?
Read on to find out.
Begin Slideshow

»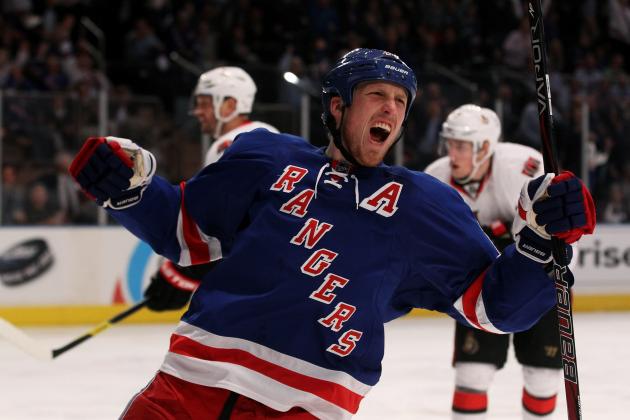 Bruce Bennett/Getty Images

Marc Staal is 25. Michael Del Zotto is 22. Ryan McDonagh is 23. Dan Girardi is 28. Anton Stralman is 26. Stu Bickel is 26.
That's an average age of 25 for the top six defenders of the Rangers. That's impressive.
And let's think about skill. A top four of McDonagh, Girardi, Staal and Del Zotto is among the best in hockey. Not only are they good defensively, but they can pinch in on the offensive side.
Michael Del Zotto had 41 points, which put him in the top 20 among NHL defensemen. Ryan McDonagh added 32 points and Dan Girardi had 29.
It's great if your defense can shut down the offense, but all teams want their defensive corps to put up some points too. The Rangers can.
The combination of youth and skill is simply not matched in the NHL.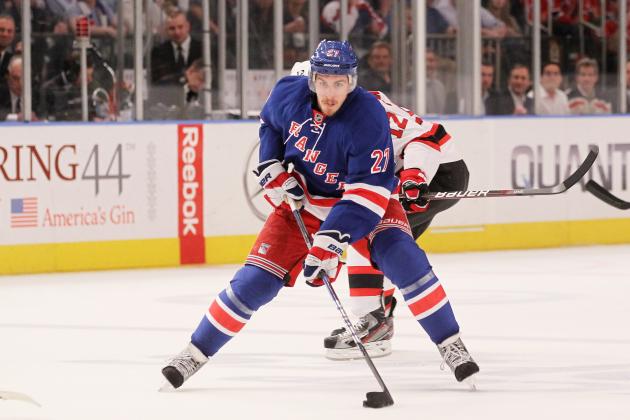 Bruce Bennett/Getty Images

Ryan McDonagh is one of the best young defensemen in the NHL. In his first full season, McDonagh scored seven goals and added 25 assists. He was a remarkable plus-25, while playing 25 minutes a game.
McDonagh, only 23, is physical and tough. He will dole out hits and will lay out to block a shot.
He has a developing offensive game. He can carry the puck up and start the rush and can always make a smart outlet pass.
McDonagh has only played in 122 career games, yet he plays like a seasoned veteran. He played most of his time on the first pair of a team that had the best record in the Eastern Conference.
He has a poise well beyond his years as nothing seems to faze him. He's routinely matched against the top offensive players in the game, and repeatedly shuts them down.
With more experience, McDonagh will continue to improve. He has the makings of a Norris-caliber defenseman and he's only 23.
Not many teams have that on their roster.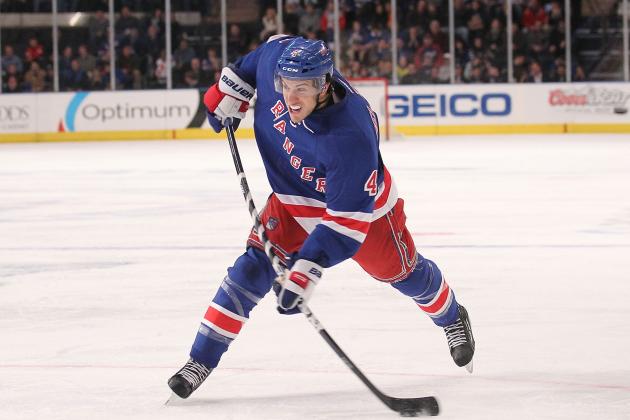 Nick Laham/Getty Images

Michael Del Zotto is one of the better offensive defensemen in hockey.
Last season, he was 18th in points with 41. That's ahead of such stars like Duncan Keith, P.K. Subban, Niklas Lidstrom and Sergei Gonchar, among others.
He had more assists, 31, than Shea Weber and more goals, 10, than Dan Boyle.
Del Zotto only turned 22 in June. He's surely had some rough patches, as he spent some of his sophomore season in the minors, but Del Zotto is capable of gorgeous breakout passes and is valuable on the power play, where he had 13 assists.
He's not a star, but he's clearly one of the best young defensemen in hockey. He has only two full seasons under his belt and he's only improving.
He has better numbers than P.K. Subban, a player who gets more attention. He has better numbers than Drew Doughty and John Carlson, both of whom just got big paydays.
It's pretty simple: Del Zotto is one of the better offensive defensemen in hockey. He's just another part of this top young defensive corps.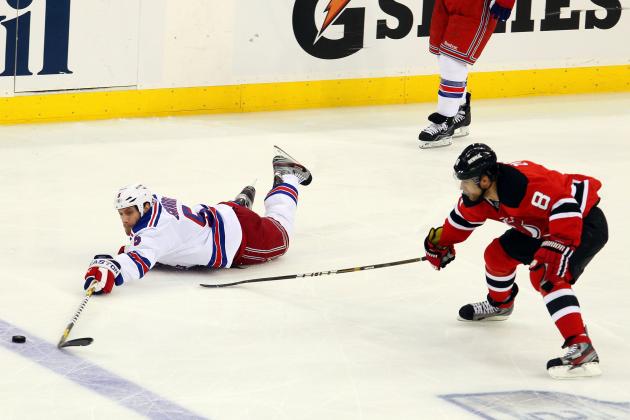 Jim McIsaac/Getty Images

Marc Staal and Dan Girardi are the glue of this defense. At 25 and 28 respectively, they are the ones coach John Tortorella relies upon.
Staal averaged 25 minutes per game in the postseason, while Girardi averaged 27.
They're not flashy. They're physical and tough as nails. They're leaders. Staal serves as one of the alternate captains and Girardi served as one when Staal was injured.
This is the pair that is called upon against top units. They're out there in all the key situations, against top lines and on penalty kills.
McDonagh might be the most talented player, but it is Staal and Girardi who keep things together. They set the example, both on and off the ice.
They embody the "Black-and-Blueshirts" style this team has adopted. They will sacrifice their bodies. They play with reckless abandon, all in the name of the team.
Without Staal and Girardi, this is just an average defense. With them, they're one of the best.
Jim McIsaac/Getty Images

The Rangers gave up the third fewest amount of goals last season at 182.
Yes, a lot of that has to do with Henrik Lundqvist, the reigning Vezina Trophy winner, but a goalie can't do it all by himself. He needs a top defense.
And that's what the Rangers have. By any measure, they are one of the best defenses in hockey. They had the fifth-ranked penalty kill in hockey. They had the fifth-best plus/minus record.
They had the fourth-most blocked shots and led the league in hits.
This is a defense with an average age of 25. This is a defense whose longest-tenured player in the NHL is Steve Eminger, and he's the seventh defenseman.
They have a burgeoning star in Ryan McDonagh, a proven top-tier defenseman in Marc Staal, an under-the-radar but no less fantastic player in Dan Girardi. They have a top offensive defenseman in Michael Del Zotto.
They have it all. They have size, speed and strength. They are physical and tough. The Rangers are one of the most talented teams in hockey. They have the best goalie in hockey. They have star forwards.
And they have the best young defensive corps in hockey. Not a bad combination.