Spain vs. France: 6 Things to Watch out for in the Key World Cup Qualifier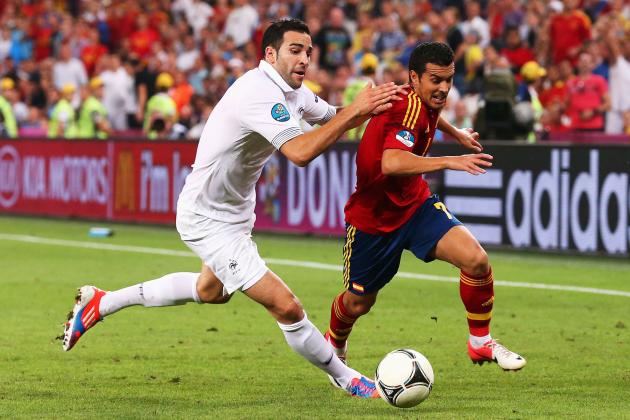 Alex Livesey/Getty Images

No, you are not experiencing deja vu, we actually are getting ready to watch Spain play France in a another key match already.
It was just four months ago that these two teams met in the quarterfinals of Euro 2012, with Xabi Alonso scoring a pair of goals to send off Les Bleus and pay them back for doing the same to Spain in the 2006 World Cup.
Now Didier Deschamps is in charge of the French National Team and will probably not opt to use two right-backs in order to slow down the reigning champions of Europe.
The two sides are undefeated in qualifying, but France is coming off a shock defeat to Japan in a friendly while Spain is riding high off a 4-0 win over Belarus.
Now these two face off in the biggest match of the week as the European champs get their first home game of the World Cup Qualifiers when they welcome Les Bleus to the Vicente Calderon in Madrid.
The match will take place Tuesday, October 16 at 3:00 pm ET.
To prepare you for the match, here are six major talking points in anticipation of the match.
Begin Slideshow

»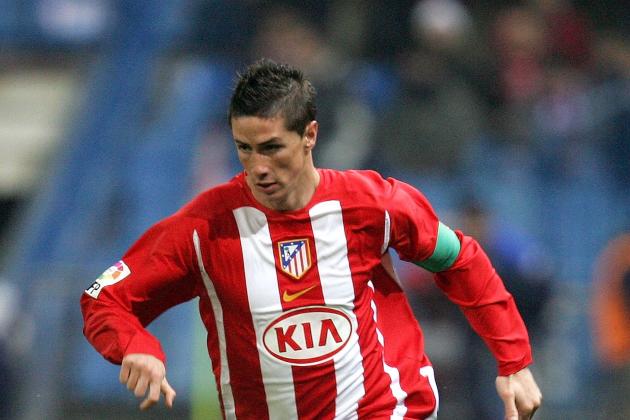 Denis Doyle/Getty Images

One of the major decisions Vicente del Bosque has to make is how he will form his attack against Les Bleus.
In Friday's match against Belarus, the Spanish boss decided to field Cesc Fabregas in the False 9 role that he tried perfecting in last summer's Euros.
David Villa came on as a sub with 15 minutes to play, but no other striker featured. Fernando Torres was left on the bench so he will be fully rested for Tuesday's match.
With the game being played at the Vicente Calderon, there is a good chance that the Chelsea striker will make his long-awaited return to his former stomping grounds.
Torres recently stated that he would love that opportunity.
"It is a special stage for me, it is the first time that I will be back there," he said. "It is a long time since I left and it could not be better than to return in front of our fans, playing with the national team against France."
Laurence Griffiths/Getty Images

While Spain's striker might enjoy an emotional return to his former home, the match might not be as enjoyable for France's main man.
Karim Benzema is likely to be chosen to lead France's attack and the Real Madrid man has not been in great form as of late.
The Frenchman has not scored a single goal in his last eight matches for the national team.
Against Japan, Deschamps used him out left, a position he has sometimes played in La Liga. This allows Olivier Giroud to play in the middle while providing some great firepower on the wing.
However, the experiment has not earned the desired results to this point. If France are going to have any chance of beating the reigning world champions, Benzema will need to break his goalless streak.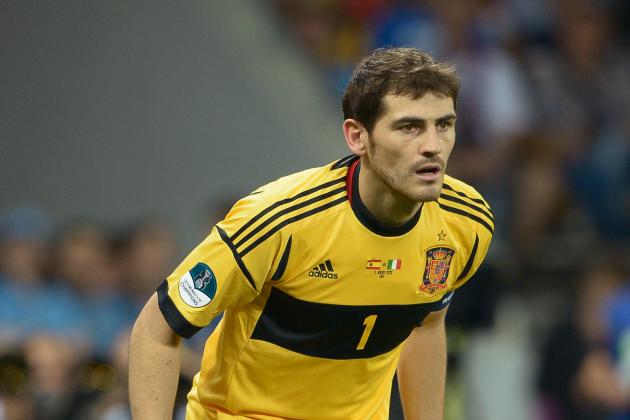 Claudio Villa/Getty Images

Benzema is not the only Real Madrid player in the middle of a streak. In fact, his eight games without a goal pales in comparison to his club teammate and Spanish goalkeeper, Iker Casillas.
When the final whistle blew against Belarus and Spain managed another shutout, Casillas broke a national team record by going 725 minutes without conceding a goal.
As if Benzema didn't have enough problems netting already, now he has to face one of the most impenetrable keepers of the last 10 years.
Of course, that record doesn't just belong to Iker Casillas. The entire defense, from the back four to La Roja's double-pivot, deserve praise for this feat.
Whether or not the makeshift defense—with Sergio Busquets partnering Sergio Ramos—can keep another clean sheet remains to be seen.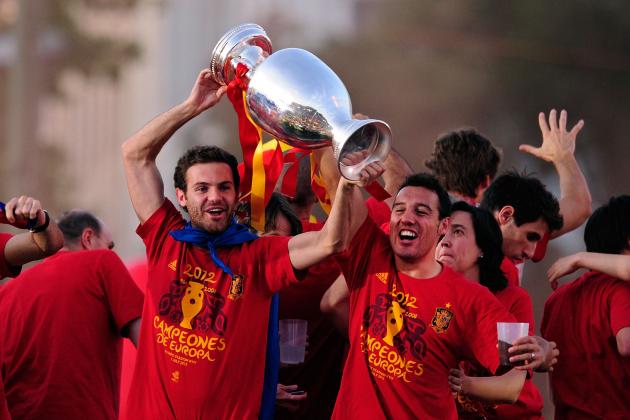 Denis Doyle/Getty Images

Just as their No. 1 looks unbeatable as of late, the national team itself is in the middle of one of the greatest streaks in history.
Entering the game against France, Spain are now unbeaten in 46 World Cup and European Championship qualifiers.
The record stretches back almost a decade, to 1993. They have won 24 consecutive qualifying games across those two competitions.
This goes without mentioning that La Roja have not lost an elimination in either competition since all the way back in 2006.
Ironically, it was France, their next opponent, who last defeated the champions—Les Bleus knocked them out of the World Cup in 2006.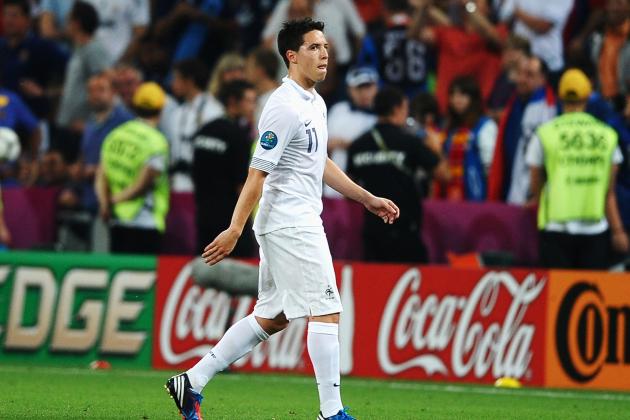 Laurence Griffiths/Getty Images

Speaking of World Cup performances, the debacle of 2010 is still lingering in France after the team was so divided that it broke the team apart in their first elimination match and had many players suspended.
Didier Deschamps has now taken control of the team from Laurent Blanc and one of the most immediate points he has proven is that no one on the squad is untouchable.
The 43-year-old sought to immediately squash any internal issues by at least temporarily keeping certain players off the team due to some alleged problems in the locker room following the Euros.
Samir Nasri, Hatem Ben Arfa and Yann M'Vila all have been dropped by the former Marseille coach and we have yet to really see the effects of that move.
It will be interesting to see how the team rallies around their new coach not just against Spain, but beyond that match as well.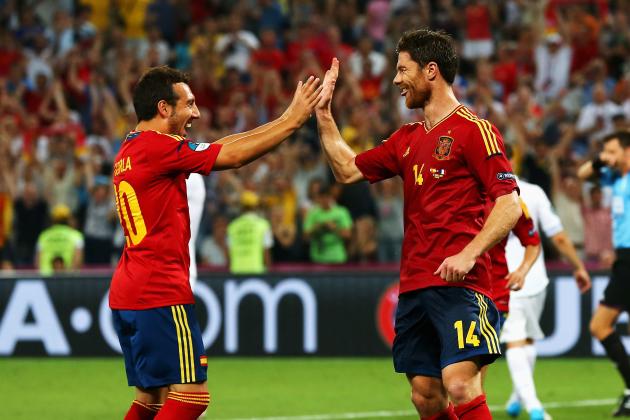 Martin Rose/Getty Images

When Del Bosque announced his squad for the two qualifying matches against Belarus and France, a lot of people questioned his refusal not to take Juan Mata.
Instead, the 61-year-old went with Benat Etxebarria to cover Xavi with Busquets playing defense. He chose to use Fabregas in the False 9 role, with David Silva and Pedro Rodriguez playing alongside.
The choices paid off perfectly as Pedro netted a hat trick, with Silva setting him up for the first goal. As I showed in another article, Del Bosque made a wise choice to leave Mata off given the situation on defense and in midfield.
Who will play where?
Fabregas did not have a bad game at all, but chances are he will not start against Les Bleus. Torres or another striker will probably be employed.
Also, Andres Iniesta will be close to full recovery so he will likely take his place back in the starting XI with Santi Cazorla likely to be the man sacrificed.
Other players will be well-rested for the match—including Benat, Javi Martinez (if he doesn't take Ramos' place in defense) and Jesus Navas.
With so many world-class options at his disposal, it will be interesting to see which players Del Bosque selects.