Penn State Football: 10 Players That Will Help Bill O'Brien Turn It Around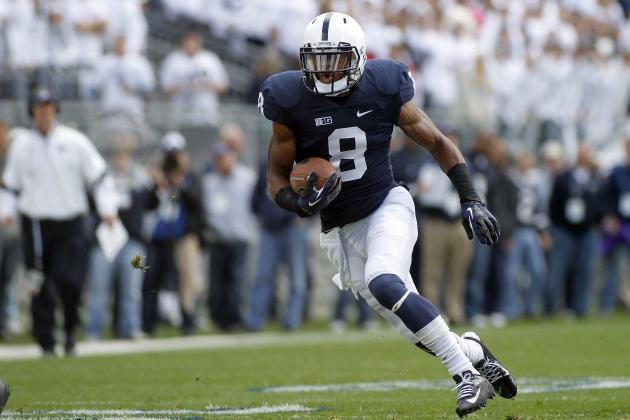 Justin K. Aller/Getty Images

Bill O'Brien has already shocked the nation thus far in the season, guiding his Penn State Nittany Lions to a 2-0 Big Ten record.
Of course, there were some bumps along the road early in the season, including a heartbreaking loss to Virginia.
Nonetheless, O'Brien has shown that he is taking the Penn State football program in the right direction.
But as the Nittany Lions' head coach, O'Brien can only do so much. The success of Penn State rides most heavily on the players.
Not only has O'Brien been able to pull talent out of a team that has lost so much, he also has raised the bar in the character department.
Players such as linebacker Michael Mauti and quarterback Matt McGloin have stepped up and pulled this team together in their darkest hour.
These players, along with eight others, will turn Penn State back into a football powerhouse sooner than you may think.
Begin Slideshow

»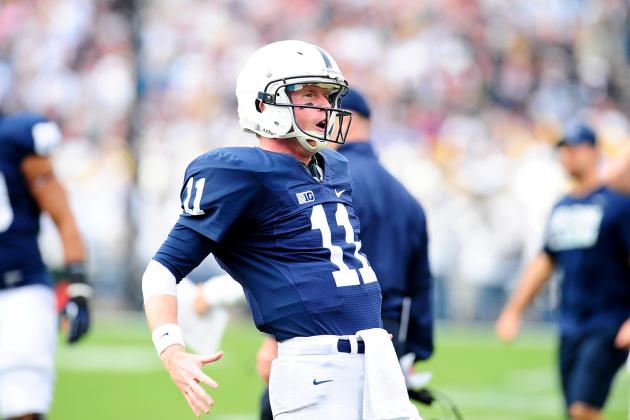 Evan Habeeb-US PRESSWIRE

From day one this former walk-on has shown poise and confidence, sometimes almost to a fault.
After winning the starting job this past summer, McGloin has turned a new page.
He still plays with that same poise, but now McGloin is the general on the field for the offense.
So far this season, McGloin has thrown for 1,499 yards and 12 touchdowns, while only being picked off twice.
McGloin is living proof of what O'Brien and his coaching staff can do. He has gone from a gunslinging gamer to a poised quarterback making the right throws and calling the right audibles.
McGloin will continue to impress this year and be integral in leading Penn State to a winning season.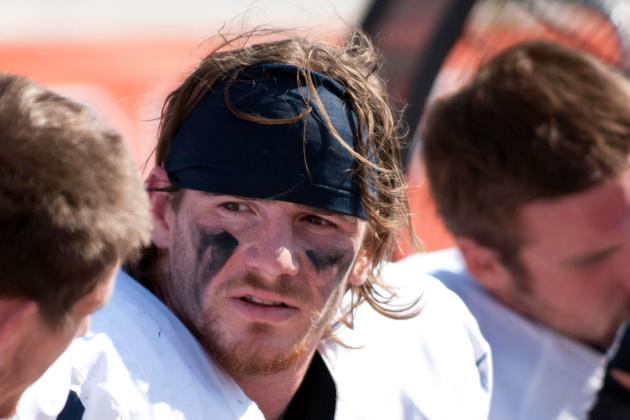 Bradley Leeb-US PRESSWIRE

Mauti, much like McGloin, is a senior leader that is carrying the Nittany Lions through their program's toughest year.
Off the field, Mauti is the emotional leader of the team. On the field, he is just an animal.
The linebacker has racked up 57 total tackles, 1.5 sacks, two forced fumbles and two interceptions.
Coming into this season, O'Brien needed someone to hold this team together both on and off the field; Mauti has been that person.
Mauti continues to lead a strong core of linebackers that will lead this defense in Big Ten conference play.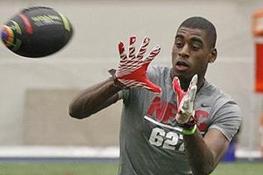 Most people might not know who Eugene Lewis is. As a true freshman, Lewis has yet to step foot on the field for the Nittany Lions.
This is because Lewis is one of the few players on Penn State's roster being redshirted.
The 6'1" wide receiver from Wilkes-Barre, Pa. was one of Penn State's top recruits from last year, and he was ranked as a 4-star recruit by ESPN.
It's obvious how much potential O'Brien sees in Lewis if he's willing to redshirt him during a season in which the Nittany Lions keep losing players "for personal reasons."
At Wyoming Valley West High School, Lewis played both quarterback and wide receiver, showing his versatility.
This guy is a talented athlete that O'Brien has to love.
Look to see Lewis making big plays in the future for Penn State.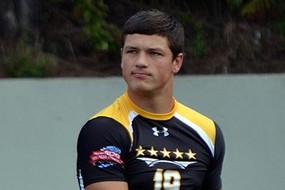 Rivals.com/T. Booker
Without even stepping foot in Happy Valley, there are already high expectations set for Christian Hackenberg.
Hackenberg is ESPN's No. 1-ranked quarterback in this recruiting class.
With McGloin graduating next year, Penn State will be left with Steve Bench as their only quarterback on a scholarship, giving Hackenberg a chance to make a difference early.
Hackenberg has a chance to do some really special things during his time at Penn State in O'Brien's offense.
It has to be exciting for Penn State fans, seeing what O'Brien has been able to do with McGloin in only one season.
With one of the top quarterbacks in the nation set to be coached by O'Brien, Penn State's future will be very bright.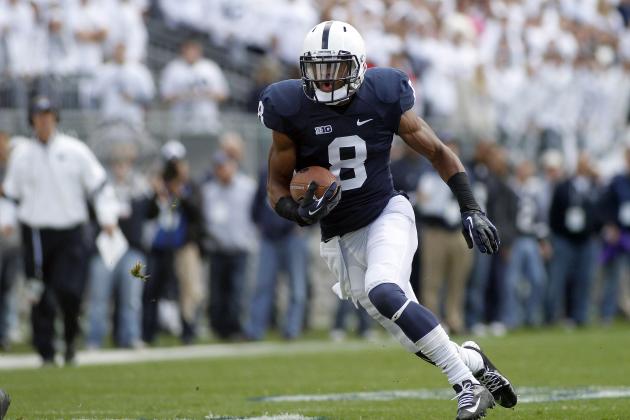 Justin K. Aller/Getty Images

In just his sophomore season, Robinson has shown that he is Penn State's next big receiver.
If recent years are any indication, the Nittany Lions always seem to have at least one dominant receiver when they do well.
I'm sure the name Derrick Williams rings a bell for many Penn State fans. He just so happened to be part of a team that won the Lions' last Orange Bowl.
Last season, Derek Moye and Justin Brown were talented, but too inconsistent.
Robinson has shown that he is ready to be the one to step up and score touchdowns.
With Hackenberg bringing his talents to Happy Valley, Robinson can only get better.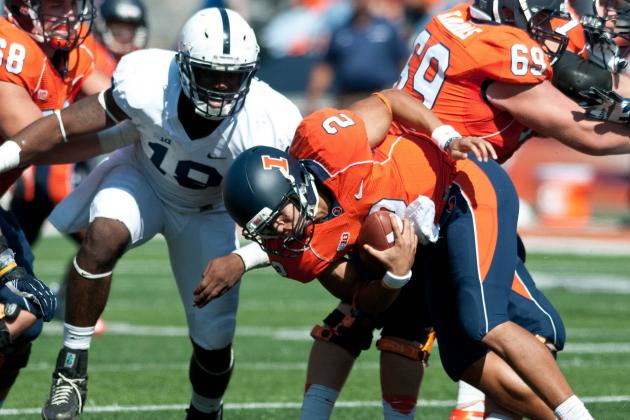 Bradley Leeb-US PRESSWIRE

Standing 6'4" tall, Barnes is bigger than Osi Umenyiora.
Although Barnes may not play at the level Umenyiora does yet, he continues to get better every week.
The redshirt freshman defensive end is an outstanding pass-rusher for Ted Roof's defense.
Barnes leads the team with four sacks and has five tackles for a loss, and two forced fumbles.
This young stud may be overshadowed by Mauti and Gerald Hodges, but next year with them gone Barnes can move into the spotlight.
The threat he brings as a pass-rusher is going to help the Nittany Lions' young secondary in the upcoming years.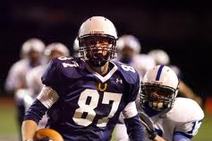 Paul Chaplin/ The Patriot News
Breneman is another top recruit that O'Brien is bringing to Penn State for next season.
He is ranked by ESPN as the No. 1 tight end, and is 49th overall in the ESPN Top 150.
With the way O'Brien likes to use his tight ends, Breneman can be an absolute stud.
The Nittany Lions already have Kyle Carter and Matt Lehman, but Breneman is most likely going to be O'Brien's best receiving tight end.
It will be a scary combination for Hackenberg to throw to with both Carter and Breneman on the field.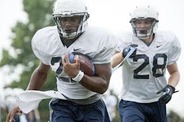 Michael Kubel/ The Morning Call
Much like Eugene Lewis, Lynch is another relatively unknown player on the Penn State roster.
Lynch wasn't as highly touted as Lewis, and ESPN only ranked him as a 3-star prospect.
After losing Silas Redd, Penn State had many questions at running back leading up to the season and three senior running backs on the roster (Michael Zordich, Curtis Dukes and Derek Day), so O'Brien elected to redshirt Lynch.
But O'Brien has said (h/t Tim Tolley, victorybellrings.com) that Lynch has a very bright future at Penn State, and he redshirted Lynch because of that promising future. In his senior season at St. Francis High School in New York, Lynch rushed for over 2,000 yards.
This guy is a little bit of a dark horse, but O'Brien seems to know talent when he sees it.
Lynch has a chance to help turn around Penn State.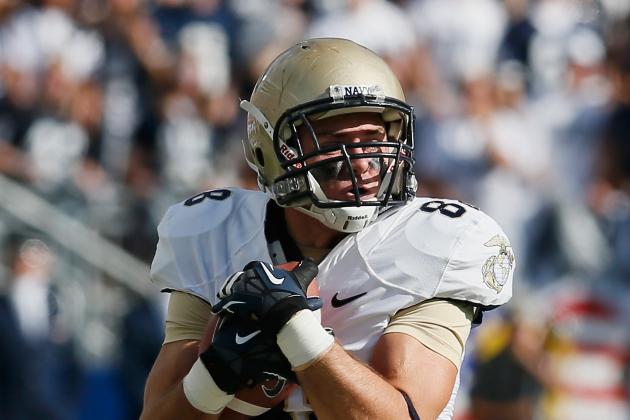 Rob Carr/Getty Images

Amos is part of a group of players on Penn State's roster that have named themselves the "Supa Six."
Whether or not the nickname is deserving for all six players, Amos is an outstanding player for Roof's defense.
In his second season Amos continues to get better, and he has been a major part of holding the Nittany Lions' thin secondary together.
Amos' true position is as a safety. He played that position in high school and in his first season with Penn State.
But even at corner, Amos is still having a strong season with the Lions.
In the upcoming years Amos will be a key player leading the secondary.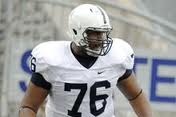 Linemen usually don't get much media love, but Smith deserves it.
As a redshirt freshman, Smith has been seeing time on the line this season for Penn State.
At 6'5", 316 pounds, Smith is a force to be dealt with on the offensive line, and he will be critical for the Lions in the upcoming years.
Although Smith may not be dominating the competition this season, the experience he is gaining is invaluable.
If Smith can continue to improve, he can be a building block for O'Brien's offensive line in the upcoming years.