Boise State Football: Grading All 22 Starters from the Fresno State Game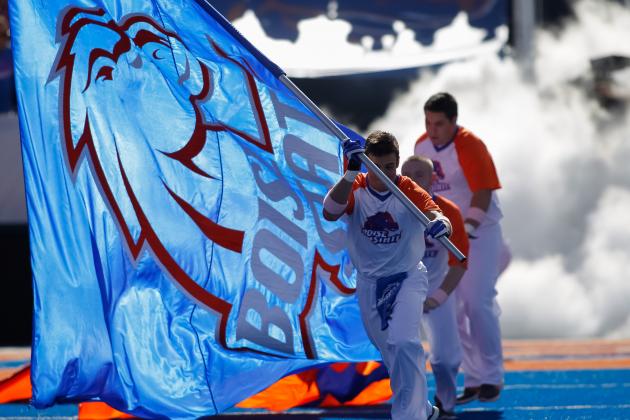 Otto Kitsinger III/Getty Images

It seems doubtful that the Boise State offense, one of the top scoring teams in recent years, will achieve that status in 2012. The trend is almost set in stone. What is winning games for Boise State is the stifling defense.
For three-and-a-half quarters, the Bronco defense stifled Fresno State, grudgingly yielding yardage and allowing only a field goal before the Bulldogs tacked on a passing touchdown on an 80-yard drive with 2:15 left in the game.
And, because the game was played on the blue turf at Bronco Stadium, the Broncos got a boost from the fans as well. The noise was so overwhelming that Fresno State's first attempt to snap the ball after the game's opening kickoff resulted in a delay of game penalty because quarterback Derek Carr couldn't get signals conveyed to his team due to noise.
If the Bronco fans were part of this grading system, they would clearly get an A.
But let's get to the game played on the field and not in the stands, and grade out the Bronco starters in the win over Fresno State…
Begin Slideshow

»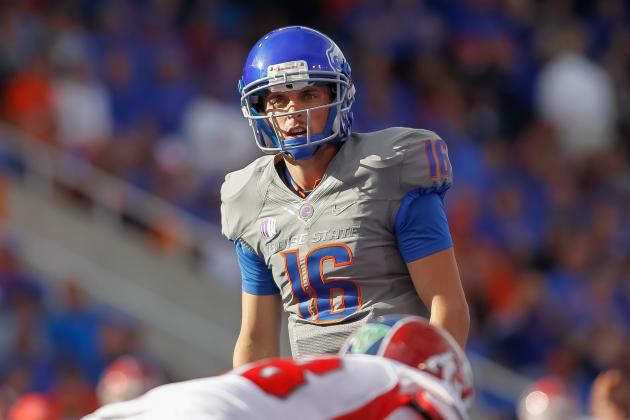 Otto Kitsinger III/Getty Images

Redshirt junior quarterback Joe Southwick had moments where he was spot on as the general of the Bronco offense, but they were countered with some glaring problems. His first-quarter touchdown pass to Geraldo Boldewijn was excellent.
But Southwick started the game by trying to force passes to redshirt sophomore receiver Matt Miller.
There were several passes that were badly underthrown to wide open receivers. He was intercepted once on an underthrown pass and got lucky when a second interception was overturned by a penalty. His feet enabled him to evade the rush, especially early in the first quarter when Fresno State was getting penetration.
With the coverage so tight on Miller, Southwick did find other receivers to go to and started to spread the ball around. Eight receivers caught passes, and Southwick also got a reception when wide receiver Chris Potter completed a scrambling six-yard pass to Southwick.
It was a good thing that the running game got untracked, because the passing game was anemic. Southwick finished the game 11-for-22 for 113 yards. The Bronco offense was also 4-for-12 in third-down conversions.
Grade for Joe Southwick: C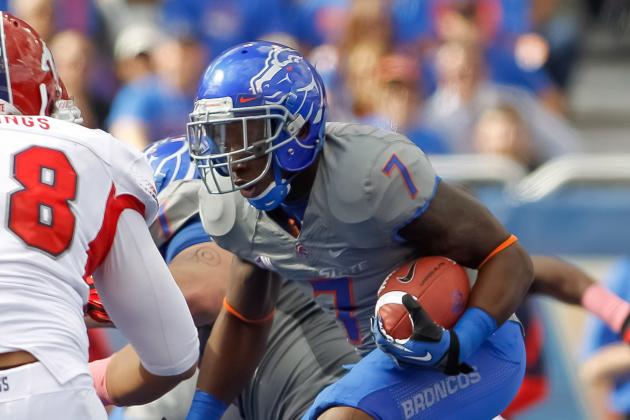 Otto Kitsinger III/Getty Images

Starters: Running back D.J. Harper, Fullback Dan Paul
D.J. Harper got off to a slow start. Part of that was that the offensive line took a while to warm up and many times on the opening drives, Harper was hit behind the line of scrimmage. Then the line began to open holes and Harper began to use his vision to bounce outside when necessary.
His spinning, elusive running found its stride. The sixth-year senior finished with 21 carries for 122 yards and a touchdown.
Grade for D.J. Harper: A
Redshirt freshman Jay Ajayi deserves mention here. If the tags of 'Thunder and Lightning' stick to describe Harper and Ajayi, the thunder part—the hard-pounding, bruising runs of Ajayi—needs recognition.
Harper spins around and slips through the creases, then streaks away from would-be tacklers. Ajayi bulls through them. He had 15 carries for 91 yards and really got the running game going.
Grade for Jay Ajayi: A
Dan Paul, a redshirt senior, starts in place of a tight end. He didn't get a carry, or a pass reception in Saturday's game, but his lead blocking was invaluable in helping the Broncos establish the run. At 6'1", and 262 lbs, Paul—with a head of steam from his down stance in the offensive backfield—hits the line like a freight train and his presence was felt (literally) Saturday.
Grade for Dan Paul: A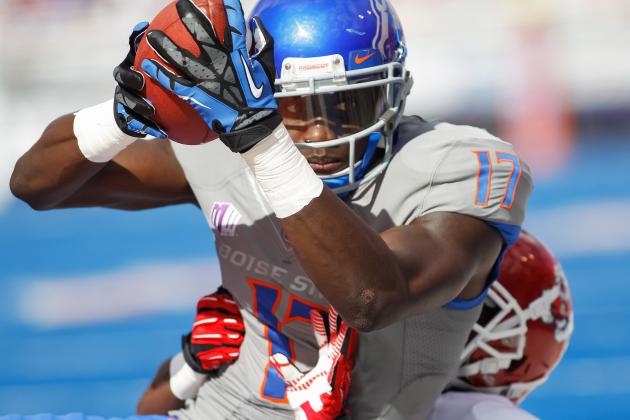 Otto Kitsinger III/Getty Images

Starters: X receiver, Matt Miller, Z receiver, Chris Potter, H receiver, Kirby Moore.
Chris Potter didn't catch a pass, but he threw one. Kirby Moore caught one pass for seven yards and had his helmet ripped off before he went to the ground. Matt Miller drew tight coverage and finished with one reception for four yards.
Combined, the starters had two catches for 11 yards.
That's not great for starters but the Broncos starting receivers are called upon to do more, like block. And the Broncos run multiple packages that involve receivers that may not be listed as starters. Geraldo Boldewijn and Shane Williams-Rhodes were the leading pass receivers with three catches each.
Also take into account that the Bronco passing attack was not very strong Saturday. There were only 11 total completions. Therefore the grade takes into account the other things that the starters brought to the field, like blocking.
Grade for Matt Miller: B
Grade for Kirby Moore: B
Grade for Chris Potter: B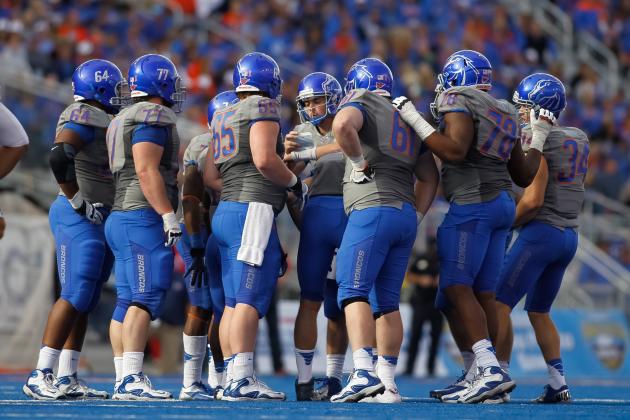 Otto Kitsinger III/Getty Images

Starters: Left tackle Charles Leno, Jr., left guard Joe Kellogg, center Matt Paradis, right guard Spencer Gerke, right tackle Brenel Myers.
The offensive line got off to a mediocre start. Running backs were not getting holes, and quarterback Joe Southwick was having to scramble—often to his right—to get away from pressure. But things started to change late in the first quarter and into the second.
Holes were there for the ground game for the most part, and Fresno State, defensively, did not have any quarterback hurries and only registered three tackles for loss. The Bulldogs did have one sack, though.
Overall Grade: B
Redshirt junior Spencer Gerke has moved around on the line. For this game he was playing on the right side, and that was the side of the field that was the most stable in the opening minutes of the game.
Grade for Spencer Gerke: B
Matt Paradis, a redshirt junior, has been pressed into service this season as the center. He has certainly stepped up to the task. All exchanges between the center and quarterback appeared smooth, and he held the center of the line well.
Grade for Matt Paradis: A-
Redshirt junior Charles Leno, Jr. did a good job for the Broncos. While pressure came through the left side of the line on the Broncos first two possessions of the game, Leno and Kellogg warmed up to the task and whether pulling or sealing down the ends for the running backs, were a large part of the Broncos' success on the ground.
Grade for Charles Leno, Jr.: B
Joe Kellogg, a redshirt senior, was pressed back into service due to injuries and has been doing a solid job.
Grade for Joe Kellogg: B+
Brenel Myers, a redshirt senior, got tagged for a couple of penalties (holding and a false start), but generally had a solid outing.
Grade for Brenel Myers: B-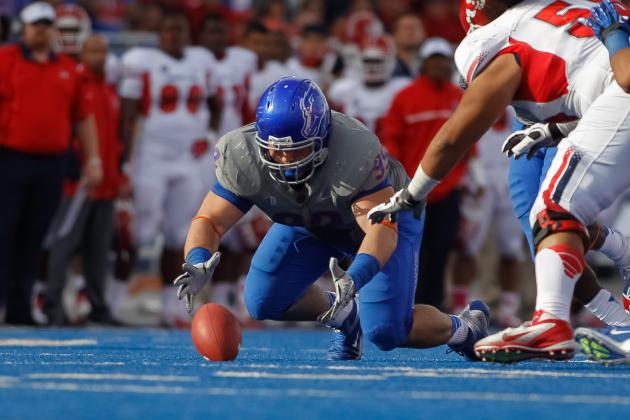 Otto Kitsinger III/Getty Images

Starters: End Demarcus Lawrence, tackle Ricky Tjong-A-Tjoe, nose Mike Atkinson, SE Sam Ukwuachu
The defensive front seven did not register a quarterback hurry but if you asked Fresno State quarterback Derek Carr he would say he certainly felt the pressure all game. Carr was bent on beating Boise State.
He apparently has a Bronco flag in his home, according to an Idaho Statesman story, and he vowed he would take it down after beating Boise State. That's not going to happen.
As a unit, the Broncos registered three sacks, forced and recovered a fumble and Dextrell Simmons got an interception. The Bronco defense also registered -30 yards rushing for the game and allowed an average of only 1.9 yards rushing per attempt.
Whether dropping back into coverage, penetrating through the middle or pouncing (and using the word 'pounce' for a 306 lb down lineman is quite the imagery) on a fumble, Atkinson has been having a great season. He had nine tackles on the game, a quarterback sack and was huge in plugging the middle.
Grade for Mike Atkinson: A+
Ricky Tjong-A-Tjoe, a redshirt junior, was helping flush the Bulldog quarterback from the pocket, finished with four total tackles with 1.5 tackles for loss and tag-teamed on a quarterback sack. A solid performance.
Grade for Ricky Tjong-A-Tjoe: A
With his speed off the end, it sometimes looks like redshirt sophomore Demarcus Lawrence is not part of the defense but rather lines up in the opposing team's offensive backfield. Lawrence had a great game. He not only had two sacks, but stripped the Bulldog quarterback of the ball for the lone fumble of the game.
Grade for Demarcus Lawrence: A+
Sam Ukwuachu, a redshirt freshman, did not have big numbers on the stat sheet, but he certainly was a huge part of the Bronco defense.
Grade for Sam Ukwuachu: A-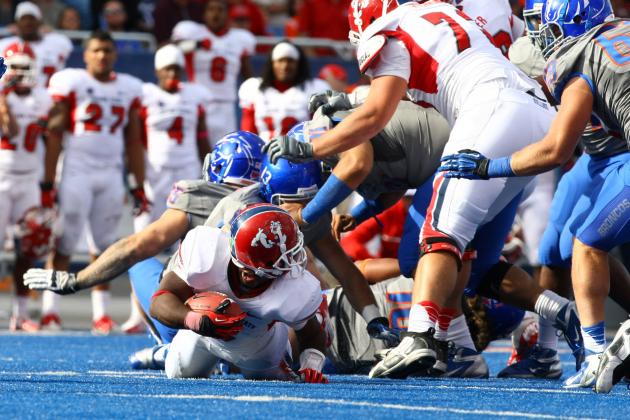 Brian Losness-US PRESSWIRE

Starters: Tommy Smith, J.C. Percy
It always seems like the Bronco linebacking tandem of J.C. Percy and Tommy Smith jump up and make a key stop when the Bronco defense starts to give yardage to the opposition. The duo were at it again Saturday and had great games.
Redshirt senior J.C. Percy led Boise State in tackles with 14 total for the game. He was all over the field, penetrating into the offensive backfield, dropping back into zone coverage or sprinting to the corners to defend the run.
Grade for J.C. Percy: A+
Tommy Smith, another redshirt senior, finished the game with six total tackles and a pass breakup.
Grade for Tommy Smith: A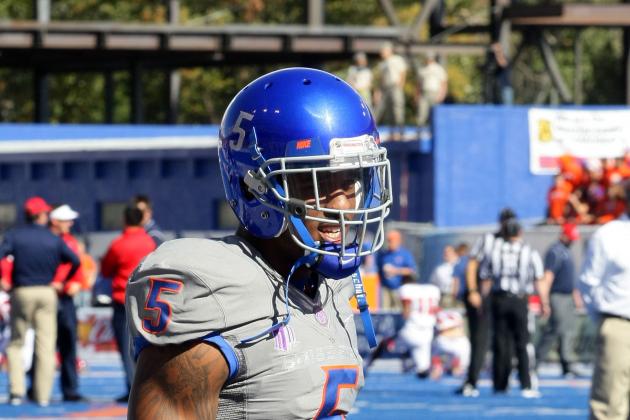 Brian Losness-US PRESSWIRE

Starters: Safety Jeremy Ioane, safety Lee Hightower, nickel Dextrell Simmons, corner Jamar Taylor, corner Jerrell Gavins
The Bronco defensive secondary had one interception on the afternoon, and it could have easily been two. A Derek Carr pass hit Jerrell Gavins in the hands and he couldn't hang on.
But more importantly, until the final minutes of the fourth quarter, the Bronco secondary was on Bulldog receivers like ice on glaciers.
The Fresno State quarterback had five of his passes broken up, and held Carr well under his per-game average of 302.7 yards per game passing with 266 through the air.
Jeremy Ioane, a redshirt sophomore, was the third-leading tackler on the Broncos with seven total. He was a strong presence in the secondary throughout the game.
Grade for Jeremy Ioane: A
Sophomore Lee Hightower continues to go for the knockdown rather than wrapping up the ball-carrier. On one occasion, Hightower had a receiver measured for a loss after a pass into the offensive backfield and went for the knockdown. The receiver sidestepped the head-down bull rush and picked up positive yardage.
Using the helmet and pads to become a crushing hitter is fine, but knowing when to keep the head up and wrap up and tackle an opposing player will score a lot more respect and tackles.
Grade for Lee Hightower: B
Dextrell Simmons, a redshirt senior, was in the right place at the right time and pulled off the interception like it was thrown directly to him… actually, it was thrown directly to him. The nickelback turned in a good performance overall, adding three tackles and a pass breakup to his game stats.
Grade for Dextrell Simmons: A-
Jerrell Gavins, a redshirt senior, dropped a certain interception, but his overall coverage was good.
Grade for Jerrell Gavins: B-
Redshirt senior Jamar Taylor continues to be a leader on the Bronco defensive unit. Taylor had five total tackles, half a tackle for loss and, on one play, put on a clinic on how to wrap up a receiver and not let him gain any extra yardage.
Grade for Jamar Taylor: A