Heisman Watch 2012: Power Ranking Legitimate Candidates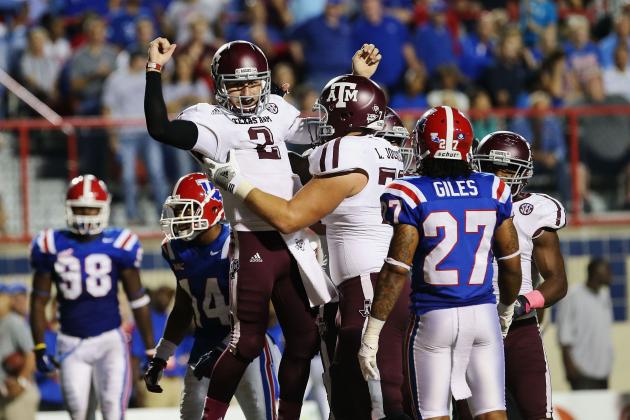 Kevin Jairaj-US PRESSWIRE

We are officially at the halfway point of the college football season, and the chase for the 2012 Heisman Trophy is starting to take shape as to who the real favorites are.
Some contenders have been there since the beginning of the season, while others on this list have come out of nowhere this year.
Here are the top seven Heisman candidates who have been great through the first half of this year.
Begin Slideshow

»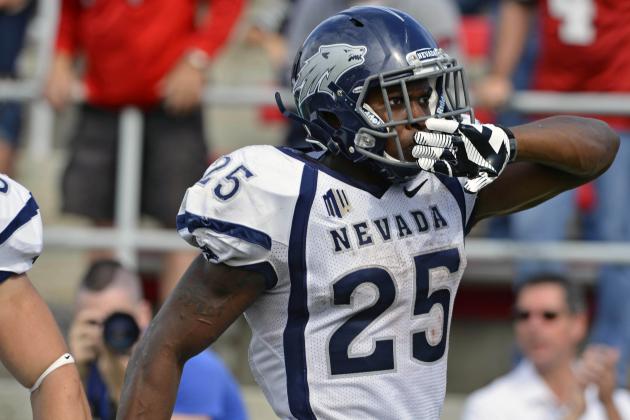 Ron Chenoy-US PRESSWIRE

2012 Stats: 219 Attempts, 1,140 Yards, 14 Touchdowns
Stefphon Jefferson will be left off a lot of Heisman lists because he plays for Nevada and in the Mountain West Conference. However, if it weren't for a one-point loss to South Florida, he would be leading the Wolf Pack to a perfect 7-0 record and a spot in the Associated Press and USA Today coaches' polls.
Jefferson leads the nation in rushing attempts, yards and touchdowns.
In four of his last five games, Jefferson has rushed for 170 yards or more, and he has 11 touchdowns over that span.
He deserves to gain some Heisman notoriety, and hopefully this jump-starts the push to getting him to New York City in December.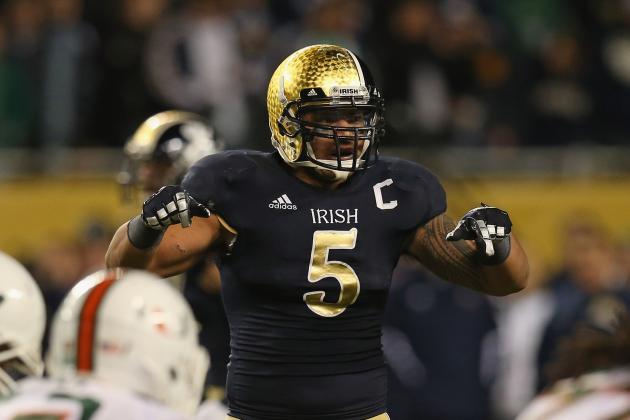 Jonathan Daniel/Getty Images

2012 Stats: 57 Total Tackles, 3 Interceptions

Manti Te'o is the leader of one of the best defenses in college football. He has led the Irish to the second-lowest scoring defense in the nation, as the Irish are allowing only 8.67 points per game.
Notre Dame fans have begun their push to get Te'o to the Heisman Trophy ceremony in New York City by making websites like this one from the South Bend Tribune.
If Te'o is going to make New York City and the Heisman ceremony, he will have to have more games like he did against Stanford. Against the Cardinal, Te'o had an amazing 11 tackles.
However, he will have to find a way to intercept more passes and find the end zone, to make himself that game-breaking defensive player that makes players on his side of the ball Heisman contenders.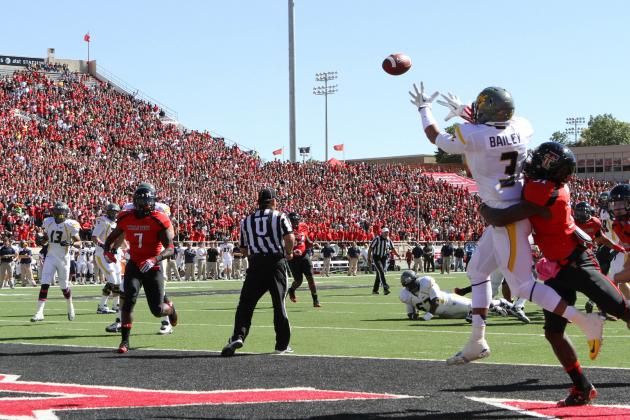 Michael C. Johnson-US PRESSWIRE

2012 Stats: 55 Receptions, 766 Yards, 14 Touchdowns
Bailey took a huge hit to his Heisman hype after laying an egg against Texas Tech when he finished with six receptions, 56 yards and only one touchdown.
However, it wasn't entirely Bailey's fault this week. The entire Mountaineers squad struggled on the road against the Red Raiders. However, one game doesn't ruin a player's chances at winning the Heisman.
But if Bailey continues to have subpar games like this one, he will see the trophy slip away from him.
Pat Lovell-US PRESSWIRE

2012 Stats: 96-of-159 Passing, 1,271 Yards, 11 TD; 129 Rushes, 912 Yards, 9 TD
Braxton Miller has carried this Ohio State team to a perfect 7-0 record overall and a 3-0 record in the Big Ten. If it weren't for Miller's 2,183 combined yards and 20 touchdowns, who knows where this Ohio State team would be after seven games?
Under new head coach Urban Meyer, Miller has flourished in the spread offense, which has seen his touchdowns increase. In his first seven starts last year, Miller had 12 total touchdowns, while this year, he not only has 20 but has yet to be held out of the end zone.
If Miller continues this pace, he will be a threat to win the Heisman.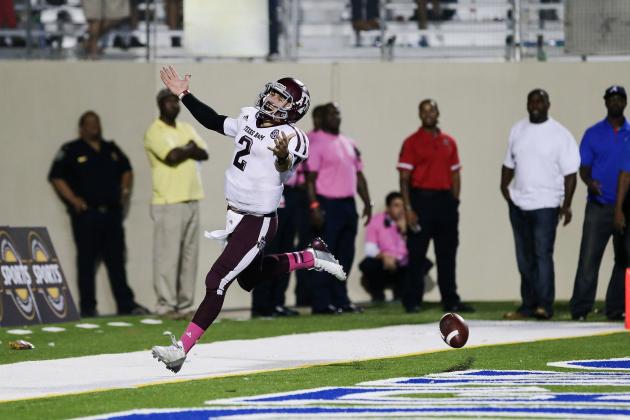 Kevin Jairaj-US PRESSWIRE

2012 Stats: 128-of-190 Passing, 1,680 Yards, 14 TD; 91 Rushes, 676 Yards, 10 TD
Let me start this by saying that, according to Heisman.com, no freshman has ever won the prestigious trophy in the 77 years of the award ceremony.
However, if Manziel can continue to play as he has in his first six games at Texas A&M, he could be the first ever to accomplish this feet.
If, and this is a huge if, Manziel can perform at his Heisman level against Alabama and LSU, then he will be the favorite heading into the award ceremony. If he can have big, four-touchdown games against those two teams, it will leap him over the other two favorites on this list, making him the odds-on favorite to win this year's trophy.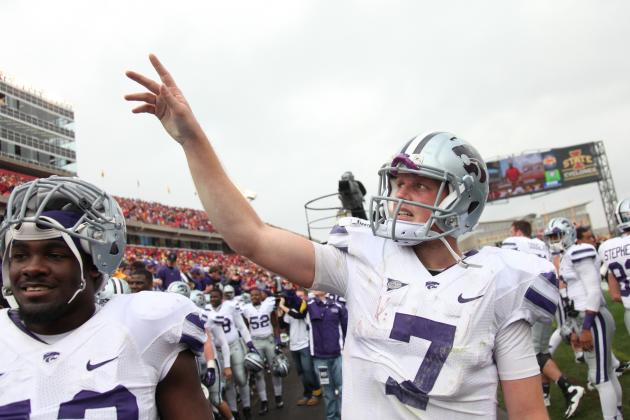 Matthew Holst/Getty Images

2012 Stats: 79-for-118 Passing, 1,074 Yards, 7 TD; 98 Rushes, 510 Yards, 10 TD
Collin Klein may not get the attention that Braxton Miller, Manti Te'o and our No. 1 on this list get on a weekly basis, but he has been the second-best player in college football in 2012.
He has led this Wildcats team to unexpected heights in both the Associated Press and USA Today coaches' polls, and he has likely done the same with regard to the BCS standings, soon to come out.
He could lead Kansas State to a Big 12 championship and potentially a BCS National Championship Game. Stats are one thing, but being the reason his team wins a conference championship and is playing in a national-title game would be huge for Klein's Heisman hopes.
For example, three out of the last four winners played in the BCS National Championship Game after winning the trophy: Sam Bradford (2008), Mark Ingram (2009) and Cam Newton (2010).
He is a dual-threat quarterback that could steal this Heisman trophy away from the No. 1 on our list.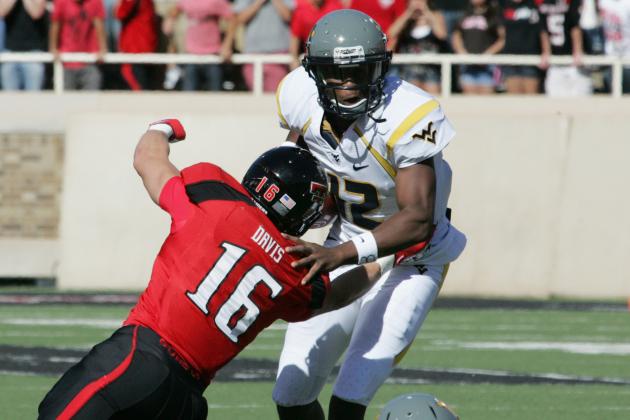 Michael C. Johnson-US PRESSWIRE

2012 Stats: 195-of-259, 2,271 Yards, 25 Touchdowns, 0 Interceptions
Even with a bad game against Texas Tech in which he threw for only 275 yards and one touchdown, Geno Smith still is not only the best player in college football but the leader in the Heisman clubhouse for the trophy, as well.
He still has yet to throw an interception this year and still leads the nation in efficiency, with an insane 180.8 QB rating.
However, this sub-300 yard game was his second in a row against a conference opponent. If this trend continues, we may see his grip on the trophy start to slip. But he has set the bar so high in the first half of the season that it will take something catastrophic for him to lose.
After seven weeks of play, Smith is still the favorite by a big margin.