Cowboys vs. Ravens: Final Report Cards, Player Grades for Dallas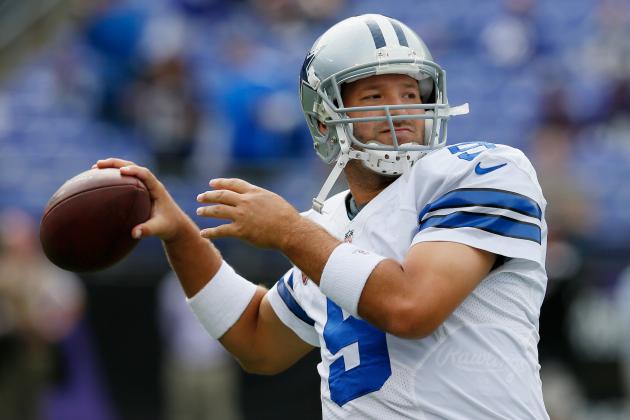 Rob Carr/Getty Images

The Dallas Cowboys began a brutal stretch in which they will play four of their next five games on the road by playing the Baltimore Ravens at M&T Bank Stadium. They gave it their all but their late comeback attempt fell two points short.
The Cowboys battled until the end and even recovered an onside kick to set up a 51-yard field goal attempt that missed wide left, giving the Ravens a 31-29 victory. The loss dropped the Cowboys to 2-3 on the year while the Ravens improved to 5-1.
Dallas has never defeated Baltimore and is now 0-4 all time against the Ravens.
Let's take a look as the final player grades and analysis for the Dallas Cowboys.
Begin Slideshow

»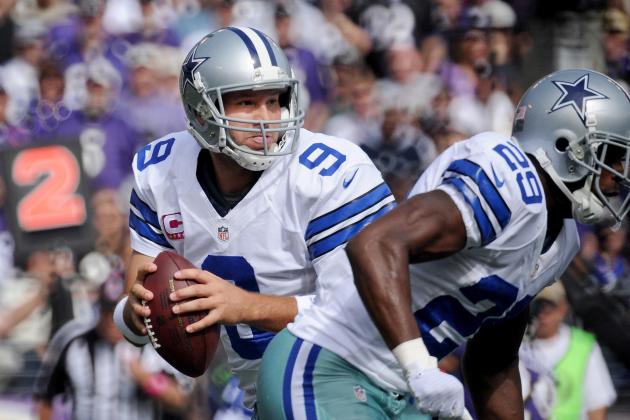 Patrick Smith/Getty Images

Tony Romo: B
Is it possible that Tony Romo may be wearing out his welcome in Dallas? Romo did not have the kind of bounce-back game you would expect from a player coming off a five-interception performance.
At times Romo seems to be on fire and cannot miss, and other times, when he tries to do too much, he is simply awful. He continues to try to correct others' mistakes on the field and it winds up costing him and his team. The interception he threw in the second quarter put the Cowboys in a 17-10 hole they were never able to recover from.
On the other hand, without Romo, the Cowboys are not even in this game.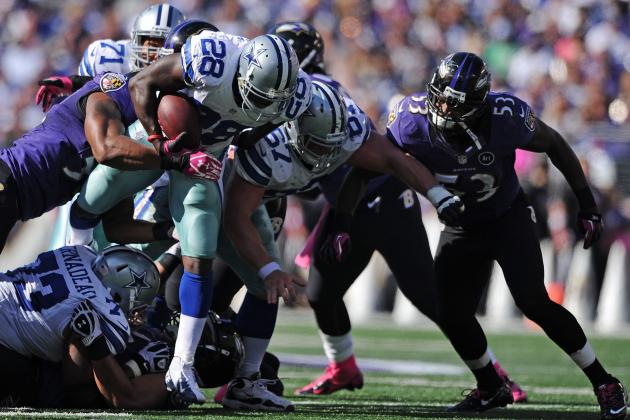 Patrick Smith/Getty Images

DeMarco Murray: A
Wouldn't you know it. The Cowboys finally get their running game going and DeMarco Murray pulls up lame. Murray apparently sustained a foot injury and did not play a single snap in the second quarter. He was poised to have a huge game as he was able to gain 93 yards on 16 carries prior to leaving.
Felix Jones: A
We have been critical of Felix Jones lately, but he did a great job filling in running the ball. Even before Murray was sidelined with an injury, Jones was doing a fine job. He scored the Cowboys' first touchdown of the game on a 22-yard run in the first quarter.
Phillip Tanner: B+
Phillip Tanner came into the game in the second half to give Felix Jones a break from time to time. He was a great change of pace and managed to gain 31 yards on nine attempts. Tanner showed that he can be called upon should Jones or Murray be injured for an extended period of time.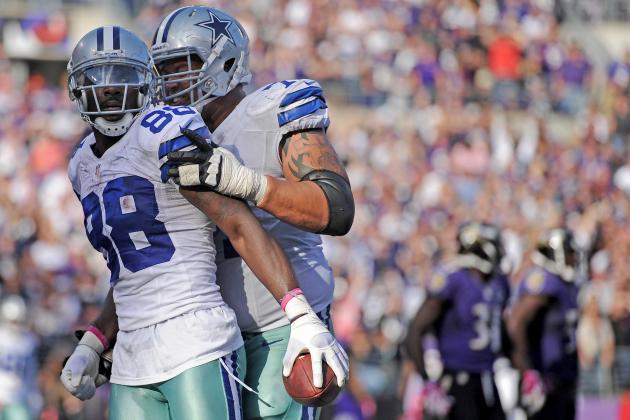 Patrick Smith/Getty Images

Miles Austin: C+
Where in the world did Miles Austin go? Austin only was targeted five times by quarterback Tony Romo, but that was mostly due to the fact that Austin was always covered. He finished the day with two catches for 31 yards.
Dez Bryant: A-
Dez Bryant had 13 receptions for 95 yards and two touchdowns. That sounds like an impressive stat line; however, Bryant was a part of the receivers moving when Dallas was penalized for illegal shifts. He also had a dropped pass at the end of the game when the Dallas attempted a two-point conversion.
Dez Bryant is almost there. Almost.
Kevin Ogletree: F
It seems like an eternity since Kevin Ogletree had that huge game against the New York Giants on opening night of the season. Ogletree was targeted four times but did not have a single catch. Maybe he is turning out to be the wrong guy for the third wide receiver position.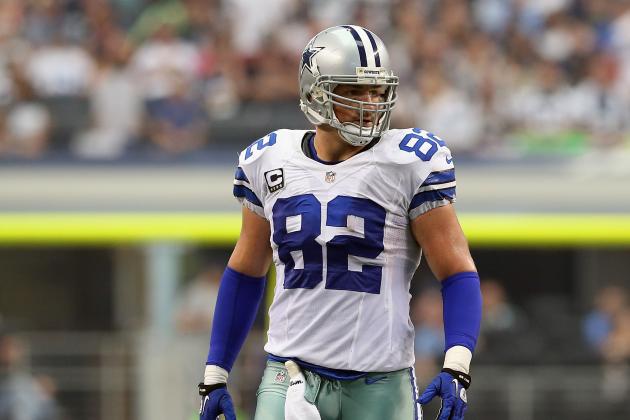 Ronald Martinez/Getty Images

Jason Witten: A
Jason Witten is certainly out of his slump. It took a while to get him going, but he did help set up a couple of the Cowboys' scores. When quarterback Tony Romo gets in trouble, he always seems to find Jason Witten as Romo is certain his tight end will be where he is supposed to be.
Witten finished the game with six catches for 88 yards. As always, he was also an extremely effective run blocker.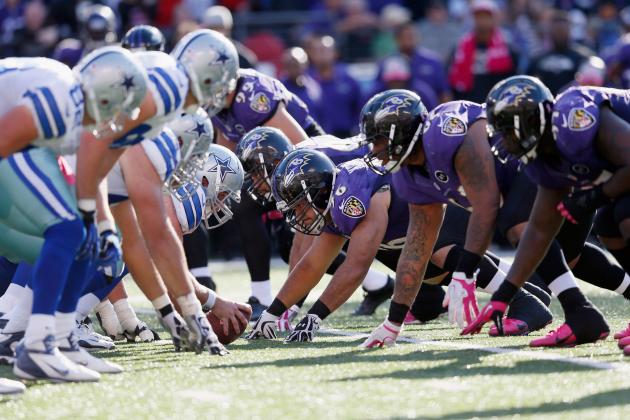 Rob Carr/Getty Images

Tyron Smith: D
Tyron Smith had a rough game and it seems like he took two steps back. He's had problems with the move to the left side, and he gave up too many quarterback pressures in this one. Smith was also charged with two offensive holding penalties.
Doug Free: D-
Doug Free continues to be a liability on the offensive line, and we have to wonder what, if anything, the Cowboys are going to do about that. Free has been awful in both pass protection and blocking for the run. This week, he was also charged with offensive holding and a false start penalty.
Phil Costa: B+
Center Phil Costa was back in the starting lineup for Dallas. He was effective in the run game, but it did look like he will need some time getting his feet under him in the passing game. Costa looked good run blocking and during Felix Jones' 22-yard touchdown run, as he could be seen keeping his block about eight yards downfield.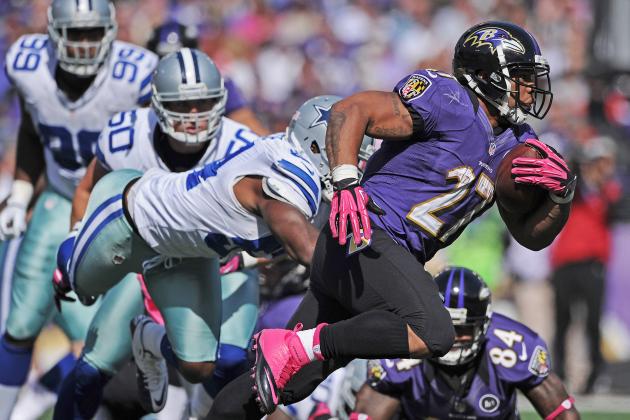 Patrick Smith/Getty Images

Jay Ratliff: B
Jay Ratliff returned to the field after missing several games due to injury. He had a solid game with three solo tackles and one tackle for a loss. Ratliff looked as if he was never off the field and was effective against the run as well.
Jason Hatcher: C+
Jason Hatcher was not as effective on the defensive line. All game he was pushed around and was never around the ball. He did have one quarterback pressure but was only credited with one tackle.
Kenyon Coleman: A
Kenyon Coleman had four solo tackles and was an effective pass-rusher as well. Along with plenty of push in the run game, he was constantly making the runner change directions back to the middle of the field.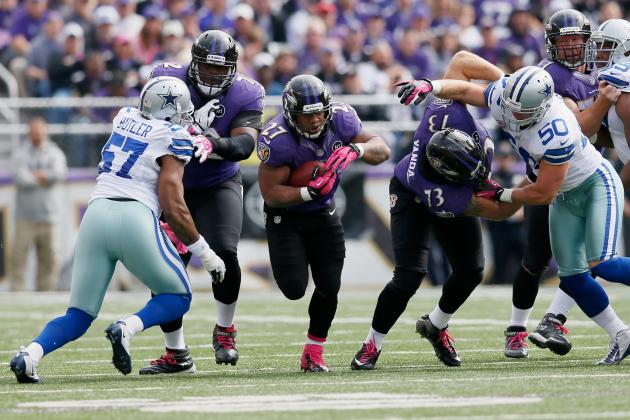 Rob Carr/Getty Images

DeMarcus Ware: B-
DeMarcus Ware was neutralized for most of the game. Though he did record a sack in the second half, he only recorded one other tackle in the game. Ware is usually such a disruptive force that this was a relatively quiet game for him.
Sean Lee: B+
Sean Lee was more involved in the passing game as he was able to get after the quarterback a little more. He had a couple quarterback hits and a pass defended along with five total tackles.
Victor Butler: A-
Playing for the injured Anthony Spencer, Victor Butler had a huge game on defense. He finished the contest with five solo tackles and one pass defensed.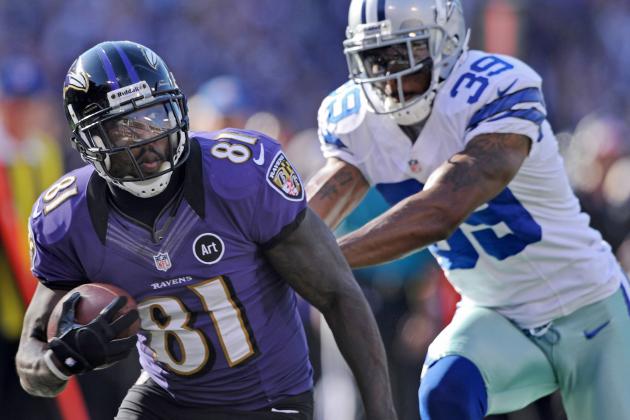 Patrick Smith/Getty Images

Brandon Carr: C
Brandon Carr was not as sharp as he had been all season long. In the first quarter, the Ravens threw the ball his way and completed three passes in his direction. Later in the game, he was torched by Anquan Boldin for another three catches, one of which helped set up a Ray Rice touchdown.
Morris Claiborne: B
Rookie cornerback Morris Claiborne continues to make great plays in the secondary. He did get beat by Torrey Smith for a touchdown as he got injured on the play, but he was able to come back to the game. Claiborne was solid most of the day.
Gerald Sensabaugh: C+
Safety Gerald Sensabaugh was solid in coverage but seemed to disappear during the run game. He only made two tackles in the game and it appears that there were several plays in which he was out of position. On a 3rd-and-8 late in the second quarter, Sensabaugh was on the wrong side of the field, which allowed Ray Rice to take a short pass and gain 43 yards on the play.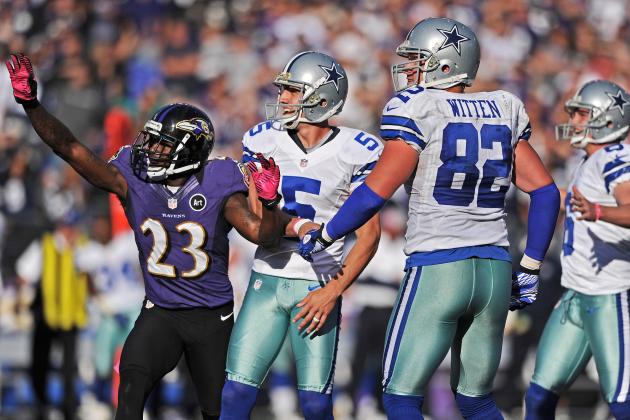 Patrick Smith/Getty Images

Dan Bailey: B-
Dan Bailey has been perfect all year long, and in this contest he was 3-for-3 on his kicks until the game was on the line. He performed a successful onside kick late in the game, but he will be graded harshly for what he did after that recovery.
When the game was on the line, Bailey was asked to kick a 51-yard field goal. He missed his first kick of the season on that attempt as it sailed wide left, costing the Cowboys the win.
Chris Jones: A
Punter Chris Jones was able to play and was only needed for one punt. He managed to pin the Ravens inside their own 10-yard line on his only punt, which went for 32 yards.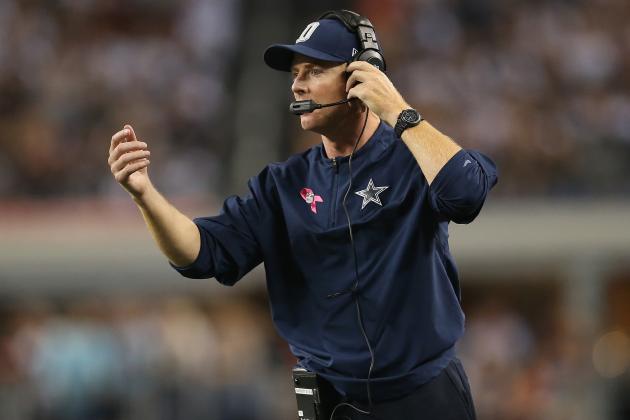 Ronald Martinez/Getty Images

Jason Garrett: C-
Clock management. Clock management. Clock management!
Jerry Jones needs to send head coach Jason Garrett to clock management school as that continues to be the biggest issue of his tenure as Dallas Cowboys head coach. The final two minutes of the half and at the end of the game continue to be mishandled, and that cost the Cowboys at least an attempt of running another one or two plays at the end of the game.
We will give Jason Garrett a little credit for sticking with the running game. Even with running back DeMarco Murray hurting, Garrett continued to run the ball with both Felix Jones and Phillip Tanner, and Dallas gained 227 yards on the ground.