It was another win for Boise State over Fresno State—even if it didn't look like the usual way of getting it done.
Normally the high-powered offense of the Broncos rains down points on the Bulldogs. However, this year both teams are different, and the game definitely had a different feel.
It was a good game but a game nonetheless that the Broncos dominated from the start. There were some positives for Boise State, but the game also highlighted areas that the Broncos need to improve on if they want the Mountain West title.
Let's examine what we learned as the Broncos took on the Bulldogs in Boise on Saturday.
1. Defense Wins Championships
It is an old football cliché, but ask the SEC if it is true. Boise State has a great defense this season, and it showed again on Saturday.
The Broncos held the high-scoring Fresno State offense to just 10 points and 322 total yards. The Bulldogs were scoreless in the first half and scored their only touchdown late in the fourth quarter.
Boise State also held Fresno State's talented running back Robbie Rouse to 77 yards and no touchdowns. The Broncos sacked the Fresno State quarterback three times for 21 yards in losses and hurried him all day long.
Otto Kitsinger III/Getty Images
It was another very good performance by the Broncos' very good defense.
2. Boise State Has a Good Kicker...
As long as he is kicking from 30 yards or closer.
Michael Frisina went 2-of-3 on the day, but missed a 37-yard kick late in the game. Frisina is 8-of-12 on the season kicking field goals, but none of the eight he has made has been over 30 yards.
3. Boise State Has a Great Backup Running Back
Freshman Jay Ajayi had another solid day as the Broncos' backup running back. On the day, Ajayi carried the ball 15 times for 91 yards.
He had some critical runs that got the Broncos out of a bind or a first down, and he looked good doing it. As the season rolls on, he should only get better.
4. Boise State Can Rely on D.J. Harper
Not that this is new news, but the senior running back just keeps proving his value.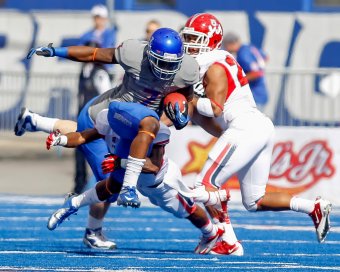 Otto Kitsinger III/Getty Images
Harper ran 21 times against Fresno State for 122 yards. He had one touchdown on the day, and it was a spectacular spinning run and dive into the end zone. It electrified the crowd and the team.
D.J. Harper proved once again that the Broncos can rely on him when they need it the most.
5. Some Boise State Fans Are in the Dark
When the "Blackout" for homecoming against UNLV was announced, there were some fans who could be heard complaining about black uniforms.
For those who didn't know, Boise State will wear all black uniforms next week when they take on UNLV at home for those.
Here is the thing...fans can hate the black uniform thing, but they should probably understand that most of the players love the variety, and it is an effective tool when recruiting young guys to come to Boise State.
Ask Oregon if they get any players because of those so called "crazy" uniforms. Not only that, but if you haven't seen them, the Boise State black uniforms look pretty amazing.
If fans don't like them, they should probably remember it's not all about them. It is, however, all about the program.
How do you feel about black uniforms?
6. Boise State Quarterback Joe Southwick Had a Tough Day
On the day Southwick went 11-of-22 for 113 yards, one touchdown and one interception. He also had an interception that was negated because of a roughing-the-passer call.
He did do some impressive things scattered throughout the day, but he probably had as many frustrating moments as well.
With the continuing growth of the two-headed RB monster known as D.J. Harper and Jay Ajayi, Southwick only has to control the game and limit turnovers for the Broncos to win most of their remaining games.
However, he will need to continue to improve if Boise State wants to take home the Mountain West title. The road to that title looks like it runs through Reno the last game of the regular season. Southwick will need to be much better by then.
Last week was a step back for Southwick, but look for him to do much better next week against a UNLV defense that isn't nearly the defense Fresno State is.
7. The Future Continues to Look Bright for Boise State
The young players on this Boise State team continued to impress this week.
On offense, the redshirt freshman Ajayi looked great again. True freshman Shane Williams-Rhodes continues to do some good things as does redshirt freshman tight end Holden Huff.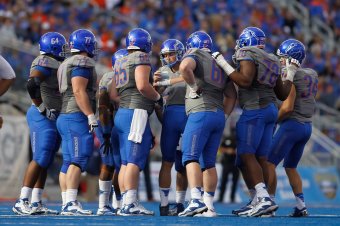 Otto Kitsinger III/Getty Images
On defense, redshirt freshman Sam Ukwuachu and sophomore Demarcus Lawrence keep proving that they are forces to be reckoned with.
8. The Milk Can Is Safe at Boise State
If you didn't know it, the Fresno State versus Boise State game has an additional prize—the milk can.
If you have never heard of the milk can, that's okay, many people haven't. However, it is trophy that was created by those in the dairy industry both to get a little face time and to make the rivalry a bit more interesting.
John Garretson of the Boise State University Arbiter has an excellent story all about the can, its history and its relevance.
9. The Broncos Are Incredible at Home
Not that this is news, but when you look at the numbers, it is pretty incredible. Boise State has only lost three games on its home field since 1999.
Chris Petersen has a single loss on "The Blue", which most fans remember came last season against TCU.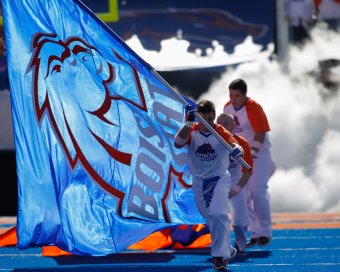 Otto Kitsinger III/Getty Images
The remaining home games this season for Boise State are UNLV (Oct. 20), San Diego State (Nov. 3) and Colorado State (Nov. 17).
10. The Broncos Are a First-Half Team
This was the fourth game in a row that the Broncos held their opponent to no score in the first half.
The Broncos have proven that they can dominate the first two quarters of the game. However, could you imagine how good Boise State would be if they could transfer that dominance over to the second half?
They nearly did that against Fresno State, but a late touchdown by the Bulldogs and some mistakes on offense, including a touchdown that was called back, made the game appear closer than it actually was.
That can hurt the Broncos in the polls as the season progresses. If they can improve the results in the second half of games as the season progresses, the Broncos may have a chance at another BCS game.
11. Boise State Is Winning Different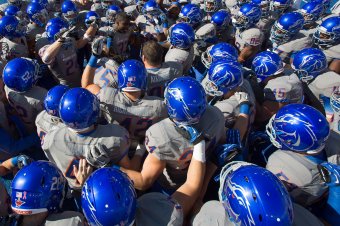 Otto Kitsinger III/Getty Images
It is probably an adjustment for coaches, players and fans to see Boise State winning as a defensive team. Especially when the team just had four years with Kellen Moore at the helm and has over a decade of impressive offensive statistics.
However, the nice thing for the Broncos is that, since they are winning with defense, they have the luxury of time when it comes to their offense.
As the season has progressed, the Boise State offense has made strides. As long as that continues, the Broncos by the end of the season should be a balanced team that will be difficult to beat.
Final Thoughts
Boise State should be able to take down the UNLV Rebels (1-6, 1-1 MWC) next week, and it should be another great game to get some things done on offense.
The Rebels, however, did give the Nevada Wolf Pack a real scare on Saturday. So, as coach Petersen knows, the Broncos can't look past them or any team.
Still, it should be a place for Joe Southwick to get further experience and make some improvement. It will be Boise State's homecoming, and it will be against a team that has the 110th-ranked scoring defense. UNLV allows an average of 36 points a game.
Look for a full preview of the upcoming UNLV game here on Bleacher Report.