Detroit Tigers vs. New York Yankees: Team Grades from ALCS Game 1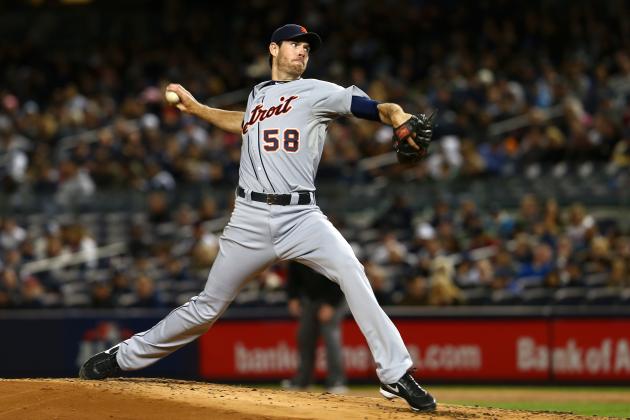 Elsa/Getty Images

Game 1 of the ALCS is in the books, and the Detroit Tigers were able to hold off the New York Yankees, 6-4, in another extra-inning affair this postseason.
Doug Fister and Andy Pettitte kept it at a low-scoring game before Raul Ibanez hit another clutch home run to tie the game at 4-4, sending the game to extra innings. Both sides had their good and bad marks throughout the game.
Here are the grades for the pitchers, hitters and managers for both teams.
Begin Slideshow

»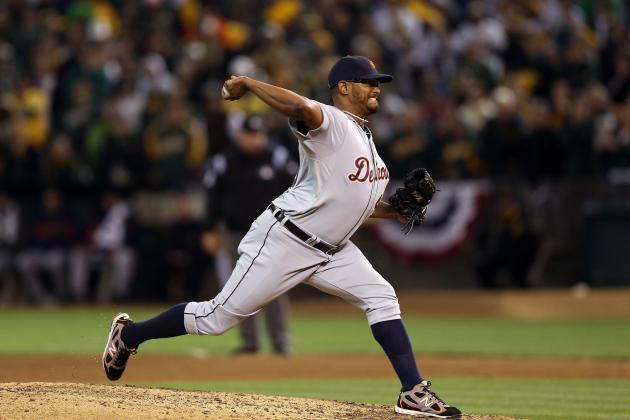 Ezra Shaw/Getty Images

It's hard to rate the pitching because you almost have to split it between starters and the bullpen. Both teams had problems down the stretch.
For the Tigers, Doug Fister was great, pitching into the seventh, and Phil Coke was great in relief. Joaquin Benoit was iffy, and Jose Valverde completely and utterly imploded. Octavio Dotel and Drew Smyly were able to right the ship and play well as usual, though.
Andy Pettitte pitched great as well, even though he allowed two earned runs. Derek Lowe, on the other hand, struggled big time. After Lowe, the batch of bullpen pitchers for the Yankees had no problems with the exception of David Phelps.
Take out Valverde, and the Tigers would have had an A. Take out Lowe, and the Yankees would have an A-. One reliever can change things big time.
Tigers: B
Yankees: B-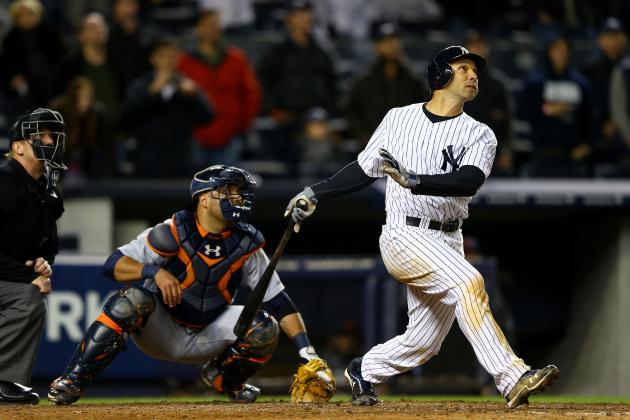 Al Bello/Getty Images

Both teams seemed to struggle when it came to offense. Sure, there were a lot of hits by both teams, but they were mostly singles.
The Tigers had a couple nice runs in the sixth and eighth innings, but they were kept at bay otherwise. Delmon Young's solo shot and Austin Jackson's triple got things going in those two innings.
The Yankees, meanwhile, had the bases loaded in the second and couldn't capitalize. After that, it took until the ninth for the Yankees to score any runs.
The Tigers lived and died more as a team, with only Delmon Young standing out, but the Yankees had clear good and bad parts. Raul Ibanez and Ichiro Suzuki showed up, while Robinson Cano and Alex Rodriguez stunk yet again.
Worth noting is that some of the Tigers' hits came from miscues and the Derek Jeter injury.
Tigers: C+
Yankees: C+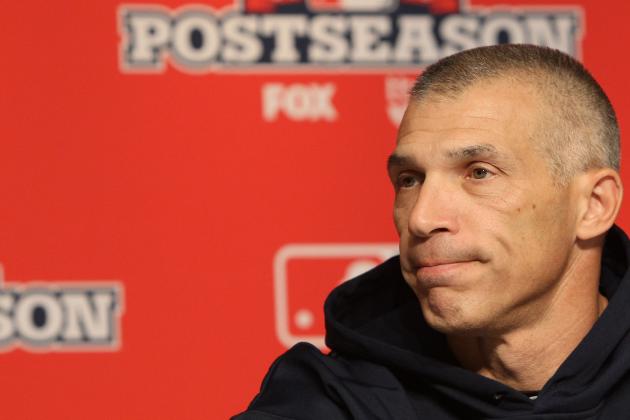 Alex Trautwig/Getty Images

How the lineups were created and knowing when to pull pitchers was what greatly affected this game.
Jim Leyland sent in Quintin Berry later on, but instead of taking out Andy Dirks (who didn't get a hit until extra innings), he took out Avisail Garcia, who helped extend the lead in the eighth.
He also kept in Jose Valverde too long after it was clear that he was melting down; even Joaquin Benoit looked shaky on the mound in his role, which won't show up in the stats.
Joe Girardi, on the other hand, didn't make many questionable moves. He took out Alex Rodriguez and Curtis Granderson when they weren't getting it done yet again, and he put Raul Ibanez in a prime spot right after Mark Teixeira, which helped big time.
That being said, David Phelps lost his first postseason appearance coming into extra innings, so using his second appearance for just that was not the best move. Sure, they were running out of pitchers, but that's what happens when you use four pitchers for 2.1 innings.
Tigers: C
Yankees: B
Elsa/Getty Images

The better team through the majority of the innings won. Yes, the Yankees played better later on, but the Tigers capitalized and got the runs when it mattered, even if they had to do it twice thanks to Valverde.
The Yankees didn't play poorly, and the Tigers didn't play great; this was simply one of those games where the breaks went one way, as the Yankees could have easily won this one.
It's strange to say this, but even though the score says 6-4, it felt a lot more like a 2-1 game. The pitchers were mostly in control, and it took a few plays for some runs to score. Even then, it was never anything that spread beyond an inning.
The Tigers did nearly everything they should have, as did the Yankees. There weren't any points that were excellent or terrible, aside from individual player performances (A-Rod, Valverde).
Tigers: B
Yankees: C