Florida Football: 5 Things We Learned from the Gators' Win vs. Vanderbilt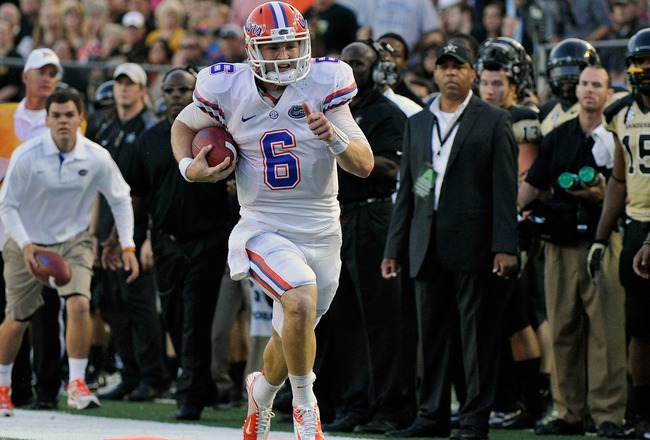 Frederick Breedon/Getty Images
The Florida Gators move to 6-0 (5-0) on the season and are bowl eligible. It took Florida five less games this season than in 2011 to become bowl eligible, and their five conference wins are already two more than a season ago.
The win wasn't pretty, and there are still some things the Gators need to work on, but a conference win feels good no matter how it comes.
Let's take a look at five things we learned from the Gators' 31-17 win vs. Vanderbilt.
5. Florida's Special Teams Are Back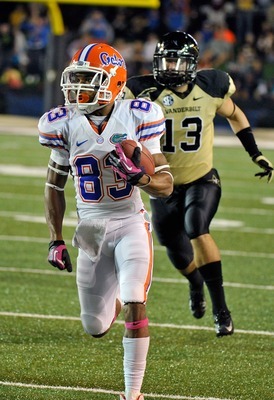 Frederick Breedon/Getty Images
Florida has been getting great production from Kyle Christy and Caleb Sturgis on special teams this season but haven't been able to make the game-changing plays Gator fans have grown accustomed to seeing from Florida.
That changed on Saturday.
Florida has lined up in some crazy formations for extra points this season, but they have always shifted back into a normal field-goal formation and tacked on the extra point. After the Gators' first touchdown, Trey Burton lined up behind center with the rest of the formation off to the left. Burton sent a man in motion, and rather than the whole formation shifting back, Burton took the snap and found the end zone for a two-point conversion.
Solomon Patton took a fake punt sweep 54 yards late in the game. Patton has been a pleasant surprise for Gator fans this season.
Florida was also able to block their first kick of the season. It is the fifth straight game that Florida has blocked a punt or kick in Nashville.
With three SEC East games coming up for Florida it is good to see some big-time plays coming on special teams.
4. Florida Continues to Struggle on Third Down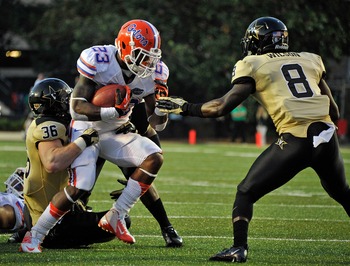 Frederick Breedon/Getty Images
Coming into the game, Florida was eighth in the SEC on third-down conversions (41.67 percent).
They didn't improve that number on Saturday. Florida was abysmal on third down against Vanderbilt going 2-of-11 on the day. Florida failed to convert on all four tries in the second half.
Florida has struggled running the ball on 3rd-and-short all season, and Saturday was no different.
Brent Pease needs to go back to the drawing board and figure out a way for Florida to be more productive on third down.
3. Florida Is More Mature Than a Year Ago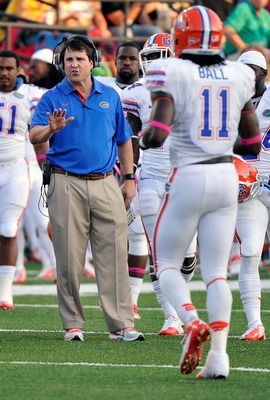 Frederick Breedon/Getty Images
This was a classic trap game.
Florida was coming off of a huge win against LSU and has dates with South Carolina and Georgia staring them down. It would be easy for the Gators to overlook an opponent that hasn't beat your school in 24 seasons. The 2011 version of the Gators might have fallen victim to this Vanderbilt team.
Not the 2012 Florida Gators.
Will Muschamp has this football team focused, and the way they played this game shows how far they have come in just one season. Florida did not take Vanderbilt lightly and were able to go on the road for another conference win.
Hats off to Will Muschamp and the coaching staff for preparing this football team and keeping their focus on the task at hand.
2. Florida Still Doesn't Have a Vertical Passing Game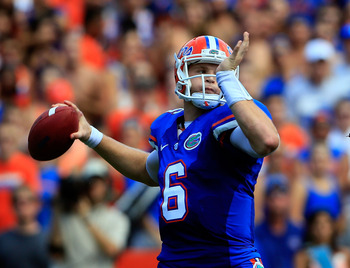 Sam Greenwood/Getty Images
Florida showed you last week what a good defense will do to a one-dimensional team. Florida took away LSU's running game and forced them to throw the ball. The Tigers couldn't throw the ball effectively enough to win the game.
Florida is at risk of being exposed. The Gators failed again this week to show even a threat of a vertical passing attack.
Right now, Florida is doing what they need to do to win football games, and there is nothing wrong with that. But the more you lean on your running game, the more defenses will game-plan to stop it.
If the game is in Jeff Driskel's hands and the Gators have to pass to win a ballgame late, how confident do you feel that the offense is ready to take that on?
Driskel has a big arm, and he has shown how accurate he can be, so why not let him take some shots down the field?
1. Jeff Driskel Is Fast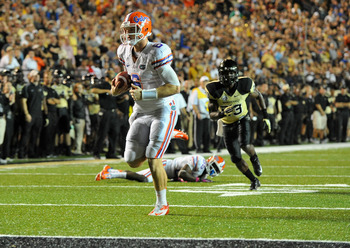 Don McPeak-US PRESSWIRE
Jeff Driskel is fast. In the words of Gus Johnson, "He's got get away from the cops speed."
Driskel rushed 11 times for 177 yards and three touchdowns against the Commodores. Driskel's 177 yards broke the school record for rushing yards by a quarterback in a single game.
The former record holder? Tim Tebow
That's some pretty good company for the sophomore signal-caller.
Driskel scored on runs of 37, 13 and 70 yards. The last touchdown run for 70 yards iced the game. What was most impressive about the play was how Driskel was able to outrun two defenders and break away from them.
I understand that Vanderbilt doesn't have the athletes that some other SEC schools have, but a 6'4'', 237-pound quarterback running away from two defensive backs is still impressive.
Driskel will likely be asked to run more zone-read plays to take advantage of his speed and running ability. Especially with Florida's passing game going nowhere fast.
Keep Reading

Florida Gators Football: Like this team?