2012 MLB Playoffs: 5 Keys to St. Louis Cardinals Winning the NLCS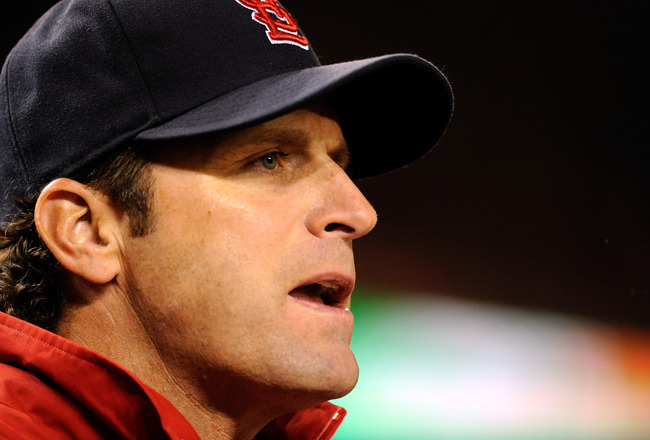 Matheny has the defending champs primed for another October run
Patrick McDermott/Getty Images
On the heels of an emotional, gutty come-from-behind Game 5 division-series victory over the Washington Nationals, the defending champion St. Louis Cardinals find themselves back in the National League Championship Series.
Waiting for them are the 2010 World Series champions, the San Francisco Giants. On paper, this appears to be a pretty even matchup, with both teams filled with players from their respective title teams. The regular season bore that out, as the teams split their six games with three wins apiece.
Ultimately, though, I have pinpointed five keys to this series for St. Louis to repeat as National League champions and defend its title in the Fall Classic. Here they are, starting with No. 5.
No. 5: A Quality Game 1 Start from Lance Lynn
Lynn was shaky in the NLDS
Jamie Squire/Getty Images
The theme I seem to observe from many about this series is San Francisco's pitching against the Cardinals' hitting.
With Madison Bumgarner, Matt Cain, Ryan Vogelsong and a rejuvenated (albeit still shaky) Barry Zito, that is a fair assessment, particularly with a two-time Cy Young winner in Tim Lincecum waiting in long relief at any point.
But I actually think this series is about the opposite matchup: The Cardinals' underrated starting pitching against San Francisco's unheralded lineup. The pitcher that most has to step up is Lance Lynn. With Chris Carpenter and Kyle Lohse set for Games 2 and 3, Lynn has the chance to put a lot of pressure on the Giants in Game 1.
To do so, Lynn has to get off to a good start. In his lone start against San Francisco in 2012, he was beaten 4-2. Three of those runs were given up on a long home run to Buster Posey in the first inning. If Lynn can get through the first two innings unscathed, I think it will bode well for the Cardinals in Game 1.
No. 4: A Little Mo from Yadier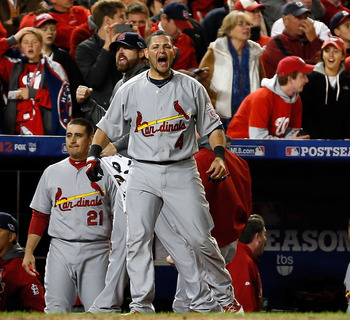 The fiery Molina can't go .118 in the NLCS
Rob Carr/Getty Images
In a matchup of elite catchers, maybe the two best in baseball, Yadier Molina has to do more at the plate. In the five games against Washington, Molina hit a paltry .118, though he did manage five walks. It took a great effort from other guys in the series finale to offset his lack of plate production.
But in this series, which I expect to be more high-scoring than people think, that won't be enough. Molina has to take pressure off Allen Craig and David Freese. If Molina is not hitting, don't expect Craig to see many pitches. If he doesn't see many pitches, that will put the onus on Freese to pick up Molina.
The Cardinals need Molina's production against the Giants' strong pitching. With all due respect to the Nationals, they don't have the starting staff of San Francisco without Stephen Strasburg.
No. 3: Middle Relief, You (Still) Know How to Spell It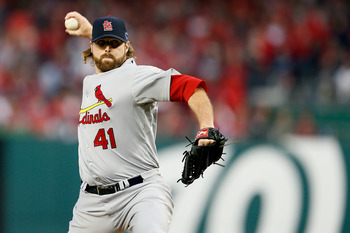 The middle relief was excellent for St. Louis in the NLDS
Rob Carr/Getty Images
In a series that could very easily go the full seven, often the unsung players on a team make the difference. For the Cardinals, that distinction may lie with a bullpen that was pedestrian during the regular season (3.90 ERA, No. 20 in MLB) but was fantastic for most of the NLDS (2.11 ERA).
That means more production from guys like Mitchell Boggs, Trevor Rosenthal, Edward Mujica and Marc Rzepczynski. Even before Jason Motte pours on the sauce in the late innings, someone has to get him the ball.
More than any other component, I think the middle relief of St. Louis has to be above its usual production to win this series.
No. 2: Keep the Giants' Role Players Quiet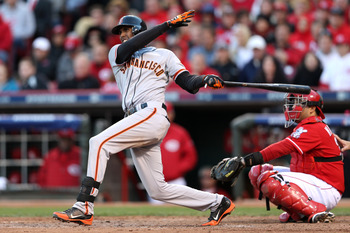 Limiting the production of players like Arias is paramount
Andy Lyons/Getty Images
When you look at the Giants' series against Cincinnati, the stats make you wonder just how they were able to pull it off.
Angel Pagan and Marco Scutaro hit .150. Hunter Pence was a quiet 4-for-20 with four singles. Brandon Belt hit .077 and looked lost at the plate much of the series. As a team, they hit .194 over the five games.
Oh, but just like the Cardinals, the Giants are a collection that epitomizes "team." You get little from Buster Posey in the first four games? No problem. That just means unheralded Gregor Blanco can step up (he hit .286 for the series). San Francisco wins that way. Someone you don't expect makes a play.
With Pablo Sandoval hot and Buster Posey by far the Giants' most dangerous hitter, it is imperative for St. Louis to make sure those two hitters can be dealt with as individual threats. That means continuing to keep Pagan and Scutaro off base and minimizing the potential damage of a player like Belt or Brandon Crawford.
It goes against convention, but I honestly think the Cardinals would be better attacking Sandoval and Posey if and when they bat with the bases empty. If the Cardinals do that consistently, they will be ahead consistently, in my opinion.
No. 1: The Revenge of Carlos Beltran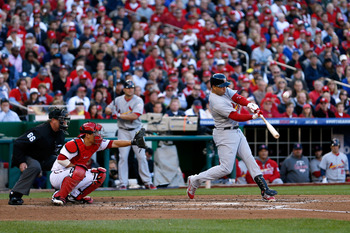 The one guy that looms largest in this series is Beltran
Rob Carr/Getty Images
In the history of Major League Baseball, going back to 1869, did you know that the player with the highest career slugging percentage in the postseason is Carlos Beltran (.817 overall)?
He has been in three postseasons (2004, 2006 and 2012) and made the most of them, establishing a reputation for rising up once the calendar changes to October.
Oh yeah, and Beltran played just last year with the San Francisco Giants. Seen as perhaps the missing piece to help San Francisco fend off Arizona and repeat, he hit .323 with seven home runs and 18 RBI in 44 games but was never really warmly received by Giants fans.
To be fair, that was because Beltran himself made it clear he wasn't exactly fond of AT&T Park and the often chilly Bay Area weather. However, Giant fans held Beltran to a higher standard than his new teammates, and it eventually led to the boo birds in full force last season.
Now, the 35-year-old slugger comes full circle and has a chance to prevent San Francisco from reaching its second World Series in three years. To do so, he has to beat the team that acquired him to be an offensive savior just a year ago. He is happy to be in Cardinal red and healthy; he has the chance to be an absolute difference-maker in this series.
If the Cardinals continue to get the best-slugging player in baseball history during this series, the scales tip in their favor. While the Giants have Posey and Sandoval, St. Louis has Freese, Craig and potentially Beltran. It would be the height of irony if Beltran proves to be exactly what San Francisco hoped he would be for them just one year ago.
Final Analysis
Motte and the Cards hope to celebrate another World Series trip
Patrick McDermott/Getty Images
This NLCS matchup is one of the more intriguing I have seen in the last 10 years. There are subplots and storylines everywhere. Each team rallied in dramatic fashion to advance, which breeds the conviction that you have to kill them to beat them.
For that reason, I expect this series to go the distance. Ultimately, I see too much similarity in both teams for it not to. But if the Cardinals are going to win and reach their second straight World Series, they can't rely on another Houdini act.
Instead, they are going to need to execute (check) and lean on their battle-tested resolve to beat a team that plays like its inverse. No predictions here, except that I would be shocked if this does not end up being a potentially all-time great League Championship Series.
Keep Reading

St Louis Cardinals: Like this team?