UFC 153 Results: The Real Winners and Losers from Silva vs. Bonnar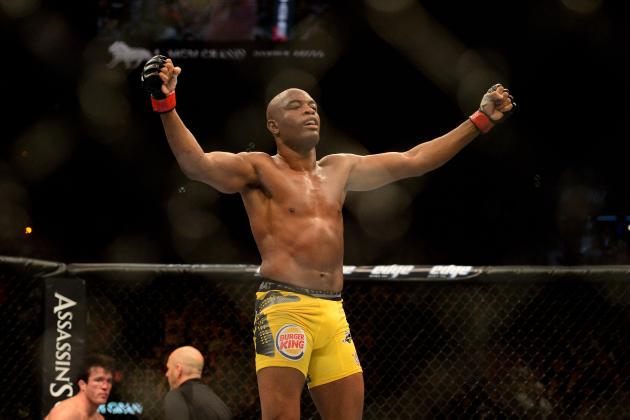 Mark J. Rebilas-US PRESSWIRE

UFC 153 was an entertaining night of fights, but ultimately, a night that had very little impact on the sport of mixed martial arts. It was like a dinner that featured five dessert courses and not a single meat or vegetable.
Knockouts and submissions were delivered as expected, but on the scale of "sport versus spectacle," it was a night heavy on the spectacle.
In the main event, the best fighter of all-time tried his best to help Stephan Bonnar compete. Anderson Silva intentionally put himself at a disadvantage to either make it interesting or to make it clear he had no respect for Bonnar, depending on your perspective.
Either way, Silva proved once again he's the greatest in the world. But there were other winners and losers on the card.
Sometimes, of course, a fighter can lose a bout and still win, whether it's respect from the fans or a post-fight bonus from the UFC brass. Other times, a winner in the cage can cost himself dearly with a bad or boring performance.
So, who were the real winners and losers at UFC 153? Let's have a look.
Begin Slideshow

»
Mark J. Rebilas-US PRESSWIRE

We all knew this wasn't a fair fight.
Stephan Bonnar had lost to every top-level fighter he ever faced in the cage. Just weeks earlier, he all but announced his retirement. His career peaked during his famous reality-television fight with Forrest Griffin all the way back in 2005.
He was, in short, no match for the great Anderson Silva, the most successful fighter in UFC history.
Silva, of course, knew it. And when he knows an opponent is overmatched, he's like a particularly vicious cat with a mouse.
Bonnar's only chance was to push Silva into the cage and rough him up. So, with disdain written on his face, Silva planted himself against the cage. He gave Bonnar his chance and then proceeded to embarrass him anyway.
Never, not even for a single second, did this look like a competitive fight. That's to Silva's credit. He's the best ever.
But it's also a product of his opponent.
You don't pull the 12th man off the bench to guard LeBron James in the NBA Finals. And you don't ask Stephan Bonnar to fight Anderson Silva.
It's not fair to Bonnar, or to fans expecting a competitive matchup.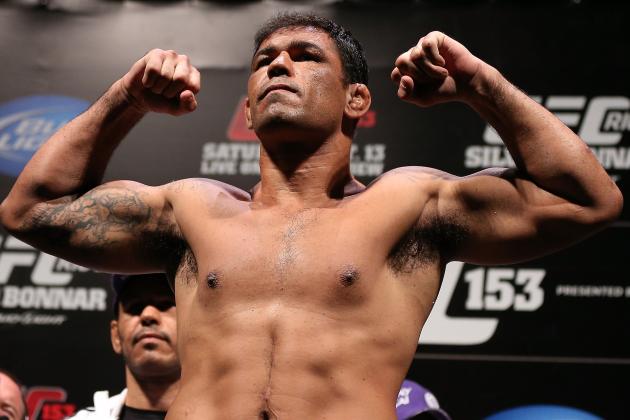 Photo by Josh Hedges UFC/Getty
Before his fight with the legendary Antonio Rodrigo Nogueira, Dave Herman suggested that he was invulnerable to the art of Brazilian Jiu Jitsu. Considering he is a human being with two arms and one neck, no one quite believed that to be true.
But, since Nog is a legend and Herman a journeyman, it became the narrative of the fight. Could Nogueira submit Herman and avenge the good name of his nation's art?
It was a goofy storyline to be sure, but beggars can't be choosers. Of course, in the end, Nogueira made Herman quit in the middle of the cage. Good triumphed over evil, and every member of the Gracie family nodded their head approvingly and smiled.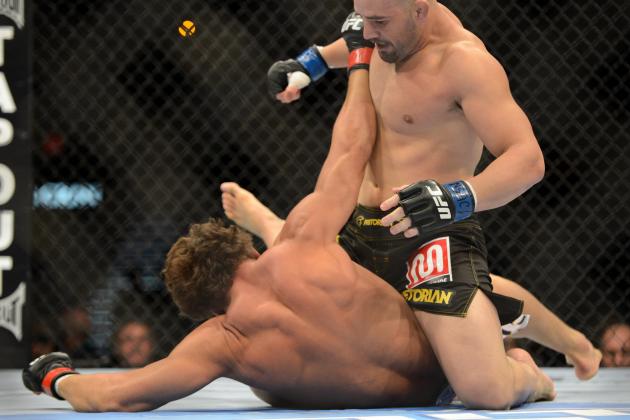 Ron Chenoy-US PRESSWIRE
Teixeira in action earlier this year
It took a little longer than expected, but eventually, Glover Teixeira delivered the finish we in the media had all but promised before the fight.
Fabio Maldonado, it seemed for a time, simply couldn't be stopped, not even by a rising star like Teixeira. It took a doctor between the second and third rounds to finally put an end to what was turning into an ugly beating.
His failure to deliver the highlight-reel finish shouldn't be held against Glover. He battered Maldonado until I got tired just looking at it. It was the kind of fight that the one decent sliver of your heart begged you to turn away from, a call for civility most of us gleefully ignored.
By the end of the second round, I was as worried about Glover's hands as I was Maldonado's face. Both took a sustained beating.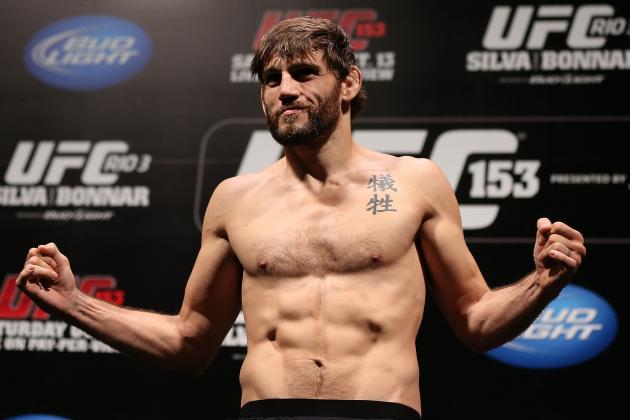 Photo by Josh Hedges/Zuffa LLC/Zuffa LLC via Getty Images
When making predictions for this fight, I went with my head and not my heart. And my head told me Jon Fitch is the best welterweight in history never to hold UFC gold. As good as Erick Silva is, Fitch should have been the favorite.
Did it bother him a little bit that everyone had written him off? Maybe. Fitch certainly fought like he was possessed by a particularly angry devil. The old man took young Mr. Silva behind the woodshed, removed his proverbial belt and administered a whooping, the likes of which the Brazilian star had never seen before.
Where does Fitch go from here? Never a favorite of the UFC brass, you can bet it isn't into title contention. But he made a big statement tonight. Jon Fitch is quite possibly the best welterweight in the world not named Georges St-Pierre.
Still.
Whether you like it or not.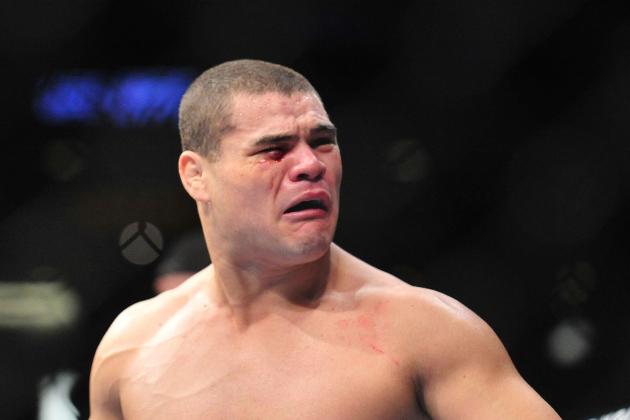 Gary A. Vasquez-US PRESSWIRE

OK—in the real world, he was a loser. He was dominated by wrestler Phil Davis. Even grabbing the cage what felt like 100 times couldn't keep Prado off his back. Davis eventually finished him in the second round.
But at least he didn't get poked in the eye and make a bunch of embarrassing faces. I think that's a step in the right direction, even if the loss was clearly a step back.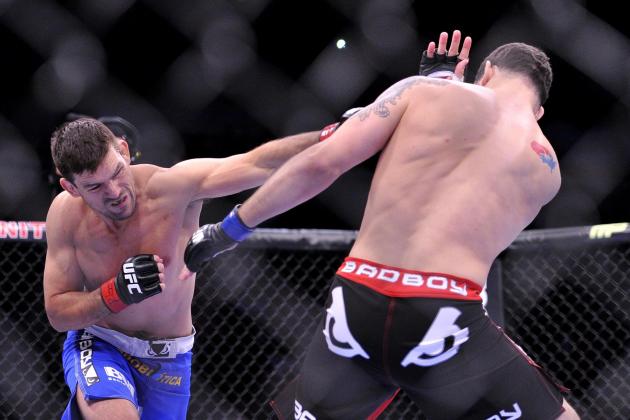 Mike Dinovo-US PRESSWIRE
Maia in action earlier this year
Before his UFC 148 welterweight debut, Demian Maia's team was a little nervous. Maia, despite being a veteran of 13 UFC fights at the time, had never really cut any significant weight.
He made the 170 limit with ease that night, and in his second bout in his new weight class, he looked like a future contender, simply manhandling Rick Story on the mat. He finished Story with what was either a rear naked choke or a neck crank—whatever it was, it was nasty.
People are quick to forget, but before he spent every fight trying to develop his rudimentary standup game, Maia was one of the most feared submission specialists in the game. UFC 153 showed Maia is still one of the very best grapplers, not just at welterweight, but in the entire UFC.
A lot of guys at 170 just made calls to their management with one message in mind—keep me far away from Demian Maia.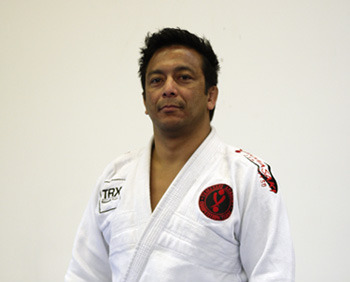 via http://www.grappling.com/about/fernando-yamasaki/
The Yamasakis seem perfectly suited to work on these Brazilian-based UFC cards. Born in Brazil, both Mario and his less-famous brother, Fernando, both speak fluent Portuguese and English and have a strong background in the grappling arts.
Yet despite these excellent credentials, Fernando was so bad reffing the undercard fights that my colleague Jeremy Botter nicknamed him "Wario" Yamasaki—you know, Mario's evil brother.
Fernando was at his worst in the Rony Jason vs. Sam Sicilia fight, where he stood the fighters up laughably early at one point and then called an early stop to the bout.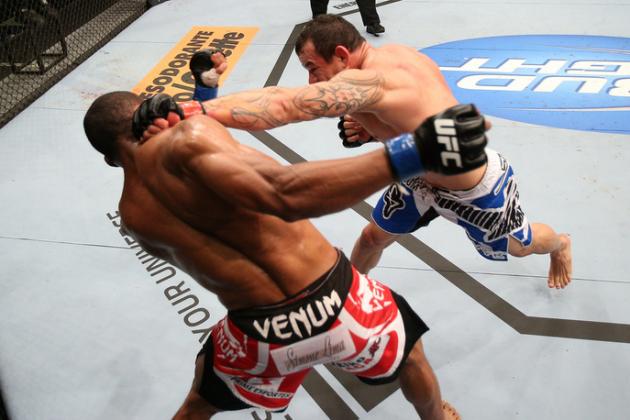 Photo by Josh Hedges/Zuffa LLC/Zuffa LLC via Getty Images
Tibau has been in the UFC forever, but he doesn't really have a signature fight. He's been known primarily for being absolutely enormous. Both tall and ridiculously muscular, Tibau weighs up to 183 pounds in the UFC cage, almost 30 pounds more than the 155 he is forced to make the day prior to the fight at the weigh-in.
Usually, that means he's quite a bit bigger than his opponent, but that wasn't a "big" issue for Trinaldo, who was also gargantuan. Maybe that's why the two had such a fun fight?
The first round was Tibau's, as the American Top Team product mixed strong striking with well-timed takedowns. In the second, Trinaldo turned the tables on Tibau, catching him with a wild punch and threatening with submissions throughout.
In the third, veteran presence paid off. Tibau, after a wild start, controlled the action and cruised to a unanimous decision. This is the kind of fight both men can be proud of. There were no losers here.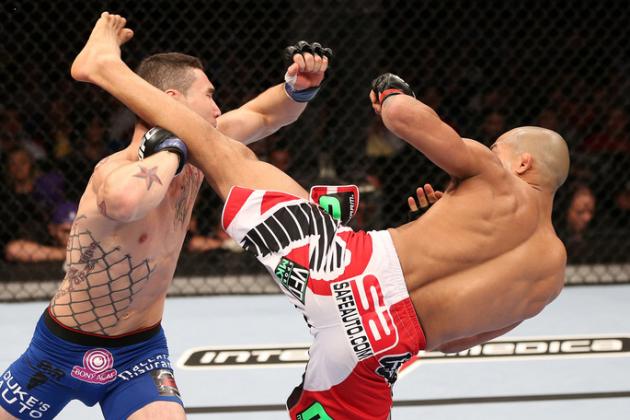 Photo by Josh Hedges/Zuffa LLC/Zuffa LLC via Getty Images
Joey Gambino really impressed me against Diego Brandao, so his place on the infamous loser list has nothing to do with his skills in the cage. Gambino is a solid fighter, a tough guy with real skills standing and on the mat.
Gambino could take home titles in three weight classes, win 15 fights in a row and marry Kate Upton, and he will still always be considered for the wrong column here for one reason and one reason only.
Gambino has a tattoo of a cage on half of his abdomen. It's the kind of tat you might expect a guy named "Joey Gambino" to have. It's so awful I can't allow it to go without mention. That would be irresponsible.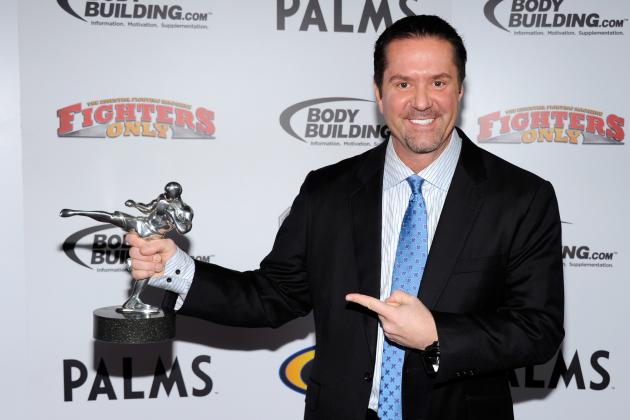 Ethan Miller/Getty Images

When the Facebook prelims went down early in the night, fans all breathed a sigh of relief that the UFC offered a stop-gap stream on its YouTube channel. That's customer-friendly stuff right there. Big win for the UFC and its fans.
But for announcers Joe Rogan and Mike Goldberg, it was less sublime. The YouTube stream had all the sounds from the arena and the cage, but without Rogan and Goldberg's insight.
And it was glorious.
There's no commentary on the Youtube feed, just sound from the arena. Probably a tech issue but I dig it.
— Josh Gross (@JoshGrossESPN) October 13, 2012
Obviously, you can't always have commentary-free fights. But on occasion, it might be nice if the announcers remembered how nice it is to just let a fight flow for a bit. And here's hoping the UFC gives us the option to hear the fights au naturale on future DVD and Blu-Ray releases.