Anderson Silva vs. Stephan Bonnar: 4 Big Reasons Why You Can't Miss This Fight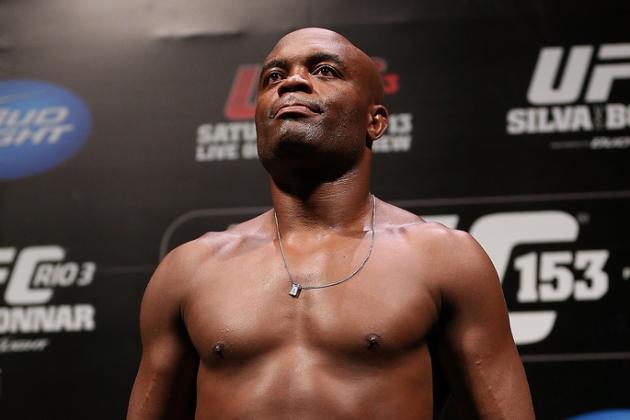 Photo by Josh Hedges/Zuffa LLC/Zuffa LLC via Getty Images
Stephan Bonnar will try to do what no other man in the UFC has yet to do, and that is defeat Anderson Silva.
The two meet in the UFC 153 main event from the HSBC Arena in Rio de Janeiro, Brazil.
A Silva victory will move his UFC light heavyweight record to 3-0, and his overall UFC record to 16-0.
Bonnar is just trying to shock the world.
Will the heavy favorite continue his winning ways, or will Bonnar pull a rabbit out of his hat?
These are the five reasons why you simply cannot miss this fight.
Begin Slideshow

»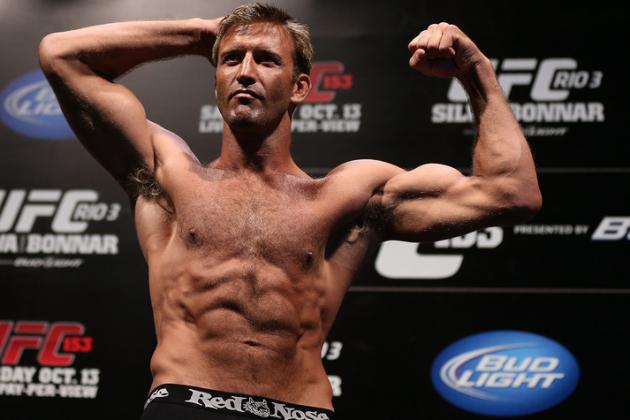 Photo by Josh Hedges/Zuffa LLC/Zuffa LLC via Getty Images
Stephan Bonnar was already on the brink of retirement before he accepted this fight, and it is likely his last, win or lose.
Bonnar wanted one more big fight and he is getting it at UFC 153.
Bonnar has given the fans several exciting fights over the years. He always brings it. Now he is main-eventing against Anderson Silva in a battle that could make his entire career.
Bonnar is having perhaps his last hurrah on Saturday night.
Show support for one of the men who helped grow the UFC, and MMA, to where it is today. Bonnar has earned that much.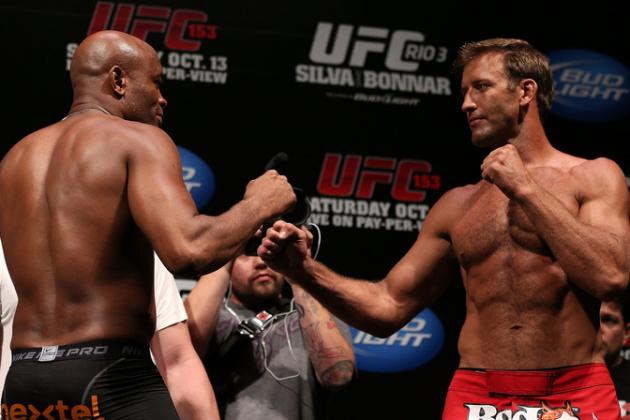 Photo by Josh Hedges/Zuffa LLC/Zuffa LLC via Getty Images
This will be one hell of a fight. Bonnar will make sure of that.
He will come forward and make Silva fight. He may get knocked out in the process, but that is a risk he will be willing to take in order for a chance at the upset.
Bonnar has never been one to shy away from a fight. He will not shy away from Silva.
It is an intriguing style matchup between the two veterans, and Bonnar poses several issues for Silva. Intriguing stylistic matchups with exciting fighters is a recipe for success.
The fight may only last a couple of minutes or go the full 15, but either way, this one will have you on the edge of your seat.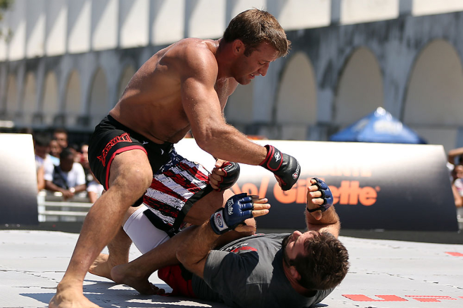 Photo by Josh Hedges/Zuffa LLC/Zuffa LLC via Getty Images
As mentioned in the previous slide, Bonnar poses several problems for Silva.
He is tough to finish, can take a punch, is big and has an excellent ground game.
Bonnar's odds of winning go up exponentially should he be able to take Silva to the ground. He is capable of doing just that.
Also, with only four-ounce gloves on their fists, all it takes is one clean shot. Ask GSP.
Upsets happen in MMA all the time, but they do not happen against Silva. Bonnar has a small chance to pull this off and you should not miss it just in case he capitalizes and shocks the world.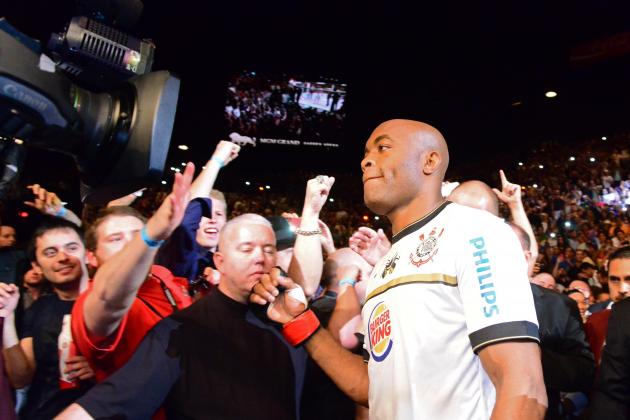 Mark J. Rebilas-US PRESSWIRE

The number one reason you cannot miss this fight is because Anderson Silva is fighting.
Period.
If you have watched every single Silva fight in the UFC you have only watched him fight 15 times. That is a small number. We do not get the opportunity to see greatness at this level very often, and getting one more Silva fight in 2012 is fantastic.
There is something memorable about each of his performances. There will be something memorable about UFC 153.
His fights are some of the most beautiful things ever witnessed in MMA. There is just something special about his fights. This will be no different.
Do not deprive yourself of watching the best fighter on the planet. Do not miss this fight.