LSU Football: Winners and Losers from the Week 7 Game vs. South Carolina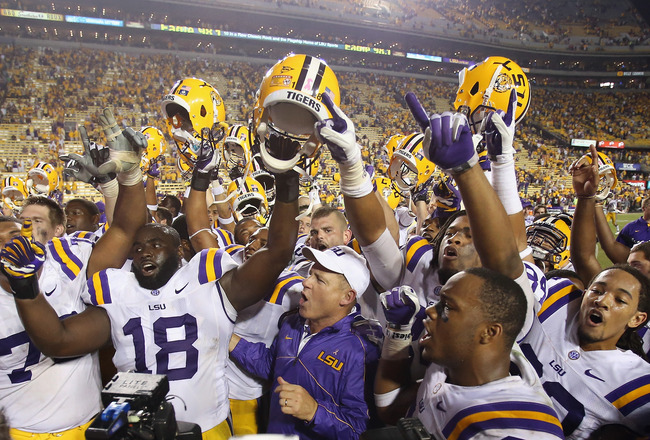 Ronald Martinez/Getty Images
The LSU Tigers regained their growl in Week 7 against South Carolina.
The talk going into this game put down the Tigers' offensive production, and many doubted if they could pull off a victory against a red-hot Steve Spurrier squad. But once the game kicked off Saturday night, everyone bared witness to LSU's best performance of the season.
The Tigers outgained the Gamecocks 406 to 211 yards, and the depleted offensive line had its best game of the season.The defense played lights out, and the Tigers' swagger resurfaced after a long hiatus.
Following such an incredible win for this program, here are the winners and losers.
Winner: Offensive Line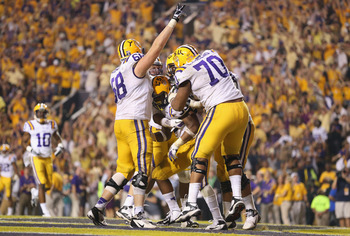 Ronald Martinez/Getty Images
The biggest "winner" of the night was LSU's offensive line.
This squad played out of its mind against one of the best defensive lines in the country.
Never mind this unit was missing three starters in Alex Hurst, Chris Faulk and Josh Williford, the big fellas went out and dominated the line of scrimmage.
The line protected Zach Mettenberger and allowed him time to throw to his receivers, and more impressively, the line opened holes for these running backs to rush for 258 yards.
Enough truly can't be said about the way this group played under the bright lights Saturday night.
Winner: Coaching Staff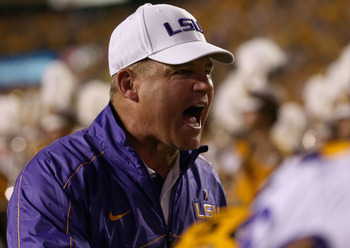 Ronald Martinez/Getty Images
Coaches tend to receive most of the blame following losses, but rarely receive the credit they deserve following a big win.
That's not the case this time. Les Miles and his coaching staff came up with a brilliant game plan, and the Tigers executed it very well.
The play-calling in this game was excellent. Calls such as the Spencer Ware slip screen early in the game and the double-move corner pattern with Jarvis Landry were perfectly called. Unfortunately, Mettenberger and Landry couldn't connect on that play.
As for the defense, John Chavis and company called for blitz packages when they needed to, and it was a near-perfect performance against an offense that's capable of posting a lot of points on the board.
Loser: Zach Mettenberger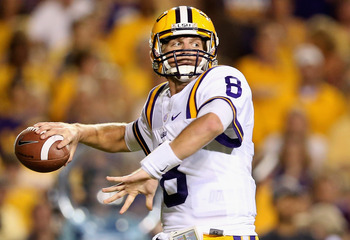 Ronald Martinez/Getty Images
LSU's showdown against South Carolina was a great platform for Mettenberger to rise up and silence the critics. That didn't happen.
Instead, Mettenberger was once again the scapegoat. Seriously, every player on this team turned in solid performances except for Mettenberger.
He completed just 12 of his 25 passes, threw for 148 yards and had an interception. That interception swung the momentum in South Carolina's favor and allowed the Gamecocks to go on top 7-3.
Picking on Mettenberger is a lot like beating a dead horse, but this guy needs to step up and become a more accurate passer.
LSU proved that it can win despite Mettenberger. Credit that to the defense, offensive line and emergence of Jeremy Hill.
Winner: Jeremy Hill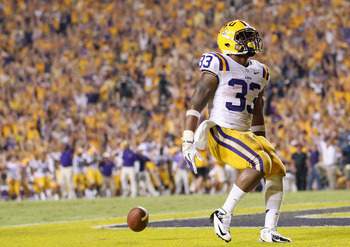 Ronald Martinez/Getty Images
Speak of the devil.
LSU fans may have witnessed the birth of a superstar in the Tigers' win against South Carolina. Simply put, Hill was remarkable.
Hill rushed for 124 yards and two touchdowns in the victory, including a 50-yard run that turned the game on its axis.
The Tigers needed a spark on offense, and that's exactly what Hill provided for this team.
LSU is never short of a great running back, and Hill looks to be the next great for the Tigers.
Winner: The Defense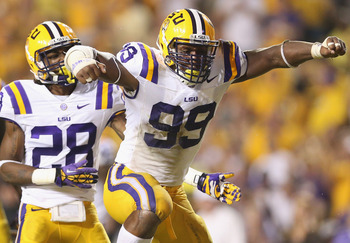 Ronald Martinez/Getty Images
It looks like LSU's defensive line grew angry about the coverage South Carolina's defensive line was getting.
At least it appeared that way. Connor Shaw would drop back to pass, and LSU would find a way to get pressure on him and keep him from having a tremendous impact rushing the football.
In fact, Shaw rushed 12 times for a negative gain. This is the same guy who rushed for 78 yards and a touchdown against Georgia.
The secondary did its part as well.
Shaw was intercepted twice, and Eric Reid's interception allowed the Tigers to take a16-14 lead in the fourth quarter.
Keep Reading

LSU Football: Like this team?