St. Louis Cardinals: Luckiest Team in Sports in the Last 2 Years?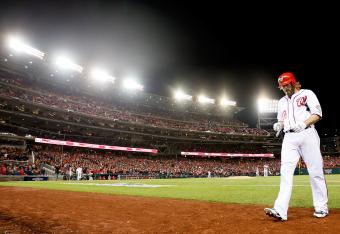 The Nationals and Jayson Werth did not deserve to lose to the lucky Cardinals.
Rob Carr/Getty Images
Up until about age of 12, the St. Louis Cardinals were my favorite Major League Baseball team.
I grew up in Dallas, an area that didn't get the Rangers until 1972. I didn't gravitate much to the Astros, who haven't won a World Series in their five-decade existence.
The Cardinals, with Bob Gibson, Steve Carlton, Tim McCarver and Lou Brock, were the closest successful team.
Therefore, it's hard for me to say this: I actually envy the Cardinals more than any other team now, including the Yankees.
While the Yankees supposedly try to buy their titles, in the past two years the Cardinals have lucked into their postseason success more than any other sports franchise. In 2011, they were lucky that the Braves imploded in the last month, losing a 10-game Wild-Card lead.
They were lucky that the Phillies, with the best record in baseball, had several players' bats suddenly go cold as ice at key times, and that Edwin Jackson actually showed up to pitch decently in one win, something he did not do for the Nationals this year in the key playoff series.
They were lucky that the Rangers, who also had superior talent to the Cards, were twice only one strike away from clinching the World Series, but for some reason could not get a call for the final strike.
That exact same scenario played out this season for the Cards. The Nationals needed one more strike to advance to the NL championship series, and just couldn't get a call.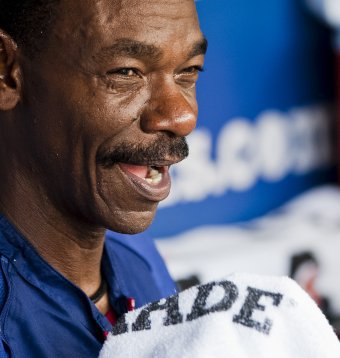 Cooper Neill/Getty Images
To all those blaming Nats closer Drew Storen, look at some of those pitches Storen threw to Cards batters Yadier Molina and David Freese in the ninth. Both Freese and Molina were down to one strike, and Storen nipped the corners on pitches that would have been called strike three - and ball game - by the home plate ump in Game 4.
But it was a different ump with a different strike zone in Game 5 who called those strikes balls.
Lucky Molina. Lucky Freese. Lucky Cards.
They were lucky this year that the MLB suddenly decided to add one Wild-Card team to each league, a decision so hastily made that they had to change the divisional series format to give the lower-seed team the first two games at home to squeeze in the change in the existing schedule.
The Cards were lucky that the Nationals mismanaged ace Stephen Strasburg's last couple of months, not giving him enough rest before shutting him down a few weeks before the playoffs. The Nats refused to put their best pitcher on their playoff roster, or even John Lannan, who was pitching better than most in the last month.
Nats management did not recognize in time how aligned things were for them to make the World Series and have a great shot to win it. They had homefield advantage and faced opponents they had great shots to beat, like the Giants and probably Tigers. They would not have to face the Phillies, Yankees or Rangers in October. Another shot like this, with things aligned this way, might not ever come.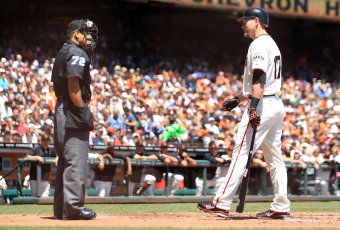 Jed Jacobsohn/Getty Images
And they succumbed to the fear that their best pitcher might get hurt, though he was feeling fine. They opted to go with pitchers who broke down in key moments, like Sean Burnett. You think Washington could have used Strasburg or Lannan to get one more out in the ninth inning of Game 5, when closer Drew Storen imploded to blow a two-run cushion?
Yes, the Cards were lucky to win Game 5. A team should not blow a six-run lead or a two-run cushion in the ninth. Pitching was supposed to be the Nats' strength, and it failed them miserably.
Granted, St. Louis has to be a good team to even be in position to make the playoffs, let alone to win once they get there.
But the last two years, they should not have been in position to make the playoffs. The Braves' implosion, as well as the hasty change to add a Wild-Card team, are feats of luck, not skill.
This vast streak of good fortune for one team irks me more than the Yankees supposedly buying a title. The Yankees' payroll this year was $196 million, but that's not too far from the second-place spenders, the Phillies, at $173 million.
It especially hurts that the Cards' good fortune impacts teams that I like more but don't have such luck, like the Rangers and Nationals, teams that were better over the course of the season, but did not get lucky at the right time.
One day soon, the Cardinals lucky streak will end. I doubt I'll feel any better.
The damage has already been done.
This article is
What is the duplicate article?
Why is this article offensive?
Where is this article plagiarized from?
Why is this article poorly edited?

St Louis Cardinals: Like this team?