UFC 153 Fight Card: 3 Fights You Don't Want to Miss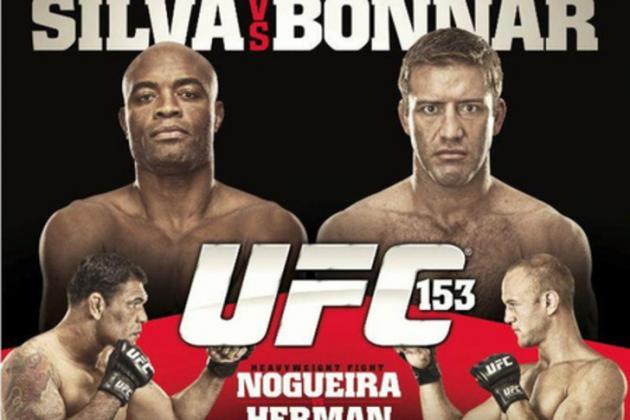 mmamania.com
UFC 153 is nearly upon us and most, if not all of the MMA world is ready to put this mess behind us. The card started off with promise, but due to an insane number of injuries it has been reduced to nothing more than a filler before the UFC begins its end of the year campaign.
Although most fans consider the event to be nothing short of a good joke, the show does feature some interesting fights. Sure, the main event isn't anything special, but beyond that, fans should be ready to be entertained.
As in most cases, the cards that receive the least attention or praise from fans tend to have the best fights. With lowered expectations going into the event, MMA fans won't want to make a bathroom or refrigerator run during these bouts tonight.
Begin Slideshow

»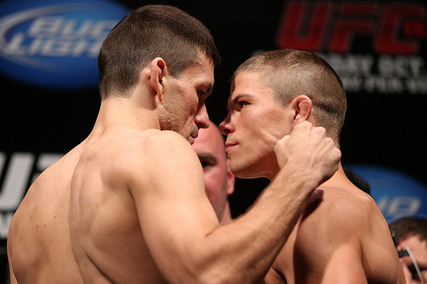 (Photo by Josh Hedges/Zuffa LLC/Zuffa LLC via Getty Images)
Both of these men know what it's like to try and rescue a career.
In 2011, everyone believed Rick Story would be heading straight for a title shot. After all, he had won six-straight bouts but lost in a major upset to Charlie Brenneman. Following that Story was visibly outclassed by Martin Kampmann.
A win over Brock Jardine salvaged Story's UFC career and he will have the chance to resurrect some of the lost momentum by defeating BJJ wizard, Demian Maia.
Maia was once a top contender at 185, but he had seen his career spiral down after some ugly fights. Maia had seemingly forgotten what brought him to the dance and avoided his submission game. He just didn't seem like the same fighter he was after entering the UFC and subsequently dropped to 170 pounds.
He drew a tough fight in Dong Hyun Kim for his welterweight debut but looked great in the brief time we saw him in the cage. An injury forced Kim to tap out, which prevented fans and Maia himself from seeing how he truly fares at welterweight.
Story is a tough fighter who won't go away easily, which means we will finally get to see Maia fight for an extended period of time. Fans will no doubt be interested to see how Maia's body reacts to a tough fight at 170 pounds and if Story can avoid the Brazilian's dangerous ground game.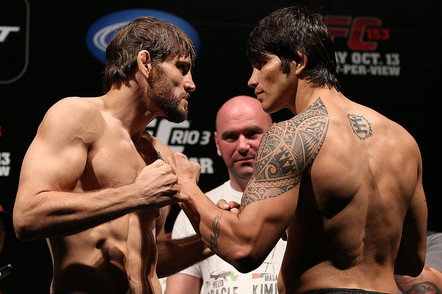 (Photo by Josh Hedges/Zuffa LLC/Zuffa LLC via Getty Images)
This is the definition of a make or break fight for both men.
Erick Silva is poised to become a huge star in the UFC and a victory over Jon Fitch would cement his place as one of the better welterweights outside the top five. He's been an extremely exciting fighter thus far into his UFC career and his only "loss" is a fight many consider a win.
If Silva can't overcome the tough veteran, he will drop down in the rankings and have to start all over in the UFC. For a guy who is entering his athletic prime, that setback could be a huge hit to Silva's career.
Fitch likewise needs to win this fight. He's not a young Brazilian looking to validate the hype but rather a long time UFC vet looking to remain relevant in the welterweight division. There was a time when Fitch was the consensus No. 2 guy at 170 pounds, but a draw against BJ Penn and a devastating KO loss to Johny Hendricks have put an end to that talk.
The former title challenger has been very vocal about his financial stress and seems willing to finally embrace becoming an exciting fighter. He doesn't need to stand and bang to be exciting, so it will be interesting how Fitch incorporates that into his wrestling-heavy game.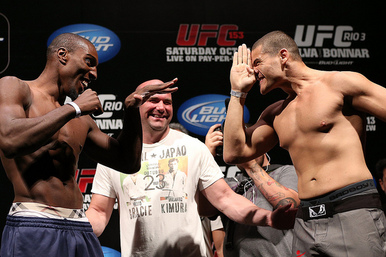 (Photo by Josh Hedges/Zuffa LLC/Zuffa LLC via Getty Images)
The rematch between Phil Davis and Wagner Prado was originally believed to go down Oct. 5, but it will now be featured on the main card of UFC 153.
The first contest ended in disaster as an inadvertent eye poke left Prado unable to continue. The pain of not being able to do anything in an UFC debut was evident on Prado's face and Davis was quick to apologize for the incident.
Now that Prado is adequately prepared for the eye poke (see picture), the two can finally get down to business.
It wasn't long ago that Davis was only a fight away from challenging for the UFC Light Heavyweight title. An ugly loss to Rashad Evans sent him back into the shark tank of challengers and he now welcomes Prado to the Octagon.
Despite having a background in amateur wrestling, Davis is anything but a lay and pray fighter. His striking continues to evolve and his submission game is getting better as well. Davis could very easily present the "perfect package" of skills in the light heavyweight division.
Countering Davis' well rounded skills for Prado means utilizing his devastating Muay Thai. The Brazilian has some heavy strikes and I'm sure we will hear "Muay Thai wrecking machine" used at least once by Joe Rogan tonight to describe Prado.
He has a competent ground game as well due to training with the Nogueira brothers. Will it be enough to counter Davis' wrestling? Can Prado use his striking to take Davis out before the fight even gets to the ground?
These are just a few of the questions fans will look to get answered when these two face off.