The 5 Most Unheralded Rookies of the 2012 MLB Playoffs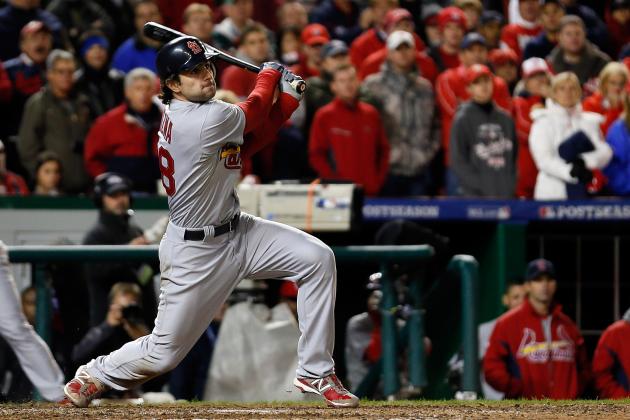 Rob Carr/Getty Images
Pete Kozma (St. Louis)
Originally I was going to review the rookies who have disappointed this postseason. However, as I sat down to write the article, I realized that there simply aren't many rookies struggling this October.
Rather, for several teams, it's been the contributions from the lesser-known rookies—players who weren't necessarily highly regarded prospects—that have fueled their postseason success, respectively.
So, here are five difference-maker rookies who've quietly enjoyed a strong postseason.
Begin Slideshow

»
Ezra Shaw/Getty Images

After breaking camp with the A's, Donaldson spent most of the year bouncing back and forth between Triple-A and the major leagues after a dismal April (.188 OPS with 13 strikeouts in 32 at-bats).
However, he was recalled for good in August and thrived in place of the injured Brandon Inge. In the 47 games following his return, the 26-year-old posted an .844 OPS with 19 extra-base hits and 26 RBI.
Given his background as a catcher, he provided above-average defense at the hot corner, saving four runs in 71 games.
Donaldson was also one of the few A's hitters who didn't scuffle in the postseason, batting .294 (5-for-17) including a clutch double in the ninth-inning rally in Game 4.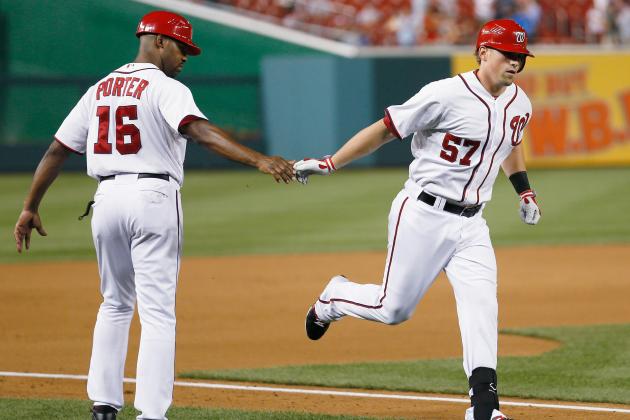 Rob Carr/Getty Images

Okay, so he had only one at-bat. However, he made the most of it in Game 1 of the NLDS when he picked up a go-ahead (and game-winning), two-run single in the top of the ninth inning.
Moore, 25, entered the 2012 season coming off back-to-back 30-home-run campaigns in both 2010 and 2011. He was included on the Nationals postseason roster for his ability to mash left-handed pitching, exactly what he did in Game 1.
If the Nats opt not to re-sign Adam LaRoche, he's not a terrible alternative, especially when considering he posted a .929 OPS this season in 70 plate appearances against right-handed pitching.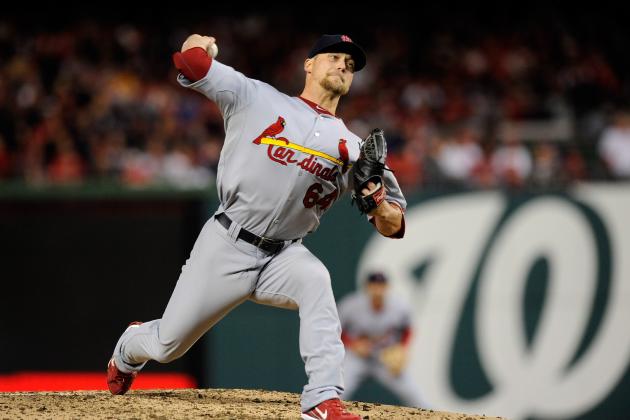 Patrick McDermott/Getty Images

Selected in the 21st round of the 2009 draft, Rosenthal made impressive strides this year at Double-A Springfield in his second full professional season. A starter in the minors, the 22-year-old right-hander was called up in mid-July and used out of the bullpen.
The debate is whether he has a brighter future as a starter or reliever. Rosenthal boasts a fastball that sits in the upper 90s—he hit 100 mph seven different times during his inning of work in Game 5—as well as a sharp, downer curveball and changeup, though he's rarely thrown the last as a reliever.
As a starter, his fastball sits consistently in the mid-90s, as he throws more heavy two-seamers and cutters than four-seam fastballs. In 20 starts this season between Double-A and Triple-A, Rosenthal posted a 2.97 ERA, 6.4 H/9, 8.6 K/9 and 3.5 BB/9.
Appearing in three Division Series games, he was absolutely lights-out in each appearance, allowing one hit with six strikeouts over three and one-third innings.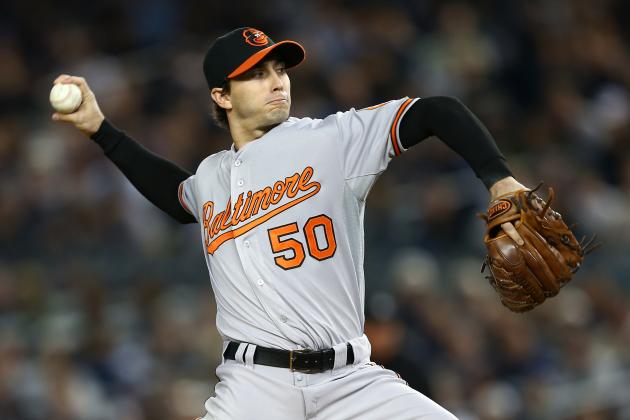 Elsa/Getty Images

Making his debut in late May, the 28-year-old Gonzalez wasn't exactly the prototypical rookie. Pitching for his third team in six seasons, the right-hander reached Triple-A for the first time in 2011 with the Red Sox—albeit for only one game.
Appearing in 18 games—15 of which were starts—for the Orioles following his promotion, Gonzalez posted a 9-4 record with a 3.25 ERA, 6.6 K/9 and 130 ERA+.
Gonzalez was handed the daunting task of starting Game 3 of the ALDS on the road against the Yankees. However, the right-hander turned in some of his finest outings against the Yankees during the regular season, going 2-0 with a 2.63 ERA, 0.805 WHIP and 17/1 K/BB in two starts.
He enjoyed similar success in Game 3, allowing one earned run on five hits over seven innings. Gonzalez fanned eight without issuing a walk but received a no-decision.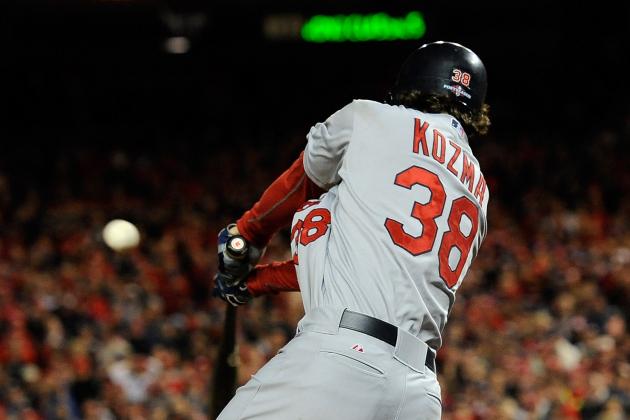 Patrick McDermott/Getty Images

A first-round draft pick of the Cardinals in 2007, Kozma received his first taste of the major leagues in 2011 when he batted .176/.333/235 over 16 games.
A career .236 hitter in 671 minor league games spanning six seasons, Kozma's managed to survive thanks to his speed and above-average defense at shortstop.
The 24-year-old wasn't even in the picture until Rafael Furcal suffered a season-ending elbow injury, which, in turn, forced the Cardinals to call up Kozma from Triple-A, where he was batting .232/.292/.355 through 131 games.
Called up on Aug. 31, he didn't assume everyday shortstop duties until mid-September but still posted a .952 OPS in 26 games.
More importantly, Kozma carried his hot bat into the NLDS, where he batted .250/.455/.500 with four runs scored and five RBI and delivered the go-ahead hit in the decisive Game 5.