Strengths and Weaknesses of Each Duke Starter Entering the 2012-13 Season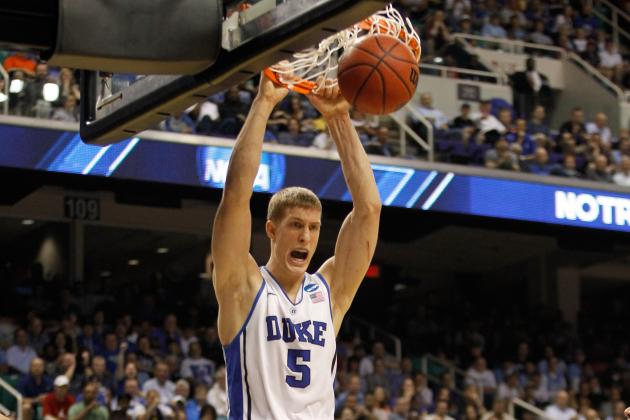 Streeter Lecka/Getty Images

Thank god for Midnight Madness.
Mike Krzyzewski and the 2012-13 version of the Duke Blue Devils just celebrated their own unofficial start to the college basketball season through this annual tradition.
This means Blue Devils fans and observers alike can start to really get down to the nitty-gritty of analyzing Duke from every possible aspect.
And what better way to begin than to look at the Blue Devils' projected starting lineup?
Each member of the starting five brings their own personal strengths and weaknesses to the table (or should I say, court) this upcoming season.
What are they exactly?
I'm glad you asked.
Begin Slideshow

»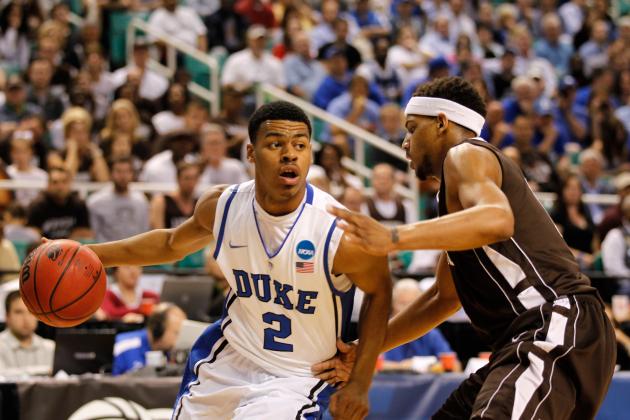 Mike Ehrmann/Getty Images

Strengths: ability to penetrate, solid ball-handler
In the limited time Quinn Cook took the court for Mike Krzyzewski and the Duke Blue Devils last season, the freshman turned sophomore showed promising signs. Cook flashed glimpses of being able to penetrate through opposing defenses, a necessity for a point guard in Coach K's drive and dish offense.
And Cook came out of the famed Oak Hill Academy with a reputation for being a good handler of the rock. That skill will only improve in due time for the sophomore point guard.
Weaknesses: inconsistent scorer, needs to improve on-ball defense
Thanks to a knee injury, Cook didn't see much court time during his freshman season. That limited time on the court certainly didn't help his scoring.
Cook shot an unenthusiastic 25 percent from three-point range during the 2011-12 campaign. Even with talented scorers like Seth Curry, Rasheed Suliamon and Ryan Kelly around him, there's going to be a time when Cook will need to hit a big bucket or two.
The Cameron Crazies are certainly hoping Cook will be healthy, improved and ready when those moments arise.
They also hope he can improve his on-ball defensive capabilities. Currently, fellow guard Tyler Thornton is regarded as Duke's best on-ball defender.
If Cook can step it up and assist Thornton defensively, it will help Duke on that end of the court immensely.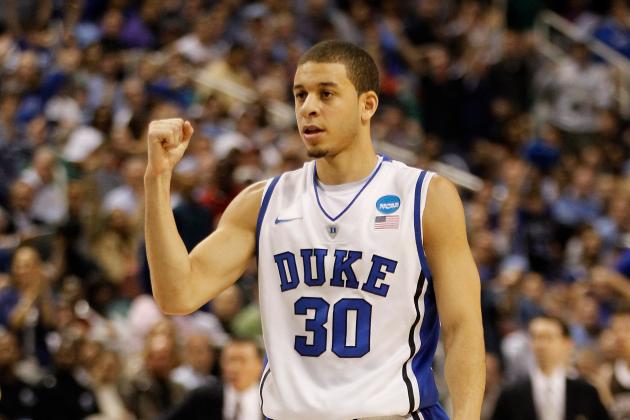 Streeter Lecka/Getty Images

Strengths: above average jump shooter, underrated ball handler
Duke Blue Devils fans know very well what senior guard Seth Curry brings to the table offensively.
Curry has averaged nearly 41 percent shooting from three-point territory in his two seasons with the Blue Devils. Simply put, you know what you get from Curry as a shooter. When he's on, he's on fire.
Not only is Curry a polished outside shooter, he's also an underrated point guard. Curry more than held his own in that department last season, when Mike Krzyzewski was forced to platoon the point guard position between Curry, Austin Rivers and Quinn Cook.
If Cook struggles at the PG position, expect Coach K to turn to the steady veteran hand of Curry.
Weaknesses: too streaky a shooter, struggles with physical defenses
When Seth Curry is on from beyond the arc, he's on. But when he's off, look out.
When Duke closed out the 2011-12 season losing three of its last four, Curry shot a meager 10-of-42 from the field and 8-of-24 from long range. And in Duke's upset loss to Lehigh in the NCAA tournament, Curry was a combined 2-of-16 shooting.
Also, Curry's small frame (6'2", 180 lbs) has put him at a disadvantage when it comes to dealing with the more physical guards Duke has played against over the years. Whether or not these problems persists for Curry and Duke this season remains to be seen.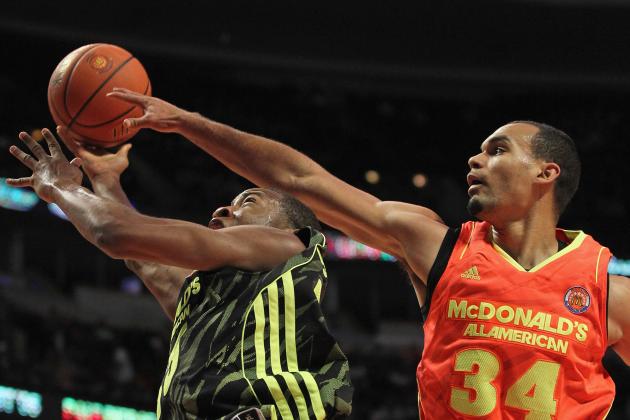 Jonathan Daniel/Getty Images

Strengths: great first step, versatile scorer
Nolan Smith. Austin Rivers. Rasheed Sulaimon?
A freshman out of the Houston area, Sulaimon has the potential to be the next great Duke shooting guard.
According to some scouts, Sulaimon already possesses an aggressive first step. He's a versatile scorer with the ability to score attacking the basket and through a silky smooth jump shot. It's going to be fun watching this "diaper dandy" torment opponents in Durham.
Weaknesses: inexperienced, needs to work on ball-handling skills
If you can say anything negative about Sulaimon right now, it's that he's simply inexperienced. That's to be understood from a player who has yet to take the floor of a college basketball court.
Only time will tell if Sulaimon will be the next Nolan Smith (a Duke legend), the next Josh McRoberts (a Duke bust) or somewhere in between. One weakness some NBA scouts have picked up on is the fact that Sulaimon needs to improve his ball-handling ability.
Luckily for him, the Duke point guard duties fall squarely on the shoulders of Quinn Cook and/or Seth Curry, and not the promising freshman.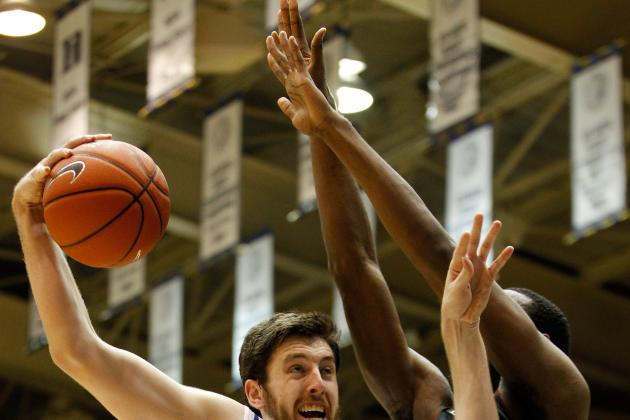 Streeter Lecka/Getty Images

Strengths: great shooting touch from outside, spreads the floor with his mobility
Duke fans never truly realized the effectiveness of Ryan Kelly until he was hobbled with a foot injury down the stretch in 2011-12. Without Kelly on the floor, Duke fizzled, suffering early exits in both the ACC and NCAA tournaments.
A 6'11" senior, Kelly does a great job of spacing the floor for Duke with both his great shooting touch and mobility. This past season, Kelly shot 40 percent from behind the arc and played solid defense both inside and outside.
Weaknesses: not physical enough on the boards, lacks explosiveness
Even at 6'11", 230-pounds, NBA scouts have said that Kelly still could add a bit more muscle to his frame. This could be part of the reason why he has struggled on the boards at times during his Duke career.
Last season, Kelly averaged just over 5 rebounds per game. If he can improve on that number, Duke will more than hold its own in the rebounding department this season.
And as good as an outside shooter as Kelly is, he's still hard pressed to beat many of his defenders off the dribble; that simply isn't his strength.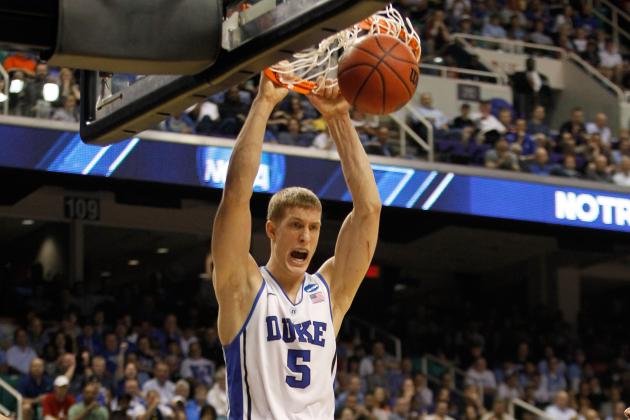 Streeter Lecka/Getty Images

Strengths: great finisher around the rim, very athletic for his size
Over his three-year career at Duke, many Blue Devils fans are quite aware of Mason Plumlee's highlight reel of explosive dunks he has compiled. The middle Plumlee brother takes full advantage of his muscular upper body to finish strong at the rim when he gets the opportunity.
Just look at when Plumlee plays at the Dean Dome. At least once a game there, Plumlee is throwing down a reverse dunk, much to the dismay of the North Carolina faithful. Plumlee also has exceptional athleticism for a player of his height (6'10").
In many games over his career, Plumlee has actually controlled the ball down the court on a couple of fast break situations. But I'm sure Duke coach Mike Krzyzewski would rather have Plumlee doing his damage down low as opposed to running the break.
Weaknesses: poor free throw shooter, too deliberate on the low block offensively
Don't be surprised if some ACC teams utilize the Hack a (Mason) Plumlee strategy at some point this year. Plumlee has always struggled from the charity stripe in a Blue Devils uniform.
In each of his three seasons at Duke, Plumlee has yet to crack 55 percent from the free throw line. If Plumlee is looking to further assure his status as a projected NBA lottery pick, he may want to improve on that number in his senior campaign.
Also, Plumlee does have a tendency of taking too long to make his move when he's fed the ball in the low post. Many times this has led to either a five-second violation or traveling on the part of No. 5.
If Plumlee can be a bit more decisive on the block, it will benefit both himself and Duke's offense as a whole.