USC vs. Washington: Weather, QBs, Records, Other Interesting Things to Look For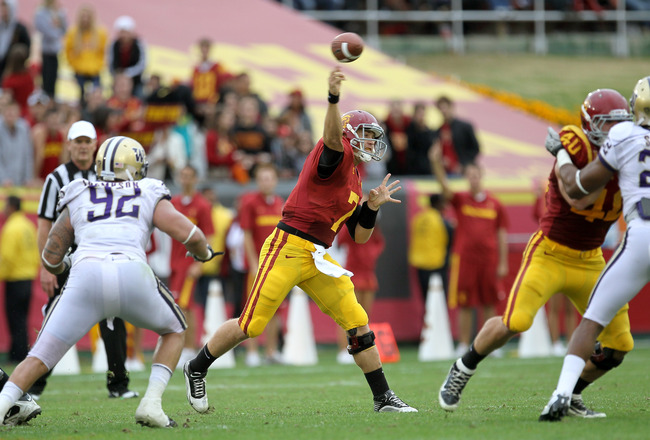 Stephen Dunn/Getty Images
The USC Trojans are in Seattle this weekend to take on Pac-12 North opponent Washington at their temporary home, CenturyLink Field. The two teams share a number of things in common, interesting statistical anomalies and a fall from perceived grace by the two teams' formerly (ish?) standout quarterbacks.
There is no way that USC should lose this game, but let's be honest, stranger things have happened. Bigger losses have happened. I am sure I do not have to rehash all of that.
Can I mention, for just a moment, the absolute ridiculousness of Oregon State being ranked ahead of USC? Sure, I know the Beavers are undefeated; I get why it is so, but it is not right—do you feel me Trojan fans?
It's Friday night, game day is tomorrow and I am feeling a bit punchy. So let's take a look at the interesting stories going into this 83rd meeting of the Trojans and the Huskies.
Series Records and Stats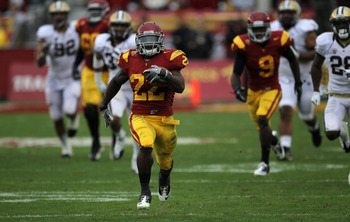 Stephen Dunn/Getty Images
USC leads the series with Washington, 50-28-4, including USC's 2005 victory that was vacated by the NCAA. USC has won eight of the last 10 games versus Washington, and 20 of the last 34 games have been decided by 12 points or less.
In fact, of the 82 previous games between the Trojans and the Huskies, 34 of them have been decided by a TD or less.
Since 1960, the winner of the USC-Washington game has advanced to the Rose Bowl 28 times—albeit 20 of those times being USC as the Rose Bowl participant.
When playing in Seattle, USC leads the series by a narrow margin, 18-17-4, with USC losing eight of the past 14 games on the Huskies' home field—with three of those being shutouts (more on that in a moment)—and 10 of the past 17 games.
USC Being Shutout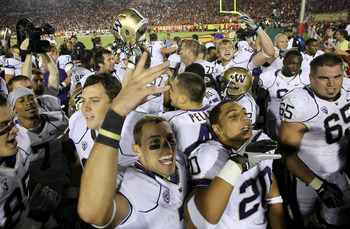 Stephen Dunn/Getty Images
Last week, USC tied its own record for consecutive games without being shutout. Interestingly, the last time the Trojans were shutout was against the Huskies in Seattle in 1997. Before that it was against the Huskies in Seattle in 1990. Before that it was against the Huskies in Seattle in 1983.
This is a pattern the Trojans and their fans would prefer not to see repeated.
Weather Report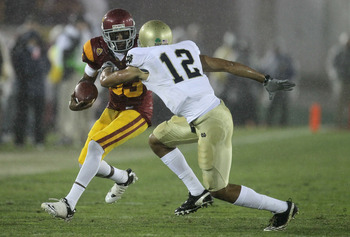 USC-Notre Dame 2010
Stephen Dunn/Getty Images
The forecast for Saturday in Seattle is for rain, which does not bode well for USC.
In the rain, USC's record is 21-22-1—which is no surprise given their home advantage in sunny Southern California.
The last time USC played in the rain was versus Notre Dame on November 27, 2010 at the Los Angeles Memorial Coliseum where the Trojans lost, 20-16. (I was at that game. Ice was forming on my knee where my jeans were torn; it was so cold and miserable.)
A Tale of Two Quarterbacks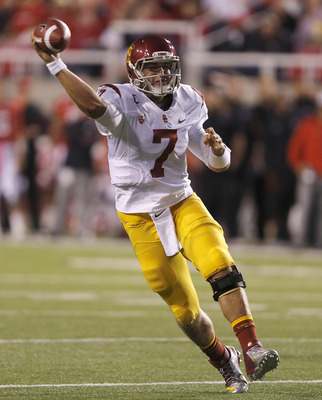 George Frey/Getty Images
Preseason, Matt Barkley and Keith Price had all of the Pac-12 hype (not to mention a chunk of it nationally).
My how things have changed in the past six weeks. If the vote for first-team All-Pac-12 QB took place today, neither the USC nor the Washington QB would make the cut.
Preseason, Barkley was, as we all know, the leading Heisman Trophy candidate. Price was an interesting, if unlikely contender. They were considered the top two returning quarterbacks in not just the Pac-12, but perhaps even the entire country.
Currently, Barkley ranks 27th in the nation in passing efficiency and in the Pac-12 ranks behind ASU sophomore Taylor Kelly and Oregon's redshirt freshman Marcus Mariotta. Both are first-year starters.
Last year, Barkley ranked second behind Andrew Luck in Pac-12 passing efficiency. Barkley could still play his way into Heisman contention, and the Trojans are a part of the national picture. An impressive win over the Huskies likely would push the Trojans back into the top 10.
Price was a first-year starter in 2011 and ranked third in the Pac-12 in passing efficiency. He ranked eighth in the nation, throwing for 33 TDs. Currently, Price ranks 12th out of 12 in the conference in passing efficiency.
As he is not in the top 100 QBs nationally, Price doesn't even qualify for a national QB ranking. His efficiency has fallen by 51 percent since last year, due in large part to injuries suffered by linemen, running backs and receivers.
Keep Reading

USC Football: Like this team?