Navy Football: 10 Things We Learned from Their Game vs. Central Michigan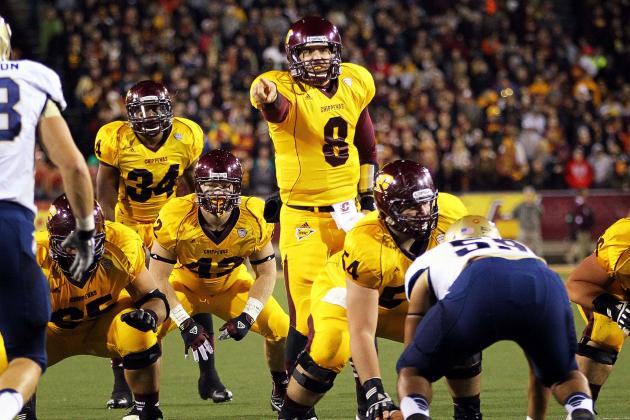 Mike Carter-US PRESSWIRE

Coming into Friday night's game, the Central Michigan Chippewas looked better than the Navy Midshipmen on paper.
The Chippewas had a strong offense, led by senior quarterback Ryan Radcliff.
But Friday night was a far different story from the one told on paper.
The Midshipmen and their triple option were able to control possession in the first half, while Central Michigan's offense struggled.
Navy showed a lot of fire, putting up 31 points.
So what have we learned?
Begin Slideshow

»
Al Messerschmidt/Getty Images

In the triple-option offense, Greene is Navy's all-around player.
He can run, he can catch and he can block, and all of this was magnified against Central Michigan. Greene finished the day with 39 yards rushing and 60 yards receiving, including two touchdowns.
The running back is a senior and has been through a lot with the Midshipmen.
Against the Chippewas, though, Greene showed exactly what he was capable of.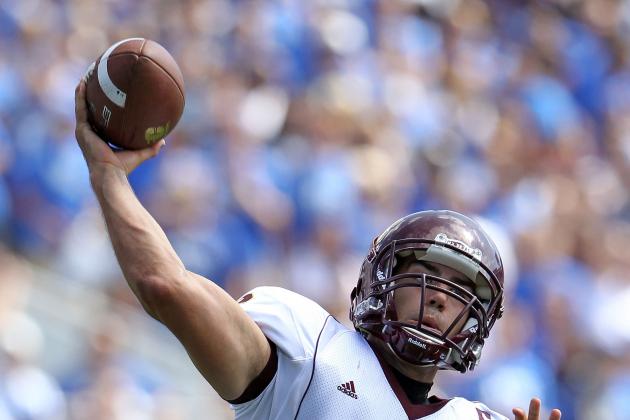 Andy Lyons/Getty Images

Coming into their game with Navy, Central Michigan had the upper hand offensively, and that was because of Ryan Radcliff.
The senior signal-caller had thrown for 1,296 yards and nine touchdowns coming into the contest and was looking to pick apart the Midshipmen secondary.
But that wasn't the case in Friday night's game. Radcliff was inaccurate and didn't protect the ball well.
By the fourth quarter, Radcliff was a spectator, watching sophomore Cody Kater play under center.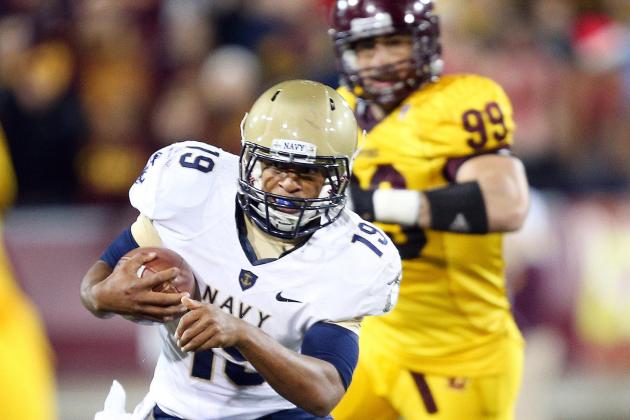 Mike Carter-US PRESSWIRE

This was supposed to be the year for Trey Miller.
The junior was praised as a gifted athlete and one of the better throwing quarterbacks the Naval Academy has had in a while.
Keenan Reynolds proved everyone wrong with his play Friday night.
Reynolds started in place of Miller, who has been banged up all year, and excelled.
The freshman delivered a performance that proved he is worthy of starting over Miller. Reynolds threw for 134 yards and two touchdowns, and he rushed for 59 yards.
Beyond that, though, Reynolds ran the option well and took care of the ball.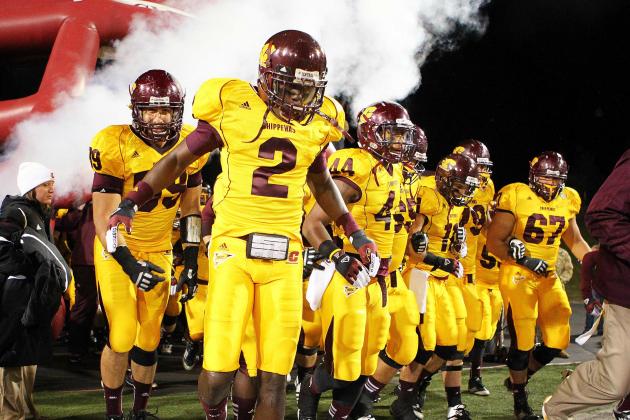 Mike Carter-US PRESSWIRE

With a 2-3 record heading into their game with Navy, the Chippewas had an opportunity to turn their season around.
But Friday night, they took a step backward.
Central Michigan looked sloppy, especially senior quarterback Ryan Radcliff, who was benched in the fourth quarter.
The Chippewas now fall to 2-4, and their season isn't looking up.
Head coach Dan Enos may need to start mixing things up, or he may not be in Mount Pleasant for much longer.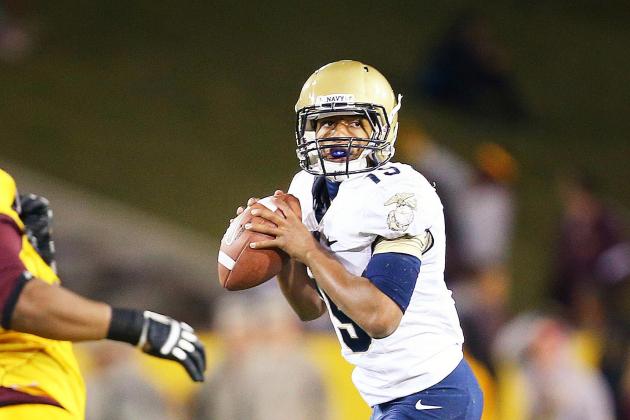 Mike Carter-US PRESSWIRE

Navy has been known for their triple-option offense, which is heavily based on running the ball.
In this offense, the quarterback is essentially a running back and carries the ball almost as much as the other backs in the offense do.
Friday night, though, Keenan Reynolds unleashed a new part of their offense—the forward pass.
Realistically speaking, Navy does throw from time to time, but Friday night Reynolds put on an air show by throwing for three touchdowns (one short of tying the Navy record).
At some points it seemed like their play-calling got a little too pass happy, but it is now definite that the Midshipmen have a legitimate passing attack with Reynolds.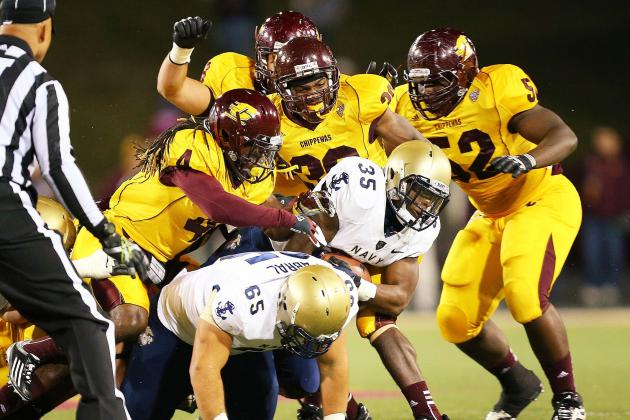 Mike Carter-US PRESSWIRE

Often when you see Navy playing teams such as Notre Dame or Penn State (earlier in the season), their offense is very stagnant.
Holes close quickly and their triple-option offense doesn't seem to work.
But people often forget that armed forces academy players aren't your typical players, linemen are usually smaller and the team is overall small.
The disparity in size (and talent sometimes) often proves to be the deciding factor for Navy.
Against Central Michigan, with a seemingly level talent field, the triple-option showed its might. The Midshipmen ran the offense well with strong discipline and hard-nosed running.
They showed that this offense can win games handily.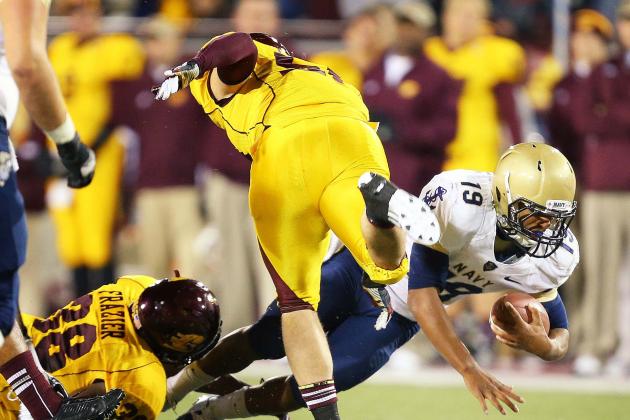 Mike Carter-US PRESSWIRE

Central Michigan could not pull off their banana-yellow jerseys Friday night.
I'm sorry to say it, but only Michigan should be wearing yellow (technically gold) jerseys. It was a valiant attempt to look good on national television, but something needs to be done about these jerseys.
The Chippewas didn't play well at all, and their bright yellow uniforms certainly didn't help.
Dale Zanine-US PRESSWIRE

We all know why Bill O'Brien and Penn State go on fourth downs inside the 20-yard line, because they have a kicker that can't really kick.
But for Navy to go five for five on fourth downs is astounding.
Although some of these were 4th-and-short dives, a few of these fourth-down chances were from at least two yards from the first-down marker.
Head coach Ken Niumatalolo knew what plays to call and when to call them on fourth down. Niumatalolo knew when to punt and when to go for it.
Strong showing by the Navy coaching staff.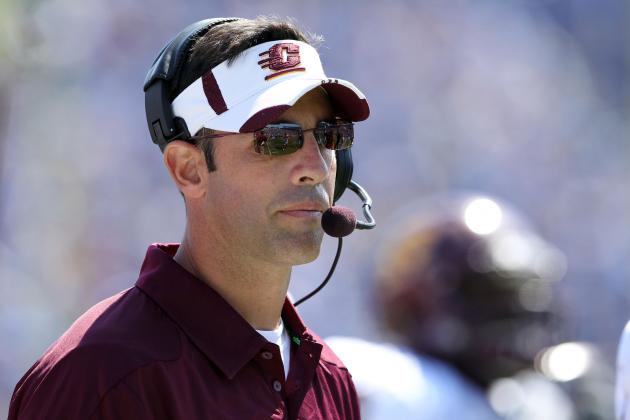 Andy Lyons/Getty Images

Before Dan Enos took over, Central Michigan was a solid MAC football team. In 2009, the Chippewas won 12 games, the MAC and went to the GMAC Bowl and defeated Troy.
Since Enos took over in 2010, the program has gone downhill—fast.
In his first two years, the team has won a combined six games.
After being beaten by Navy in a game where his team couldn't seem to get any momentum, Enos's team is 2-4. He is in the hot seat.
If Enos can't turn this season around, he may not be around next year.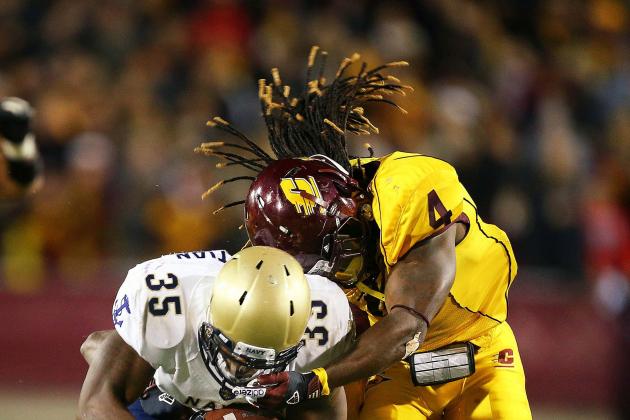 Mike Carter-US PRESSWIRE

After beating Central Michigan, Navy is now 3-3 overall.
With games against Notre Dame and Penn State to start their season, the Midshipmen's schedule wasn't exactly easy.
Navy has now won two games in a row, and Friday night's win showed promise. Keenan Reynolds proved he can both run and throw, and Navy's defense stepped up in the second half.
The rest of the Midshipmen's schedule is a wild card; they have a shot to win each of their next games.
Beating Central Michigan convincingly is a big statement by Navy, letting people know that they're better than people may think they are.