Complete Player Ratings for the USMNT World Cup Qualifier vs. Antigua & Barbuda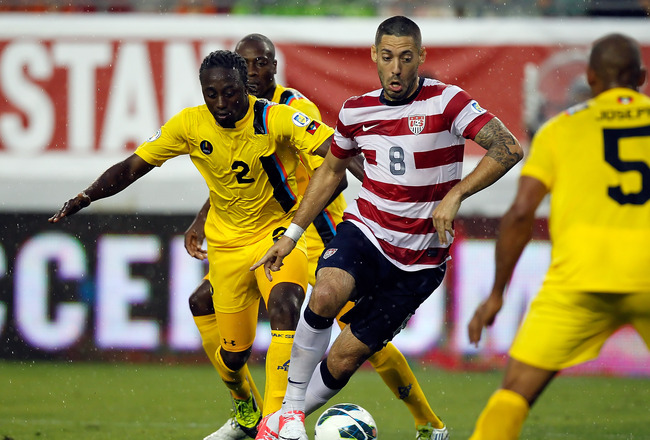 J. Meric/Getty Images
The United States Men's National Team barely escaped its penultimate group stage World Cup qualifier with a narrow 2-1 win against Antigua and Barbuda Friday night. The win puts the U.S. at the top of Group A heading into its final qualifier against Guatemala on Tuesday.
Here are complete player ratings for the USMNT squad from the game.
Tim Howard
Tom Szczerbowski/Getty Images
Tim Howard faced more shots than anyone was expecting as Antigua and Barbuda had 14 chances on the U.S. net. Thankfully, most of the Antiguan chances went wide.
While Howard only had one official save, a nice grab in the 41st minute from a long shot, he did a good job clearing a soft back pass from Steve Cherundolo in the 62nd minute and came out well in the 68th minute to stop a ball over the top.
He was a little lucky in the 31st minute, coming out to pick up an attacker who had gotten behind Geoff Cameron as Howard jumped to get big in front of the shot, only to have it bounce off his legs and away from danger.
Rating - 5
Steve Cherundolo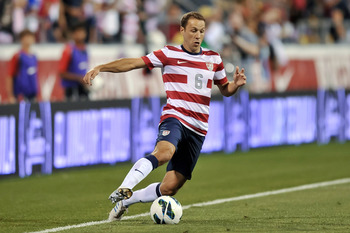 Jamie Sabau/Getty Images
Cherundolo was the best American defender on Friday night…but that's not saying much.
Cherundolo recovered very well in the 42nd minute to help out a beaten Clarence Goodson and stop a potential Antiguan breakaway, but his service from the flank was, at best, mixed.
Cherundolo did have a couple of nice combinations in the second half to get forward, but could never seem to get on the end of the final pass.
And, Cherundolo's attempts to get forward became a liability in the 82nd minute when he did not recover and Antigua found a wide-open chance on the American right flank that easily could have won Antigua the game.
Rating - 5
Clarence Goodson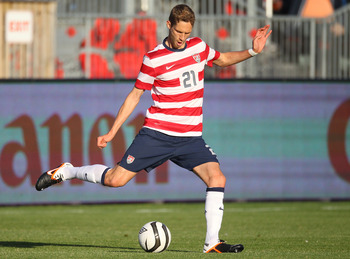 Tom Szczerbowski/Getty Images
Prior to the game, Goodson's inclusion in the lineup was a minor surprise, as USMNT head coach Jurgen Klinsmann went with Carlos Bocanegra on the left side of defense and inserted Goodson into the middle of the defense.
However, considering the pre-match pitch and weather conditions, Goodson's inclusion made sense because of his ability on dead balls.
But despite making the first XI, Goodson did little to repay his manager's faith as he was on the end of a series of mistakes by the U.S. back line.
Along with center back partner Geoff Cameron, Goodson was beaten for pace on a number of occasions and both were responsible on Antigua's goal.
Goodson was tracking the runner who scored and either slipped, as the commentators insisted, or fell under fairly light contact.
To be fair, Goodson was dragged down on a U.S. corner kick in the 61st minute, making a back-post run on a well-served ball. Goodson may have scored on that service considering his prowess in the air, but, overall, it was a poor night from the Brondby captain.
Rating - 3.5
Geoff Cameron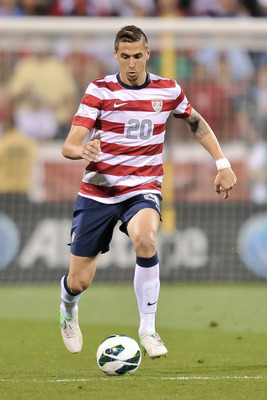 Jamie Sabau/Getty Images
Cameron was among the bevy of American defenders who had a night to forget in Antigua.
Cameron was beaten for pace on the Antiguan goal in the 25th minute and put in a soft challenge as the attacker blew by him, perhaps fearing a penalty call.
Cameron was again beaten just a couple of minutes later for pace and a weak header in the second half gave Antigua another nice chance to go ahead.
He had a couple of decent passes to work the U.S. out of pressure the few times the Antiguans applied it, but not nearly enough to make up for a rather poor effort.
There's no doubt that over the past few games Cameron has been one of the U.S.' more consistent players and should be going into the future, but he did not show that Friday night.
Rating - 4
Carlos Bocanegra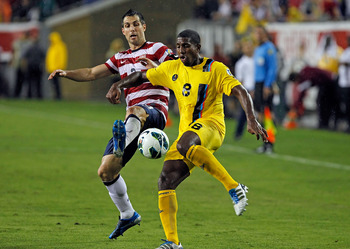 J. Meric/Getty Images
Playing at left back, a position he has not regularly played since his days in the French league, Carlos Bocanegra, one of the most reliable defenders for the USMNT over the past half decade, did not have a good game.
He uncharacteristically lost a number of aerial challenges and was responsible for the lost possession which resulted in Antigua's goal.
The difference between a defensive-minded Bocanegra and the more attacking-minded Fabian Johnson also presented a stark contrast for USMNT fans used to seeing the Hoffenheim man push forward into the attack.
With the center backs looking rattled and disorganized all night, expect to see Bocanegra back in the middle of the pitch, where he belongs, on Tuesday.
Rating - 4
Danny Williams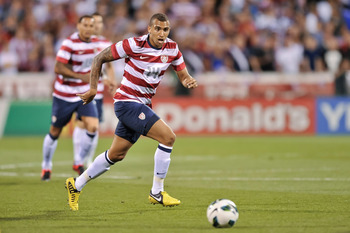 Jamie Sabau/Getty Images
After a standout performance against Jamaica on September 11th, Danny Williams earned another shot in the center of the American midfield on Friday.
Unfortunately, he went missing most of the match against Antigua.
A lot of this was probably due to the inclusion of Michael Bradley back into the lineup. Bradley loves to drop deep to get the ball and even though Bradley was supposed to be playing slightly higher up the pitch in front of Williams, that's not what happened.
Williams seemed disconnected for much of the match and was rightfully withdrawn in the 56th minute.
Rating - 4.5
Michael Bradley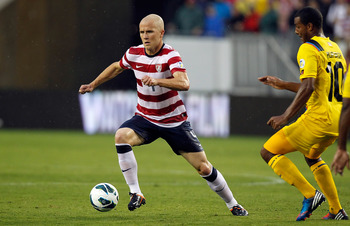 J. Meric/Getty Images
Bradley had a standout game for the Americans on Friday, running the American midfield. Now known in Italy as "The General," it is obvious why Bradley's inclusion in the lineup is so vital.
The American Andrea Pirlo, Bradley does it all for the Americans, dropping deep to get the ball, recycling possession, playing well with his back to pressure, finding through balls, getting forward and creating the combination plays needed to break down a defense.
Shortly after getting into a minor bust-up with an Antiguan defender after a challenge that included Bradley being taken out by the trail leg of the tackle, Bradley almost scored the winning goal with a fantastic near-post run on a corner kick.
Bradley redirected the ball back on frame with a fair amount of pace, but the Antiguan goalkeeper made a fine save to keep it out of the net.
Overall, a very solid performance by Bradley.
Rating - 7.5
Graham Zusi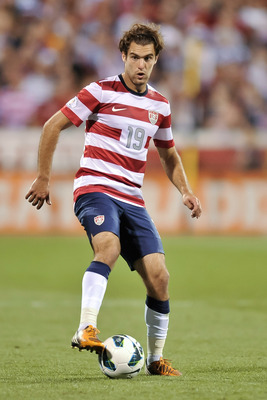 Jamie Sabau/Getty Images
Graham Zusi had another solid outing for the Nats, putting in a number of good services and had a good work rate all night.
Zusi assisted on Eddie Johnson's first goal with a beautifully feathered left-footed serve in the 20th minute and then found EJ again on a service in the 30th minute for an open chance which Johnson put wide.
Zusi was active in the second half as well, putting a couple of very nice services into the box. Clint Dempsey didn't seem happy with either one, but both of them were in good spots. The first, in the 58th minute, was laid off right in front of the six and every American player simply overran the play. The second, in the 75th minute, was a nicely textured service that no American made a run for.
The one criticism would come from Zusi's corner services, two of which were low line drives. Perhaps this was at the desire of Klinsmann, but with the U.S. boasting a lineup full of aerial power, serves right in front of the net or to the back post would have seemed more logical.
Zusi was withdrawn in the 78th minute for Sacha Kljestan.
Rating - 6.5
Eddie Johnson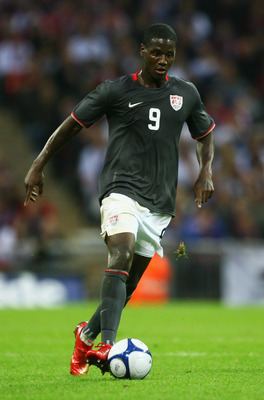 Clive Mason/Getty Images
Johnson, who has had a career revival since his return to MLS, had an enigmatic performance for the Nats.
On the one hand, Johnson lost the ball the majority of times he had it on his feet due to his poor touch or poor passes.
On the other hand, Johnson was spectacular ghosting into the penalty area on his two goals and slamming his headers home perfectly.
Overall, Johnson's performance was all over the place. He was put through by Bradley early in the first half, but it came to nothing; he missed an open header only a few minutes after he scored his first goal and, at times, seemed on a completely different page from his teammates.
But, in addition to his goals, Johnson had other bright spots. He had a good serve to Dempsey early in the second half, at one point split two defenders on the dribble and had a nice layoff to Bradley late in the game.
All in all, Johnson got the job done when it counted.
Rating - 7
Clint Dempsey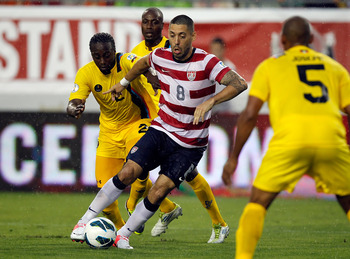 J. Meric/Getty Images
Dempsey cut a frustrated figure for most of the night, either dropping deep looking for the ball or not getting the service he wanted when he did get into the box.
His frustration was evident and perhaps not something the U.S. needed from its second-most experienced player on the pitch.
While it was definitely nice to see Dempsey's trademark fire, his constant anger directed at Graham Zusi, who conversely had the least amount of caps among the starting lineup, certainly didn't help.
When Dempsey did get the service he wanted, he struggled to make anything out of his chances and, uncharacteristically, gave away possession on a number of occasions.
To his credit, Dempsey, as usual, played well with his back to pressure to help link up the U.S. attack and had a beautiful through ball to Herculez Gomez in the 49th minute that Gomez wasted.
Rating - 5.5
Herculez Gomez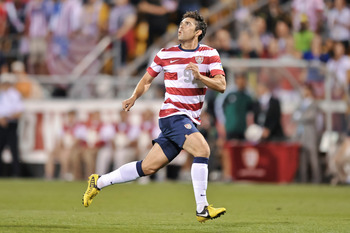 Jamie Sabau/Getty Images
Herculez Gomez had one of his most anonymous USMNT performances ever on Friday night.
He was caught offsides, killing the U.S. attack repeatedly in the first half and was completely invisible for the first 45 minutes.
In the second half, Gomez did a nice job keeping his work rate up and drawing a number of fouls, but he also missed two of the best chances of the game.
In the 49th minute, Dempsey put Gomez through on a great ball, but Gomez took a huge touch and lost the opportunity.
Then, with 20 minutes to go in the match, Gomez found himself in behind on a deflected pass, but again took a very heavy touch and wasted the opportunity.
While the pitch in Antigua certainly played a factor, American fans have come to expect a lot more from Gomez.
Rating - 3.5
Jermaine Jones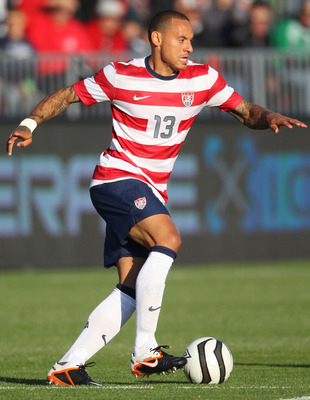 Tom Szczerbowski/Getty Images
To be fair to Jurgen Klinsmann, when Jermaine Jones entered the match, it seemed like a very smart move.
Danny Williams had had an unspectacular game and, while Jones is certainly not an offensive dynamo, he has more attacking chops than Williams.
However, once again Jones showed that he has no control when he plays for the USMNT.
Only six minutes after entering the match, Jones was cautioned for a blatant handball and will now miss Tuesday's match against Guatemala through suspension.
Jones was also lucky not to be sent off after a studs-up challenge in the 75th minute.
Besides his normal nonsense, Jones did not play that well.
Rating - 3.5
Sacha Kljestan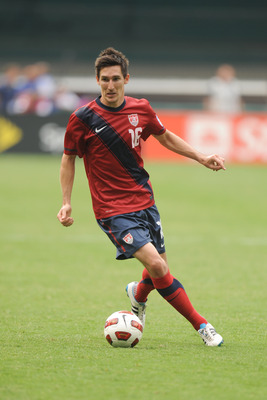 Mitchell Layton/Getty Images
Sacha Kljestan made the most of his limited time in Friday's match after coming on as a substitute for Graham Zusi in the 78th minute.
Kljestan had a nice drive in the 81st minute and had a great service to Michael Bradley on a late corner that could have easily been a goal.
He only played 12 minutes, but he did make an impact on the game in that time.
Rating - 5
Alan Gordon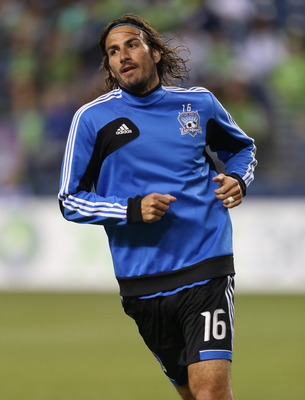 Otto Greule Jr/Getty Images
The biggest surprise on the USMNT roster, Alan Gordon of the San Jose Earthquakes, also picked up his first international cap.
The 30-year-old Gordon came on in the 73rd minute for Herculez Gomez and performed his target role well.
He had a good pass to Bradley for a chance only a minute after entering the game, a nice layoff to Kljestan wide and another one to Dempsey just a couple of minutes later.
Gordon also provided the service on the game-winning goal.
Rating - 5.5
Follow me on Twitter @AmerTouchline
Keep Reading

United States (National Football): Like this team?