Reus Can Exceed Oezil & Other Things to Take from Germany's Drubbing of Ireland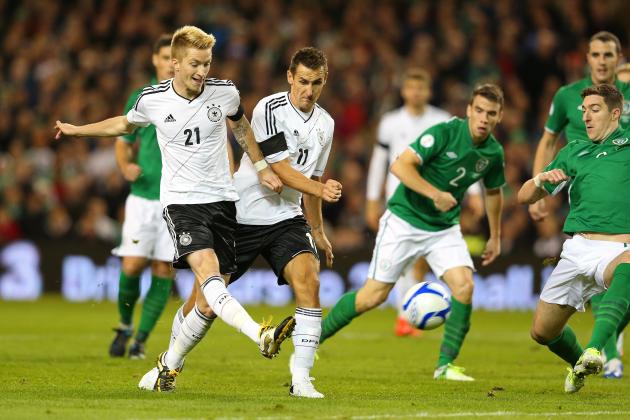 Alex Livesey/Getty Images

After two unconvincing wins against the Faroe Islands and Austria, Germany kicked their World Cup Qualifying campaign into top gear on Friday as they hammered Ireland in Dublin.
Marco Reus had a first half brace, substitute Toni Kroos added two more after the halftime break and Mesut Özil and Miroslav Klose both hit the target for the Germans.
Andy Keogh scored for the hosts at the death, but it was little consolation for Ireland.
The result was equally emphatic for both sides, and coaches Joachim Löw and Giovanni Trapattoni will have plenty to think about in the coming days.
Read on for more on the lessons to be taken from Friday's match.
Begin Slideshow

»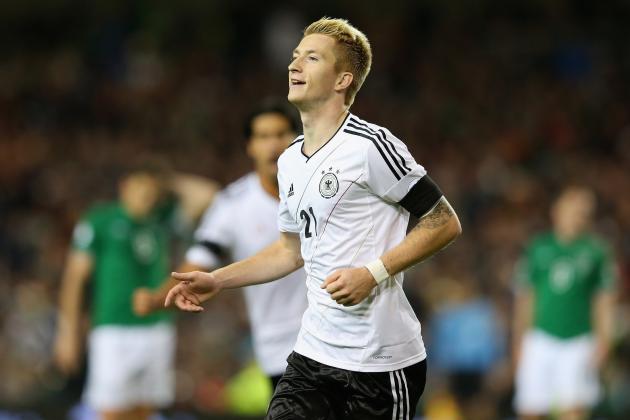 Alex Livesey/Getty Images
marco reus
Ever since he became a first-team regular in the in 2009, Mesut Özil has been Germany's undisputed danger-man in attack.
With unparalleled grace and immaculate technique, he has long been the man to create play in the final third.
Although he may well be the best creative passer in the world, Özil is a limited footballer. He lacks strength and quickness, has a weak right foot and rarely scores.
Marco Reus, on the other hand, is a complete package.
His technique and passing, though not at Özil's level, are both far more than adequate. His pace, aggression and finishing—with both feet—are exceptional. And he put on a clinic in the first half of Friday's match.
Germany struggled to break down Ireland's defense for much of the opening half hour, but Reus persevered, even in seemingly hopeless situations. And one ostensibly lost cause should have won him a penalty as he chased down John O'Shea, nicked the ball away and was pulled down, only to be booked for a dive.
Reus responded in the best possible way when he struck an unstoppable finish into the roof of the net just moments later.
Five minutes before halftime, he hammered home his second, this time with his weaker, left foot, and Germany entered the break with a significant lead.
Özil went on to have a strong second half, but only after Reus opened the door.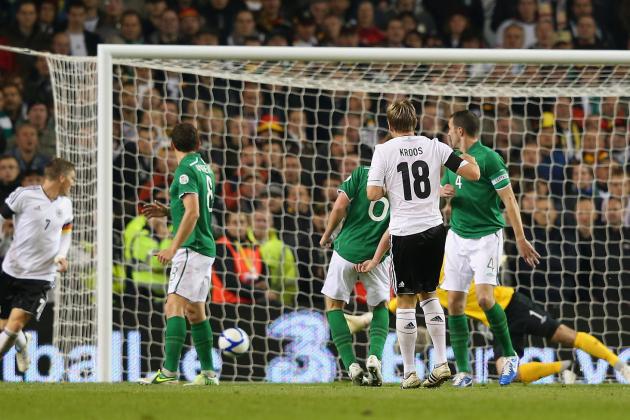 Alex Livesey/Getty Images

The end of May and the month of June marked a troubling time in Toni Kroos' career.
The 22-year-old had a tremendous season at Bayern Munich only for his side to finish runners up in three competitions. After having his penalty saved in the Champions League semifinal, he refused to take a spot kick in the final, which was eventually won by Chelsea.
At Euro 2012, Loew preferred an unfit Bastian Schweinsteiger over Kroos, who was always the first on the team bus. His woeful performance in Germany's semifinal loss to Italy was clear evidence that Kroos' perpetual sulking took the edge off his typical sharpness.
To his credit, Kroos has turned over a new leaf in 2012-13.
His performance for Bayern has been exemplary, and on Friday he came off the bench to score two outstanding goals: one a volley with his left foot, the other a drive with his right. Few footballers in the world have technique that can compare with that which Kroos possesses in his weaker foot.
The youngster's ambidexterity is truly rare. If he keeps up his form and maintains a positive attitude, he just might usurp Sami Khedira's spot in the German midfield.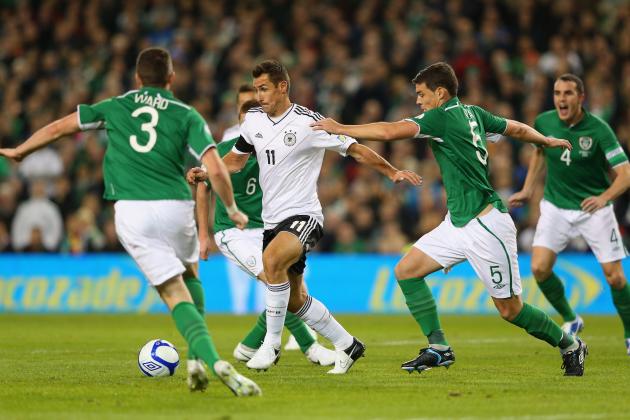 Alex Livesey/Getty Images

Miroslav Klose celebrated his 125th cap in style on Friday as he scored his 65th goal for Germany.
His inch-perfect finish from a tight angle was a moment of pure class, but came on the backdrop of an otherwise lackluster performance. Before being withdrawn in the 72nd minute, the veteran was largely absent as his teammates were faster, sharper and ran rampant.
While Klose's form with Lazio has been impressive this season, he has largely struggled for Germany, where the physical demands are much greater.
In his advanced age, the 34-year-old has proven himself capable of lasting about 75 minutes at international level. This figure will only decrease in the next 20 months, as will his quickness and general ability to perform at the highest level.
On the other hand, Klose proved on Friday that he still has what it takes to find the target in a Germany shirt.
He will in time be relegated to the bench, but his experience in the dressing room will be a tremendous asset in Brazil. Even at 36, it would be foolish to bet against him coming up with a key goal should he be called upon.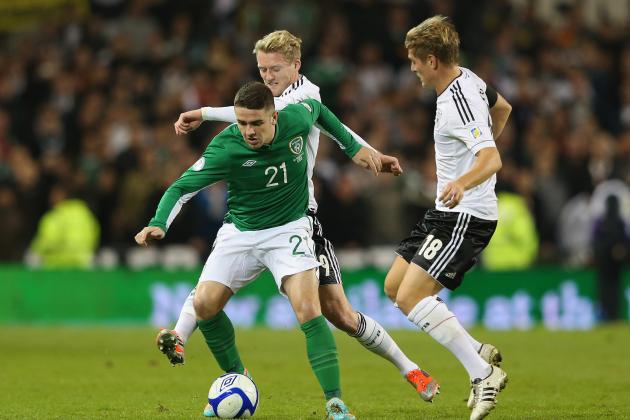 Alex Livesey/Getty Images

Germany absolutely dominated the Ireland match.
The 0-6 scoreline that should have been is very different from the 1-6 they earned, however, especially for a Mannschaft that had conceded in all but one out of the previous seven games.
In attack, Germany never really let up—even late in the game, they pressed for more goals.
Yet, in the last few minutes, Löw's side seemed to shut down in defense. After a failed counterattack, the forward players refused to press. Andy Keogh's close call should have been a warning sign.
It wasn't.
Moments after his shot was parried for a corner, the substitute had a free header in the six-yard box.
Goal.
The entire disinterest in defending that Germany showed towards the end of the Ireland game did not cost them, but was nonetheless a wasted opportunity for practice. In recent years, German teams have been especially susceptible to set pieces, and as such, even in a game that is finished as a competition, no play should go without defending.
The Germans need to defend every corner with the same sharpness and dedication they would show on a breakaway. If not, they will continue to concede unnecessary goals.
And one day, it will matter.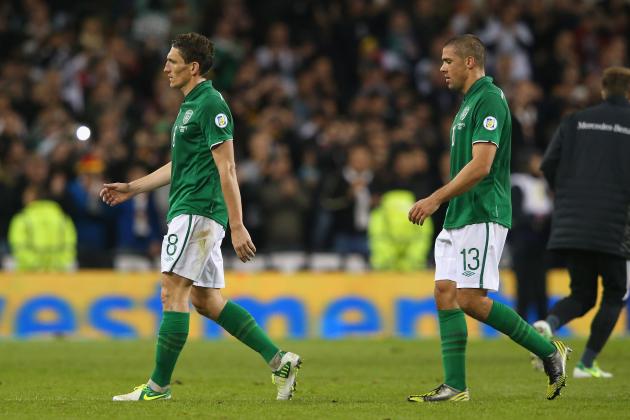 Alex Livesey/Getty Images

Ireland were always underdogs against Germany, even at home.
Instead of containing the consequences of their performance to one match, the hosts did everything they could to make the impact resonate to later matches.
The first and perhaps most obvious example is O'Shea's decision to hold Reus back after losing possession. It was not a play on the ball, it was inside the penalty area, and there was no question it denied a clear scoring opportunity. Nine times out of 10, that sequence would have ended in O'Shea being dismissed and suspended, with Germany doubling their advantage from the penalty spot.
The Sunderland man was not punished, but he was very, very lucky.
Darren O'Dea was equally foolish, but less fortunate after the halftime break, as he clattered into Klose from behind, conceding a penalty.
The German striker had his back to goal, was near the edge of the penalty area, and never was going to turn his marker. O'Dea gave the visitors a far better chance to score than they would have had otherwise. It didn't affect the result, but such unnecessary and misdirected aggression in a closer game most certainly would.