Grading the Contracts of All Philadelphia Phillies Players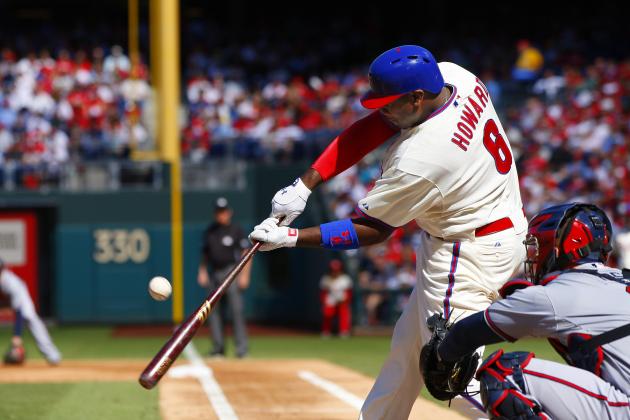 Rich Schultz/Getty Images

The Philadelphia Phillies are preparing for a busy offseason.
After heading into the 2011 season with the highest payroll in the National League, the Phillies got off to a lousy start—thanks in large part to injuries—and found themselves shedding salary at the trade deadline.
The club couldn't finish off an impressive comeback late in the season and instead faded into obscurity in the campaign's final weeks, leaving fans calling for changes this winter.
Phillies general manager Ruben Amaro Jr. will be making some changes this winter, but maybe not as many as people would like. He just doesn't have room under the luxury tax threshold for that.
Sure, he could upgrade in center field by landing a big-ticket free agent. Maybe he could spend big bucks on a power bat. The bullpen was an area that crumbled last season, and the relievers that are out there could probably benefit from an experienced arm. And don't forget about the third base situation.
But if the Phillies make any of those moves, we are looking at an "either-or" type of deal. The Phillies could make a bunch of small changes or they could make one big change. They probably don't have much money to spend.
A quick look at the contracts already on the books for 2013 could shed some light on the reason why.
Begin Slideshow

»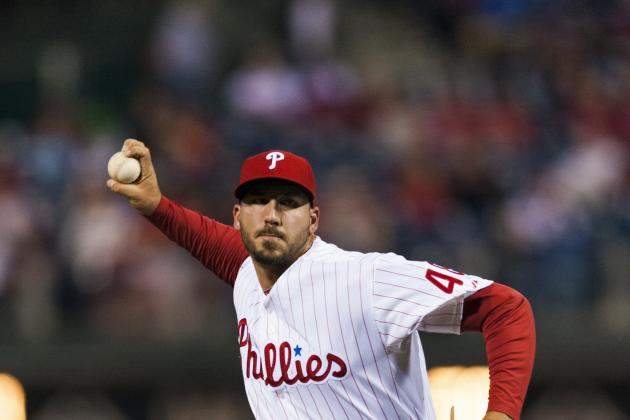 Howard Smith-US PRESSWIRE

Contract Status: Pre-arbitration
Grade: N/A
I thought about giving every player who is in their pre-arbitration stage an "A+" for a grade, but then again, that would be kind of anti-climatic, would it not?
These players haven't agreed to a contract. They are obliged to compete for a rate set by the club as they do not have enough service time to say otherwise. It's a great deal, but not worthy of a grade.
Instead, we'll just talk about what makes players valuable at this price.
For Phillippe Aumont, it's the upside. He's a hulking right-handed reliever with an explosive fastball and a pair of knee-buckling secondary pitches that could realistically secure the Phillies setup role in 2013.
Not a bad deal for a guy making the league minimum.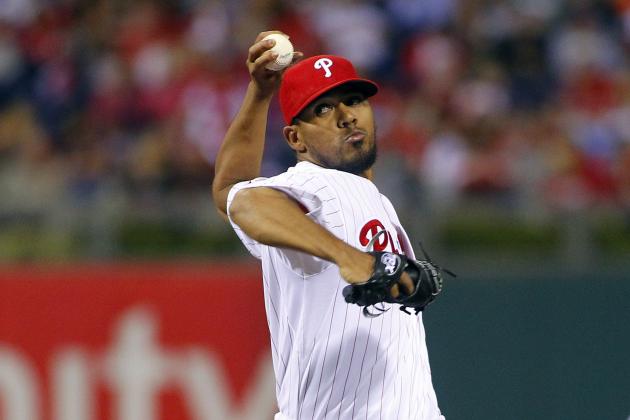 Rich Schultz/Getty Images

Contract Status: Arbitration 1 (estimate: $1.5 million)
Grade: B
Antonio Bastardo is eligible for his first year of arbitration this winter, which means that if the Phillies were so inclined, they would have the option to non-tender him and allow him to become a free agent.
But that won't be happening. Bastardo's arbitration case is an interesting one, but he is a necessary cog in the Phillies bullpen, and they'll be paying him in 2013.
The real question is how much he can earn in arbitration. It is a complicated process that takes a plethora of factors and variables into account and spans more than one season.
While I would use sabermetrics to argue that his 2011 and 2012 seasons were very similar, some of his more "traditional" statistics tell a different story. That will probably be the basis of his argument should the sides actually go to arbitration.
If they avoid arbitration, I think that $1.5 million is probably about the max offer. Even then, I think that is a lot to pay for a relative unknown, though Bastardo was pitching well at the end of the regular season.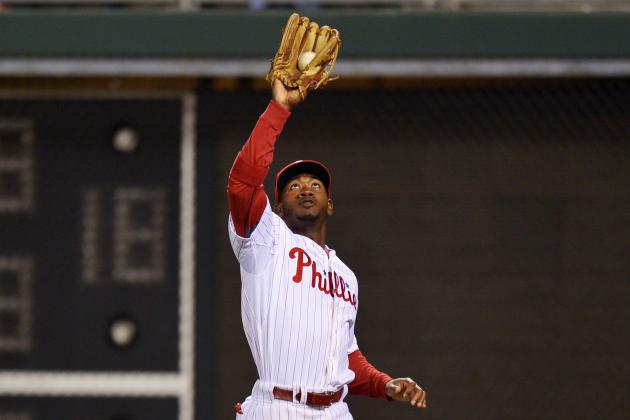 Drew Hallowell/Getty Images

Contract Status: Pre-arbitration
Grade: N/A
Domonic Brown is in a position to become one of the most important players on the Phillies roster moving into the next couple of seasons.
Relatively speaking, he is cheap. The outfielder still is not eligible for arbitration and won't be for a few seasons. In that time, the Phillies are hoping that he can become the difference maker that they expected him to be offensively.
Playing in the MLB is not a simple task, and I think that Brown can still get the job done. He'll be an important piece to the puzzle—especially financially—moving forward.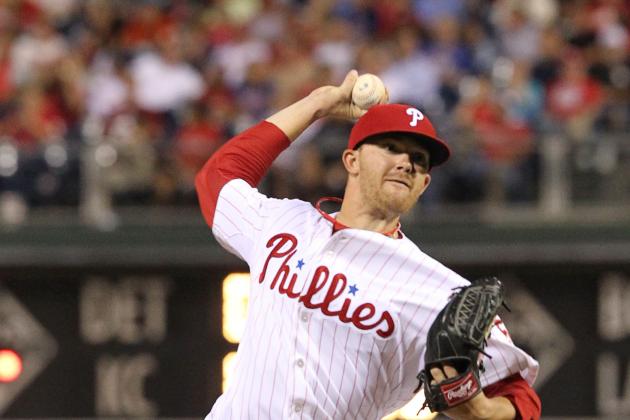 Hunter Martin/Getty Images

Contract Status: Pre-arbitration
Grade: N/A
After his incredible minor league season, people wanted to see what Tyler Cloyd could do in the MLB. He was certainly deserving of a promotion—at least in the month of September—just so we could all see what he can do.
Now we know that he's probably not going to be a capable Major League starter.
Cloyd's fastball barely topped out in the upper 80s, and right-handed pitchers with below average fastballs aren't normally very effective. His cutter was a solid pitch, but his repertoire left something to be desired.
He'll be a nice option to have waiting in Triple-A in the event of an injury, but he shouldn't be anything more.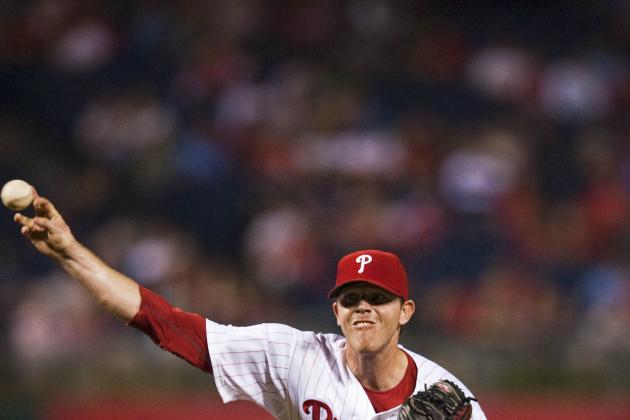 Howard Smith-US PRESSWIRE

Contract Status: Pre-arbitration
Grade: N/A
Justin De Fratus is going to be a big part of the Phillies bullpen next season. That probably would have been the case in 2012 as well had he not suffered an injury during spring training that would force him to miss a big chunk of the regular season.
It was a small sample size, but in his stint with the Phillies this season, De Fratus showed why some scouts believe that he is the best relief prospect the Phillies have.
De Fratus has a good fastball and a solid slider, but the one thing that he does better than most of the Phillies other relief prospects is locate consistently. He'll be a huge part of that young bullpen next season.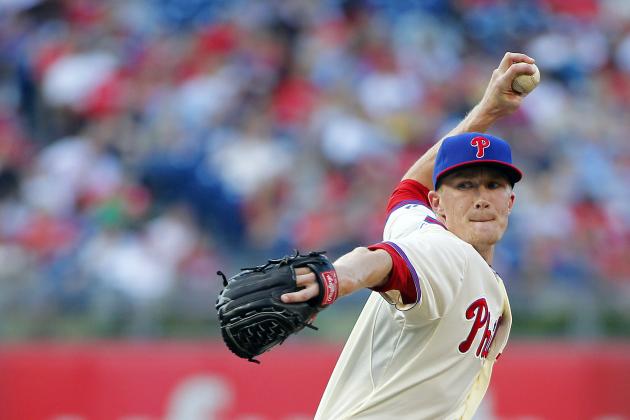 Rich Schultz/Getty Images

Contract Status: Pre-arbitration
Grade: N/A
Jake Diekman won't be guaranteed a spot in the Phillies bullpen coming out of spring training, but he has just as good a chance as anyone in the hunt to walk away with one.
After impressing all of the right people last spring, Diekman got the call to the MLB this season and showed why he can be effective. The guy is all arms and legs and throws a mean fastball. He just can't be comfortable to hit against.
Personally, I think that he has the ability to get both left-handed and right-handed batters out. He may need to tone down his delivery some to help his command, but Diekman is probably going to be a mainstay in the Phillies pen relatively soon.
Rich Schultz/Getty Images

Contract Status: Arbitration 2 (estimate: $900,000)
Grade: B+
Kevin Frandsen is going to be an interesting arbitration case, should the Phillies go that route, and for full disclosure, I'm just taking a shot in the dark at estimating his possible salary.
On one hand, you have a career minor league player who has never really stepped up and played well in a starting role until the 2012 season. On the other, we're talking about a guy who hit .338 during the regular season.
Unless the Phillies find the third base market completely barren and aren't comfortable giving the job to defensive standout Freddy Galvis, they're probably looking at Frandsen as a utility man. This is a club that traded Wilson Valdez for less.
The difference, of course, is that Frandsen has shown he can handle the bat.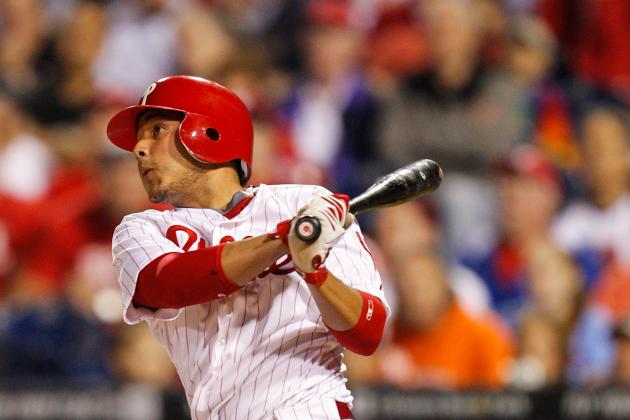 Brian Garfinkel/Getty Images

Contract Status: Pre-arbitration
Grade: N/A
Freddy Galvis is going to be on this team in 2013. The role that he plays will be completely determined by the state of the third base market this offseason.
If the Phillies find a third baseman, Galvis comes into the season as a very good utility man that can play above-average defense at three different infield positions. That's very valuable.
If the Phillies can't find a third baseman outside of the organization, Galvis' supreme defense lands him some kind of platoon role with Kevin Frandsen at third base.
Either way, Galvis is going to help this club in 2013.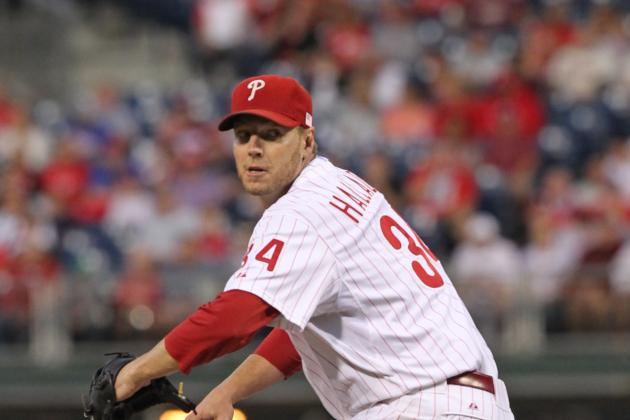 Hunter Martin/Getty Images

Contract Status: One year, $20 million (with 2014 option).
Grade: B-
And all of the sudden, what was once a "team-friendly" discount has to become a cause for concern in the Phillies front office.
No one can deny Roy Halladay's pedigree. He is a two-time Cy Young winner and has thrown two no-hitters, one being a perfect game. He earned every bit of that contract he signed with the Phillies.
But the 2012 season was an eye-opener. People were expecting him to recover the lost velocity on his fastball, and he never did. His command looked very poor at times. He certainly didn't have a year that lived up to the lofty expectations.
If anyone can bounce back and regain his form, it's Halladay. But until then, that $20 million is a steep price to pay—not to mention the vesting option.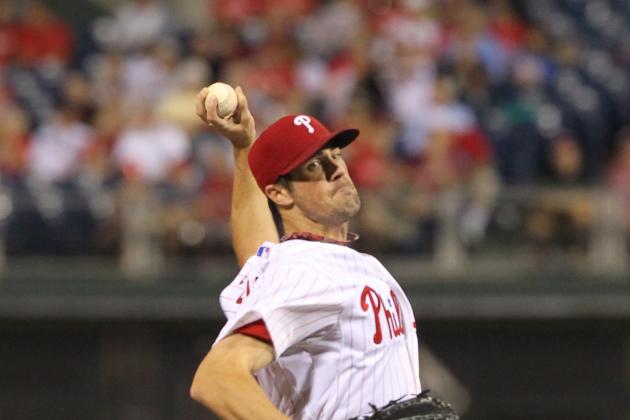 Hunter Martin/Getty Images

Contract Status: Six years, $144 million (with option).
Grade: A
That's a lot of money to tie up in one player, but the Phillies knew the value of Cole Hamels, and I personally believe that he could have gotten more on the open market.
Here we have a 28-year-old, left-handed starting pitcher just entering the prime of his career and by most accounts, if not all, only getting better.
The Phillies are paying him a lot of money, but premium starting pitching is a worthwhile investment in today's game, and Hamels is a premium starting pitcher.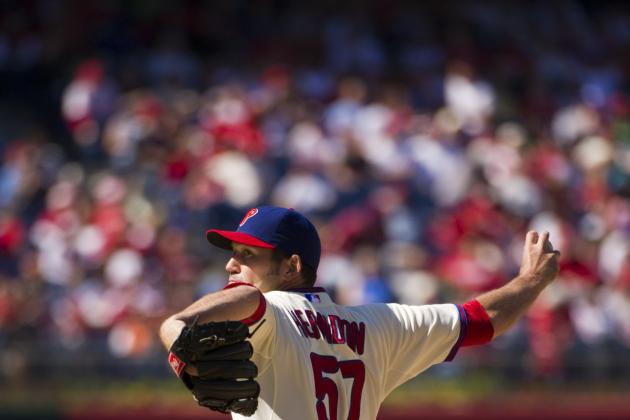 Howard Smith-US PRESSWIRE

Contract Status: Arbitration 1 (estimate: $550,000)
Grade: C
Remember him?
David Herndon got off to a solid start in 2012 before suffering an injury that would eventually require Tommy John surgery. That brought a halt to a campaign that—given the state of the rest of the bullpen—probably would have seen Herndon play a large role.
He won't be ready to start the regular season next year, but Herndon will eventually provide inexpensive depth for the Phillies in a bullpen that hasn't had much success with right-handed pitchers lately.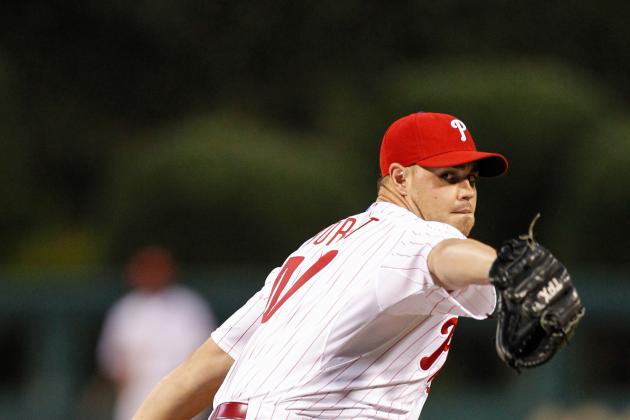 Brian Garfinkel/Getty Images

Contract Status: Pre-arbitration
Grade: N/A
When the Phillies agreed to send Wilson Valdez to the Cincinnati Reds, it wasn't a big deal. Sure, some die-hard fans were sad to see him go, but it was a move about salary relief for the Phillies front office. Valdez just got a little too expensive for their taste.
The Reds sent back a Triple-A left-handed reliever to complete the deal, and that was that.
But that left-handed reliever was Jeremy Horst, and he would have a sensational season for the Phillies. They brought him up to shake up the bullpen, and he did just that, allowing a total of four earned runs.
He probably isn't "guaranteed" a spot for next season, but he is as close as it gets in my opinion.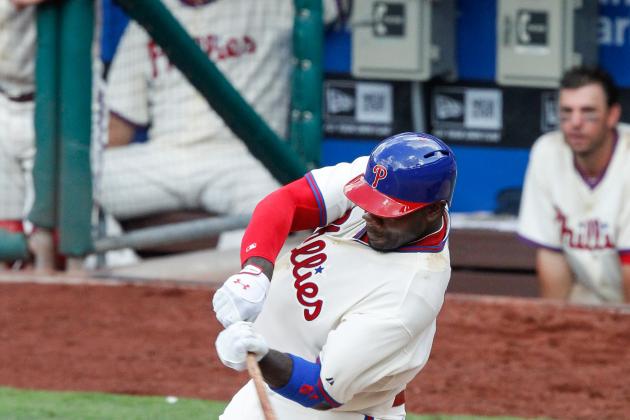 Brian Garfinkel/Getty Images

Contract Status: Four years, $105 million (with option).
Grade: F
This is a terrible contract, and there are no two ways about it. And that doesn't even include the torn Achilles tendon that could have a longstanding effect on his health.
The bottom line is that the Phillies guaranteed far too many years and way too much money to a big-bodied, power-hitting first baseman. Those players just don't age well, and Howard was already showing signs of decline.
Now he is a big-bodied first baseman who strikes out a lot and can't hit lefties. This could be a long contract for the Phillies.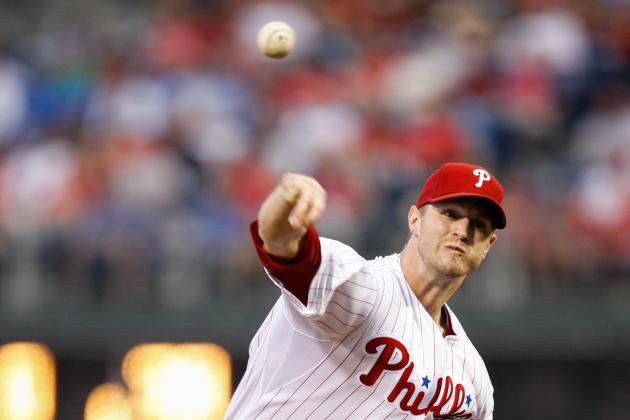 Brian Garfinkel/Getty Images

Contract Status: One year, $4.5 million
Grade: C+
Unless Kyle Kendrick can sustain his second-half success over the course of an entire season (and I have my doubts about that), $4.5 million is a lot of money to pay for this kind of pitching.
Let's not forget that when the Phillies guaranteed this money to Kendrick, he was a long reliever. If he can step into the rotation and be a quality starter, that would alleviate some of the pressure of giving him that kind of money a bit, but he is not even guaranteed a spot in the rotation next year.
I don't see the need to guarantee a player who has a career 4.30 ERA a $4.5 million salary. He also has a year of arbitration remaining for the 2014 season.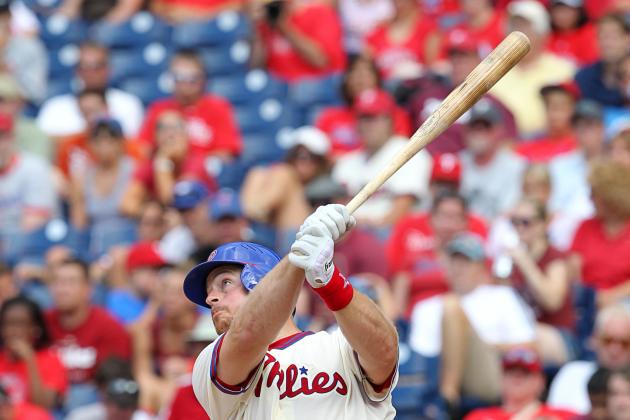 Hunter Martin/Getty Images

Contract Status: Pre-arbitration
Grade: N/A
Erik Kratz could be a bargain for the Phillies next season.
With Brian Schneider now likely out of the picture, Kratz will assume the role of backup catcher. He showed that he could handle that job during the 2012 season and do it well.
He's also a right-handed hitter with a bit of power, so if the Phillies are forced into using their backup catcher as a hitter, it wouldn't be an automatic out.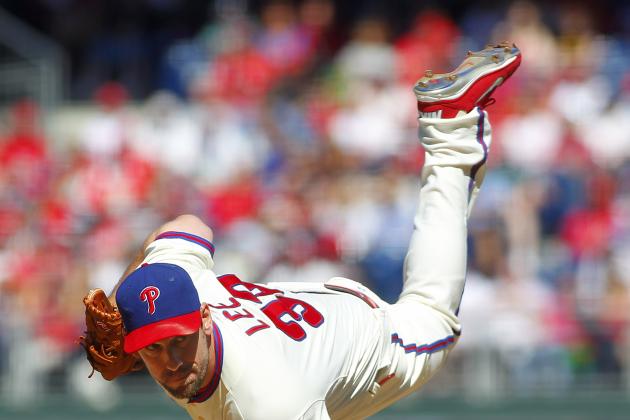 Rich Schultz/Getty Images

Contract Status: Three years, $87.5 million (with option)
Grade: C-
Cliff Lee is an elite pitcher that deserves to be paid like an elite pitcher. I'm not questioning that.
But any time you're paying a pitcher $25 million per season, as the Phillies will do from 2013-15, you're taking a very big risk. Now throw in the fact that Lee is already 34 years old, and the Phillies are probably a little worried about that deal.
Will the Phillies try and move Lee? Who knows. Right now, the fact is that the Phillies are paying an elite pitcher a huge amount of money.
It's just not a good deal, in my opinion.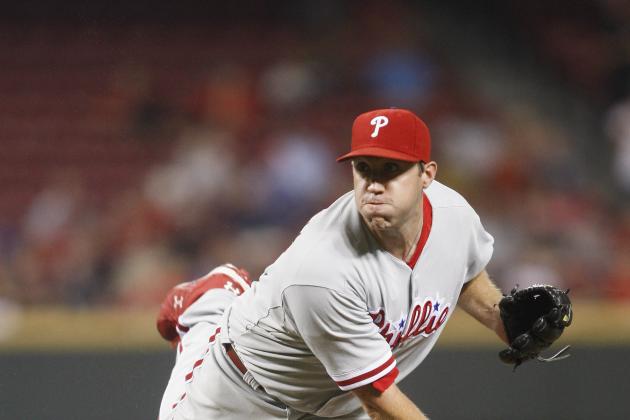 John Grieshop/Getty Images

Contract Status: Pre-arbitration
Grade: N/A
Josh Lindblom didn't live up to the Phillies' expectations after they acquired him.
He came over in the deal that sent Shane Victorino to the Los Angeles Dodgers, and the expectation was that he would be able to take over as the right-handed setup man—a role he had pitched in with the Dodgers.
But not so fast. Lindblom was shelled early in his Phillies tenure, and though he straightened out a bit as the season progressed, it wasn't enough to break even. Guys like Phillippe Aumont and Justin De Fratus eventually leapfrogged over him.
The Phillies are going to call on Lindblom again in 2013, but I suspect the leash will be short.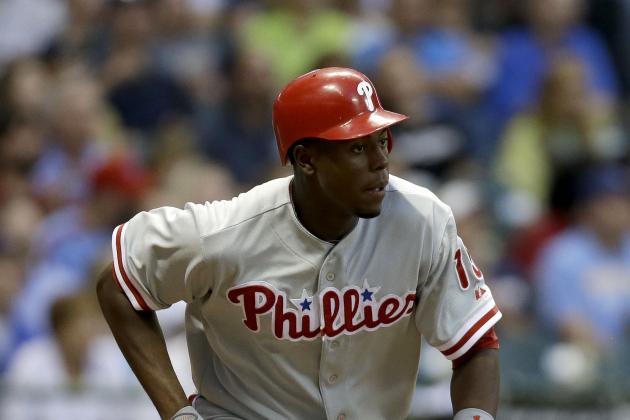 Mike McGinnis/Getty Images

Contract Status: Pre-arbitration
Grade: N/A
Even at 28 years old, you can't help but wonder if there is still some hidden reservoir of talent that John Mayberry Jr. hasn't tapped in to.
The Phillies have given him every chance to become an everyday player over the last couple of season, but that plan seems to have run its course.
In 2013, Mayberry will either serve as the right-handed half of a platoon in the outfield or a solid right-handed bat off of the bench. Nothing more.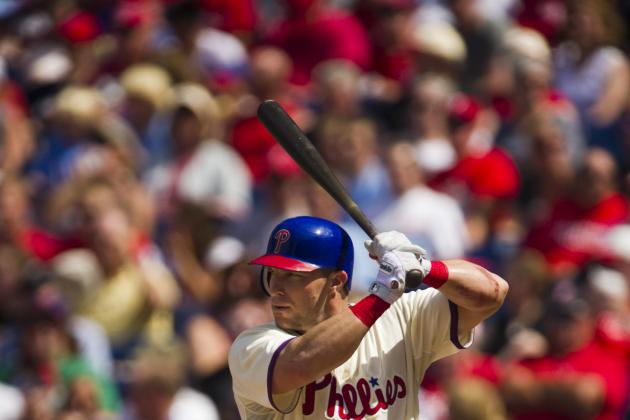 Howard Smith-US PRESSWIRE

Contract Status: One year, $1.35 million
Grade: C
Having Laynce Nix on a one-year deal isn't the worst thing that could happen to the Phillies, especially when you consider the fact that a pretty severe calf injury may have sapped the life out of his bat last season.
The Phillies brought him aboard prior to the 2012 season to provide some left-handed pop off of the bench, and that will be his job in 2013 as well.
It will be interesting to see if Nix can pick up the pace offensively, but even if he can't, he is relatively cheap in '13, and his contract won't hurt the Phillies.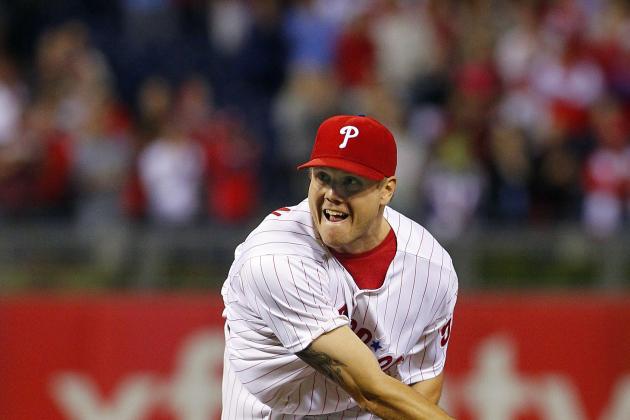 Rich Schultz/Getty Images

Contract Status: Three years, $39 million (with option)
Grade: D+
That's a ton of money to be tied up into a reliever.
I understand that the Phillies have a strong need for some consistency in the ninth inning and that if anyone can get the job done, it is Jonathan Papelbon. But when you look at the state of this club's payroll, you have to wonder if tying up so much money in the closer will kill them in the long term.
With guys like Phillippe Aumont and Justin De Fratus on the way, the Phillies have some upside. I think that Papelbon was the right guy for this club at the right time, but at the wrong price.
Great reliever. Terrible contract.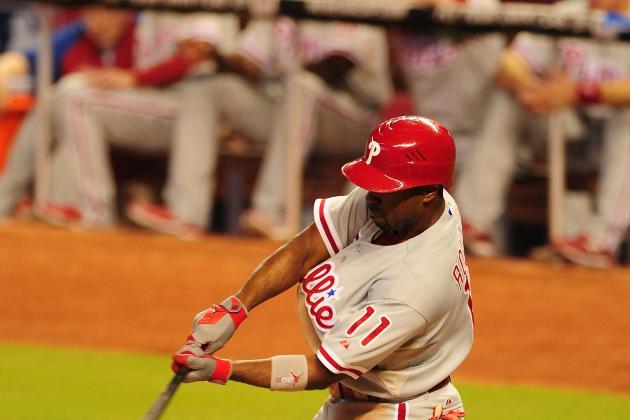 Jason Arnold/Getty Images

Contract Status: Two years, $22 million (with option)
Grade: B+
Say what you will about Jimmy Rollins, but having a shortstop of his caliber on a guaranteed two-year deal isn't a terrible thing.
The Phillies re-signed their longtime shortstop and leader to a three-year deal last winter with an option that vests rather easily for a fourth season last winter.
He would have an interesting season at the plate. Rollins hit for plenty of power, but that was overshadowed by Charlie Manuel's stubborn managerial style as Rollins did not profile as much of a leadoff hitter.
Regardless, there is plenty of value in an elite defensive shortstop with average offensive production, and Rollins leaves you some room for a little upside at the plate.
Some people hate this contract. I don't.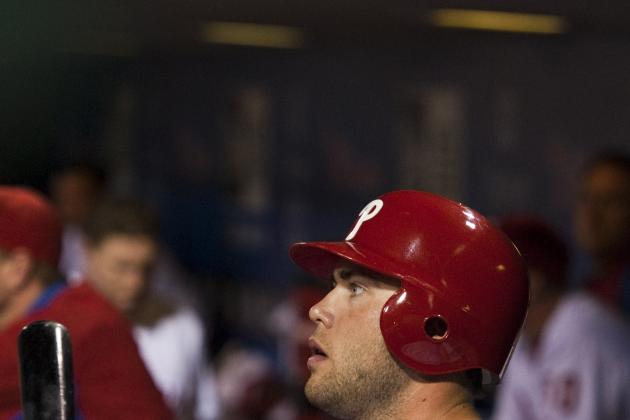 Howard Smith-US PRESSWIRE

Contract Status: Pre-arbitration
Grade: N/A
There are going to be a lot of eyes on Darin Ruf as he plays winter ball.
The Phillies would really like to see him work hard this offseason to condition himself to play left field every day at the MLB level, but that might be a bit too much to ask.
We know that the guy can hit minor league pitching. Can he hit MLB pitching? That is what we still need to find out. He showed that he can handle a Major League fastball in his brief MLB stint last season, but what about the secondary offerings?
There are still a lot of question marks surrounding Ruf, but it wouldn't surprise me in the least bit to see him come into camp and beat out John Mayberry Jr. for a platoon job—at the least. He just has more upside offensively.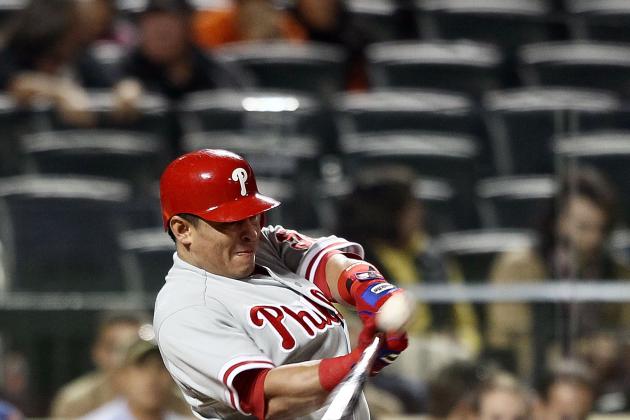 Alex Trautwig/Getty Images

Contract Status: One year, $5 million
Grade: A+
This is a steal for the Phillies.
Watching the development of Carlos Ruiz over the last couple of seasons has been a blast. He's gone from a good defender with no bat to one of the best defenders in all of baseball and an excellent hitter to boot.
He was easily the Phillies MVP last season, and though there is plenty of reason to believe that he'll regress back to a more average hitter next season, there is no denying that he made obvious strides at the plate.
Part of me wonders if the Phillies will sign him to a contract extension before the season starts.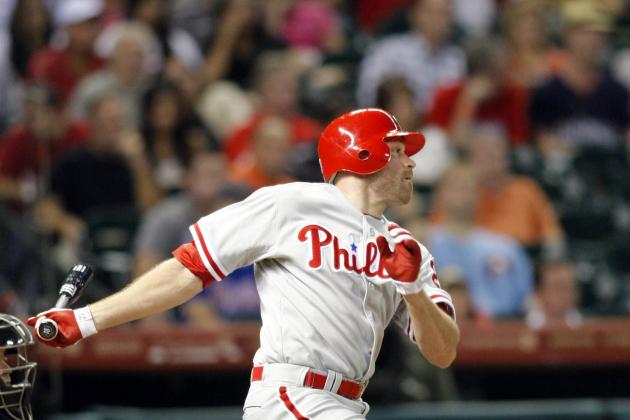 Brett Davis-US PRESSWIRE

Contract Status: Arbitration 2 (estimate: $2.5 to 3.5 million)
Grade: C-
Nate Schierholtz is an interesting guy, and I really don't think his job with the Phillies is as safe as people make it out to be.
The most he is going to play with the Phillies is as the left-handed part of a corner outfield platoon, and we already know that this is a Plan B. He handled right-handed pitching well last season but struggled against lefties.
If the Phillies fill their corner outfield spots, Schierholtz is a bench player. He is a so-so defender that can't hit left-handed pitching. The Phillies already have that kind of player under contract in Laynce Nix.
And then come the questions. What happens if Darin Ruf wins a job? Is there room for John Mayberry Jr., Nix and Schierholtz on the bench? What do the Phillies do in free agency? On the trade market?
It wouldn't surprise me in the least bit to see Schierholtz traded or non-tendered.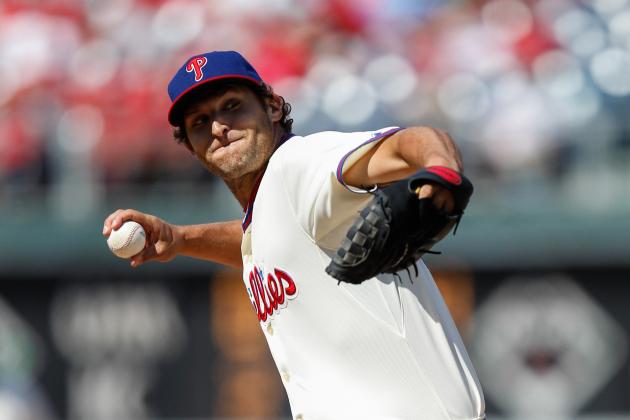 Brian Garfinkel/Getty Images

Contract Status: Pre-arbitration
Grade: N/A
Michael Schwimer and the Phillies didn't seem to end the season on the same page. But by all accounts, that quarrel has been rectified, and the right-handed reliever will be ready to go in spring training.
But can he win a spot?
With Schwimer struggling during the regular season and guys like Phillippe Aumont and Justin De Fratus having jumped over him as the season progressed, Schwimer has his work cut out for him.
It wouldn't surprise me to see him start the year in Triple-A.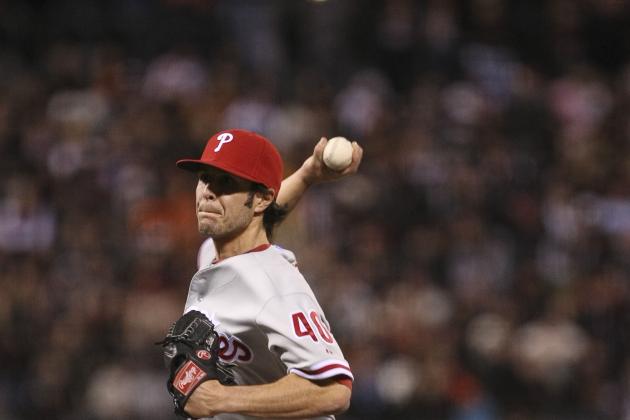 Kelley L Cox-US PRESSWIRE

Contract Status: Pre-arbitration
Grade: N/A
After missing nearly the entire regular season with a shoulder injury, Mike Stutes is expected to be ready for spring training and should help the Phillies bullpen quite a bit.
He stepped up in a big way during the 2010 season, and people had high expectations for his sophomore campaign, but the injury never allowed him to get the train rolling.
Right-handed relievers really struggled for the Phillies last season, and though he is no veteran by any means, Stutes could really help out in 2013.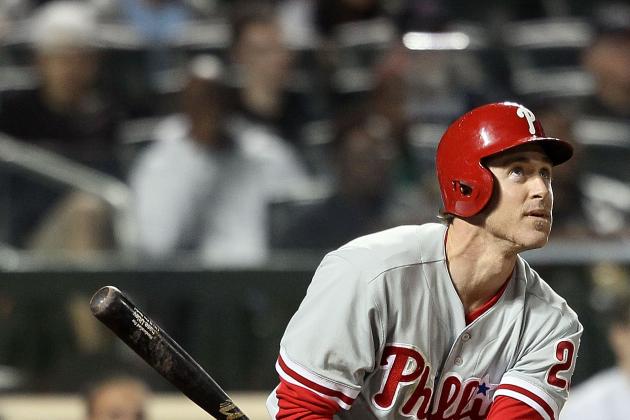 Alex Trautwig/Getty Images

Contract Status: One year, $15 million
Grade: B+
Given all of the attention that Chase Utley's knees have been getting over the last couple of seasons, the fact that his contract is about to expire following the 2013 campaign hasn't been talked about all that much.
The Phillies will have an interesting decision to make. Can they trust Utley's knees enough to extend his contract? Do they wait until after the '13 season? Do they hand the reigns over to the light-hitting Freddy Galvis?
There are a lot of questions and not enough answers. The only thing that we can say for certain is that Utley is not going to hurt you on what is now a one-year deal, but I personally would be surprised if Utley reached free agency next winter.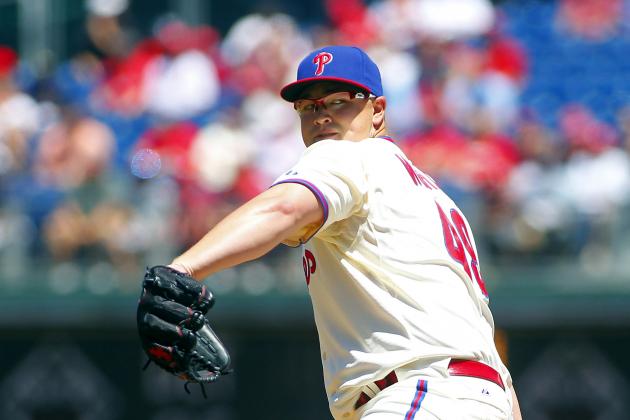 Rich Schultz/Getty Images

Contract Status: Pre-arbitration
Grade: N/A
It was a disappointing season for the Phillies as a whole, but a few players had individually disappointing seasons for a number of different reasons. Among them is Vance Worley.
Worley was dealt a tough blow early in the season when he learned that he had a bone chip in his right elbow. At that point, there are two options: Pitch through the injury or undergo surgery.
Early in the season, Worley and the Phillies chose the former because he felt as though he could pitch through it. And he could. He just couldn't pitch well.
Worley was missing the noticeable "bite" and movement on his pitches that we have become accustomed to, and he is not the type of player that is going to blow hitters away.
With the Phillies out of the race, Worley had the surgery to remove the bone chips before the regular season ended and will have what the Phillies described as a "normal" offseason—which is to say that he'll be on his regular regiment.
I think you can expect Worley to have a solid bounce-back campaign in 2013.