UFC 153: Demian Maia vs. Rick Story, Head to Toe Breakdown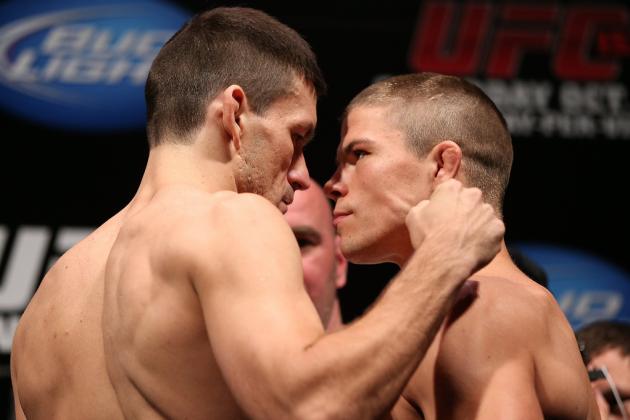 Photo by Josh Hedges/Zuffa LLC/Zuffa LLC via Getty Images
Demian Maia (16-4) and Rick Story (14-5) meet in the opening bout of the UFC 153 pay-per-view telecast.
The two talented welterweights meet in a bout where the winner will certainly be talked about in the rankings.
The fight will be Maia's second in the welterweight division. His first was a quick affair with Dong Hyun Kim that resulted in a TKO victory due to an injury.
Story returns to the Octagon after defeating Brock Jardine via decision at UFC on FX: Maynard vs. Guida.
The fight offers an intriguing stylistic match-up: Story's power and wrestling versus Maia's technique and jiu-jitsu.
This is how the two welterweights stack up against each other:
Begin Slideshow

»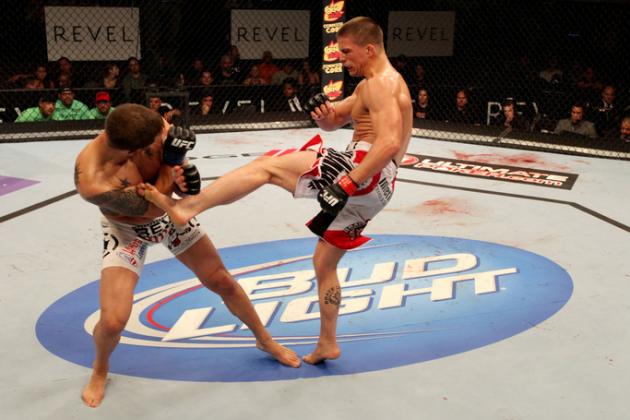 Photo by Nick Laham/Zuffa LLC/Zuffa LLC
Story has a solid stand-up game and a lot of power, but for all of that, he only has one TKO finish in his UFC career.
His counterpart Maia has steadily improved his striking over the years and has went from atrocious to competent on the feet.
For all of Maia's improvements, he still is not a striker, but Story is not light years ahead of him. What truly separates them standing is Story's power. At any time, he could clip Maia and end the fight. If the fight turns out to be contested on the feet, don't expect for anyone to put on a clinic.
Story's power gives him the edge standing.
Edge:
Story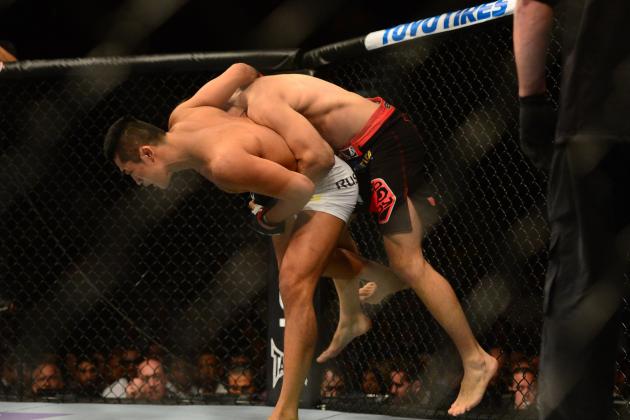 Mark J. Rebilas-US PRESSWIRE

The grappling exchanges between Maia and Story will be fascinating to watch.
Without question, Story has the advantage in the wrestling department, but will he want to take Maia down?
Conventional wisdom says that is not a smart decision.
Maia possesses an underrated takedown game. When on the outside, he is virtually useless; when the fight is clinched, he can take down most in the world. He is deceptive from that position. In his last bout, he ended the fight on a takedown of Kim, who is a black belt in Judo.
The way their styles match up it may make Story's wrestling a non-factor.
Why take the fight where Maia wants it? And no one should underestimate Maia's ability to take the fight to the ground if he gets close enough to Story.
Edge:
Maia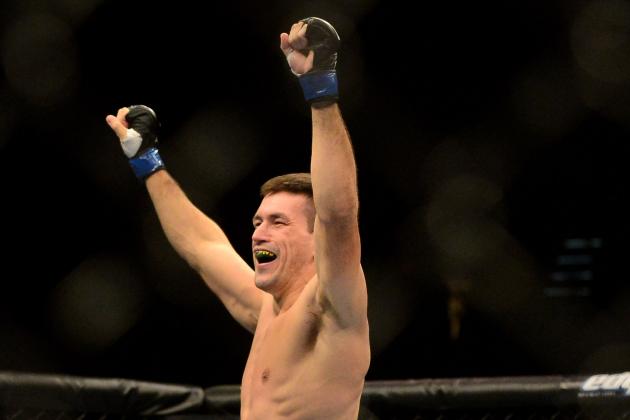 Mark J. Rebilas-US PRESSWIRE

If there is one category that is solidly in the hands of one fighter, it is this one. Maia is a world class submission artist.
Maia's submission acumen is off the charts, and puts Story in a lot of danger should he try to take him to the mat.
Story has never faced someone of this caliber on the mat.
Should the fight make it down to the canvas, then Story is in a lot of trouble. Maia can exploit any small opportunity to get the finish. We have seen it before.
Story must avoid being on the mat against Maia.
Edge:
Maia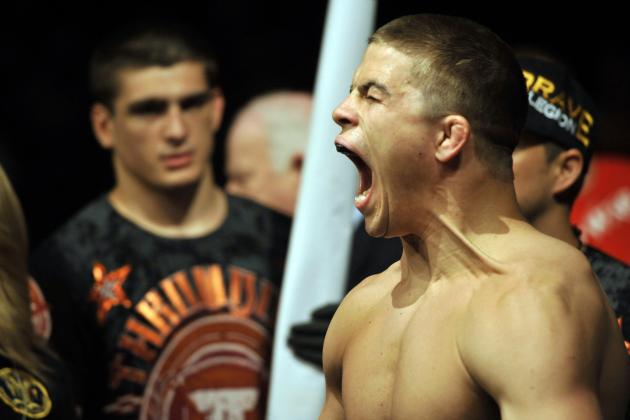 Joe Camporeale-US PRESSWIRE

Maia: Getting the fight to the ground
If Story chooses to keep the fight standing, then Maia will be forced to try and take the fight to the mat. He has the abilities to get it there, but Story is a powerful welterweight.
Maia does not have the wrestling ability to shoot in and take it down. He has to get close, clinch and take it from there. It will be a battle for positioning against the fence that Maia must win.
Story: Surviving on the canvas
Story's X-factor is simple, survive on the ground. Maia is head and shoulders above him on the mat—his prowess is well documented. Should the fight go there, albeit via a Story takedown or otherwise, he needs to avoid being submitted.
If Story cannot avoid hitting the ground against Maia, he will need to find a way out of danger and get back to his feet.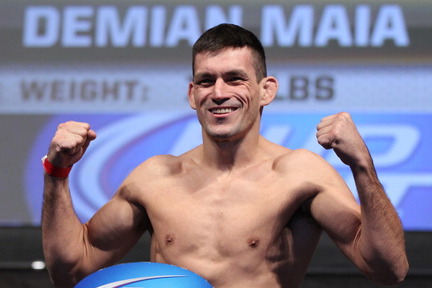 Photo by Josh Hedges/Zuffa LLC/Zuffa LLC via Getty Images
With all his power and strength, I do not see Story keeping this fight on its feet for 15 minutes. That is, unless Maia continues to think he is a kickboxer.
At some point in these three rounds it will hit the mat, and there it will end. Maia is simply too good in there.
When the fight goes down, watch for Maia to showcase his superior skills and submit Story. He will make a victory over a tough competitor look easy by way of his world class jiu-jitsu.
Prediction:
Maia defeats Story via submission in the second round.