Portland Trail Blazers: Complete Preview, Predictions and Storylines for 2012-13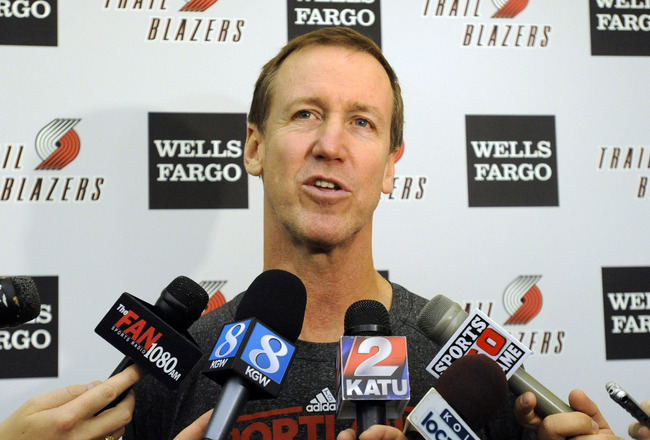 Steve Dykes-US PRESSWIRE
The Portland Trail Blazers are coming off one of the most surprisingly disappointing seasons in franchise history, and while there is certainly going to be a learning curve for such a new team, 2013 should mark the beginning of a new era in Rip City basketball.
The days of Brandon Roy and Nate McMillan are long gone. Terry Stotts is set to take over, and with an All-Star in LaMarcus Aldridge, a potential second option in Nicolas Batum and a Rookie of the Year candidate in Damian Lillard, the newly hired head coach has a few weapons at his disposal in his early days with the team.
Stotts may not have the track record of a winning head coach, but he brings with him championship experience from the Dallas Mavericks.
This team needs guidance during the beginning stages of their current rebuild, and with the right personnel in place they should be ready to get back on track in 2013.
Key Roster Arrivals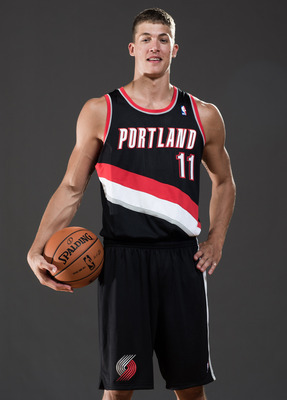 Nick Laham/Getty Images
Damian Lillard (Draft)
Meyers Leonard (Draft)
Will Barton Draft (Draft)
Joel Freeland (Overseas Acquisition, 2006 Draft)
If the key arrivals are any indication, the Portland Trail Blazers are going to be a young squad come 2013.
The team's newest Point Guard of the Future, Damian Lillard, will be expected to help lead the team from day one, and while Meyers Leonard will be given breathing room off the bench, how well these two play will have a big say in where the team's ceiling is set.
A player who has flown under the radar a bit since arriving in Portland is Will Barton. The former Memphis Tiger slipped in the draft, and he could prove to be a steal if he pans out.
Joel Freeland is a player who most casual fans have never heard of, but the Englishman will give the Blazers a much-needed presence inside if his rebounding skills translate to the NBA game.
The team has added other potential players to the rotation, such as Adam Morrison, Victor Claver and Jared Jeffries, but until we see more out of them, they're not yet considered integral parts of this new Blazers core.
Key Roster Losses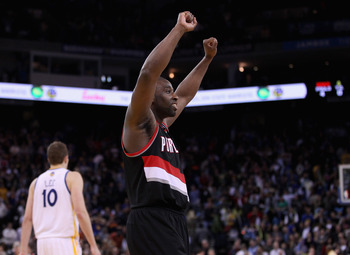 Ezra Shaw/Getty Images
Gerald Wallace (Trade)
Marcus Camby (Trade)
Greg Oden (Released)
Raymond Felton (Trade)
Joel Przybilla (Free Agency)
The Portland Trail Blazers went from bad to worse at the 2012 trade deadline.
Most of the names on this list have been gone for quite some time, but they were all on the roster to start the 2012 season. This team is clearly going through a transition, as evident by the massive amount of change that has taken place over the last year.
Although Joel Przybilla may be the smallest name on the list, his impact was felt throughout his entire time in Portland. His defense on the low block is going to be hugely missed, and the toughness he brought night-in and night-out will be impossible to duplicate.
The departure that people will have no problem with whatsoever is Raymond Felton. The 28-year-old point guard was downright awful for most of his 2012 campaign, and bringing in Damian Lillard is a breath of fresh air for fans at the Rose Garden.
The team has yet to replace all of these big names, but with the newest additions coming in, maybe it's not a matter of replacement as much as it's about creating a new sense of camaraderie.
Projected Starting Lineup and Depth Chart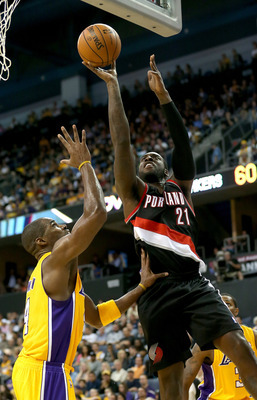 Stephen Dunn/Getty Images
Damian Lillard, PG
Wesley Matthews, SG
Nicolas Batum, SF
LaMarcus Aldridge, PF
J.J. Hickson, C
The only big surprise on this list should come with the insertion of J.J. Hickson into the starting center spot. When the team drafted Meyers Leonard with the 11th overall pick, he was essentially being brought in to replace the recently departed Marcus Camby and Greg Oden.
Leonard has a chance to earn a spot as the year progresses, but for now, he'll come off the bench and provide minutes behind the more experienced player.
The other new starter comes in the form of rookie point guard Damian Lillard. When the team drafted the 6'3" guard with the sixth overall pick, everybody knew that he would be the starter from day one.
LaMarcus Aldridge will lead this team, Wesley Matthews will try to bounce back from a bit of an off year and Nicolas Batum will try to prove that he is worth every penny of his massive contract.
Off the bench this team is a bit shallow, but with a ton of energy and decent shooting they should make their presence felt when giving the starters much-needed rest.
Strengths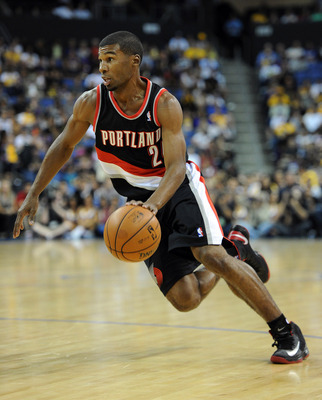 Jayne Kamin-Oncea-US PRESSWIRE
The Trail Blazers' strengths are going to be evident when they get out and execute the up-tempo offense that Nate McMillan never let them run.
Throughout the preseason we've seen the Blazers new run-and-gun style, and quite frankly, it's looked quite good. As expected, there have been moments that make you cringe and wonder just how successful this style will be, but remembering that there's an adjustment period is important while maintaining expectations.
This team has fresh legs, they're in shape and there's no reason they can't get out and challenge defenses to simply keep up.
The other strength, of course, is going to be when they run through LaMarcus Aldridge. The 6'11" forward is more than capable of running alongside the team's guards, but when the up-tempo mentality breaks down and the team is forced into the half court, Aldridge will be their go-to option.
The 27-year-old was an All-Star for the first time last season, and if he can stay healthy and remain consistent, he'll be the true anchor on such an inexperienced Portland squad.
Weaknesses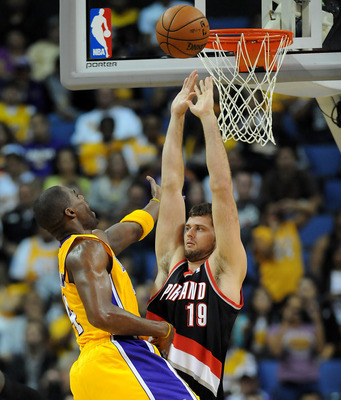 Jayne Kamin-Oncea-US PRESSWIRE
Following the rebuild of the mid-2000s, the Portland Trail Blazers were touted for their incredible depth year-in and year-out. Unfortunately for the team, this is a new rebuilding process, and the depth of the rotation isn't nearly what it once was.
The 2012-13 season is going to be all about how much of the load the starters can carry. With so many rookies and young players, the team's veteran presence off the bench becomes a modest compilation of Ronnie Price, Sasha Pavlovic and Jared Jeffries.
A youthful starting lineup is great for teams that have experience and leadership coming off the bench, but the Blazers aren't fortunate enough to have that comfort in 2013.
One major area where the team lacks depth—yet again—is the big-man position. Meyers Leonard will undoubtedly be the backup center, and Joel Freeland will likely spend time at the 4 and 5, but after that, where does this team turn?
The Blazers have been about as unlucky as it gets when it comes to health, and if a big man goes down at any point this season, they're going to wish they spent more time finding depth down low than stockpiling underwhelming perimeter players.
Storylines to Watch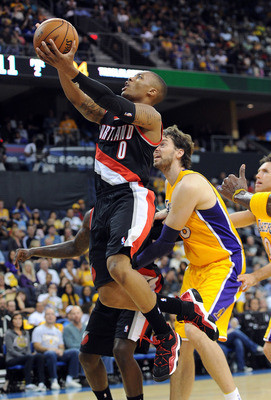 Jayne Kamin-Oncea-US PRESSWIRE
The Trail Blazers are running a drastically new offense in 2013, and how well they adjust will help shape how far they're able to go in a tough Western Conference.
Luckily for the team, so many new players should equate to less of a transition from Nate McMillan's slow-it-down, isolation style. Running shouldn't be a problem for such a young team, and as long as their chaos on the court remains organized, they should give teams headaches if they can put it all together.
When it comes to individual performances, the No. 1 narrative to watch out for is Damian Lillard's rookie season.
Lillard enters the league with the keys in his hand. He fits the team's new style, he's a Rookie of the Year candidate and if what we've seen so far stays true, he can get his teammates involved while also taking the pressure to score off of LaMarcus Aldridge.
That being said, the questions surrounding his transition to the NBA—and his transition to facilitator—won't go unnoticed whether for better or for worse.
If you want to look elsewhere, Nicolas Batum must live up to his contract, Wesley Matthews must come back healthy and Meyers Leonard's impact on the block is up in the air at this point, but when it's all said and done, this season is about Lillard.
Best-Case Scenario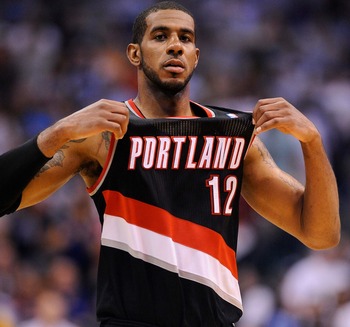 Jerome Miron-US PRESSWIRE
If the Portland Trail Blazers are able to sneak into the playoffs, it should be considered a huge success for the team from the Northwest.
Nobody expects much from Portland in 2013. The Blazers are young, inexperienced and when it comes down to it, they simply don't have the talent that most playoff-caliber teams have at this point.
A young roster has the luxury of putting a loss behind them and becoming as dangerous as anyone else on any unexpected night.
If the Blazers can click on offense, they're going to make some noise out West, but if they can collaborate on defense, that's when the tides will truly turn in Rip City's favor.
Defense has been a point of emphasis throughout Training Camp. Terry Stotts wants to run and shoot quickly, but he also wants to lock down and stop teams from feeling free on offense.
If this team can truly score fast while stopping its opponents, there's no reason to believe they can't make the postseason as a dangerous late-seed challenger.
Worst-Case Scenario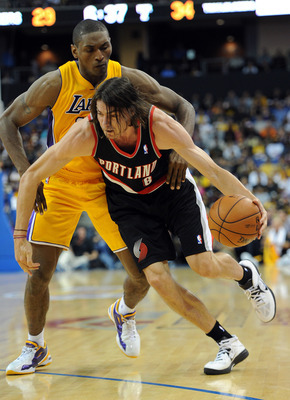 Jayne Kamin-Oncea-US PRESSWIRE
General manager Neil Olshey can claim that the team is retooling—not rebuilding—all he wants, but the Portland Trail Blazers are in the midst of a massive transition.
Three years ago the team still had hopes of a Brandon Roy, Greg Oden and LaMarcus Aldridge Big Three; now they're rebuilding around Aldridge, hoping that the pieces they acquired in the offseason will be enough to convince him to stay when his contract is up.
If this new roster is unable to accomplish its goals on both ends of the floor, they simply don't have the talent to take over when the game plan breaks down.
The Western Conference has improved drastically, and while we all know about what the Los Angeles Lakers have done, teams such as the Minnesota Timberwolves, Utah Jazz and Golden State Warriors are going to be the ones vying for those last precious spots in the postseason.
If things don't go well for Portland, they won't even be in the mix.
Call it retooling if you want, but a new roster with a new coach and a new style of play has the potential for disaster, even if the combo of Aldridge and Damian Lillard excites throughout the season.
Season Prediction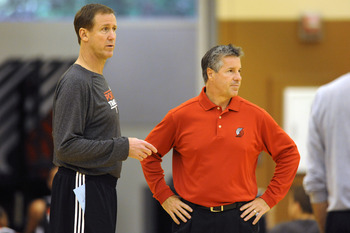 Steve Dykes-US PRESSWIRE
37-45, Fifth place in Northwest Division, 10th seed in Western Conference
Whether or not the Trail Blazers make the playoffs, they are going to be a far more entertaining team to watch than the one that ended the 2011-12 NBA season.
LaMarcus Aldridge is healthy and Damian Lillard epitomizes what is expected from today's NBA point guard.
When it comes down to it, this Blazers team should exceed the expectations that most have put on them. A 40-win season isn't out of the realm of possibility, but they would have to get things going extremely early to pull off such an unexpected feat.
Portland will likely finish fifth in the Northwest, but that's far more a testament to how competitive the division is than to how bad the Blazers are.
Don't get me wrong; the Blazers will look as young as they are throughout parts of the season. But with so many young players willing to forget the previous game, they're going to be a dangerous wild card for most opponents night-in and night-out.
The Northwest division is one of the toughest places to play in the entire NBA, and even if the team wins more games than some project, a tough Western Conference will likely keep them from reaching their goal—a berth in the 2013 postseason.
Keep Reading

Portland Trail Blazers: Like this team?