Arizona State Football: 10 Things We Learned from ASU's Win over Colorado
Doug Pensinger/Getty Images
After a bit of rough start, the Sun Devils exploded in the second half, scoring 31 unanswered points and completely shutting out the Colorado offense.
Taylor Kelly had a big day through the air and Marion Grice added three touchdowns, all via the passing game.
This game turned out exactly how we expected it to, but that doesn't mean we can't take anything away from it. Let's take a look at where ASU is a week before their match-up versus the mighty Oregon Ducks.
Taylor Kelly Is a Gamer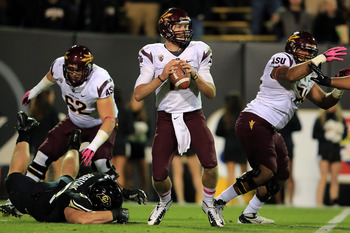 Doug Pensinger/Getty Images
Taylor Kelly is the type of quarterback that subtly gets things done every week. Each game he brings it and I couldn't help but gush over the game he had Thursday night.
He put the ball on the money when he had to and did a great job of picking up key first downs with his legs. Don't even get me started on his stat line either. The junior QB threw for 308 yards, five TDs and zero interceptions. He also ran for 67 yards on 14 carries.
Aside from all that, Kelly is a great competitor and I can't wait to see how he does against Oregon next Thursday under the bright lights.
Arizona State's Defense Is Vulnerable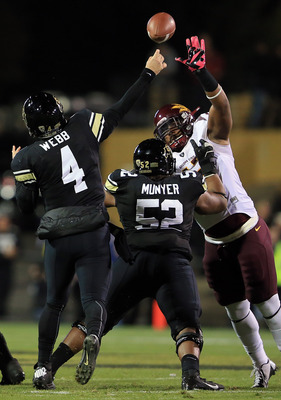 Doug Pensinger/Getty Images
Now I understand that the Sun Devil's defense ended up dominating Colorado in the second half, but their first half performance was alarming to say the least.
They do a great job of getting after the quarterback, but past that, it looks like they struggle a little bit with everything thing else.
Colorado effectively moved the ball on the ground and through the air when the D-line couldn't get any pressure on the quarterback. Against teams like Colorado you can get away with that, but next week against Oregon, that defense better be airtight.
Rashad Ross Is Fast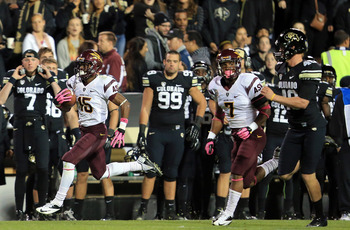 Doug Pensinger/Getty Images
To open the second half, a particular Sun Devil took the kickoff and blazed down the right sideline for a hundred yard return.
That particular Sun Devil was Rashad Jones and he's definitely a burner. It was clear early on in the return that no one was going to catch Jones, and if ASU wants to shock the world and upset Oregon, they could really use some big plays like that on special teams.
Arizona's Defensive Line Is a Nightmare for Opposing Quarterbacks.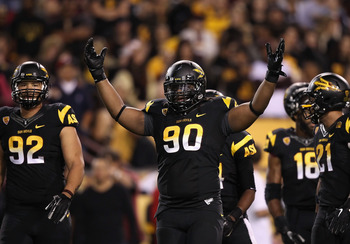 Christian Petersen/Getty Images
Will Sutton is scary enough, but this whole defensive line can get after it. Colorado's QB seemed like he was running for his life all night and it was clear that the pressure was getting to him.
When this defensive line can pin their ears back and focus on rushing the passer, they're a pretty frightening sight for an opposing quarterback.
Against Oregon, this defensive line must put some pressure on the QB or it could be a long night for the Sun Devils.
Marion Grice Is a Legitimate Receiving Threat out of the Backfield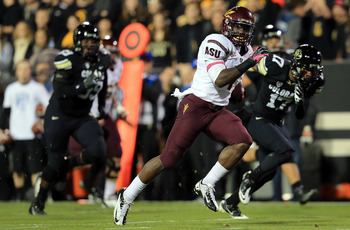 Doug Pensinger/Getty Images
As a running back, Marion Grice hauled in five catches for 101 yards and three touchdowns. That's a fantastic night for a wide receiver, let alone a running back.
He scored in all different ways too and proved that he is a viable threat as an all around receiver. That can be a huge weapon for an offense, and if they can continue to expand on that and utilize him in different spots on the field, he could put a ton of points on the scoreboard.
Look for the Sun Devils to find Grice in the passing game at least five or six times next week against Oregon, and for good reason.
Will Sutton Will Make an NFL Team Very Happy One Day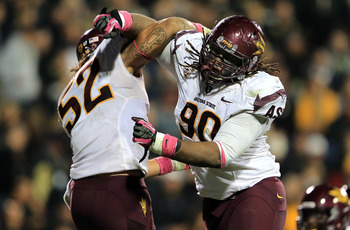 Doug Pensinger/Getty Images
Heading into this game, I was very excited to see Sutton play live and he didn't disappoint. The versatile defensive lineman can do it all and wreaked havoc in Colorado's backfield all night.
The greatest thing about Sutton is his versatility. The guy has an impeccable combination of size and athleticism and doesn't just get after the QB. He's also solid against the run and does a great job of absorbing blocks and freeing up his linebackers to make plays.
It's safe to say that NFL teams will have a close eye on him whenever he decides to enter the draft.
Arizona State Has Some Solid Options on Offense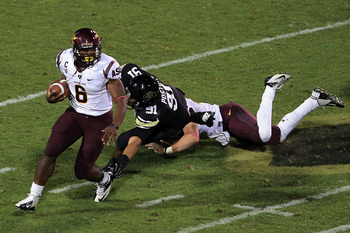 Doug Pensinger/Getty Images
One thing that jumped out to me while watching the game Thursday night was the ball distribution of the Arizona State offense. Taylor Kelly completed a pass to eight different receivers and each of them were productive players.
There's a lot of speed on that offense and versatile players like Grice only make the offense more dangerous.
The most effective offenses rely on a group of playmakers to move the ball and something like that is brewing at ASU.
Michael Eubank's Snap Count Should Go Down
Jamie Squire/Getty Images
This is less a knock on Eubank and more of a compliment to Taylor Kelly. Eubank may have good raw talent and a bright future, but right now, Kelly has earned the right to run this offense full time. He's smart, reliable and a good playmaker with both his arm and legs.
Now a few snaps here and there to Eubank would be an effective wrinkle, but for the most part, Kelly should remain under center as much as possible.
Todd Graham Has This Team on the Right Track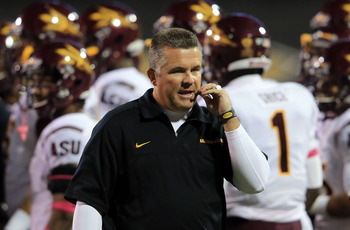 Doug Pensinger/Getty Images
Now I will admit, Todd Graham's exit from Pittsburgh was anything but normal, but there's no denying that he's doing a great job at ASU. He has his team playing fundamental football and playing with a ton of confidence.
His offense has come in nicely and it was on full display Thursday night. He never panicked, despite a shaky first half, and led his squad to a convincing in-conference victory.
You can tell that this team has bought into his system, and heading into their biggest game of the year against Oregon, his team is on a roll.
This Team Will Go as Far as Their Defensive Line Will Take Them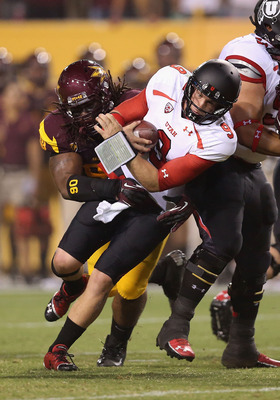 Christian Petersen/Getty Images
While watching this game, it was clear that this team will only go as far as their D-line can take them.
When they could put pressure on the quarterback with a four man rush, they looked unstoppable, but when they couldn't, they looked very vulnerable. There are a couple of studs on that unit, especially Will Sutton, but if they don't bring it on any given Saturday, ASU will most likely lose against a decent opponent.
Next week against Oregon, they must set the tone early and make some big plays to knock the Ducks out of their rhythm. If they can do that, they'll have a fighting chance next Saturday.
Keep Reading

Arizona State Football: Like this team?