Nationals vs. Cardinals: 5 Biggest Matchups in Game 5 of NLDS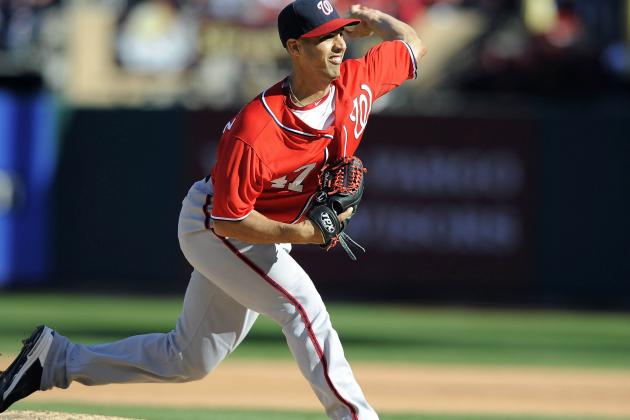 Jeff Curry-US PRESSWIRE
Can Gio Gonzalez push the Nationals to the NLCS?
The Nationals are set to face the defending champion Cardinals tomorrow evening for a chance to move on to play the Giants in the NLCS. Despite the series being tied at two games apiece, the Cardinals have been looking like the better team in the series, thanks in part to a pair of ugly losses by the Nationals.
A favorite heading into the playoffs, the Nationals won close games in the first and fourth games but were out-scored 20-4 in the two middle games. However, a win earlier today gives them a chance to make up for their ugly losses and stay on track for a chance to reach the World Series if they can beat the veteran Cardinals.
Begin Slideshow

»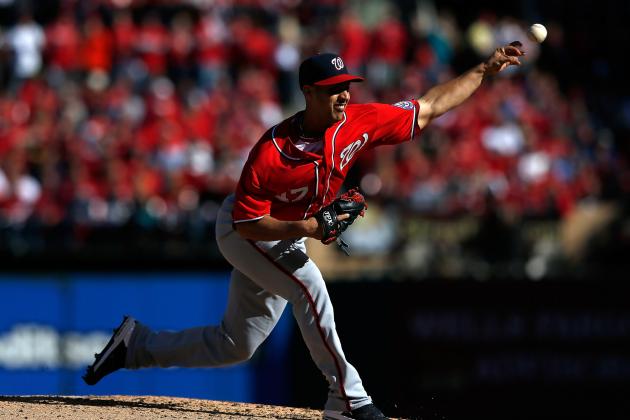 Jamie Squire/Getty Images
Nerves likely played a part in Gio Gonzalez's control issues in Game 1.
Despite being over-shadowed by Stephen Strasburg, Gio Gonzalez was an ace in his first year in the National League. The young left-handed pitcher had a Cy Young-caliber year by going 21-8 with a 2.89 ERA and a 207/76 strikeout-to-walk ratio in 199.1 innings.
When it came to his first ever postseason start, Gonzalez was up and down. Sure, he allowed two runs on just one hit over five innings, but he also gave up seven walks over five innings. Those walks also were surrendered to seven different batters.
While Gio isn't a control guy, he cannot afford to battle his control again against a lineup featuring guys like potential NL MVP Yadier Molina, 2011 World Series star David Freese, Matt Holliday, Carlos Beltran and Allen Craig. Those are players that will do whatever it takes to get on base, and they are all willing to take a walk to help out their team.
If Gio Gonzalez is in control, he could dominate almost any lineup in the game on any given night. However, he still needs to calm down and pitch well for that to happen.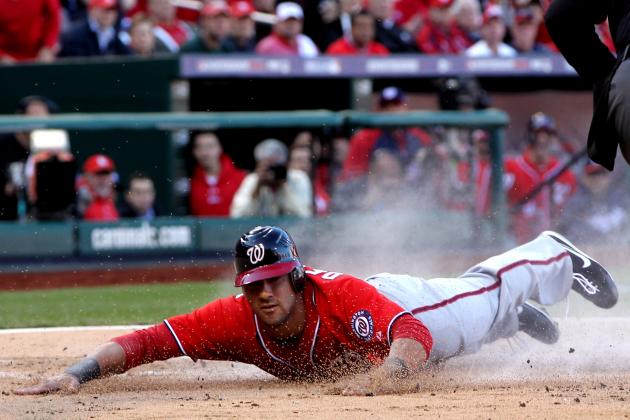 Jamie Squire/Getty Images
Ian Desmond could be a difference-maker against Adam Wainwright.
One of the more interesting batter versus pitcher matchups of Game 5 will be Nationals star shortstop Ian Desmond going up against Cardinals ace Adam Wainwright. Desmond, the younger player, came up with a three-hit game in Game 1, but Wainwright, the veteran, has plenty of big-game experience.
After that three-hit game in the opener of this series, Ian Desmond is 5-for-11 against Adam Wainwright in his career, which is good for a .455 batting average. While all five of those hits were singles, Desmond is coming off a game against Wainwright where he had plenty of success.
This game could come down to Wainwright's ability to make adjustments to get Desmond out, because Desmond has the ability to make things happen with his combination of power and speed. If Wainwright can shut Desmond down, it would be huge for the Cardinals.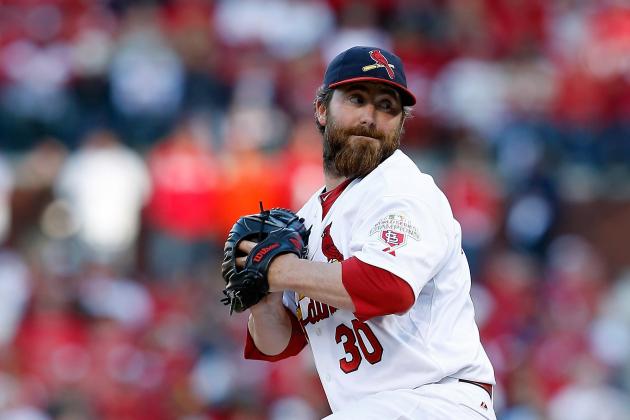 Jamie Squire/Getty Images
Jason Motte has struggled against the Nationals in his career.
Cardinals closer Jason Motte quietly turned in one of the best seasons in baseball this year for a closer, going 4-5 with a 2.75 ERA and recording 42 saves. Those are some very impressive numbers, but they become even more impressive when you consider that this season is Motte's first full season in that role.
Motte has been successful in his career, even before he took over that role. However, there is a team that seems to have his number, and that team just happens to be the Nationals. Out of the eight hitters on the team who have faced Motte, only three guys with a combined four at-bats are hitting less than .250 against Motte.
Current players on the Nationals' roster are hitting .370/.414/.556 in 27 career at-bats against Motte. This includes key pieces of the Nationals' lineup such as Jayson Werth (4-for-7, double), Adam LaRoche(2-for-4) and Ryan Zimmerman (2-for-5, homer), who have all had a good level of success against Motte.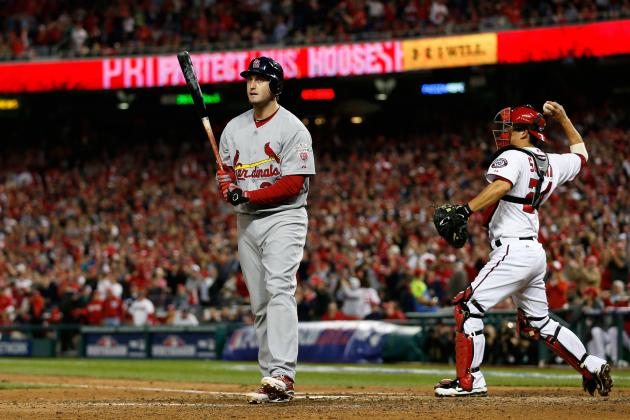 Rob Carr/Getty Images
Can David Freese be the hero again?
The Nationals and the Cardinals each have a talented third baseman, both with the potential to make a significant impact on the game. The Nationals' Ryan Zimmerman and the Cardinals' David Freese are each All-Star players at a key position, and both are among the leaders of their respective teams.
Zimmerman is among the best all-around third basemen in the game. He's a former Gold Glove Award winner with the ability to hit for both average and power. Even though he battled injuries and a slow start this year, he still managed to hit 25 homers with 95 RBI while finishing with a .282 batting average. That doesn't even get into his success in his playoff debut, as he is hitting .385 with a homer in this series.
Freese hit .293 with 20 homers and 79 RBI this year, as he became an All-Star for the first time in his career. He's also kept it up in this series, as he is hitting .417 with a 1.128 OPS. Still, he's better known as the hero of the 2011 World Series, after he hit five homers and batted in 21 runs in the playoffs for the Cardinals last year.
These guys are among the best in the game at their position, and each has been playing well in this series. Freese has already proven himself to be a hero, while Zimmerman is in his first ever playoff series during his seven-year career.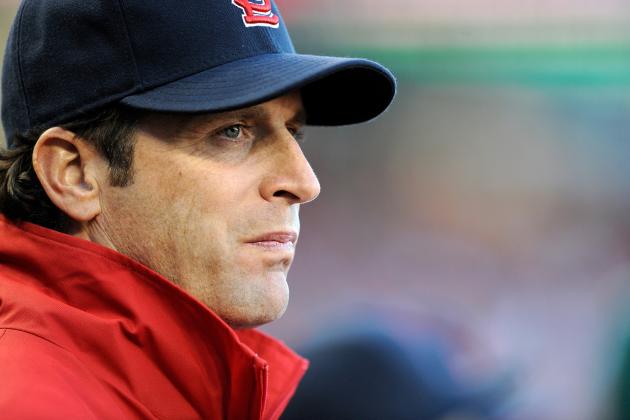 Patrick McDermott/Getty Images
Mike Matheny will try to get past Davey Johnson in Game 5.
Another intriguing matchup in this series is the managers. While Davey Johnson and Mike Matheny are both among the most respected managers in the game, one of these managers is a veteran who has been around and been here before, while the other one is a rookie manager.
Davey Johnson has won nearly 1,300 games as a big-league manager, plus a World Series with the 1986 Mets. He has also guided six teams to division championships, including a pair before the division format changed from two divisions to three.
Mike Matheny is a rookie manager, but he's a student of the great Tony LaRussa. He was also almost like another coach on the field during his playing career, which only recently ended. He may not have the same managerial experience that Johnson does, but he has done a very good job of guiding this club this season.
The veteran against the newcomer will be one of the storylines of this final game, as Matheny will potentially get a chance to start writing his own legacy instead of being in the shadow of LaRussa. Johnson could also get a chance to show what he can do after going 10 years between managerial jobs before taking over the Nationals in the middle of last year.