Kansas Basketball: 3 Videos to Get You Pumped for the Jayhawks' 2012-13 Season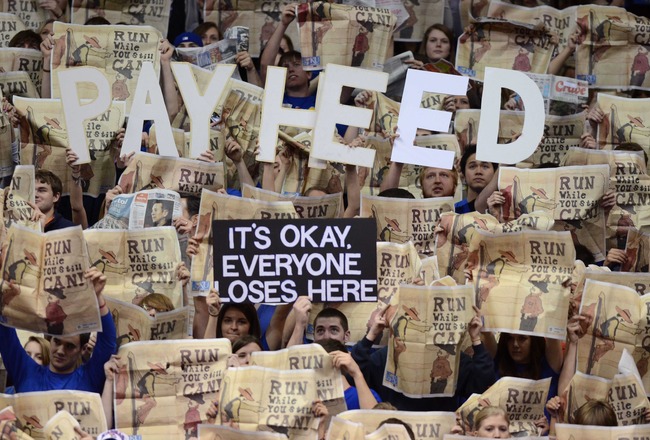 John Rieger-US PRESSWIRE
James Naismith is one of the most iconic names in sports history, and his name holds significantly more weight in Lawrence, Kan., than anywhere else in the world.
Naismith built the University of Kansas basketball program, paving the way for legends such as Forrest "Phog" Allen, Wilt Chamberlain and Danny Manning to put their mark on the greatest college basketball town in the country.
Naismith's original rules of basketball sold for $4.34 million nearly two years ago.
ESPN's 30 for 30 series will document Kansas basketball—in particular the importance of those rules and the path they took to return home to to Allen Fieldhouse—in the film There's No Place Like Home, to be shown on Oct. 16.
This film's trailer certainly gave some Jayhawk fans goosebumps and only furthered the excitement for the upcoming 2012-13 season.
Here is a look at three additional videos that will get fans pumped for another season of basketball at Allen Fieldhouse.
A Game of Inches: 2007-08 Kansas Basketball Tribute
Bill Self's KU team fell to 14th-seeded Bucknell in 2004-05. The following year, his team lost to No. 13 Bradley.
Many questioned Self's ability to lead an elite, historic program following his rise through the coaching ranks. Those critics were quickly silenced in 2008 when he led the program to his first Final Four and national championship.
"A Game of Inches: 2007-08 Kansas Basketball Tribute" features those two devastating defeats along with other agonizing losses, culminating with one of the greatest seasons in Kansas' 115-year history.
Naismith Student Section of the Year: Kansas Jayhawks
Allen Fieldhouse presents a home-court advantage unlike any other in college basketball.
The iconic and legendary venue became an impossible environment to handle for opposing teams, easily supported by the 69-game home winning streak that Kansas carried for nearly four years.
Since February of 1994, the Jayhawks have lost only 13 regular-season games at Allen Fieldhouse.
Former Jayhawk coach Larry Brown summed it up best, "There is no better place to coach. There is no better place to go to school and there is no better place to play."
Bill Self Pregame Speech: 2008 National Championship
As announced this week, Kansas head coach Bill Self will receive the 2013 John R. Wooden Award's Legend of Coaching honor next spring.
Self has cemented his name as an all-time great at the University of Kansas and is highly respected as one of the most successful coaches in the country.
He is a four-time recipient of the Big 12 Coach of the Year Award, 2009 AP Coach of the Year and the 2012 Naismith Coach of the Year (after leading the Jayhawks to the national title game with a thin and depleted roster).
The above video shows his pregame speech for the 2008 national title game against Memphis, a game they went on to win.
Keep Reading

Kansas Jayhawks Basketball: Like this team?