CM Punk: Why The Rock and Steve Austin Should Be Involved in Storylines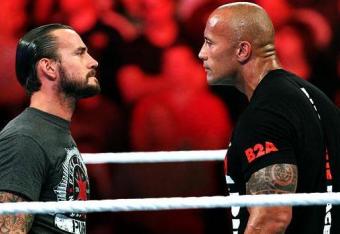 wwe.com

While we all are watching with anticipation to see who CM Punk will face at Hell in a Cell, is the WWE missing a truly golden opportunity to have the current WWE Champion involved in angles with both Stone Cold Steve Austin and The Rock?
When The Rock appeared in July and announced he would face the WWE Champion at the Royal Rumble, there was a sense the famed WWE Superstar and movie actor would be more active in the WWE from that point forward.
Then he came face to face with CM Punk.
A colossal fail on the part of the WWE, because while Punk put "The People's Champion" to sleep, the company did not capitalize on the potential for this type of magnified confrontation. Now, with John Cena on the shelf and the WWE title match at HIAC in limbo until Monday, when Punk makes his choice for who he will face between Cena and Ryback in the main event.
Last week, when he confronted WWE owner Vince McMahon, Punk was very vocal (in the only way he knows how) about WWE stars of the past who have been a thorn in his side—mainly Austin.
Why haven't we seen Austin in anything that has been done since Punk has changed his stripes?
It's natural that the anti-hero of the WWE and everyone's favorite "employee" of the company might be a perfect fit for this angle.
It also means the WWE would not need Cena, the cash cow that he is, to return to work before he is completely healed, plus it could allow the company tweak his character a bit (although we know this will never happen).
The WWE waited forever for the The Rock and John Cena to come face to face after WrestleMania 27, and while that match was pretty darn good, the fact that Punk and The Rock have not had much chemistry in the past may be a bad thing if Punk is the champion of the company when the Royal Rumble comes around (and this would also guarantee that The Rock will win the title and be the new champion next year).
I just do not understand why it is that the WWE—and truly I do not know if they thought of this and reached out to both Austin and The Rock with these ideas—misses so many chances of late for greatness. With injuries, character changes, wrestlers who haven't panned out and recent releases of talent, this seems so logical, it is almost too easy to call.
Better yet, the fans want to see it happen and are begging for something like this.
All I am saying is the WWE needs to give us something more than what is happening now. Or, it needs to give me something more than what is happening now.
The indecision is good to a point, but there are too many other talented wrestlers who could be in the title picture—or there are too many wrestlers who are in the title picture that do not make any sense to me. There has to be some change or some spark that really makes us want to see Raw on a weekly basis.
McMahon's appearance was good, but he cannot come on screen every week and try to change the course of wrestling. The Rock and Austin, like a Mick Foley, are still relevant.
Make it happen, WWE. Give us, rather, give me what I want to see.
This article is
What is the duplicate article?
Why is this article offensive?
Where is this article plagiarized from?
Why is this article poorly edited?