5 Fearless Predictions for Rios-Alvarado and Donaire-Nishioka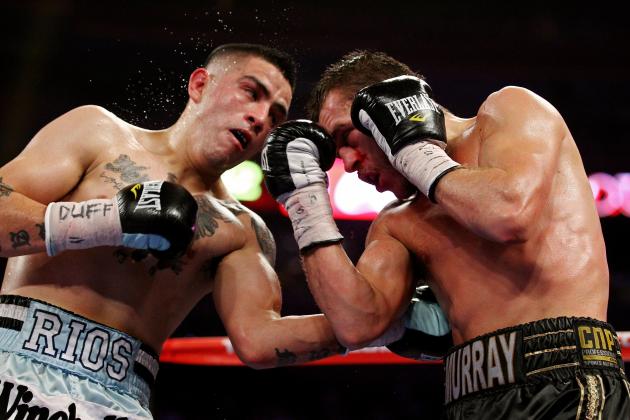 Al Bello/Getty Images
Brandon Rios will face Mike Alvarado is an instant fight of the year contender.
If you're a boxing fan, you absolutely must tune in this Saturday night, as HBO's Boxing After Dark will present two fights that have the makings of fight of the year written all over them.
The main event on paper willl be a super-bantamweight scrap between Nonito Donaire and Toshiaki Nishioka. The two lower weight-class fighters are sure to provide some fireworks but will likely be overshadowed by the fight that comes first, but which most are calling the real main event.
Brandon "Bam Bam" Rios and "Mile High" Mike Alvarado have been on a collision course for much of the year. And when the two finally meet in the ring on Saturday night, fireworks might not be a strong enough word.
These are five fearless predictions for this Saturday's action.
Begin Slideshow

»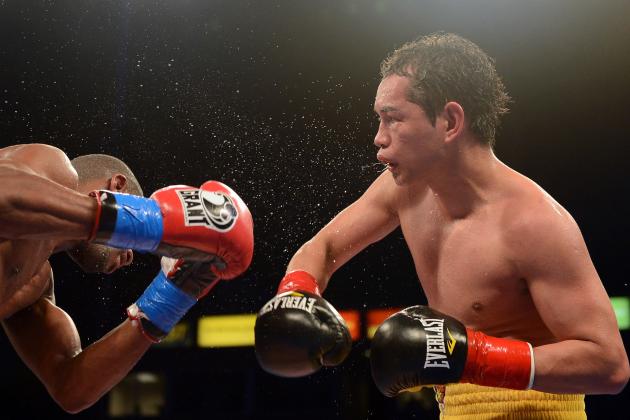 Harry How/Getty Images
Donaire will win, but it won't be easy.
Nonito Donaire is the lower weight class version of a boxing superstar. He's one of the best in the game, but doesn't get his due credit because he currently fights at super-bantamweight.
Donaire will face yet another stiff challenge from Japanese contender Toshiaki Nishioka this Saturday, and he will pass it, but there will be bumps in the road.
Nishioka is a very good fighter, though many outside of Japan aren't aware of it, but he is no pushover. He comes to fight and will come to win.
Both fighters have good power for guys in the lower weight divisions, and I wouldn't be surprised to see one or even both his the canvas at some point. But this is Donaire's moment, and he will survive what will be to many an unexpectedly tough challenge.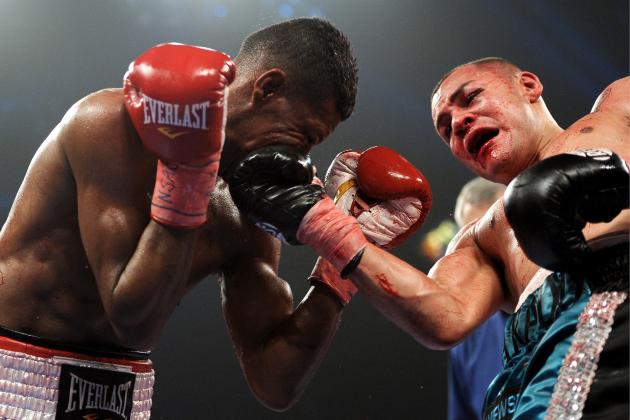 Harry How/Getty Images
Alvarado will have just a little more than Rios.
This is one of those fights that fans dream about. Two guys, both in their primes, both are undefeated, both are hungry, both with tremendous punching power and all-action styles. Fight of the year is what many are using to describe this fight. And they won't be disappointed.
Rios and Alvarado are everything you think of when you think action fight. Most of the consensus favors Rios to win in a war. The consensus is wrong; Mike Alvarado is going to fight like a guy with more to lose, and he's going to win the fight.
Rios is 26 and is notorious for his trouble with making weight for fights. He was badly weight-drained for his fight with Richard Abril earlier this year, a fight which many felt he clearly lost. There are legitimate questions about whether the weight issue was due to real problems making weight or a lack of commitment.
Alvarado, 32, is a little older and has more to lose. He is slightly less polished as a boxer than Rios, but I think he'll be the stronger puncher in the fight. I think that both of these guys are going to hit the mat at least once before the outcome is settled. But I feel that Alvarado just will want this one more, and that'll make the difference.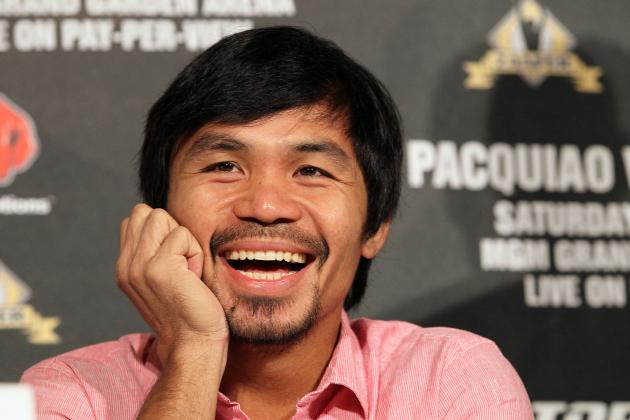 Victor Decolongon/Getty Images
If Pacquiao gets by Marquez, Rios or Alvarado could be next.
Brandon Rios and Mike Alvarado are not household names outside of the hardcore boxing community. That will change for both guys after Saturday. Whoever wins, and I think it'll be Alvarado, and even the loser will be big stars after the fight.
And the winner will face Manny Pacquiao in the spring. Promoter Bob Arum has already expressed a willingness to match the winner with his top earner in April, and it's a fight that will be both challenging for Pacquiao and exciting for fans.
Again, you may not see the value in this fight now, but let's talk again on Sunday when one of these men emerges as the most exciting fighter in boxing.
Personally, I feel that at this stage, neither name is sexy, but both will give Pacquiao fits and could even beat him.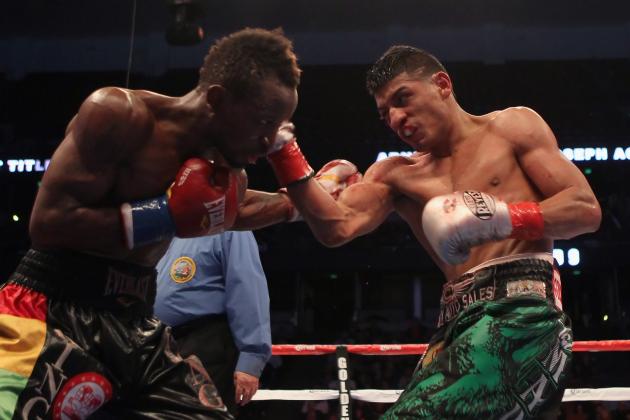 Jeff Gross/Getty Images
Mares and Donaire would be the biggest fight in the lower weight classes.
Both Nonito Donaire and Abner Mares have extremely difficult fights scheduled to close out their 2012 campaigns. Donaire of course meets Toshiaki Nishioka on Saturday, and Mares will meet bantamweight champion Anselmo Moreno in November.
Wins for both guys are anything but guarantees. But if both do win, don't expect them to meet in what could only be described as a lower-weight superfight next year. The problem is that Donaire is promoted by Top Rank and Mares by Golden Boy Promotions.
These two promotional outfits are the oil and water of boxing and rarely work together even on the biggest fights. Don't expect this fight to happen until one man finds a new promoter.
David Becker/Getty Images

Simply put, the rivalry between Bob Arum's Top Rank and Oscar de la Hoya's Golden Boy Promotions is squashing some of boxing's biggest fights. Chief among these is Floyd Mayweather vs Manny Pacquiao.
Mayweather, while having his own promotional company, also competes under the Golden Boy banner, while Pacquiao is a wholly-owned subsidiary of Top Rank. This is boxing's biggest fight and has not happened largely because of the rivalry between the companies.
Another huge fight, between Nonito Donaire and Abner Mares, is not likely to happen in the near future due to this rivalry, which is hurting the sport.