3 Keys for Wisconsin in Their Matchup with Purdue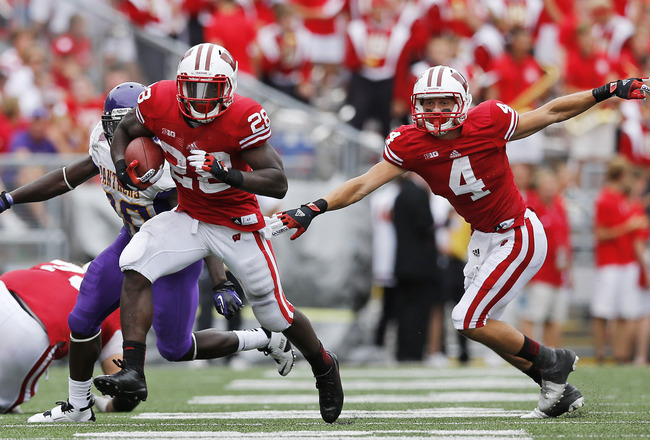 Tom Lynn/Getty Images
Not often are fans treated to the tension of November football in mid-October.
But this is exactly what viewers of Saturday's game pitting the Wisconsin Badgers against the Purdue Boilermakers will receive.
The showdown in West Lafayette will put one team in the driver's seat for the Leaders Division title and the loser essentially in the rear-view mirror.
Wisconsin is beginning to feel its traditional power once again. The Badgers hung with Nebraska after almost every prediction had the team being blown out. Wisconsin then flexed its muscles against Illinois.
Purdue is off to a better than expected start. The Boilermakers raised eyebrows by blowing out Eastern Kentucky and Eastern Michigan, only to lose close to Notre Dame and lose big against Michigan.
It will take a little harmony—no turnovers and some solid special teams—for Wisconsin to get the keys to the Big Ten Championship race.
Rhythm and Boom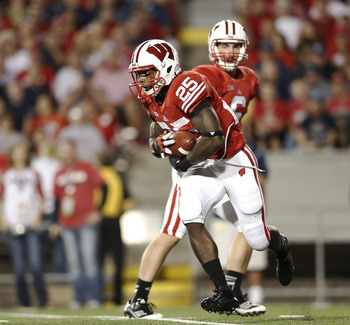 Tom Lynn/Getty Images
A good offense performs like a symphony, each section playing their part with every musician contributing to the harmony.
The first few games of 2012 for Wisconsin sounded more like a bad garage band than an orchestra, but slowly and incrementally, the music is beginning to sound familiar.
The Badgers' offensive line will have to set the tone of the game and establish the run. This will not be easy against Purdue's front four, but composing is never easy.
Once the three-headed monster of Montee Ball, Melvin Gordon and James White feel they can make every down manageable, Joel Stave will be asked to perform a few tough solos.
Analogies aside, Wisconsin will have to sell the play-action pass to be successful, and that means keeping the Purdue defensive line off rhythm for all four quarters.
Win the Turnover Battle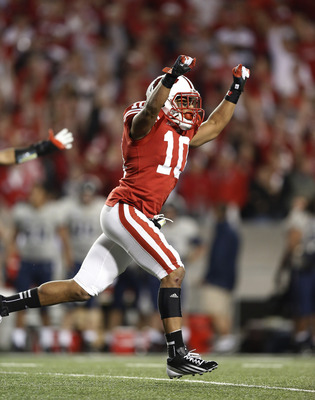 Tom Lynn/Getty Images
Wisconsin's defense is solid. Some may say they are above average.
Its interception count, though, is incredibly below average with a total of one pick on the season.
In a year where Montee Ball has fumbled twice, and the quarterbacks are coughing up the ball more frequently than everyone would like, ball security has to be paramount.
Stave has thrown two interceptions on the year, a figure that could go up if star defensive back Ricardo Allen has anything to say about it.
Regardless of who throws the ball, who carries the ball or who is supposed to catch the ball, losing the turnover battle on Saturday could be the death knell for the Badger season.
But the Boilermakers are no stranger to giving the other team a boost, either.
Purdue starting quarterback Caleb TerBush has thrown five interceptions, his backup Robert Marve has thrown two, and the third-stringer Rob Henry has given up one.
Just for Kicks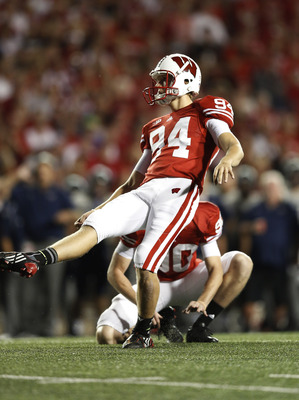 Tom Lynn/Getty Images
The kicker situation at Wisconsin has become more akin to an Abbott & Costello routine rather than a depth chart battle.
Whether Kyle French or Jack Russell is on the field, the Badgers need to turn kicks into points.
If Wisconsin had converted all of its kicks on the road against Nebraska, Wisconsin's season takes on a whole new feel.
Against Purdue, the special teams unit will go against a player in Kawann Short, who has already blocked two kicks on the year.
Both Badger kickers suffer from a low trajectory approach that they will need to adjust as this game may come down to a kick in the waning moments.
Keep Reading

Wisconsin Badgers Football: Like this team?