Detroit Tigers vs. Oakland Athletics Game 5: Live Score, ALDS Analysis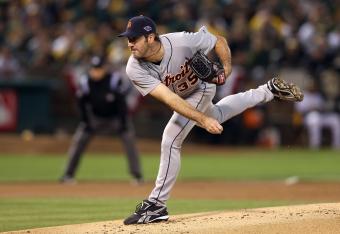 A spot in the ALCS is on the line tonight as the Detroit Tigers face off against the Oakland Athletics in Game 5 of the ALDS.
The series began with the Tigers taking two tight games at home before it shifted to Oakland. It was another close one in Game 3 as the Athletics won 2-0 to keep the series alive. Following their comeback win yesterday—during which they scored three runs in the bottom of the ninth—the series is now going to Game 5.
At this point, the Athletics have all of the momentum to keep their magical season alive, but to do so, they are going to have to face a tough Tigers team that has their ace on the mound. It should make for yet another close, low-scoring game in this series.
Starting Pitchers
Detroit: Justin Verlander - 17-8, 2.64 ERA, 1.06 WHIP, 239 K
Oakland: Jarrod Parker - 13-8, 3.47 ERA, 1.26 WHIP, 140 K
Starting Lineups
Detroit: Austin Jackson CF, Quintin Berry LF, Miguel Cabrera 3B, Prince Fielder 1B, Delmon Young DH, Andy Dirks RF, Alex Avila C, Omar Infante 2B (via Detroit Tigers)
Oakland: Coco Crisp CF, Stephen Drew SS, Yoenis Cespedes LF, Seth Smith DH, Josh Reddick RF, Josh Donaldson 3B, Brandon Moss 1B, Derek Norris C, Cliff Pennington 2B (via Oakland Athletics)

Send me your questions either in the comments section or via Twitter.
Final Score: Tigers 6, Athletics 0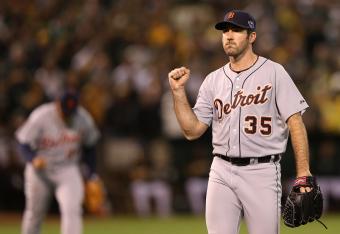 Note to the remaining MLB playoff teams: Justin Verlander is very good.
His final line on the night: 9 IP, 4 H, 0 ER, 1 BB, 11 K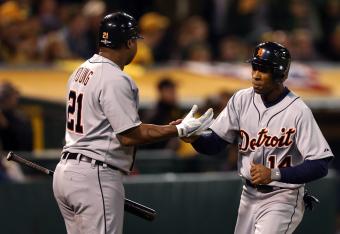 FINAL SCORE ALERT: Tigers 6, Athletics 0
Tigers advance to the ALCS where they will face the winner of the Yankees-Orioles game.

A's down to their last out.
Another strikeout for Verlander. Golden sombrero for Stephen Drew.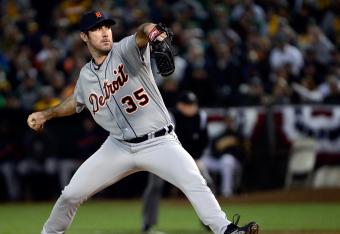 This is Verlander's game to lose. Athletics need to get six runs off of him in the ninth. They need a lot of help here. Maybe a genie that can grant them three wishes.
Even then, magic might not be enough to get the A's back in this game.
Cabrera and Fielder go a combined 1-for-9 and the Tigers scored six runs. Watch out for Detroit moving forward.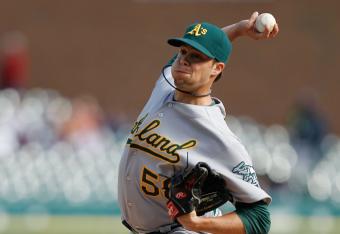 Another strikeout for Scribner. A's should have brought him in during the 7th.
Weak grounder from Crisp. The writing is on the wall. A's season is almost over. Tigers look like they will advance to the ALCS.
Single from Pennington. A's looking to get a two out rally going. A few more hits and they might be able to knock Verlander out of the game.
Jonny Gomes steps up to pinch hit. Wish him luck because Verlander has been on tonight.
Five outs left in the A's season.
Single from Josh Donaldson to start off the bottom of the eighth.
A's only need about eight more of those to tie things up.
Filthy curve from Scribner. Made my knees buckle. He gets out of the inning easy, but it might be too little, too late.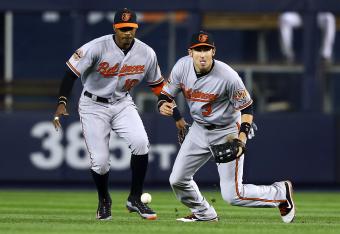 SCORE ALERT: Orioles defeat Yankees 2-1 in 13 innings to force a Game 5.
Verlander picks up his 10th strike out of the game. A's have two hits off of him. If Verlander can pitch like this for the rest of the postseason, the Tigers are a very scary team.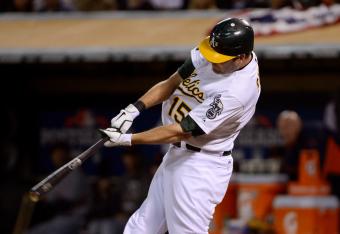 Long foul ball from Seth Smith. By far the best hit ball the A's have had tonight off of Verlander.
It appears that the clock is about to strike midnight (at least on the East Coast) for the Cinderella Oakland Athletics.
Cespedes pops out. Eight outs left in the Athletics' season.
Updated from the Orioles-Yankees game. RBI double from J.J. Hardy in the top of the 13th.
Orioles up 2-1.
The top half of the innings finally ends with the Tigers now up six.
What are the odds the Athletics come back with Verlander pitching so well? 100-to-1? 250-to-1?
Stephen Drew misplays the ball off of Delmon Young's bat. It's a costly error as the Tigers get another run.
SCORE UPDATE: Tigers 6, Athletics 0
Coco Crisp misreads the ball off of Fielder's bat and he picks up an RBI single. A's hopes sinking quickly.
SCORE UPDATE: Tigers 5, Athletics 0
Cook hits Cabrera. Down 4-0 with Justin Verlander still on the mound. The A's need a miracle.
SCORE UPDATE: Tigers 4, Athletics 0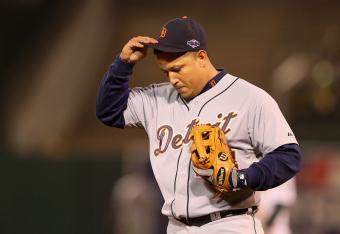 Ryan Cook issues a four pitch walk to Quintin Berry. Miguel Cabrera coming to the plate with the bases loaded. The A's magical season could be coming to an end really quickly.
A line drive just pasted the outreached glove of Cliff Pennington. Austin Jackson picks up an RBI single.
SCORE UPDATE: Tigers 3, Athletics 0
This article is
What is the duplicate article?
Why is this article offensive?
Where is this article plagiarized from?
Why is this article poorly edited?

Detroit Tigers: Like this team?