Why the S.F. Giants' Miracle Road Comeback Is Best in Division Series History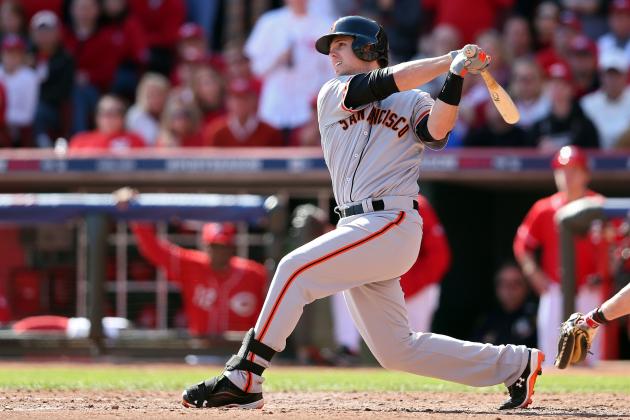 Andy Lyons/Getty Images
Buster's blast had Cincy fans seeing the wrong kind of red
In a comeback for the ages, the San Francisco Giants held off the Cincinnati Reds, 6-4, in Game 5 to advance to their second National League Championship Series in three seasons.
Since postseason expansion in 1995, there have been five teams to come back from an 0-2 series deficit in the Division Series to win—six if you include the 1981 Los Angeles Dodgers during the strike-expanded postseason.
But with all due respect to the 1995 Seattle Mariners, 2001 New York Yankees and 1999 and 2003 Boston Red Sox, no team took the road that the Giants just did. As such, it is the best of the bunch in Division Series history. Let us count the ways.
Begin Slideshow

»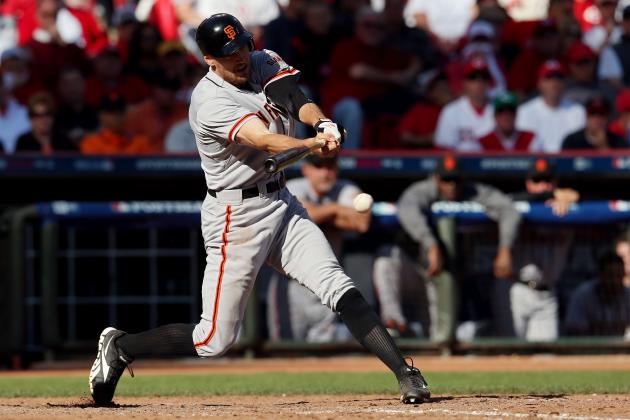 Jonathan Daniel/Getty Images
The Giants bounced back to win a clinching game that started 10 a.m. their local time
This seems like a trivial thing. Winning a series clincher is going to be important no matter the start time, so players will naturally be amped up.
That's the general thinking and it is understandable.
However, the numbers reveal that there is a difference for West Coast teams that start games on the East Coast before their own typical start time—usually 12:35 or 1:05 p.m. PST. The Giants themselves had a record of 2-7 on the road against East Coast teams in day games in 2012.
The sum of little things usually makes the difference. But instead, the Giants bucked a weird start time for a clinching game and bounced the home-team Reds out of the postseason.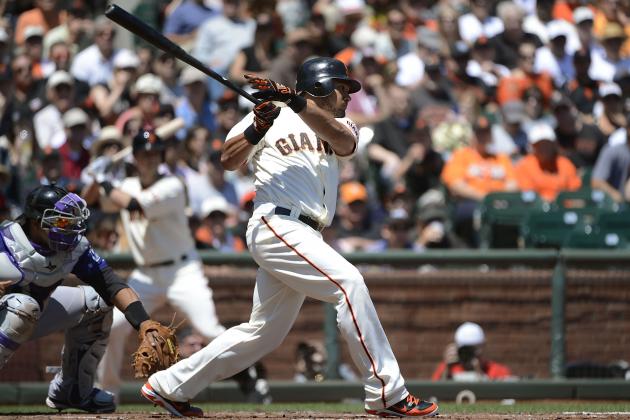 Thearon W. Henderson/Getty Images
Cabrera's loss was expected to be catastrophic. It never was
This team turned a tight National League race into a victory lap after perhaps its best hitter at the time, Melky Cabrera, was suspended Aug. 15.
From that point on, Buster Posey put the team on his back and played like an MVP.
It is only fitting then that Posey was the difference in the clinching game, blasting a no-doubt grand slam that wound up providing the additional runs the Giants needed to stave off the Reds. Cabrera's absence was self-inflicted, but his teammates rallied around one another to pick up the slack.
Losing Brian Wilson before the season began resulted in a year of mixing and matching.
It appears as though Sergio Romo is the new ringleader of "Torture." Credit has to be given to manager Bruce Bochy for getting what he could out of Santiago Casilla, Jeremy Affeldt and company, but the ascension of George Kontos, who came up big in the last three games, should also receive recognition.
The Giants again have that look of a team who is greater than the sum of its parts, much like 2010.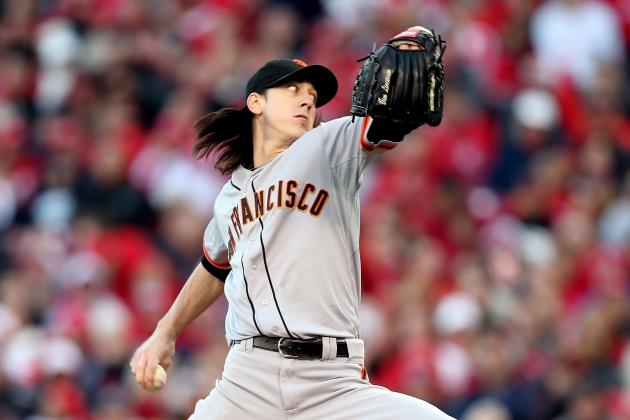 Andy Lyons/Getty Images
Lincecum has been great out of the bullpen thus far
Go back to the 1999 Red Sox again.
Is there any chance that team comes back to beat Cleveland without Pedro Martinez starting and dominating?
Absolutely not.
Flash forward 13 years. Tim Lincecum hasn't been himself for the better part of the 2012 season. So much so that he didn't even get the ball in an elimination game.
By contrast, the $126 million man, Barry Zito, pitched well enough down the stretch to earn his designation as Game 4 starter, but you never got the sense that he would just go and shut down the Reds offense.
True to form, he was done in by his wildness, walking four batters and being chased in just 2.2 innings.
Enter Lincecum and another roll of the dice.
Taking the ball in the bottom of the fourth, Lincecum was outstanding, limiting Cincinnati's offense to just two hits and a single run in 4.1 innings while striking out six.
The improbable appearance seemed to lift the entire team and propelled the Giants into today's game. You can't find another situation where a divisional series had a pitcher of Lincecum's caliber enter in relief without having started previously.
And he delivered.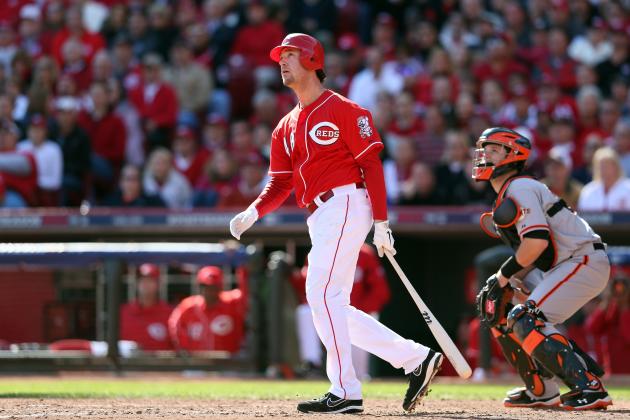 Andy Lyons/Getty Images
Ryan Ludwick played great but wasn't enough
There could be a knee-jerk reaction to this by devaluing a Cincinnati team that hasn't been a power team recently.
That would be a mistake.
Cincinnati won 97 games because, quite frankly, it is a very good team.
Joey Votto is a franchise player. Aroldis Chapman is a top-two-or-three closer. The Reds have a great mix of veterans and younger players. All of which means they will likely be back in 2013, so this isn't a question of some overrated team finally being exposed.
As a matter of fact, I would argue that the Giants just went out and took this series.
Many seem to forget how many championship-tested players remain on this ball club. From Games 3 to 5, they looked like a team that had been through battles and expected to win. It is an intangible you can't really put into words. But after surviving a great Game 3, you could see that the Giants expected to pull it off. And they absolutely did.
In comparison, the 1995 Mariners came back against a Wild Card Yankees team that hadn't been to the postseason in 14 years. The 1999 Red Sox made a very good comeback, but had the fortune of riding the best pitcher of his epoch in his prime, Pedro Martinez, for the bulk of Games 3 and 5. And the 2001 Yankees and 2003 Red Sox came back against Oakland teams that history showed could not win a big game. They had eight opportunities to advance from 2000-2003, and eight times they lost.
So tip your cap to the Giants. It is as special a comeback as you will get in baseball history.
Jonathan Daniel/Getty Images
Giants made like road warriors to dispatch the Reds
The No. 1 reason the 2012 San Francisco Giants just completed the best comeback in Division Series history is simple: No team ever did it the way they did.
The Reds went 50-31 at home, tied for best in the National League. Beating them three times at the Great American Ballpark seemed completely out of the question. The Reds had not been swept at home the entire year. They didn't even get swept in a two-game series!
So for the Giants, deflated after being blown away in a Game 2 that seemed to signal the Reds' official National League rise, bouncing back in the fashion they did was incredible.
In my opinion, the comeback by the Seattle Mariners in 1995 was the most impressive to this point. That team had never been in the postseason, and though they were buoyed by one of the best home crowds in baseball history, sweeping three straight games just seemed too hard when facing elimination. Their comeback was inspirational and people still remember Ken Griffey, Jr. sprinting home to score on Edgar Martinez's double.
But those games were all at home.
An easy way to compare the difference is to just look at the Giants' counterpart in the Bay Area. The Oakland A's have ridden a raucous home crowd and their own belief in destiny to an improbable Game 5 Thursday night. If they complete the comeback, it will be as impressive as the Mariners. The Giants will outdo them both, though.
Every other team had the benefit of at least two home games. The Giants lost both of theirs and instead of packing it in, they're moving on.
Jonathan Daniel/Getty Images
"Torture" is back in the Bay Area full force
It is interesting to look back and remember that of the other four teams that erased an 0-2 Division Series deficit, none of them won the World Series.
It could be the emotion of coming back takes it toll in the following series (1995 Mariners).
It could be that they were just facing a better team overall (1999 Red Sox).
Perhaps they are facing a team that is just a little bit hungrier and it shows when the game matters most (2001 Yankees).
Or they still have a curse haunting them (2003 Red Sox).
Either way, the logic says the Giants made history, but won't be expected to win the whole thing.
Maybe that's true.
But I learned my lesson in 2010: Once this crew gets in, it finds a way. And I honestly wouldn't be surprised if San Francisco is the last team standing again.
For now, appreciate what you just saw, because I'm hard pressed to think it will happen again anytime soon. They are tenacious, they are persistent, they are historic.
Today, they are truly Giants.