San Antonio Spurs: Roster Preview, Predictions & Storylines to Watch in 2012-13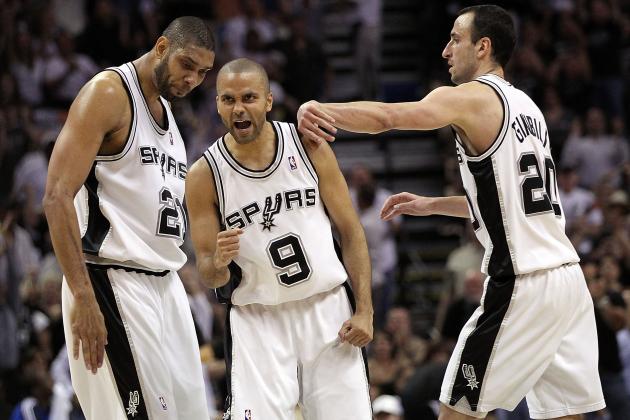 Ronald Martinez/Getty Images

The San Antonio Spurs are a proud team that will not back down from their quest to win a championship.
Everyone in the organization—from the owner to the front office and down to the players on the court—believes that this group can accomplish its goal of raising a banner in the AT&T Center in June of 2013.
That mentality played a large role in how the Spurs approached the offseason after being eliminated by the Oklahoma City Thunder in the Western Conference Finals, four games to two.
There hasn't been much change to the roster, which is a good thing after this squad won 50 contests in a lockout-shortened 66-game season. The Spurs are banking on their playoff-hardened experiences to bring them back to a No. 1 seed in the West and another chance to win a title.
Will they be able to accomplish this lofty goal, or is San Antonio simply afraid to let go of the past? Can Tim Duncan live up to his new contract at the age of 36? Have the Spurs made the proper changes that will allow them to get past OKC and the Los Angeles Lakers in the conference?
We'll tackle all of that and more in the 2012-13 Spurs season preview, which includes their summer moves, the projected lineup and depth chart, strengths and weaknesses of the roster, storylines to watch, a predicted outcome and much more.
Begin Slideshow

»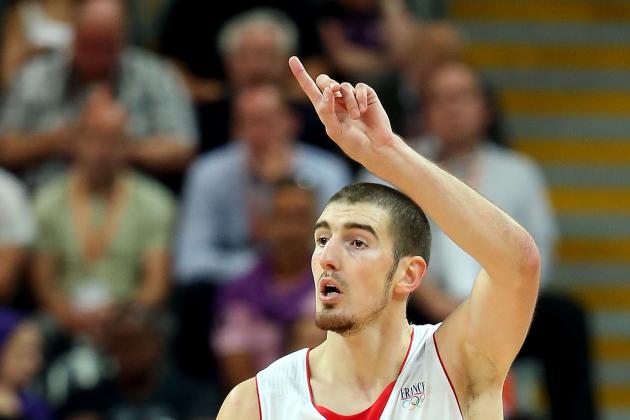 Christian Petersen/Getty Images

Nando de Colo (2009 Draft Pick)
The only new player on the Spurs roster this year is Nando de Colo, a French player that the organization drafted in the second round of the 2009 draft.
He was given a two-year contract after the team brass decided he had grown enough playing for Valencia—a Spanish team in the Euroleague.
De Colo is expected to play a reserve role at the guard position, for which he possesses solid size at 6'5", 200 pounds. He's already made quite an impression, hitting a game-winning three-pointer at the end of a preseason contest.
He finished the night with with 11 points, nine assists, two rebounds and two steals against the Atlanta Hawks, which isn't shabby for his first real taste of NBA action.
The Spurs also selected No. 59 overall in the 2012 draft, taking Marcus Denmon of Missouri. He signed with a French team this summer and will not be on the roster.
Tom Pennington/Getty Images

None
The Spurs were remarkably able to sign all of their key free-agents this summer.
Tim Duncan was doled out a three-year, $36-million deal that will ensure he retires as a Spur, and his presence is a large reason why this team is still competitive.
Boris Diaw, a midseason revelation after being bought out by the Charlotte Bobcats, signed back on for two years and $9 million.
Danny Green, a journeyman swingman that bounced around and out of the league since joining in 2009, was given a three-year contract valued at approximately $12 million.
Patty Mills is a reserve PG that put up solid numbers in limited action after returning from a stint in China, and he's now under contract for the 2012-13 season at just over $1 million.
The team wanted to bring over Erazem Lorbek, but FC Barcelona offered him the biggest payday in the club's history and the big man elected to stay overseas. It's unknown when the 2011 second-rounder will make his way stateside now that he's locked down until 2015.
By keeping this unit together, GM R.C. Buford is banking on a bunch of well paid players coming together and using their familiarity to make one more playoff push.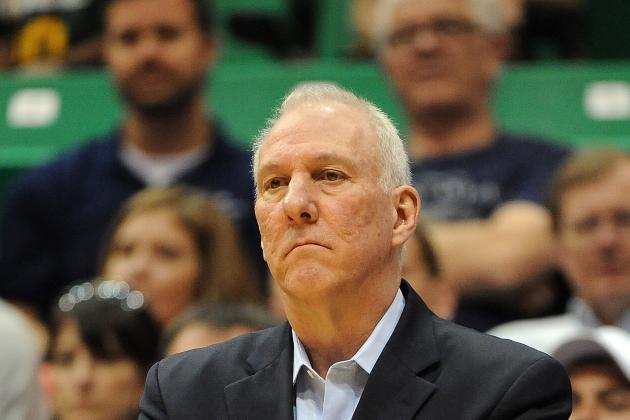 Steve Dykes/Getty Images

This unit should look familiar for all of the Spurs followers out there.
Tony Parker will continue running point for this team as he continues to improve as a floor general and scorer.
There is a good chance Danny Green starts at SG, while Manu Ginobili reprises his role as an electric sixth man that comes off the bench and finishes games.
Kawhi Leonard, a sensational rookie in 2011, is pegged to start at SF, with Stephen Jackson providing a boost from the pine going into his 13th season.
Duncan, as it seems he has forever, gets the nod at SF, with a combination of Matt Bonner, DeJuan Blair and Tiago Splitter backing him and starting pivot Boris Diaw up.
Patty Mills, Gary Neal and Nando de Colo will play a slightly smaller role for this team, but all figure to get plenty of minutes during the regular season.
| | | | |
| --- | --- | --- | --- |
| Position | Starter | Bench | Reserve |
| Point Guard | Tony Parker | Gary Neal | Patty Mills |
| Shooting Guard | Danny Green | Manu Ginobili | Nando de Colo |
| Small Forward | Kawhi Leonard | Stephen Jackson | |
| Power Forward | Tim Duncan | Matt Bonner | |
| Center | Boris Diaw | DeJuan Blair | Tiago Splitter |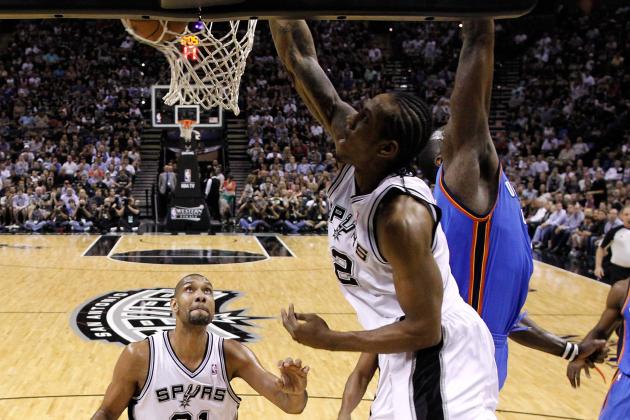 Tom Pennington/Getty Images

The Spurs' main strength is their top-to-bottom ability to play high-level basketball.
This all starts with their coach, Gregg Popovich, and extends all the way down to their reserve players, who consistently come up big when spelling the aging vets.
During the 2011-12 season, the San Antonio bench had the highest efficiency differential in the league, which was a large reason why they tied the Chicago Bulls for the best record.
The Spurs maintain excellent half-court defensive and offensive sets, know how to pass the ball, are extremely familiar with each other's skills and always look for the open man. There are hardly any guys out there gunning for their own numbers, and coach Pop would be quick to yank anyone who even thought about doing that.
If the Spurs can control the pace of the game, they are undoubtedly one of the strongest squads in the NBA.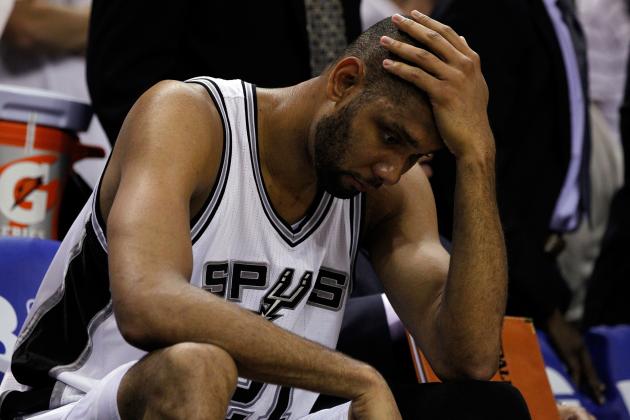 Tom Pennington/Getty Images

Age has been the main knock on the Spurs for years now, and—unfortunately—the key players aren't getting any younger.
Duncan is 36 years old, Ginobili is 35 and Parker just turned 30. They have consistently made deep playoff runs for the good majority of their primes and have tons of mileage on their creaky legs.
This translates to poor play on fast breaks, whether running them or defending.
While Parker is widely regarded as one of the fastest players in the league, it's of little use when going baseline to baseline, as his plodding teammates struggle to keep up.
When OKC beat the Spurs last year, it did so by cranking the pace up and simply beating San Antonio up and down the court to go on major runs.
The Spurs are amazing defensively, but when they don't have time to get set up, they don't have a chance to get stops.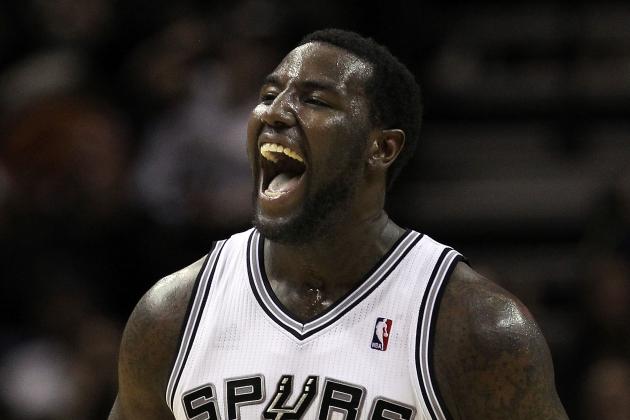 Ronald Martinez/Getty Images

The Spurs aren't a dramatic team, so you won't see many "he-said, she-said" stories in the press like you see with the New York Knicks or Los Angeles Lakers. The players are largely low-key, high-character guys that come to work and go home without much fuss.
However, the media still likes to bring the Spurs into the conversation, especially to call them an underrated group or ask if they aren't getting the respect they deserve. It doesn't seem like coach Pop, Duncan, Parker or anyone else truly cares, but expect to see plenty of that—especially if the Spurs start off hot again.
DeJuan Blair may be the only player on the entire roster that will be involved in trade whispers up until the deadline, as he wasn't seeing eye to eye with team brass this summer and disclosed that they put him on the block.
Fortunately, things seem to have calmed down and he put together some solid stats in his limited preseason minutes. If he continues to have a role in the Spurs' rotation, there shouldn't be any problems.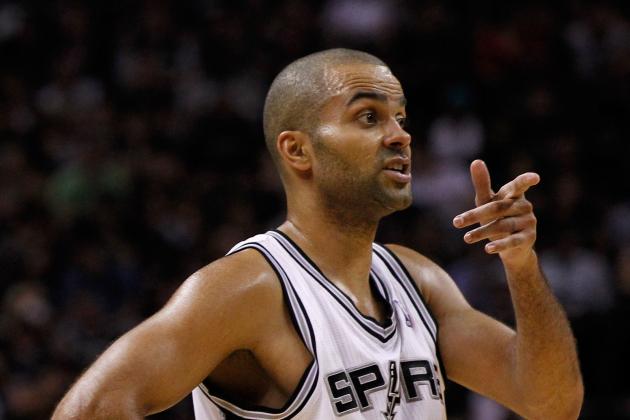 Tom Pennington/Getty Images

San Antonio has been a regular season powerhouse since the late 1990s, only finishing outside of the top four in the West once (during an insane 2009-10 season in which eight teams won 50 games in the conference) in the past 15 years.
Because of that consistent dominance, it wouldn't be far-fetched to peg the Spurs for another 50-plus wins and a top seed at the conclusion of the 2012-13 campaign.
Assuming there are no major injuries, coupled with Buford's decision to keep the roster almost exactly the same, only OKC and the Lakers truly rival the Spurs atop the conference, and it should be a three-way battle between them for the No. 1 seed.
Things should get extremely interesting once the postseason begins, and we will cover that in the final slide.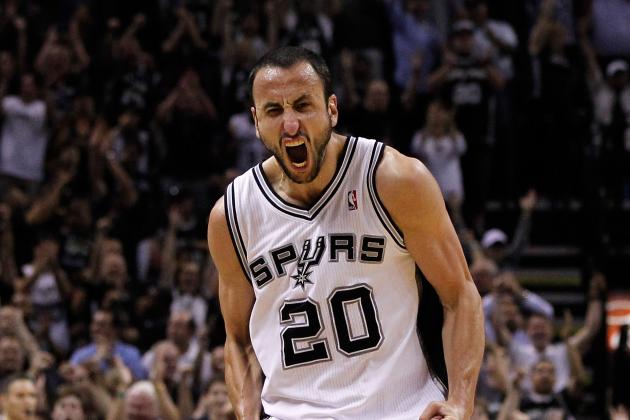 Tom Pennington/Getty Images

There are just a few things to be cautious of for the Spurs this year.
Number one is injuries, as the team has been extremely lucky to only have relatively minor things happen to their core group—most notably Ginobili missing a good chunk of games last season with a broken hand.
With Duncan, Parker and Ginobili's advanced age and high mileage, their risk for injury is extremely high. Losing any one of them for the entire season would almost certainly put an end to their quest to win a fifth championship for the franchise.
Another concern is losing motivation from certain players, such as Diaw—who got rewarded with a nice contract after working his tail off to earn it. And S-Jax, who has been a loose cannon during many stops in his career, but a solid member of the Spurs so far.
Hopefully, things transition seamlessly from last year into this upcoming one; otherwise the Spurs might have a few problems staying on top.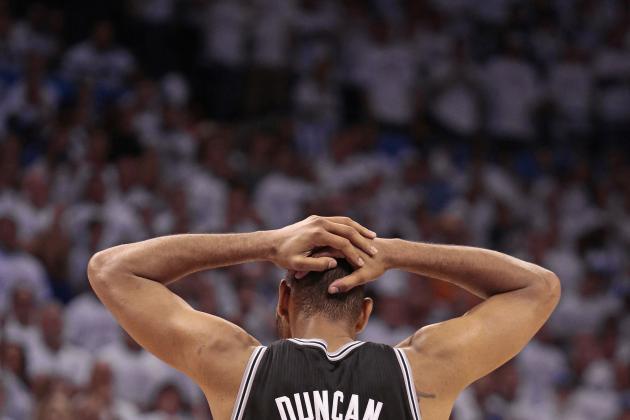 Brett Deering/Getty Images

59-23, first place in Southwest Division, third seed in Western Conference
The Spurs are going to win over 70 percent of their regular season games once again, as they have the depth, experience and wherewithal to get it done.
However, once they get into the postseason, and they should be relatively healthy at that point, things could easily go south quickly.
While they will handily win the first round match against whoever earns the No. 6 seed (we're pegging the Lakers and Thunder at No. 1 and No. 2, respectively), they'll quickly run into their latest nemesis, OKC, in the second round.
As last year proved, the Thunder just have too much speed and a bona fide superstar in Kevin Durant that the Spurs cannot stop.
It'll be another great year ruined by San Antonio's age and inability to run or stop the break. It'll be interesting to see what Buford decides to do in the next offseason to combat this glaring and fatal flaw.