St. Louis Rams vs. Miami Dolphins: 10 Keys to the Game for the Dolphins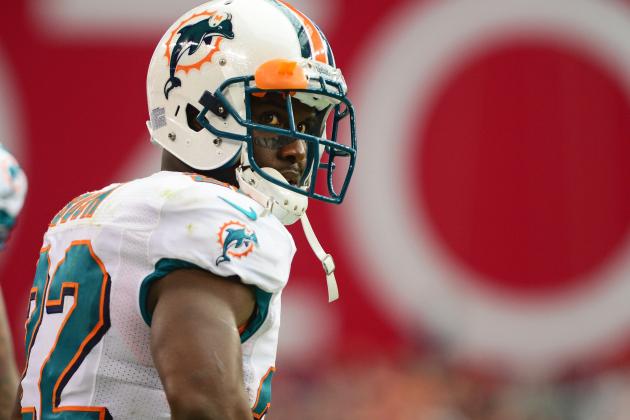 Jennifer Stewart-US PRESSWIRE

Entering their Week 6 matchup with the St. Louis Rams, the Miami Dolphins quietly lurk on the periphery of the NFL playoff picture.
Do the Dolphins actually have a playoff-caliber team?
Well, they certainly have a playoff-caliber defense. Miami has the league's top-ranked run defense, and despite the loss of Vontae Davis and a group of no-name defensive backs, its secondary ranks 15th.
Offensively, the Dolphins rank 13th in the NFL, thanks to the efforts of Reggie Bush, Brian Hartline, Davone Bess and the solid-but-unspectacular Ryan Tannehill.
With a win on Sunday, the Dolphins can get back to .500 before embarking on a five-week stretch that includes winnable games against the Jets, Colts, Titans, Bills and Seahawks. But Miami can't afford to look ahead. If they indeed want to defy the odds and make a playoff run, they have to take care of business against St. Louis this week.
By following these 10 keys, the 'Phins can do just that.
Begin Slideshow

»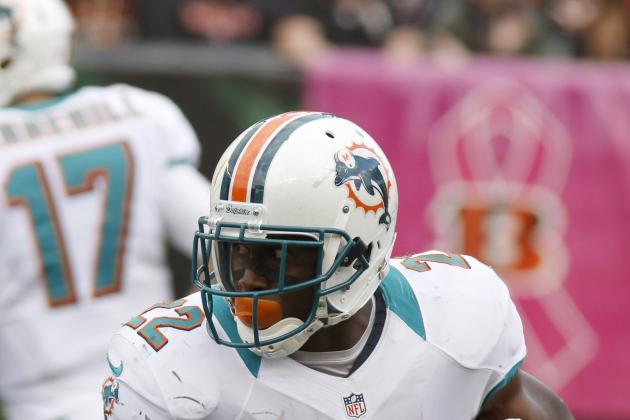 David Kohl-US PRESSWIRE

Reggie Bush has fallen into a bit of a slump since he suffered a left-knee sprain in Week 3. Just look at the discrepancy in his numbers from before and after his injury:
| | | | | |
| --- | --- | --- | --- | --- |
| Weeks | ATT | YDS | AVG | TD |
| 1-3 | 50 | 302 | 6.04 | 2 |
| 4-5 | 36 | 115 | 3.20 | 1 |
Prior to last week's game against the Bengals, Bush was reportedly hindered by a hip injury. Although that no longer appears to be an issue, the Sun Sentinel reports his knee problems persist. Both Bush and the Dolphins have been predictably coy about this, but one things is clear: he will play on Sunday, and he has an excellent opportunity to rebound.
Bush is facing a Rams defense that's yielding 117.2 rushing yards per game and ranks 18th against the run.
So even if he's not 100-percent healthy, Bush should find substantial success this Sunday. However, if he's visibly hampered by that knee injury, the Dolphins shouldn't hesitate to turn to Lamar Miller.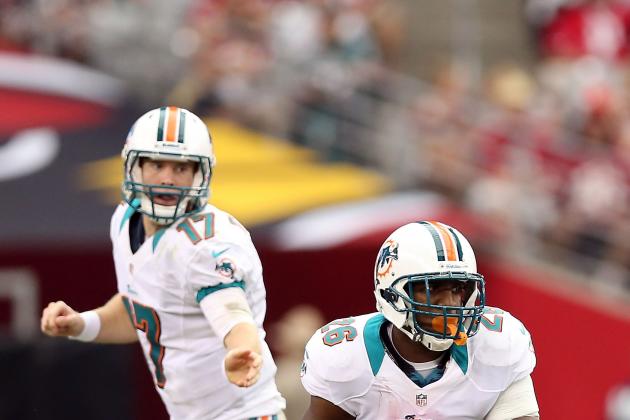 Christian Petersen/Getty Images

Lamar Miller will replace Daniel Thomas (who will miss Sunday's game after suffering his second concussion of the season) as Miami's No. 2 running back this week, putting him in line to play an integral role in the offense.
After recording 10 carries in his Week 2 debut, Miller has watched his workload steadily decrease in each ensuing week. In fact, he registered only 13 carries in the last three weeks combined and didn't play a single snap in Week 5.
However, Miller has made the most of his limited touches, rushing for 126 yards on 23 carries (5.5 yards per carry).
Because Reggie Bush is still nursing a left-knee injury, this could be a prime opportunity for Miller to breakout. Although there are still questions about his pass-protection abilities, the Dolphins have no choice but to entrust faith into their fourth-round draft pick.
In order to keep Bush fresh and healthy, the 'Phins should feed Miller the ball, both in the running game and in the passing game—where he's yet to catch a single pass. He's a home-run threat every time he touches the ball, and it's time Joe Philbin and Mike Sherman make a concerted effort to get him the ball in space.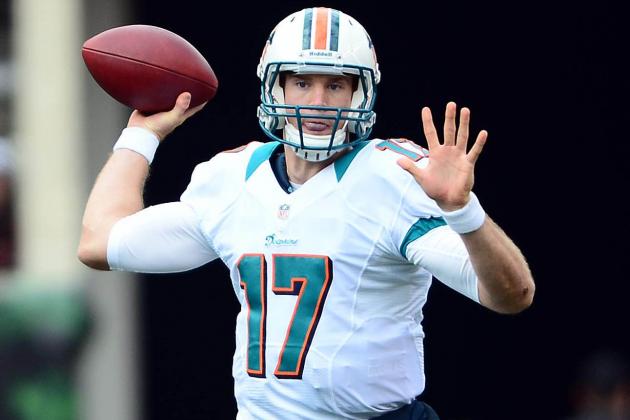 Andrew Weber-US PRESSWIRE

Last week, the St. Louis Rams abused Kevin Kolb.
Literally.
The Rams registered 23 quarterback hurries (incredible), six quarterback hits and 11 sacks. Part of their success stems from the Cardinals' dismal offensive line, but Chris Long, Roberto Quinn and company still deserve a great deal of credit for such a dominant performance.
Although Ryan Tannehill won't be terrorized quite like Kolb was, he and the Dolphins still need to prepare for a heavy pass rush. In order to combat it, the 'Phins should make an effort to get Reggie Bush and Lamar Miller out on screen passes.
If successful, it will force the Rams to blitz conservatively and put more pressure and their secondary.
Plus, getting Bush and Miller into open space generally equates to good things.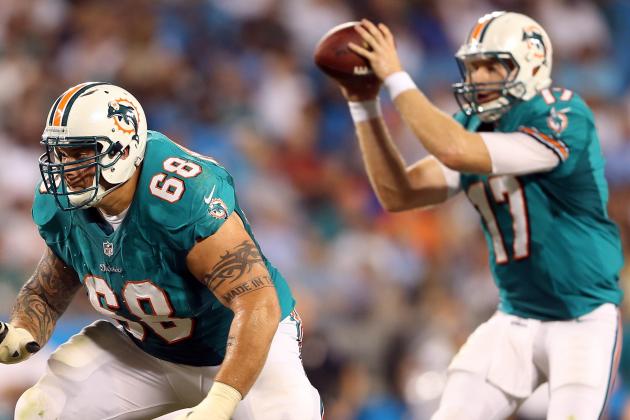 Streeter Lecka/Getty Images

Jonathan Martin's struggles might not surprise anybody, but Richie Incognito's should.
After back-to-back solid seasons, Incognito has become a weak link on the Dolphins offensive line. Pro Football Focus ranks him the fourth-worst run-blocking offensive guard in the NFL and 96th overall.
Martin, meanwhile, ranks 74th amongst offensive tackles in pass blocking and 86th overall. He has already yielded a whopping 15 quarterback hurries, which is the sixth highest total amongst OTs.
The Dolphins need both Incognito and Martin to elevate their play—even if only marginally. Rams defensive end Chris Long has racked up three sacks in the last three weeks, and he could swing the game in St. Louis' favor if Martin can't hold his own.
Incognito has a favorable matchup against a struggling interior defensive line, but there's no guarantee he can thrive against it at this rate. Perhaps he just isn't athletic enough for a zone-blocking scheme.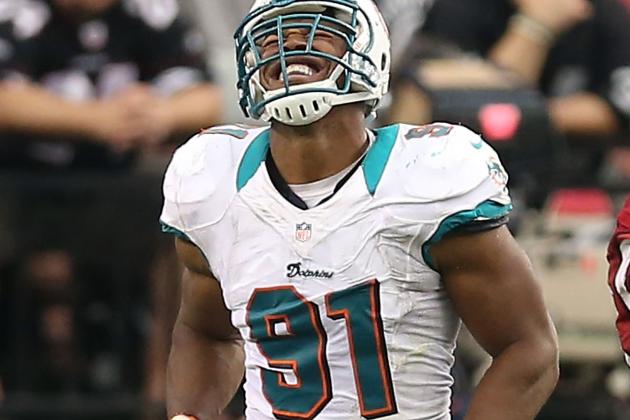 Christian Petersen/Getty Images

The Dolphins may have some isolated offensive-line issues, but things could be much worse, just ask the Rams.
St. Louis' offensive line—which consists of Wayne Hunter, Quinn Ojinnaka, Robert Turner, Harvey Dahl and Barry Richardson—has already surrendered 36 quarterback hurries, 11 quarterback hits and 15 sacks, which is the third highest total in the NFL.
And to make matters worse, Sam Bradford has struggled when under pressure. According to Pro Football Focus, he has come under pressure in 66 drop backs. This is the stat line he has accrued in those drop-backs: 21-of-48, 271 yards, two touchdowns, one interception and 15 sacks.
Cameron Wake and Randy Starks have a salivating matchup awaiting them. If they can capitalize and get in Bradford's face, then the Dolphins will gain a huge edge.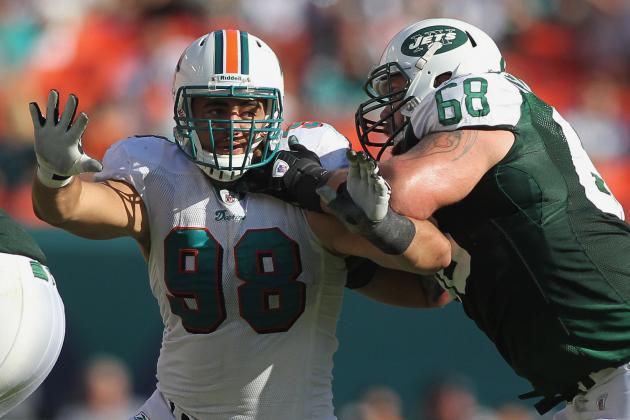 Robert Mayer-US PRESSWIRE

The Dolphins boast one of the NFL's most fearsome front sevens, but that's no thanks to Jared Odrick.
After a fantastic offseason, Odrick appeared primed to become a solid starting defensive end and hep solidify Miami's defensive line as an elite unit. Instead, he has faltered—especially in the pass rush.
Pro Football Focus ranks Odrick as the second worst pass-rushing defensive end in the entire league. Although he has three sacks this season, keep in mind that's on 309 snaps, which is the tenth highest total amongst defensive ends.
To his credit, Odrick has played very well against the run; however, his poor pass rush is inexcusable. Perhaps at 6'5" 299 pounds, he's simply out of place as a 4-3 defensive end.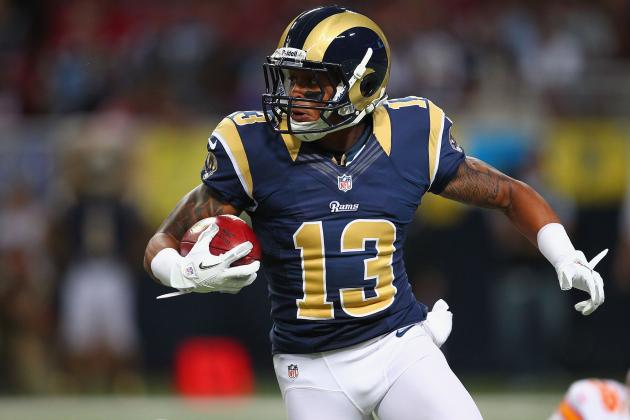 Dilip Vishwanat/Getty Images
Rookie wide receiver Chris Givens
Think the Dolphins have the league's worst wide-receiver corps?
Think again.
After losing Danny Amendola to a broken collarbone last week, the Rams will now trot out a stable of wideouts headlined by names such as Brandon Gibson, the other Steve Smith and rookies Chris Givens and Brian Quick.
Although the Dolphins should respect Gibson (13 receptions, 184 yards, 2 TDs on the season) and Givens (receptions of more than 50 yards in two consecutive games), there's no reason Sean Smith and the secondary cannot shut them down.
Running back Steven Jackson is easily the Rams' most dangerous weapon, so Miami should make him the primary focus of its defensive game plan.
Rather than let Jackson beat you, make Bradford and his no-name wide-receiver corps do it.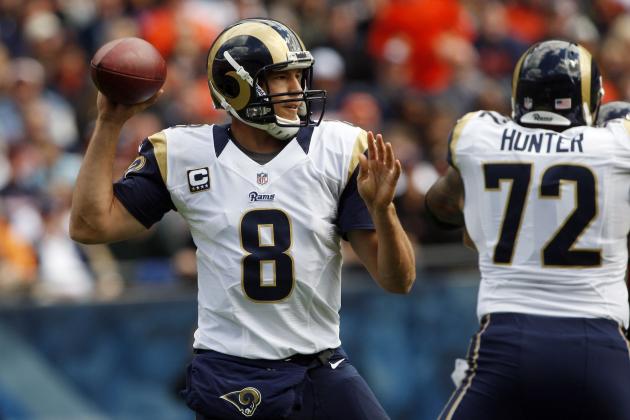 US PRESSWIRE

The Rams passing game doesn't just look bad on paper—it's averaging a dismal 183.4 yards per game
That ranks 30th in the NFL.
However, the Dolphins still can't get complacent. They have to zero-in on Sam Bradford's weakness, which, thus far, has been the short-passing game. On passes between zero and nine yards, he is 51-of-75 for 448 yards. Those numbers aren't particularly bad, but Bradford is actually more efficient throwing passes of 10 yards or more.
The best way for the Dolphins to restrict the Rams to a short-passing game is by playing a heavy dose of zone coverage—particularly Cover 2, 3 and 4.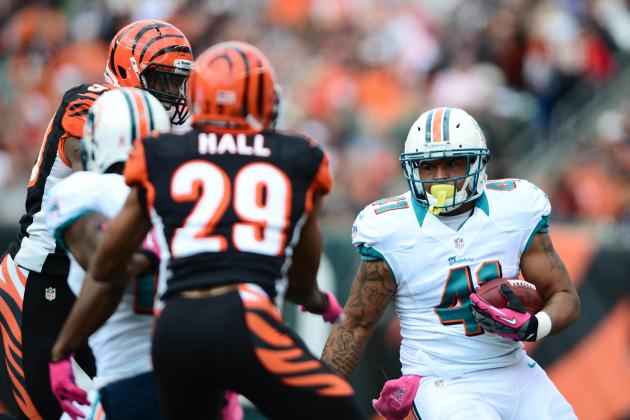 Andrew Weber-US PRESSWIRE

The Dolphins have made three red-zone trips in each of their first five games.
They've recorded a 100-percent conversion rate in only one of those games. In total, the 'Phins are just 8-of-15 in the red zone.
Think about that.
Miami has squandered seven potential scoring opportunities. Had the team converted just a small handful of those, they could've won another game or two. Instead, the Dolphins' red-zone struggles have undermined their efforts as a whole.
Losing Daniel Thomas to injury won't help these red-zone woes, so Mike Sherman and Joe Philbin have to get creative.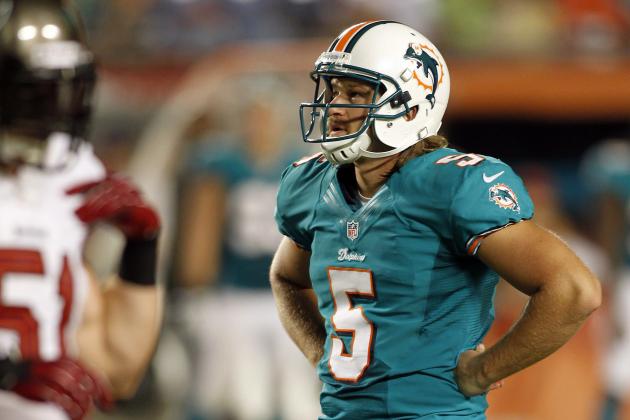 Robert Mayer-US PRESSWIRE

This goes without saying.
Dan Carpenter cost the Dolphins a win in Week 3, missed another crucial field goal in Week 4 and nearly cost the 'Phins another win last week.
Granted, Carpenter's misses from the last two weeks were both from more than 50 yards out, but he's raking in more than $2.5 million this season. For that kind of money, he should be splitting the uprights from whatever distance the Dolphins need him to.
After four years of quality and consistent play, Carpenter deserves the benefit of the doubt. But if he misses even one more field goal on Sunday, then his job security has to come into question.