San Jose State vs. Utah St.: The Rodney Dangerfield Game of the Day for Oct. 13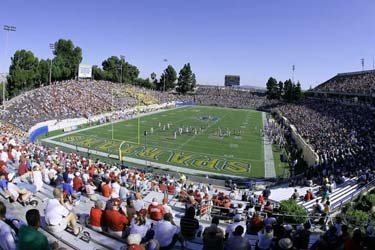 Spartan Stadium (Photo Credit: Yelp.com)
Even when the Boise State Broncos were a member of the Western Athletic Conference, college football pundits criticized the league. It is no surprise that the WAC is still getting no respect during its final year.
There is no doubt that the game between the San Jose State Spartans and the Utah State Aggies is a contest that Rodney Dangerfield would have loved to see.
The Aggies travel to Spartan Stadium with a record of 4-2. USU will look to get the away win after losing on the road to the Brigham Young Cougars on Oct. 5 by a score of 6-3.
The Aggies lost to the Ohio Bobcats in the Famous Idaho Potato Bowl in 2011 and are looking to make back-to-back bowl appearances for the first time since the 1946-47 seasons. The two losses that Utah State has suffered so far have been by a combined five points.
San Jose State returns home after shutting out the Navy Midshipmen 12-0 back on Sept. 29. The Spartans hope to win their fifth game in a row after losing their first contest of the year to the Stanford Cardinal 20-17.
Both teams come to play having yet to go to a conference game. Along with the Louisiana Tech Bulldogs, San Jose State and Utah State are the current favorites to win the WAC in 2012. The Spartans and Aggies have split the last eight times they have competed against each other.
Fans attending the game or watching on television will be treated to an exciting contest filled with tremendous players. Continue reading for an analysis of a contest that deserves more respect.
Begin Slideshow

»
Kyle Terada-US PRESSWIRE
San Jose State's David Fales
Junior David Fales, the starting quarterback for San Jose State, has been one of the biggest surprises in the FBS this season. He looks so confident now that it is hard to believe that he was in a tough competition for starter in the spring.
In five games, Fales has completed 74.7 percent of his passes for 1400 yards with nine touchdowns and just three interceptions. Under the leadership of Fales, the Spartans are as explosive on offense as they have been in several years.
The Spartans enter the conference portion of their schedule averaging 30.4 points per game. Not since 2000 has a SJSU team tallied at least 30 points per game after five games.
The most remarkable part of Fales' game is his calmness. In his first game as a major college quarterback, he nearly led his team to an upset win over Stanford.
Utah State's Chuckie Keeton has steadily improved as a signal caller since he began last season as a starting quarterback. After six games, he has completed 128 of his 193 pass attempts (66.3 percent) for 1,485 yards and 11 touchdowns. Not just a passer, Keeton is second on the team in rushing with 229 yards on 67 attempts.
As a sophomore, Keeton has improved his accuracy while becoming more skilled on hiding the ball when the team runs option plays. More importantly, Keeton's enhanced leadership skills were on display when the Aggies defeated the Utah Utes for the first time since 1997.
Edge: San Jose State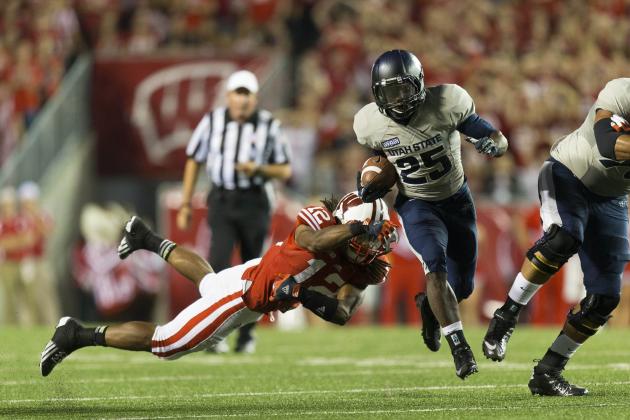 Jeff Hanisch-US PRESSWIRE
Utah State's Kerwynn Williams
Coming into the season, the thought was that San Jose State would have difficulties replacing second-team All-WAC running back Brandon Rutley. However, De'Leon Eskridge, a transfer from the University of Minnesota, has led a rushing attack that has actually improved upon last season's performance.
Eskridge has rushed for 356 yards on 78 carries with three touchdowns in 2012. He is a physical runner with enough speed to get to the outside.
The Spartans have also been boosted by the development of Tyler Ervin. Originally slotted to start at cornerback, he has developed into a change-of-pace back.
Ervin has averaged 4.7 yards per attempt on his 31 carries. So far this season, he has scored one touchdown and caught six passes.
After primarily appearing as a return specialist in 2011, senior Kerwynn Williams is the featured running back for Utah State this year. The speedster leads the Aggies in rushing with 537 yards on 103 carries.
Williams is averaging 5.2 yards per carry while scoring three touchdowns. He also leads USU in receptions with 23. Williams rarely leaves the field as Chuckie Keeton is basically the only other Aggie that carries the football.
Edge: Utah State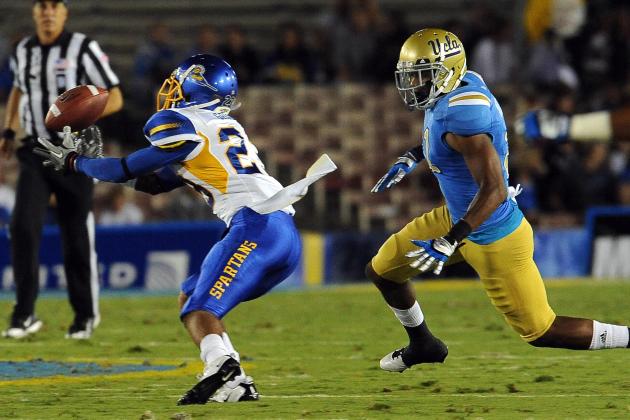 Jayne Kamin-Oncea-US PRESSWIRE
San Jose State's Noel Grigsby
San Jose State has the best collection of receivers in the WAC. Junior wide receiver Noel Grigsby caught 89 passes last season, setting a school record in the process.
Although the Spartans have more talent surrounding Grigsby in 2012, he still leads the team with 28 catches. Grigsby has tallied 399 yards on those receptions while his two receiving touchdowns already match his total for all of last year.
He possesses great hands while the improved play at quarterback has allowed Grigsby to catch the football further downfield than last season. He averages 14.3 yards per reception in 2012 after only being at 9.9 in 2011.
Jabari Carr has caught 22 balls so far this year while Kyle Nunn has chipped in with 20 receptions. Deep threat Chandler Jones has scored five touchdowns on just 14 catches.
Senior Ryan Otten was only one of two FBS tight ends that ranked among the top-100 players in receptions per game. In 2012, Otten has caught 20 passes for 285 yards and one touchdown. He actually averages the same yards per catch as Grigsby.
Reserve tight end Peter Tuitupou has tallied a 15.8 yards-per-catch average on his five receptions.
The NCAA granted Utah State's Matt Austin an extra year of eligibility, and he is making the most of the opportunity. Austin leads the team in yards per catch and is tied for the team lead in touchdowns with three.
Chuck Jacobs is the other receiver with three touchdown receptions. On the year, Jacobs has caught 17 passes for 230 yards.
Senior tight end Kellen Bartlett has developed into a reliable target when Chuckie Keeton gets in trouble. Bartlett has 19 catches for 150 yards so far this year.
Edge: San Jose State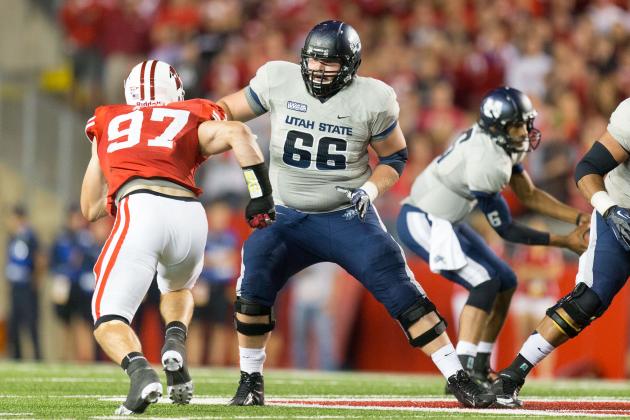 Jeff Hanisch-US PRESSWIRE
Utah State's Eric Schultz
Projected OL Starters for San Jose State
LT David Quessenberry
LG Ryan Jones
OC Reuben Hasani
RG Nicholas Kaspar
RT Jon Meyer
The play of the offensive line for San Jose State has improved this year despite the fact that the unit is replacing three starters from the 2011 squad. Senior David Quessenberry has anchored the offensive line while some of the younger players gain confidence.
The Spartans have gained more yards rushing and passing this season than last, and the offensive line has been a major factor in that accomplishment. Junior guard Nicholas Kaspar has performed well enough to achieve some post-season honors along with Quessenberry.
Projected OL Starters for Utah State
LT Kevin Whimpey
LG Jamie Markosian
OC Tyler Larsen
RG Kyle Whimpey
RT Eric Schultz
All-league center Tyler Larsen heads an offensive line that features no senior starters. After six games, the Aggies have given up 11 sacks.
Junior Eric Schultz has made a smooth transition from right guard to right tackle. Kyle Whimpey is a strong run blocker that possesses strong hands and can bench press over 500 pounds. His brother Kevin is an athletic tackle that has gained about 70 pounds since arriving on campus.
Edge: Utah State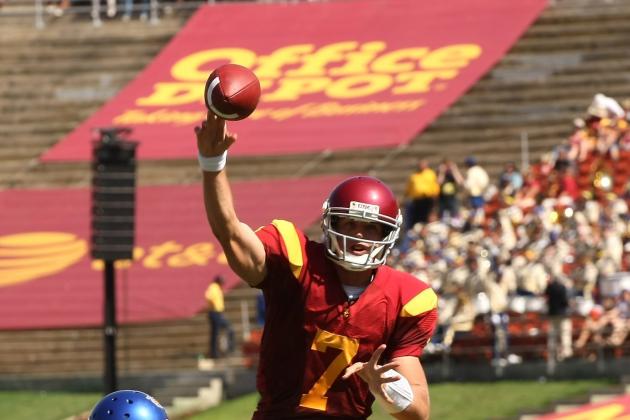 Stephen Dunn/Getty Images
San Jose State's Travis Johnson
San Jose State enters conference play ranked in the top five among FBS schools in quarterback sacks and tackles for loss. The Spartans have already recorded 22 sacks, six more than their entire total for last year.
Travis Johnson is one of the most active defensive ends in the country. Johnson has 7.5 sacks and 12.5 tackles for loss so far in 2012. Johnson gained notoriety when the Spartans played Navy and Johnson was able to force the quarterback to pitch the football and recover quickly enough to tackle the running back for little or no gain on several occasions.
SJSU has also been to establish a pass rush up the middle. Defensive tackles Travis Raciti and Anthony Larceval have combined for 28 tackles and 6.5 sacks.
In Utah State's 3-4 defensive alignment, the defensive line's main responsibility is to engage the opposition's offensive line long enough to allow the linebackers to create havoc.
End Al Lapuaho has tallied 19 tackles and one sack on the year. Havea Lasike anchors the middle while freshman Jordan Nielson has recorded two sacks as a reserve.
Edge: San Jose State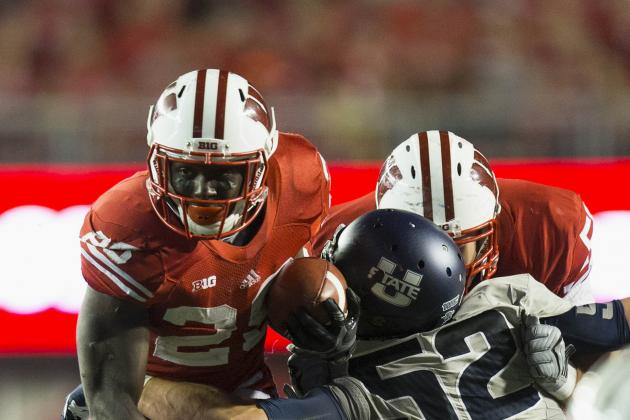 Jeff Hanisch-US PRESSWIRE
Utah State's Kyler Fackrell
Last season, San Jose State ranked 106 among FBS schools in defending the run. In 2012, the Spartans are the 44th best team against the run.
Vince Buhagiar leads SJSU in tackles with 44. He has also registered three sacks, 7.5 tackles for loss and one forced fumble. Keith Smith is a physical outside linebacker that can drop back into coverage.
Utah State has made a smooth adjustment to life without Bobby Wagner, a second-round pick of the Seattle Seahawks. All four starting linebackers are ranked in the top-six on the team in tackles.
Junior inside linebacker Zach Vigil ranks second on the squad with 49 tackles. Vigil has also recorded three sacks and 6.5 tackles for loss.
Freshman outside linebacker Kyler Fackrell was recently named the WAC's Defensive Player of the Week for his performance against BYU. In that contest, he made 10 tackles to go along with his first career interception.
For the season, Fackrell has recorded 36 tackles and five quarterback hurries. Bojay Filimoeatu has developed into a strong pass rusher on the opposite side of Fackrell.
Edge: Utah State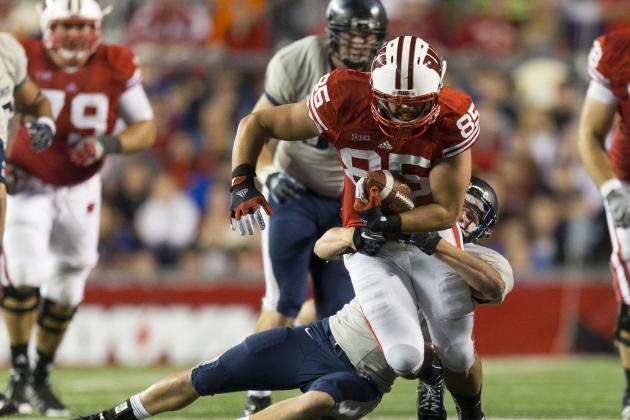 Jeff Hanisch-US PRESSWIRE
Utah State's McKade Brady
Although the play of the defensive line is the major reason for San Jose State's improvement on pass defense, the secondary has made major strides despite the absence of two-time first-team All-WAC safety Duke Ihenacho.
Ihenacho's replacement, Cullen Newsome, has recorded 31 tackles in five games. Both Damon Ogburn Jr. and Ronnie Yell are both strong cover cornerbacks. Safety James Orth is the only member of the starting secondary that started every game last season.
Both safeties for Utah State are extremely active against the run. Senior free safety McKade Brady leads the team with 53 tackles.
Strong safety Brian Suite is equally adept in assisting in defending the run and the pass. Cornerback Will Davis has yet to record an interception but leads the team with 11 pass breakups.
Edge: Utah State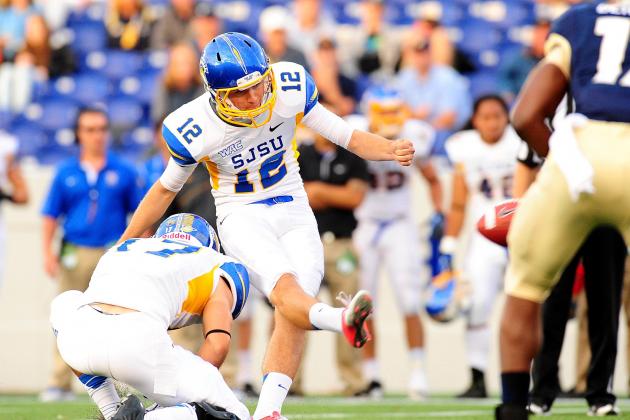 Evan Habeeb-US PRESSWIRE
San Jose State's Austin Lopez
Freshman kicker Austin Lopez has yet to miss a field goal in nine attempts for San Jose State. Although he doesn't have a strong leg, he has twice converted from 43 yards out.
Harrison Waid is both punter and kickoff specialist for the Spartans. Ward averages 44.8 yards per punt on 19 opportunities. SJSU has allowed opponents 7.4 yards per punt return.
Tyler Ervin returned a kickoff 97 yards for a touchdown against the San Diego State Aztecs. Damon Ogburn Jr. averages an incredible 43.0 yards per return on his two kick returns this year. On the negative side, Ronnie Yell averages just 3.8 yards per punt return and the team is ranked 108 overall in that category.
Utah State has experienced problems placekicking all season long. Freshman Brock Warren missed an extra point and a field goal against the Utah Utes before being injured in the same game. Josh Thompson has converted on four of his six field goal attempts, but his longest kick is just 32 yards.
Punter Tyler Bennett has placed 19 of his 36 punts inside the opponent's 20-yard line while averaging 43.2 yards per punt.
Chuck Jacobs averages 31.5 yards per kickoff return on four attempts, and Cameron Webb has gained 86 yards on 12 opportunities for a 7.2 average.
Edge: San Jose State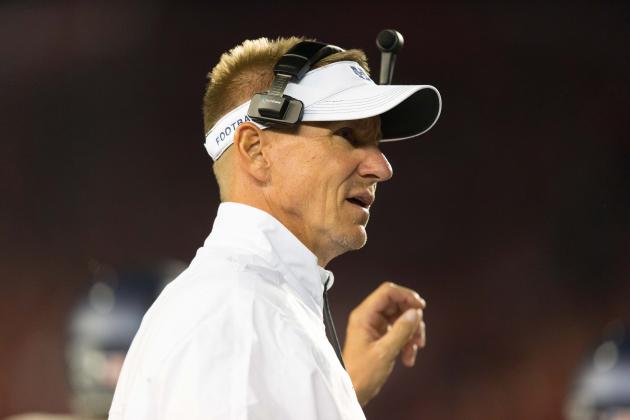 Jeff Hanisch-US PRESSWIRE
Utah State's Head Coach Gary Andersen
Being the head coach at San Jose State is not a easy job. Mike MacIntyre was given a contract extension through 2017 after the Spartans finished the year at 5-7. That record becomes much more impressive after factoring in the team's 1-11 finish in 2010, MacIntyre's first year at the helm.
SJSU has had only three winning seasons since 1993. The team looks strong in its non-conference portion of the schedule so far this year. Scout.com ranked the Spartans 2012 recruiting class the best in the WAC.
Before arriving at San Jose State, MacIntyre was the defensive coordinator at Duke University. The American Football Coaches Association named him FBS Assistant Coach of the Year in 2009.
Just like McIntyre at SJSU, Gary Andersen faced major obstacles upon his arrival at Utah State in December of 2008. The Aggies finished the 2009 season with a record of 4-8, Those four victories marked the most wins USU has since 2002.
The team had just four wins in 2010 but won seven times in 2011. The Aggies's three-win turnaround was among the top 15 in the FBS for the 2011 season.
Last season, USU set team records for total offense, rushing yards, total touchdowns and total points. Before arriving at Utah State, Andersen spent five years as the defensive line coach, defensive coordinator and assistant head coach at Utah.
Edge: Even
San Jose has won 20 of the 34 previous meetings between the two schools but has not won since 2003. The Spartans are glad that this game against the Aggies marks Homecoming since SJSU is 3-0 against Utah State on Homecoming.
This year's contest appears to be one of the best in recent memory. It is quite unusual for both of the teams to have winning records at the time the game is being held.
The combined three losses by San Jose State and Utah State this season have been by a total of eight points. Only three of USU's last 17 games versus FBS opponents have been decided by more than 10 points.
Both teams are ranked in the top 15 in the FBS in total defense. SJSU and USU are right next to each in total offense rankings with the Spartans ranked 50th and the Aggies 51st.
How successful the Aggies are at running the ball against the Spartans will go a long way in deciding the victor in this matchup. The Aggies pass the ball better than they did last year, but most of their big plays still occur in the running game. San Jose State's defense has been better against the pass than the run, but the team should have gained confidence after shutting down Navy's triple-option attack.
Utah State's defense has yet to face a passing attack as potent as San Jose State's. It will be important for the Aggies to pressure David Fales and try to force him into making some bad throws.
SJSU's running attack feeds off its success in throwing the football. The Spartans are in trouble in they have to depend on rushing the ball for the majority of their offensive production.
The Homecoming crowd should give the Spartans a boost in this contest. The Aggies's two losses have occurred on the road, and their difficulty in kicking field goals could haunt them in a close affair.
Prediction: San Jose State 27 Utah State 21